Manduro Class Act for Fabre
20/06/07
1st (3) Manduro 15-8 Fav
2nd (1) Dylan Thomas 2-1
3rd (4) Notnowcato 13-2
6 ran
NR: 2
Manduro, who finished third in last season's Prince Of Wales's Stakes, ran out an impressive length and a quarter winner of this year's Group One event when beating Dylan Thomas in impressive fashion under Stephane Pasquier.

Trainer Andre Fabre is now considering an ambitious plan that could involve a step back to a mile for the Prix Jacques Le Marois at Deauville before going for the Prix de l'Arc de Triomphe over a mile and a half and possibly the Breeders' Cup Classic, for which he received a 16/1 quote from Coral, over 10 furlongs on dirt.

"It took me just one and a half years to learn how to train this horse! He's not improved, we've just got to know him better - he needs a lot of space in his races and his action is an aesthetic pleasure to watch," said Fabre. "Pace is not a problem with him as he's a top-class miler as well. Now we might think about a mile and a half. Although we put him in the King George that is a remote possibility and one of the plans would be to go for the Jacques Le Marois, the Arc and the Breeders' Cup on dirt - it's some plan but why not?"
Owner Baron Georg von Ullmann added: "We came here optimistic with a certain expectation because we knew we had a good horse. He was very unlucky last year and if three or four of his rides had gone differently it might have been different. Pasquier fits very well with the horse, it is like a marriage that is made in heaven - he has ridden the horse four times and won every time, They did it in great style today, the jockey only needed two or three cracks of the whip.

"These Monsun horses don't have the Danehill type of speed. They need to see daylight two or three furlongs out and then not be disturbed and Pasquier understands that very well.

"If I'm asked about plans I'd be arrogant and say I'd like to win everything. We'll put our heads down and find a programme that is solvable."
Pasquier added: "In the first part of the race I had to be careful because he can pull a bit but the pace was strong enough for my horse behind the leaders. Then he gave me a great kick at two furlongs out. I think he'll stay a mile and a half - why not? It's my first start here and my first win so I'm very happy."
STOUTE AND O'BRIEN HAPPY WITH FRAME FINISHERS
Dylan Thomas reversed the form with his Tattersalls Gold Cup conqueror Notnowcato but both could only play second fiddle to Manduro in the Prince Of Wales's Stakes.

Dylan Thomas was beaten a length-and-a-quarter while Notnowcato trailed in a further four lengths adrift into third spot.

Aidan O'Brien, trainer of Dylan Thomas, said: "I am delighted with him. He has run very well."
Notnowcato's trainer Sir Michael Stoute said: "We're delighted with him. He is a very consistent horse and has run a big race.

"Ideally, he would have liked a bit more juice. The ground at The Curragh (scene of his Tattersalls Gold Cup triumph) was better for him.
"He has got plenty of good entries but we will see how he comes out of this."
Brian Meehan, trainer of fourth-placed Red Rocks, said: "I'm a little disappointed. The first thing Frankie said was 'not enough pace'.
"I think we will go on to the Eclipse. As a three-year-old we gave him gaps between his races and that suited him then.
"But he is an older horse now with a lot of confidence and we need to get on with him. If he does well this year the owner will keep him in training."
Boylesports have Dylan Thomas as a 7-1 shot for the King George back at Ascot on July 28.
BACK TO THE DRAWING BOARD FOR SIR PERCY
Sir Percy


© racing-images.co.uk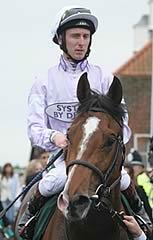 Last year's Derby winner Sir Percy ran a disappointing race in the Prince of Wales's Stakes.

After making the pace, the four-year-old dropped away tamely in the closing stages to eventually finish last of the six runners.

Sir Percy's jockey Martin Dwyer said: "I don't know what went wrong today. He ran a very lacklustre race and was disappointing.

"The change of tactics didn't make any difference - there was not going to be a strong pace over 10 furlongs in any case.

"It will be back to the drawing board with him now."
3.45pm PRINCE OF WALES'S STAKES (GROUP ONE)
£350,000 guaranteed, 1m 2f, For 4yo+ Weights colts and geldings 9st; fillies 8st 11lb Allowances southern hemisphere allowance: 4yo 3l b Entries 35 pay £1,060 1st Forfeit 22 pay £1,210 2nd Forfeit 1 pay £25,000 Confirmed 11 pay £755 Penalty value 1st £211,207.40; 2nd £80,049.02; 3rd £40,061.71; 4th £19,975.06; 5th £10,006.13; 6th £5,021.66
1 MANDURO (GER) (Baron Georg Von Ullman) Andre Fabre FR 5-9-00 Stephane Pasquier [4] 15/8f
2 DYLAN THOMAS (IRE) (Sue Magnier & Michael Tabor) Aidan O'Brien IRE 4-9-00 Christophe Soumillon [1] 2/1
3 NOTNOWCATO (Anthony & David de Rothschild) Sir Michael Stoute 5-9-00 Johnny Murtagh [7]
4 RED ROCKS (IRE) (J Paul Reddam) Brian Meehan 4-9-00 Frankie Dettori [5]
5 PRESSING (Gary Tanaka) Michael Jarvis 4-9-00 Olivier Peslier [2]
6 SIR PERCY (Anthony Pakenham) Marcus Tregoning 4-9-00 Martin Dwyer [3]
6 ran
Non-runner: 2 Kandidate (vet's certificate)
Distances: 1 1/4, 4, 3/4, 1 1/2, 3/4
Time: 2m 5.91s
Breeding: b or br h Monsun (GER) - Mandellicht (IRE) (Be My Guest (USA))
Breeder: Rolf Brunner
Totes: Win: £2.80 Places:£1.60; £1.80 Exacta: £6.60
Winning trainer:-Name: Fabre, Andre (FR) Date of Birth 9/12/45. British Classic wins: (4) Vodafone Oaks (1993 Intrepidity), 2000 Guineas (1993 Zafonic, 1995 Pennekamp), St Leger (1991Toulon) French Classic Wins: Prix du Jockey Club (1997 Peintre Celebre); Prix de Diane(1985 Lypharita, 1992 Jolypha, 2003 Nebraska Tornado); Poule d'Essai des Poulains (1984 Siberian Express, 1987 Soviet Star; 2001 Vahorimix; 2003 Clodovil), Poule d'Essai des Pouliches (1990 Houseproud; 2003 Musical Chimes) Irish Classic Wins: Irish Derby (1995 Winged Love, 2005 Hurricane Run), Irish Oaks (1993 Wemyss Bight) Other Major wins include: Prix de l'Arc de Triomphe (1987,Trempolino,1992 Subotica,1994 Carnegie, 1997 Peintre Celebre, 1998 Sagamix, 2005 Hurricane Run, 2006 Rail Link), Arlington Million (1988 Mill Native), Breeders' Cup Turf (1990 In the Wings, 2005 Shirocco), Breeders' Cup Classic (1993 Arcangues), Breeders' Cup Filly and Mare Turf (2001 Banks Hill), Vodafone Coronation Cup (1986 St Estephe,1990 In the Wings, 1994 Apple Tree, 1995 Sunshack, 1996 Swain, 2006 Shirocco), Coronation Stakes (1989 Golden Opinion, 2001 Banks Hill), Dewhurst Stakes (1992 Zafonic, 1994 Pennekamp, 1997 Xaar); Grand Prix De Deauville (2002 Polish Summer), Grand Prix De Paris (1989 Dance Hall, 1991 Subotica,1992 Homme De Loi; 1993 Fort Wood; 1996 Grape Tree Road;1997 Peintre Celebre; 1998 Limpid; 1999 Slickly), Grand Prix de Saint-Coud (1988 Village Star, 1990 In The Wings, 1994 Apple Tree, 1995 Carnegie, 1998 Fragrant Mix), Italian Derby (2006 Gentlewave), July Cup (1988 Soviet Star); Prix de Barbeville (2000 Amilynx), Prix de la Foret (1987 Soviet Star, 1995 Poplar Bluff), Prix Ganay (1990 Creator, 1992 Subotica, 2000 Indian Danehill), Prix D'Ispahan (1982 Al Nasr, 1984 Crystal Glitters, 1990 Creator, 1993 Arcangues, 1998 Loup Sauvage, 2005 Valixir); Prix Jacques Le Marois (1989 Polish Precedent, 1995 Miss Satamixa, 2001 Vahormix, 2002 Banks Hill), Prix Jean-Luc Lagardere/Grand Criterium (1989 Jade Robbery, 1994 Gold Mark, 1995 Loup Solitaire), Prix Jean Prat (1987 Local Talent, 1992 Kitwood), Prix Lupin (1997 Cloudings; 1999 Gracioso), Prix du Moulin de Longchamp (1988 Soviet Star; 1989 Polish Precedent; 1994 Ski Paradise; 2003 Nebraska Tornado; 2004 Grey Lilas), Prix de l'Opera (1990 Colour Chart, 1997 Clodora), Prix Royal-Oak (1988 Star Lift, 1989 Top Sunrise, 1993 Raintrap, 1995 Sunshack, 1999 and 2000 Amilynx); Prix Saint-Alary (1984 Grise Miro;1992 Rosefinch; 1993 Intrepidity; 1994 Moonlight Dance; 1995 Muncie; 1996 Luna Wells; 2005 Vadawina), Prix Vermeille (1992 Jolypha, 1993 Intrepidity), Sussex Stakes (1987 Soviet Star), Tattersalls Gold Cup (2006 Hurricane Run), Horses in training (1992-2007): 206; 222; 234; 234; 228; 245; 232; 228; 189; 169; 136; 127; 151; 162; 165; 183 Trains at Chantilly, France Wins in Britain in 2006: 4 Wins in Britain this year: 2
Royal Ascot wins: (6) Coronation Stakes (1989 Golden Opinion, 2001 Banks Hill), Queen's Vase (1993 Infrasonic), Ribblesdale Stakes (1996 Tulipa), Queen Anne Stakes (2005 Valixir), Prince Of Wales's Stakes (2007 Manduro) First Royal Ascot win: Golden Opinion (June 21, 1989 - Coronation Stakes)
Winning jockey:-Name: Pasquier, Stephane Background: has ridden in Hong Kong and Singapore. Began a job with Chantilly-based trainer Jean de Roualle in 2002 before enjoying success with Andre Fabre. He was rewarded in May 2007 with a retainer to ride the French-based horses of Khalid Abdullah. Big Race Wins: Prix de l'Arc de Triomphe (2006 Rail Link); BMW Swiss Derby (1999 Bleu Nuit); Prix Corrida (2001 Acceleration); Prix d'Ispahan (2007 Manduro); Prix de Liancourt (2002 Spark Sept); Prix Chaudenay Casino Barriere de Menton (2006 Vendangeur); La Coupe De Maisons-Laffitte (2002 Fair Mix); Earl Of Sefton Stakes (2007 Manduro) First Group Success: Acceleration (May 30, 2001, Saint Cloud, Prix Corrida) Royal Ascot Wins: (1) Prince Of Wales's Stakes (2007 Manduro) First Royal Ascot Win: Manduro, Prince Of Wales's Stakes, 2007 Wins in Britain in 2007: 2