Canford Simply Superb in Sussex Stakes
28/07/10
1 Canford Cliffs 4/6F
2 Rip Van Winkle 9/4
3 Premio Loco 17/2
Trainer Richard Hannon described Canford Cliffs as the best horse he had trained in 40 years with a licence after the three-year-old cruised to victory in a vintage renewal of the Group One Sussex Stakes.
Canford Cliffs


© racing-images.co.uk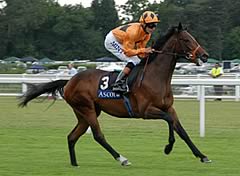 Coming to Goodwood on the back of victories in the Irish 2,000 Guineas and St James's Palace Stakes at Royal Ascot, Canford Cliffs gave his rivals ground at the start of the Sussex Stakes.
After last year's winner Rip Van Winkle hit the front, Richard Hughes and Canford Cliffs cruised up ominously before taking the race by a cosy neck.

"He's the best I've ever trained," said Hannon. "I love Paco Boy and my Guineas winners but this horse just has it all. That's three Group 1s now. He's a gorgeous horse and always has been and has a lovely turn of foot. I don't think this is his ideal track, he's better on a stiffer course like the Curragh.
"We took him to work at Kempton about 10 days ago and he worked brilliantly. Richard (Hughes) got off and said he'd improved about 7lb
"I'd love to keep him in training next year and if I can then I don't want to give him too much more racing this year. There has been a lot of interest and enquiries from studs and it would be great if we could do a deal so that he could run as a four-year-old, maybe in the stud's colours.
"While we might step Dick Turpin up to 10 furlongs, a mile is fine for this fellow and I suppose the Queen Elizabeth II Stakes at Ascot is an obvious possibility as well as the Jacques Le Marois.
"He was actually the last yearling I managed to sell on, I don't know why but nobody wanted him and he was two by the time I sold him and that was after I'd been for a long lunch with Robin (Heffer). I should have kept him, it would be nice to have been left with him.
"We weren't sure what was going to happen with the O'Brien horses and we were a bit overtaken at the gate but then he got into a rhythm. I was worried that Richard had got a bit too far back at the gate. Richard said the ground was a bit loose on the inside and he just changed his legs a bit but then he picked up.
"Richard will give me a heart attack, I don't know whether I'd be better hiding in the toilet when these races are being run!"
Hughes added: "He is a superstar. I rode him the other morning and said to Richard that he has improved out of all knowledge - nearly 10lb - and he looked at me as if I had two heads.
"He actually ran a bit rusty there and he never got into full flight. I didn't want him to half jump out of the stalls because we were downhill and I didn't want him latching on. So I missed it completely, got him in and he relaxed beautifully. They weren't going that fast - the pacemaker was but we weren't.
"Rip Van Winkle got three lengths on him and kicked first but I knew how good he was and there is one winning post. Canford Cliffs just switched leads in the last 100 yards and then I was in command. I still got him more or less on the bridle."
Position

Horse
Trainer
Jockey
Weight
Starting Price
Beaten Distance
1

Canford Cliffs
R Hannon
R Hughes
8st 13lbs
4 - 6
Winner
2

Rip Van Winkle
A P O'Brien
R L Moore
9st 7lbs
9 - 4
Neck
3

Premio Loco
C F Wall
G Baker
9st 7lbs
17 - 2
3 1/4 lengths
4

Beethoven
A P O'Brien
J P O'Brien
8st 13lbs
25 - 1
3/4 length
5

Dream Eater
A M Balding
J Fortune
9st 7lbs
20 - 1
3/4 length
6

Mac Love
Stef Liddiard
M Fenton
9st 7lbs
50 - 1
8 lengths
7

Encompassing
A P O'Brien
C O'Donoghue
8st 13lbs
200 - 1
24 lengths
NonRunner

Beacon Lodge
C G Cox
A Kirby
9st 7lbs


Rip Van Winkle


© racing-images.co.uk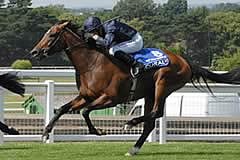 VAN WINKLE TO IMPROVE, SAYS O'BRIEN, AND LOCO PAYS FEE

A fast-and-late finish from Canford Cliffs proved decisive in today's Group One £300,000 Sussex Stakes, although there was plenty of positives for the second and third.
Runner-up Rip Van Winkle, who was bidding to win the prize in consecutive years, conceded 8lb to the winner and was beaten just a neck, while Premio Loco, who had been supplemented for a fee of £19,500 by trainer Chris Wall on behalf of owner Bernard Westley, recouped that sum and made a profit.
Trainer Aidan O'Brien said of Rip Van Winkle: "We're delighted with that because he's progressed lovely from Royal Ascot [where he was unplaced in the Queen Anne Stakes], and we know there's more to come.
"He got tired at Ascot and we knew he would progress from that and will do so again, because he got tired in the last half furlong here. At least he's run a good race and he travels well and quickens well. I've no firm plans for him at this stage, although York [Juddmonte International] is a possibility.
"It was a great race and obviously he [Canford Cliffs] is a very good horse. It's great to be here and great to be a part of it."
Wall said of Premio Loco, who was tackling a Group One contest for the first time: "He's run well and he's run to his form because Dream Eater was at least as far, if not further behind us today compared to our previous run at Ascot.
"The owner has got his money back with interest and you never know until you try - I wanted to run him in a Group One while he was at the top of his form and had things in his favour. I didn't want to wait. It's a different league going up to Group One - I've had horses in the past who could win Group Two races, but to step up another level you really have to be special.
"Unless you're very lucky and one falls in your lap you have to accept that. A good, hard-knocking horse like him will always win his Group Twos and Group Threes, but he's always going to struggle in a Group One.
"He's got what looks like a superficial cut on his hind leg, and it probably happened when he jumped out the stalls. We'll get it checked out but I'm not using it as an excuse. George [Baker] didn't pick up on it and it's not bleeding profusely.
"He's in some races in Germany where he won two Group Twos last year, and he's in the Group Two Celebration Mile here at the end of August, so we'll give him a little break and see where we go."