Rip Van Winkle Claims Fourth Sussex Stakes Victory for O'Brien
29/07/09
1 (7) Rip Van Winkle 6/4 (F)
2 (4) Paco Boy 7/2
3 (8) Ghanaati 2/1 (2F)
Rip Van Winkle overcame and eleventh hour lameness scare to give trainer Aidan O'Brien back-to-back wins in the BGC Sussex Stakes following the victory last year of Henrythenavigator. He has also won the race with Giant's Causeway (2000) and Rock Of Gibraltar (2002).
Rip Van Winkle


© racing-images.co.uk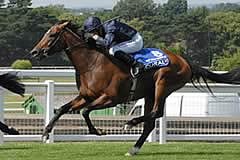 A quarter crack in the colt's hoof had set alarm bells ringing at Ballydoyle last evening with the trainer ready to withdraw the son of Galileo at the start if necessary.

A visibly relieved O'Brien, who dashed back from the start in time to see Rip Van Winkle hold off Paco Boy in the final stages of the race, said: "I only saw the last furlong but what can I say about this horse? That was very special - he's an amazing horse. He was 10 out of 10 lame yesterday evening and we didn't think it was going to happen so this is unbelievable. He didn't have a trot until he was leaving the parade ring. We watched him trotting off and then went down to the start and if Johnny wasn't happy at the start then it wasn't going to happen.


"I can't tell you how amazing this horse is because he didn't have a clear run in any of his races this year. The Eclipse was the first half-clear run he got. He's had so much speed always - I know everyone goes on about me saying that but it's all cruising speed with this horse. We've never had a horse with so much class and speed by Galileo. He's a horse we'd have no problem running in the July Cup (six furlongs). It's pure class with him.

"I can't tell you the problems he's had and it was a new thing happened last night. But he's never shown anything but mad keen determination."

Asked whether he would continue reopposing Sea The Stars, to whom he ran second in the Eclipse and fourth in both the 2000 Guineas and the Derby, in the Irish Champion, O'Brien replied: "The plan was to go to the Juddmonte International with Mastercraftsman and the Irish Champion with Fame And Glory. That was the plan and this horse was supposed to go back to a mile. We are over the moon with what has happened and it is great that he showed everyone today what he shows us at home everyday, after overcoming yesterday evening."

Winning jockey Johnny Murtagh said: "I said that he was one of the best I have ever ridden and I still believe it because he is a great horse. I rode him in the Guineas when he was a bit keen and pulling a bit but we thought he might stay the Derby trip. At the start of the year I thought this lad was going to be unbeatable.

"I think he is going to be very hard to beat over a mile or a mile and a quarter from now until the end of the season. He''s a great cruiser, a great mover, and he covers a lot of ground. He's a big hardy devil because he's not the easiest to train but Aidan has done a wonderful job with this horse.

"The last bit of work I rode on him I said that he was starting to feel like Henrythenavigator now - he follows his lead horse and ease him out, you don't even have to ask him - he's blown them out of the water. Coming here today, I thought that he was unbeatable."
Position

Horse
Trainer
Jockey
Weight
Starting Price
Beaten Distance
1

Rip Van Winkle
A P O'Brien
J Murtagh
8st 13lbs
6 - 4
Winner
2

Paco Boy
R Hannon
R Hughes
9st 7lbs
7 - 2
2 1/2 lengths
3

Ghanaati
B W Hills
R Hills
8st 10lbs
2 - 1
4 lengths
4

Forgotten Voice
J Noseda
L Dettori
9st 7lbs
16 - 1
1 1/4 length
5

Lord Shanakill
A P Jarvis
Jim Crowley
8st 13lbs
12 - 1
1 1/4 length
6

Beacon Lodge
C G Cox
A Kirby
9st 7lbs
33 - 1
2 3/4 lengths
7

Mia's Boy
C A Dwyer
R L Moore
9st 7lbs
50 - 1
7 lengths
8

Malibu Bay
A P O'Brien
Sean Levey
8st 13lbs
100 - 1
distance
NonRunner

Lahaleeb
M R Channon
D Holland
8st 10lbs


MORE FROM JOHNNY MURTAGH - INTERVIEW ON RACING UK
"I was unlucky in the Guineas, when I didn't give Rip Van Winkle a great ride - I was travelling nicely behind Mick and I was following Ryan and Pat Smullen. I made that decision and got tangled up and then running down the dip.
"He's a keen horse at home and he reminds me of Raven's Pass - I was taking so long trying to get everything right that he was giving everything a start. Now that he has got the message and, going into the Derby, the work-rider got him so relaxed at home that he rode like a Derby horse because he was relaxing really well.
"But the last couple of weeks he has been getting more like Henrythenavigator all of the time because he is just trailing horses and is relaxed - you eased him at and he is really professional. He was a little bit immature but all of those bad rides that I gave him are maybe paying off now.
"After the Derby, we started to find out the way he liked to be ridden. He's been maturing during the year and he's not an easy horse to train - there is always something wrong with him. When Aidan rang me last night, I nearly cried.
"I went down to Ballydoyle in the morning and Aidan said that the horse pulled out OK, that he looked better than yesterday and he was much happier with him. He said that it would have been the easiest thing in the world to not run him and he wanted to let him come over here. The horse went down to the start beautifully and Aidan asked if I was happy and I said that I thought he was OK. He's a free sweater and he has always been a bit immature.
"I was always going to be prominent and he has a huge gallop and a high stride. I have been restricting it a bit but now that he is relaxing more I can let him go up there and he put me into the race easy. It was all over at the two-furlong marker.
"It seemed the logical thing to use his stride and stamina. I knew that he would stay and there were question marks about a few of the others. It could have set it up for another horse and if they were good enough, they were going to beat us, but I didn't believe that would happen.
"He's got a brilliant stride and brilliant balance - he was brilliant from day one - but the minute you get something wrong, you maybe want to rush things. Now we are getting him to relax. There is always something wrong with him but, from now until the end of the year, I think that he will repay us.
"I always thought that this horse was every bit as good as Sea The Stars. Rip Van Winkle was beaten in the Eclipse but he is improving all of the time. We are lucky to have two great horses around and I have great belief in this horse if they meet again. I am looking forward to it."

RIP VAN WINKLE (IRE) FACTFILE
b c Galileo (IRE) - Looking Back (IRE) (Stravinsky (USA))
Form: 110-4421 Owner: Sue Magnier, Michael Tabor & Derrick Smith
Trainer: Aidan O'Brien IRE Breeder: Roberto Brogi Jockey: Johnny Murtagh
Rip Van Winkle
Rip Van Winkle carries an Irish suffix but was bred by Italian trainer Roberto Brogi and sold at the SGA yearling sale in Rome for 170,000 euros to agent John O'Byrne. Making his debut at the Curragh in June, the Galileo colt won an eventful seven-furlong maiden after first past the post Tomas An Tsioda was disqualified for interference. Rip Van Winkle had been finishing strongly and was only a short-head behind Tomas An Tsioda at the line. A month later, he was pitched into stakes company and defeated a small field in the Group Three Tyros Stakes, also run over seven furlongs. Described at the time as 'one of the best juvenile performances of the season', the colt displayed a devastating turn of foot to beat the Albany Stakes winner Cuis Ghaire by a length and a quarter. Sent off the 6/4 favourite for this third and final outing of the season in the Group One Darley Dewhurst Stakes at Newmarket, Rip Van Winkle could manage only seventh but was not beaten far, finishing less than two and a half lengths off the winner. The colt emerged from winter quarters for his first start of the season in the stanjames.com 2000 Guineas over a mile at Newmarket on May 2. Held up towards the rear, he was tapped for toe before staying on to take fourth at the finish behind Sea The Stars. He then went for the second Classic of the season, the Investec Derby at Epsom Downs, stepping up to a mile and a half, and again finished fourth to Sea The Stars, coming with a late flourish. He was dropped back to 10 furlongs for the Coral-Eclipse and again took on Sea The Stars, this time getting within a length of the John Oxx-trained star. He drops another two furlongs for the BGC Sussex Stakes which he won decisively.
Race Record: Starts: 7; 1st: 3; 2nd: 1; 3rd: 0; Win & Place Money: £411.192