Racing News

Tuesday 1st November 2016
THE RICCI STABLE TOUR

National Hunt Season 2016/17
To warm us all up ahead of the looming winter months, the BetBright Chairman Rich Ricci and his Racing Manager Joe Chambers have spun through one of the strongest teams in National Hunt racing.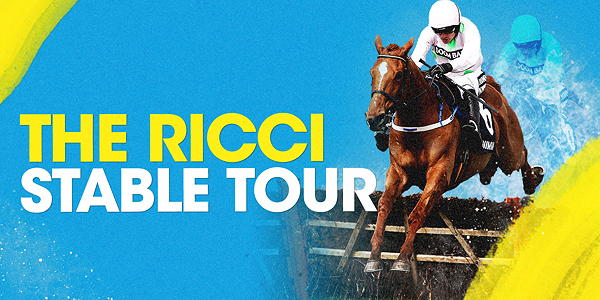 From the newest recruits to the old favourites, it's about to get very interesting!
The full version of the Stable Tour is available in PDF from BetBright here.
Annie Power(IRE) – 8 ch m by Shirocco
"The Mare"…she gave us the most memorable victory in the Champion Hurdle last season. No horse deserves to win at Cheltenham, but "I really wanted her to win that race". She got a proper ride from Ruby also, and it was a victory that meant a huge amount to him as well as us. I have often said that one of the great things about sport is that it offers the chance of redemption, and I guess her win at Cheltenham is a prime example of that.
She has summered remarkably well, big and very strong and everyone is delighted with her. Can she win the Champion Hurdle again, we think she can, but we have Faugheen too and of course they will need injury free seasons. Annie in particular is fragile, we have tried to get her to the Hattons Grace the last 2 seasons and twice she went wrong. I suspect we will train her and Faugheen along the same lines we intended to last year and God willing if they are both fit and well in March we will have a decision to make. Hopefully she will be ready for the Morgiana Hurdle or the Hattons Grace to start her season off, with Faugheen going to the one of those that she doesn't.
Douvan (FR) – 6 b g by Walk In The Park

Wow is the best way to describe Douvan. We don't know how good he is yet but he has come through all his tests to date with flying colours.
He equalled Flyingbolt by winning the Supreme and the Arkle back to back and what we do next is very much up for debate. We are very lucky to have him and I know Willie and Ruby feel the same way!
The 2m chase programme seems to have more options in England with the Tingle Creek at Sandown in early December a possibility. We haven't decided what direction we will go but we would be lying if we said we were not tempted by the King George, he could be some sight around Kempton on a bit of decent ground and it is a race we would dearly love to win.
We know he has it to prove in Open company yet but it is very hard to contain our excitement about him.
Djakadam (FR) – 7 b g by Saint Des Saints
It is hard to believe he is only 7 and already has been 2nd in two Gold Cups, is rated 170 and we think he is made of iron.
To come back from his fall in the BetBright Cotswold Chase on Trials Day and run 2nd again on the big day was a huge effort and to his credit he ran a blinder at Punchestown behind Carlingford Lough, having looked knackered at Aintree behind Cue Card just a few weeks before.
He has summered well and is doing plenty, we haven't decided where to start him off yet but he could go back to the John Durkan which is a race he won last year.
He has a preference for soft ground which will probably influence his targets to some degree, hopefully he will settle a bit better now he is older as he has been keen in his races to date.
Faugheen (IRE) – 8 b g by Germany
Suffered a suspensory ligament injury which whilst small was obviously enough to halt any plans for defending the Champion Hurdle at Cheltenham and we decided then to let him off for the season.
He's back in and riding out every day so we are all very happy with him right now. If he keeps that way which he should, Willie's record of returning horses from similar issues is fantastic and it will be all systems go very soon.
He looks a heavier animal than this time last year and may carry some more condition through the season, but hopefully he will make the Morgiana or the Hattons Grace as his season opener. I'd imagine it will then be Kempton for the Christmas Hurdle which he has won for the past 2 years and then the Champion Hurdle.
Whether we will run him between Christmas and Cheltenham after what happened last year I don't know, we hadn't done that before. Like with Annie we will just try and get them fit then keep them sound through the season. Horses have a way of making your mind up for you.
Min
(FR) – 5 b g by Walk In The Park
We were hoping this time last year that he was good and he turned out to be just that, although he just couldn't get it done behind the impressive
Altior
in the Supreme.
In fairness it was the first time he had to race and battle, and he came back with an injury to his back which meant he missed the rest of the season. He has done well for the break, looks an out and out 2 miler and hopefully he will take to fences well as we would love another crack at Altior this season. Not lost any faith in him at all.
Riven Light (IRE) – 4 b g by Raven's Pass

Purchased off the flat at the Arc sale in France after 7 runs, winning twice including once at Vichy over a 1m2f on decent ground.
Not your typical jumping pedigree but he is a strong looking animal and might have been unlucky not to win again at Longchamp. He will start off in a 2m maiden hurdle and is one to note – he is apparently showing up well in the early season reports.
Senewalk (FR) – 4 b g by Walk In The Park

A son of Walk In The Park and just like Douvan and Min we have high hopes for him.
He appears to have been made favourite for the Supreme on the back of some remarks I made on the Morning Line last January, and while we don't want to put anyone off him he hasn't jumped a hurdle in public yet!
As with all the novice hurdlers Willie will run them when they are ready, he looks a 2 miler and if we can get a clear run with him hopefully he will be near the top of the pecking order come March.
Vautour (FR) – 7 b g by Robin Des Champs

He's 100% at the moment and has been responsible for two of the most dazzling and impressive displays of any of our Cheltenham winners, he seems to come alive at the place! Willie just wasn't happy with him going into the Festival last March and we changed plans right at the last minute, I know it didn't look good as I was convinced as anyone that we were heading for the Gold Cup or staying at home.
In hindsight he won the Ryanair Chase so it was the right decision but I do want to see him tackle the Gold Cup if there was some decent ground, while at the same time I am well aware there are many who say he will never stay 3m 2f! I would like to take on the challenge with him. When he is on song everything seems to come easily to him but getting him to pitch perfect is a challenge.
Aintree was disappointing as he looked like a lion that day and was clearly enjoying himself when he tipped up. I have a gut feeling he doesn't like going right handed as much, he doesn't have the same cut at his fences as he does going left handed in my opinion. That being said last year's King George feels like one that got away so there is every possibility he will go back there, he will need a run beforehand as he is a great big gross horse.
Vroum Vroum Mag (FR) – 7 b m by Voix Du Nord

When we heard that Jackie Mullins came out of retirement to ride her out we figured she was either very quiet or very good. It appears it is both!! A mare that has been quite difficult to get to the bottom of at home, she is unbeaten for us since we bought her. In fact her sire Voix Du Nord is a big loss to the jumps breeding game – he has had some super stock from very limited crops.
She appears to have it all and last season was a wonderful journey with her, from Ascot to Cheltenham and then Punchestown. There are absolutely no plans for her yet, her chase mark of 155 is sorely tempting and we thought she was an out and out stayer in her early days with Willie, but then the pace she showed to win the Irish Champion Hurdle would put a question mark over that. We would like to think she is better than just a super sub for other horses in our ownership, but given she is adaptable from 2mls to 3mls there are plenty of options for her on both sides of the Irish Sea, as well as in France.
I appreciate she is under the "Chasers" category here but we will get her ready to rock before deciding where we go.