A P McCoy

McCoy honoured at his last Festival
The last race of The 2015 Festival at Cheltenham Racecourse has been renamed to mark A P (Tony) McCoy's final opportunity to ride at The Festival following his decision last month to retire towards or at the end of this season.
The record-breaking feats of the 19-time champion Jump jockey are recognised in the A P McCoy Grand Annual Handicap Chase for the Johnny Henderson Challenge Cup, which is due off at 5.15pm on Gold Cup Day, Friday, March 13.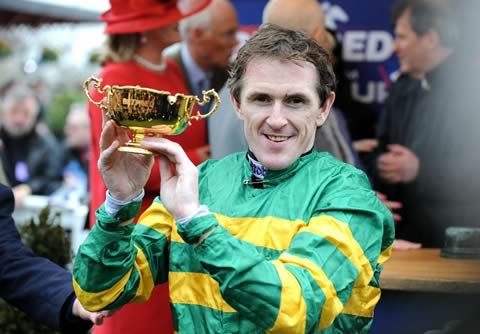 The new name for 2015 has been made in agreement with the Henderson family and is for one year.
The jockey said: "I am honoured that Cheltenham has decided to have the last race of The Festival in my name. It is a privilege and I would also like to thank the Henderson family for sharing the title for this year. I am much looking forward to next week."
McCoy, set to be champion Jump jockey for the 20th consecutive season, has ridden 191 winners to date at Cheltenham, the Home of Jump Racing. That total includes 30 at The Festival which makes McCoy the third most successful jockey ever at the event, that this year runs from Tuesday, March 10 to Friday, March 13 inclusive.
Robert Waley-Cohen, Chairman of Cheltenham Racecourse, commented: "I am delighted that we have been able to rename this year's Grand Annual Handicap Chase after the champion jockey, especially as it will be his last race at The Festival.
"What he has achieved over the past 23 years, not just at The Festival, is phenomenal and to round off The Festival in his name seemed like a fitting tribute."
The Grade Three A P McCoy Grand Annual Handicap Chase for the Johnny Henderson Challenge Cup is an extended two-mile handicap chase for horses aged five and above.
McCoy has been successful in the race three times, thanks to Alderwood (2013), Edredon Bleu (1998) and Kibreet (1996) who was his first winner at The Festival.
About A P McCoy
Anthony Peter McCoy OBE, born on May 4, 1974, is the greatest jump jockey of his era and most would say the greatest of all time.
McCoy started out on his racing career with trainer Billy Rock in Northern Ireland and then tried his luck as a Flat jockey with noted handler Jim Bolger.
After growing too heavy and turning to Jump racing, he has not looked back. He moved to Britain and joined Toby Balding's Hampshire yard prior to the 1994/95 season when he was champion conditional rider.
His first senior title came in 1995/96 season with 174 wins in Britain after linking up with trainer Martin Pipe. His domination has brought 19 consecutive Jump jockey titles and he is about to secure his 20th.
McCoy broke Peter Scudamore's record of 221 Jump wins with 253 successes in the 1997/78 season.
In 2001/02, he beat by 20 the previous record of 269 winners in any season set by Sir Gordon Richards on the Flat.
He became the most successful Jump jockey of all time when passing Richard Dunwoody's tally of 1,699 winners in August, 2002.
In April, 2004, he accepted a retainer from J P McManus and has ridden ever since for the owner whose principal trainer in Britain is Jonjo O'Neill.
McCoy was awarded an MBE in the 2003 Queen's Birthday Honours and an OBE in the 2010 Queen's Birthday Honours.
He was voted the BBC Sports Personality of the Year in 2010 - the only person in racing to achieve this feat.
McCoy tried to ride 300 winners this season. He broke his own records for the fastest 50 and 100 winners but then injury intervened. He announced his impending retirement when partnering his 200th success of 2014/15 on February 7 at Newbury.
1,000th Jumping Win: Majadou, Cheltenham, December 11, 1999.
2,000th Jumping Win: Corporate Player, Wincanton, January 17, 2004.
3,000th Jumping Win: Restless D'Artaix, Plumpton, February 9, 2009.
4,000th Jumping Win: Mountain Tunes, Towcester, November 7, 2013.
He equalled and passed former trainer Martin Pipe's win total of 4,191 in July, 2014.
First Winner: Thurles, Legal Steps, March 26, 1992
First winner in Britain: Exeter, Chickabiddy, September 7, 1994
His 30 winners at The Festival are:
1996 Kibreet Johnny Henderson Grand Annual Handicap Chase
1997 Or Royal Racing Post Arkle Chase
1997 Make A Stand Stan James Champion Hurdle
1997 Mr Mulligan Betfred Cheltenham Gold Cup
1998 Champleve Racing Post Arkle Chase
1998 Unsinkable Boxer Pertemps Network Final Handicap Hurdle
1998 Cyfor Malta Cathcart Challenge Cup Chase
1998 Blowing Wind Vincent O'Brien County Handicap Hurdle
1998 Edredon Bleu Johnny Henderson Grand Annual Handicap Chase
1999 Hors La Loi III Sky Bet Supreme Novices' Hurdle
1999 Majadou Browne Advisory & Merriebelle Stables Plate Handicap Chase
2000 Edredon Bleu Betway Queen Mother Champion Chase
2002 Royal Auclair Cathcart Challenge Cup Chase
2003 Liberman Weatherbys Champion Bumper
2004 Well Chief Racing Post Arkle Chase
2006 Brave Inca Stan James Champion Hurdle
2006 Reveillez CHAPS Restaurants Barbados Novices' Handicap Chase
2006 Black Jack Ketchum Albert Bartlett Novices' Hurdle
2007 Wichita Lineman Albert Bartlett Novices' Hurdle
2008 Albertas Run RSA Chase
2009 Wichita Lineman Ultima Business Solutions Handicap Chase
2010 Binocular Stan James Champion Hurdle
2010 Albertas Run Ryanair Chase
2011 Albertas Run Ryanair Chase
2011 Noble Prince JLT Novices' Chase
2012 Synchronised Betfred Cheltenham Gold Cup
2012 Alderwood Vincent O'Brien County Handicap Hurdle
2013 At Fishers Cross Albert Bartlett Novices' Hurdle
2013 Alderwood Johnny Henderson Grand Annual Handicap Chase
2014 Taquin Du Seuil JLT Novices' Chase