---
JCB Triumph Hurdle

Grade 1, Cheltenham 13:30
£125,000 added,
4yo only,
2m 179yds, Class 1  
Friday 16th March 2018
Farclas wins for Gordon Elliott and Jack Kennedy
1 Farclas 9/1
2 Mr Adjudicator 8/1
3 Sayo 33/1
9 ran Distances: 1¾l, 3½l, 1½l
Time: 4m 17.00s (slow by 23.00s)
Jack Kennedy recorded his fourth winner of this year's Cheltenham Festival and fifth victory overall, following 9/1 shot Farclas' success.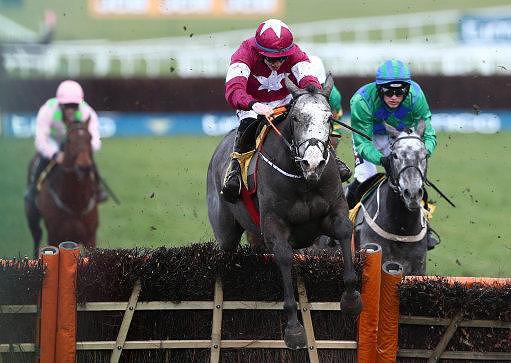 The four-year-old son of Jukebox Jury stayed on powerfully after the final flight to score by one and three-quarter lengths from Willie Mullins's Mr Adjudicator (8/1) in second.
18-year-old Kennedy, who joined Davy Russell at the top of the standings in the Holland Cooper Leading Jockey Award, said: "Another Ryanair flight has arrived on time! 
"Farclas was keen between the first two hurdles, but he then settled nicely and jumped great.
"He stayed well and did it nicely in the end. He is still green and is improving, so he's a nice one to look forward.
"The small field helped as it gave him plenty of room and allowed him to get into a jumping rhythm.
"Farclas has run very well on his last two starts and has been improving the whole time.
"Gordon had him spot on for the day. Everyone keeps saying it but Gordon is a genius. He does so well with these horses. It is unreal.
"I am in there [Gordon's] every day full-time. He just leaves no stone unturned and his attention to detail is second to none."
"Farclas is not slow, but he stays well and I think the stiffer finish helped him. I can't believe how this week has gone.
Gordon Elliott
and the O'Leary's have been so good to me - I'm very lucky."
JCB Triumph Hurdle (Juvenile Grade 1)
£125,000 added, 4yo only, 2m 179yds, Class 1
9 ran
Going: Soft, Heavy in places
Pos
D
Horse SP
Jockey Weight
Trainer
Age
1st
Farclas (FR) 9/1
J W Kennedy
11-0
G Elliott
4
2nd
1&frac34
Mr Adjudicator 8/1
P Townend
11-0
W P Mullins
4
3rd
3&frac12
Sayo 33/1
D E Mullins
11-0
W P Mullins
4
4th
1&frac12
Apple's Shakira (FR) 6/5f
B J Geraghty
10-7
N J Henderson
4
5th
18
Saldier (FR) 14/1
D J Mullins
11-0
W P Mullins
4
6th
2
Redicean 7/1
Wayne Hutchinson
11-0
A King
4
7th
36
Sussex Ranger (USA) 28/1
J E Moore
11-0
G L Moore
4
PU
Gumball (FR) 40/1
R Johnson
11-0
P J Hobbs
4
F
Stormy Ireland (FR) 9/2
N D Fehily
10-7
W P Mullins
4
The
Nicky Henderson
-trained 6/5 favourite
Apple's Shakira
raced too freely for her own good, and was spent as Irish rivals sped past approaching the final hurdle. Farclas (9/1), became trainer Gordon Elliott's seventh winner this week when scoring by a length and three-quarters from the Willie Mulins-trained Mr Adjudicator (8/1), whose stablemate, Sayo (33/1), was a further three and a half lengths further back in third.
Mr Adjudicator beat the winner, who was still a maiden over hurdles before this victory, when they met at Leopardstown last month. Mullins said of today's runner-up: "Paul [Townend] said the ground was the big difference. He just never travelled on it. Sayo jumped great and showed a big improvement on his last run - both horses would appear to have a bright future."
Townend said: "My horse ran a cracker. I would say that the ground is probably heavier than he wanted, but I thought he ran his heart out to get as close as he did.
"I thought I had a life at the last - I got underneath it a bit - but, the second we landed and the further we were going, the other horse [Farclas] was beating us by further."
Mullins also ran Saldier (fifth) and Stormy Ireland, who led for much of the race, but had lost pole position when falling at the last. Her trainer said she was fine afterwards, and that Saldier was another who found the ground too testing and had not jumped well enough.
Henderson said of Apple's Shakira: "She was far too keen - I think we'll put a hood on her and head to Aintree."
Previous results - JCB TRIUMPH HURDLE
2017-WINNER-DEFI DU SEUIL 4-11-00 Owner-J P McManus; Trainer-Philip Hobbs; Jockey-Richard Johnson; SP-5/2 Fav
2ND-Mega Fortune 4-11-00 Owner-Chris Jones; Trainer-Gordon Elliott IRE; Jockey-Davy Russell; SP-7/1
3RD-Bapaume 4-11-00 Owner-Susannah Ricci; Trainer-Willie Mullins IRE; Jockey-Ruby Walsh; SP-10/1
15 ran, Time-4m 0.20s; Dist-5, sh
2016-WINNER-IVANOVICH GORBATOV 4-11-00 Owner-J P McManus; Trainer-Aidan O'Brien IRE; Jockey-Barry Geraghty; SP-9/2 Fav
2ND-Apple's Jade 4-10-07 Owner-Gigginstown House Stud; Trainer-Willie Mullins IRE; Jockey-Bryan Cooper; SP-12/1
3RD-Footpad 4-11-00 Owner-Simon Munir & Isaac Souede; Trainer-Willie Mullins IRE; Jockey-Ruby Walsh; SP-5/1
15 ran, Time-3m 55.10s; Dist-1¼, 6
2015-WINNER-PEACE AND CO 4-11-00 Owner-Simon Munir & Isaac Souede; Trainer-Nicky Henderson; Jockey-Barry Geraghty; SP-2/1 Fav
2ND-Top Notch 4-11-00 Owner-Simon Munir & Isaac Souede; Trainer-Nicky Henderson; Jockey-Daryl Jacob; SP-7/1
3RD-Hargam 4-11-00 Owner-J P McManus; Trainer-Nicky Henderson; Jockey-A P McCoy; SP-8/1
16 ran, Time-4m 4.40s; Dist-nk, 4
2014-TIGER ROLL 4-11-00 Owner-Gigginstown House Stud; Trainer-Gordon Elliott IRE; Jockey-Davy Russell; SP-10/1
2ND-Kentucky Hyden 4-11-00 Owner-Simon Munir & Isaac Souede; Trainer-Nicky Henderson; Jockey-David Bass; SP-20/1
3RD-Guitar Pete 4-11-00 Owner-Mrs Pat Sloan; Trainer-Dessie Hughes IRE; Jockey-Paul Carberry; SP-7/1
15 ran, Time-4m 1.00s 11/2 Fav Calipto (4th)
2013-OUR CONOR 4-11-00 Owner-Man About Town Syndicate; Trainer-Dessie Hughes IRE; Jockey-Bryan Cooper; SP-4/1
2ND-Far West 4-11-00 Owner-Axom XXXIX; Trainer-Paul Nicholls; Jockey-Ruby Walsh; SP-4/1
3RD-Sametegal 4-11-00 Owner-John & Barbara Cotton; Trainer-Paul Nicholls; Jockey-Ryan Mahon; SP-33/1
17 ran, Time-4m 11.10s; Dist-15, 2¼ 5/2 Fav Rolling Star (6th)
2012-COUNTRYWIDE FLAME 4-11-00 Owner-Estio Pinnacle Racing; Trainer-John Quinn; Jockey-Dougie Costello; SP 33/1
2ND-Hisaabaat 4-11-00 Owner-Dr Ronan Lambe/Dominick Glennane; Trainer-Dermot Weld IRE; Jockey-Andrew Lynch; SP-20/1
3RD-Grumeti 4-11-00 Owner-McNeill Family; Trainer-Alan King; Jockey-Robert Thornton; SP-5/1 Fav
20 ran, Time 3m 58.80s; Dist-3, ¾
2011-WINNER-ZARKANDAR 4-11-00 Owner-Potensis Limited & Chris Giles; Trainer-Paul Nicholls; Jockey-Daryl Jacob; SP 13/2
2ND-Unaccompanied 4-10-07 Owner-Moyglare Stud Farm; Trainer-Dermot Weld IRE; Jockey-Paul Townend; SP-11/2 3RD-Grandouet 4-11-00 Owner-Simon Munir; Trainer-Nicky Henderson; Jockey-Barry Geraghty; SP-13/2
23 ran, Time 3m 54.20s; Dist-21⁄4, 23⁄4 4/1 Fav Sam Winner (4th)
2010-WINNER-SOLDATINO 4-11-00 Owner-Simon Munir; Trainer-Nicky Henderson; Jockey-Barry Geraghty; SP-6/1 2ND-Barizan 4-11-00 Owner-Peter Conway; Trainer-Evan Williams; Jockey-Tom O'Brien; SP-14/1 3RD-Alaivan 4-11-00 Owner-Thomas Barr; Trainer-Edward O'Grady IRE; Jockey-Andrew McNamara SP-9/2
17 ran, Time-4m 4.90s; Dist-1¼, 7 7/2 Fav Carlito Brigante (4th)
2009-WINNER-ZAYNAR 4-11-00 Owner-Men In Our Position; Trainer-Nicky Henderson; Jockey-Barry Geraghty; SP-11/2
2ND-Walkon 4-11-00 Owner-McNeill Racing; Trainer-Alan King; Jockey-Robert Thornton; SP-4/1 Fav
3RD-Mourad 4-11-00 Owner-Teahon Consulting Limited; Trainer-Willie Mullins IRE; Jockey-Ruby Walsh; SP-14/1
18 ran, Time-4m 3.90s; Dist-¾, 2¾

2008-WINNER-CELESTIAL HALO 4-11-00 Owner-The Stewart Family; Trainer-Paul Nicholls; Jockey-Ruby Walsh; SP-5/1
2ND-Franchoek 4-11-00 Owner-J P McManus; Trainer-Alan King; Jockey-Tony McCoy; SP-Evens Fav
3RD-Won In The Dark 4-11-00 Owner- Gerard Crehan; Trainer-Sabrina Harty IRE; Jockey-Andrew McNamara; SP-16/1
14 ran, Time-4m 7.83s; Dist-2¼, 2¼
2007-WINNER-KATCHIT 4-11-00 Owner- DSJP Syndicate; Trainer-Alan King; Jockey-Robert Thornton; SP-11/2
2ND-Liberate 4-11-00 Owner-Diana Whateley; Trainer-Philip Hobbs; Jockey-Richard Johnson; SP-12/1
3RD-Mobaasher 4-11-00 Owner-Seasons Holidays; Trainer-Charlie Mann; Jockey-Noel Fehily; SP-33/1
23 ran, Time-3m 54.6s; Dist-9, 1 ¾ 7/2 Fav Lounaos (10th)
2006-WINNER-DETROIT CITY 4-11-00 Owner-Terry Warner; Trainer-Philip Hobbs; Jockey-Richard Johnson; SP-7/2 Fav
2ND-Fair Along 4-11-00 Owner-Alan Peterson; Trainer-Philip Hobbs; Jockey-Paddy Brennan; SP-25/1
3RD-Blazing Bailey 4-11-00 Owner-Three Line Whip; Trainer-Alan King; Jockey-Robert Thornton; SP-14/1
17 ran, Time-3m 51.20s; Dist-5, 1
2005-WINNER-PENZANCE 4-11-00 Owner-Elite Racing Club; Trainer-Alan King; Jockey-Robert Thornton; SP-9/1
2ND-Faasel 4-11-00 Owner-Jim Ennis; Trainer-Nicky Richards; Jockey-Tony Dobbin; SP-7/1
3RD-Akilak 4-11-00 Owner-Andrea & Graham Wylie; Trainer-Howard Johnson; Jockey-Graham Lee; SP-7/2 Fav
23 ran, Time-4m 3.60s; Dist-hd, 8
2004-WINNER-MADE IN JAPAN 4-11-00 Owner-Terry Evans; Trainer-Philip Hobbs; Jockey-Richard Johnson; SP-20/1
2ND-Chief Yeoman 4-11-00 Owner-B Moore & E C Stephens; Trainer-Venetia Williams; Jockey-Tony Dobbin; SP- 40/1
3RD-Top Strategy 4-11-00 Owner-W J Kane; Trainer-Ted Walsh IRE; Jockey-Ruby Walsh; SP-33/1
23 ran, Time-4m 5.30s; Dist-2, nk 5/1 Fav Trouble At Bay (10th)
2003-WINNER-SPECTROSCOPE 4-11-00 Owner-Gay Smith; Trainer-Jonjo O'Neill; Jockey-Barry Geraghty; SP-20/1
2ND-Well Chief 4-11-00 Owner-David Johnson; Trainer-Martin Pipe; Jockey-Tony McCoy; SP-7/1
3RD-Golden Cross 4-11-00 Owner-Mrs H Johnson; Trainer-Mick Halford IRE; Jockey-Charlie Swan; SP-11/2 Fav
27 ran, Time-4m 0.30s; Dist-hd, 5
2002-WINNER-SCOLARDY 4-11-00 Owner-David Flynn; Trainer-Willie Mullins IRE; Jockey-Charlie Swan; SP-16/1
2ND-Newhall 4-10-09 Owner-Helen McParland; Trainer-Francis Flood IRE; Jockey-Fran Flood; SP-8/1
3RD-Diamond Joshua 4-11-00 Owner-Diamond Racing Ltd; Trainer-John Berry; Jockey-Jim Culloty; SP- 66/1
28 ran, Time-4m 7.80s; Dist-11, 3/4 7/1 Fav Giocomo (PU)
2001 Cancelled (Foot and Mouth Disease)
2000-WINNER-SNOW DROP 4-10-09 Owner-John D Martin; Trainer-Francois Doumen FR; Jockey-Thierry Doumen; SP-7/1 Fav
2ND-Regal Exit 4-11-00 Owner-Brian Buckley; Trainer-Nicky Henderson; Jockey-Barry Geraghty; SP-20/1
3RD-General Cloney 4-11-00 Owner-John J Brennan; Trainer-Willie Mullins IRE; Jockey-Ruby Walsh; SP-20/1
28 ran, Time-3m 52.90s, Dist-2, nk
1999-WINNER-KATARINO 4-11-00 Owner-Robert Waley-Cohen; Trainer-Nicky Henderson; Jockey-Mick Fitzgerald; SP-11/4 Fav
2ND-Balla Sola 4-11-00 Owner-Top Cat Syndicate; Trainer-Willie Mullins IRE; Jockey-Ruby Walsh; SP-16/1
3RD-Afarad 4-11-00 Owner-J P McManus; Trainer-Christy Roche IRE; Jockey-Charlie Swan; SP-8/1
23 ran, Time-4m 2.4s, Dist-8, 1.5
1998-WINNER-UPGRADE 4-11-00 Owner-Matt Archer and Jean Broadhurst; Trainer-Nigel Twiston-Davies; Jockey-Carl Llewellyn; SP-14/1
2ND-City Hall 4-11-00 Owner-Rosemary Key & Val Ward; Trainer-Val Ward; Jockey-Robert Thornton; SP-12/1
3RD-Nomadic 4-11-00 Owner-Des Sharkey; Trainer-Noel Meade IRE; Jockey-Richard Dunwoody; SP-14/1
25 ran, Time-3m 57.1s, Dist-1.25, 1.75 10/3 Fav Zafarabad (4th)
1997-WINNER-COMMANCHE COURT 4-11-00 Owner-Dermot Desmond; Trainer-Ted Walsh IRE; Jockey-Norman Williamson; SP-9/1
2ND-Circus Star 4-11-00 Owner-The Ringmasters; Trainer-David Nicholson; Jockey-Richard Johnson; SP-40/1
3RD-Shooting Light 4-11-00 Owner-John Brown; Trainer-Pat Murphy; Jockey-Richard Dunwoody; SP-7/1
28 ran, Time-4m 0.2s, Dist-1, 1.25 9/2 Fav White Sea (9th)
1996-WINNER-PADDY'S RETURN 4-11-00 Owner-Paddy O'Donnell; Trainer-Ferdy Murphy; Jockey-Richard Dunwoody; SP-10/1
2ND-Mistinguett 4-10-09 Owner-John Duggan; Trainer-Nigel Twiston-Davies; Jockey-Carl Llewellyn; SP-14/1
3RD-Hatta Breeze 4-10-09 Owner-Jenny Mould; Trainer-David Nicholson; Jockey-Richard Johnson; SP-14/1
29 ran, Time-4m 1.4s, Dist originally 4, hd, 1.75
Magical Lady (2nd) disqualified 6/1 Fav Debutante Days (f)

JCB TRIUMPH HURDLE ROLL OF HONOUR

Year Winner Age/Wt Jockey Trainer Owner SP Ran
1995 Kissair 4-11-00 Jonathon Lower Martin Pipe Terry Benson 16/1 26
1994 Mysilv 4-10-09 Adrian Maguire David Nicholson Million In Mind Partnership (3) 2/1F 28
1993 Shawiya 4-10-09 Charlie Swan Michael O'Brien IRE Miss G Maher 12/1 25
1992 Duke Of Monmouth4-11-00 Mark Richards Simon Sherwood Ali Saeed 33/1 30
1991 Oh So Risky 4-11-00 Paul Holley David Elsworth Oh So Risky Syndicate 14/1 27
1990 Rare Holiday 4-11-00 Brendan Sheridan Dermot Weld IRE Dr Michael Smurfit 25/1 30
1989 Ikdam 4-11-00 Nigel Coleman Richard Holder LBI Law (873) Ltd 66/1 27
1988 Kribensis 4-11-00 Richard Dunwoody Michael Stoute Sheikh Mohammed 6/1 26
1987 Alone Success 4-11-00 Steve Smith Eccles Nicky Henderson Sheikh Amin Dahlawi 11/1 29
1986 Solar Cloud 4-11-00 Peter Scudamore David Nicholson Ann McEwen 40/1 28
1985 First Bout 4-11-00 Steve Smith Eccles Nicky Henderson Fahad Al Athel 5/1 27
1984 Northern Game 4-11-00 Tommy Ryan Edward O'Grady IRE Frank Conroy 20/1 30
1983 Saxon Farm 4-11-00 Mark Perrett Stan Mellor A Birchall 12/1 30
1982 Shiny Copper 4-11-00 Allen Webb Dina Smith Doug Tyler 66/1 29
1981 Baron Blakeney 4-11-00 Paul Leach Martin Pipe Wheatley Leisure Ltd 66/1 29
1980 Heighlin 4-11-00 Steve Jobar David Elsworth Woodside Engineers Ltd 40/1 26
1979 Pollardstown 4-11-00 Philip Blacker Stan Mellor Georgina Tulloch 12/1 28
1978 Connaught Ranger 4-11-00 John Burke Fred Rimell Jim McCaughey 25/1 14
1977 Meladon 4-11-00 Tommy Carberry Adrian Maxwell IRE Mrs N Flynn 6/1 30
1976 Peterhof 4-11-00 Jonjo O'Neill Mick Easterby H Gould 10/1 23
1975 Royal Epic 4-11-00 Fred McKenna Vernon Cross Robert Read 20/1 28
1974 Attivo 4-11-00 Robert Hughes Cyril Mitchell Peter O'Sullevan 4/5F 21
1973 Moonlight Bay 4-11-00 Johnnie Haine Ryan Price Meg Mullion 85/40F 18
1972 Zarib 4-11-00 Bill Smith Fred Rimell Mrs A Hornby 16/1 16
1971 Boxer 4-11-03 Jimmy Uttley Ron Smyth Lord Blakenham 100/30JF 18
1970 Varma 4-11-04 Brian Barker Mick Masson Charles Clore 100/7 31
1969 Coral Diver 4-11-04 Terry Biddlecombe Fred Rimell Bryan Jenks 3/1F 26
1968 England's Glory 4-11-00 Jimmy Uttley Staff Ingham Mrs M Sherman 9/2 16
1967 Persian War 4-11-08 Jimmy Uttley Brian Swift Henry Alper 4/1 13
1966 Black Ice 4-11-04 Bobby Beasley Arthur Thomas A Crowther 9/2 11
1965 Blarney Beacon 4-11-04 Geordie Ramshaw Ron Smyth Freddie Laker 8/1 7