---
SkyBet Supreme Novices' Hurdle

Grade 1, Cheltenham 13:30
£125,000 added,
4yo plus,
2m 87y, Class 1  
Tuesday 14th March 2017
1 Labaik 25/1
2 Melon 3/1JF
3 River Wylde 8/1
14 ran; Distances: 2¼l, 8l, 1¼l
Time: 3m 53.20s (slow by 2.20s)
Gordon Elliott and Jack Kennedy land the opening race of the 2017 Cheltenham Festival with the mercurial Labaik
Jockey Jack Kennedy on board Labaik (grey horse, centre)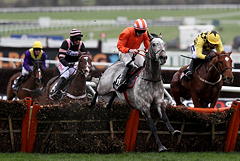 Labaik was a surprise winner of the opening race of The Festival at 25/1.

The Gordon Elliott-trained six-year-old has refused to race four times in the past 12 months, and nearly did so on his previous start at Naas in February, trailing the field for the entire race.
But today Labaik swept through to beat 3/1 joint-favourite Melon into second place by two and a quarter lengths, with River Wylde a further eight lengths back in third.

He was ridden by 17-year-old Jack Kennedy, for whom it was a first Festival winner.

A delighted Elliott said: "Jack gave him a great ride. Keith Donoghue was supposed to ride this horse and has done a lot of work with him, so a lot of thanks go to him. He's hunted him a lot. This should have been Keith's day.

"We never made a secret about how good we thought the horse was. But I was wanting to go to Naas on Sunday, rather than here and face the embarrassment of not jumping off! I'm glad the owners were keen enough to come here.

"He's got an engine. We haven't a horse to work with him in the yard; he's a machine of a horse. Where we will go from here I don't know. If he never jumps off again, it doesn't matter!"

Asked why he thinks Labaik deigned to start today, Elliott replied: "You can use a long whip here [to crack behind the horses at the start] whereas you can't in Ireland, and I think he heard the crack of it and just went."
Sky Bet Supreme Novices' Hurdle
£125,000 added, 4yo plus, 2m 87y, Class 1
14 ran
Going: Good to Soft
Pos
D
Horse SP
Jockey Weight
Trainer
Age
1st
Labaik (FR) 25/1
J W Kennedy
11-7
G Elliott
6
2nd
2&frac14
Melon 3/1j
R Walsh
11-7
W P Mullins
5
3rd
8
River Wylde (IRE) 8/1
Nico de Boinville
11-7
N J Henderson
6
4th
1&frac14
Ballyandy 3/1j
Sam Twiston-Davies
11-7
N A Twiston-Davies
6
5th
5
Cilaos Emery (FR) 12/1
D J Mullins
11-7
W P Mullins
5
6th
hd
Beyond Conceit (IRE) 16/1
N D Fehily
11-7
N J Henderson
8
7th
6
Elgin 14/1
Wayne Hutchinson
11-7
A King
5
8th
nk
Capital Force (IRE) 50/1
D N Russell
11-7
H de Bromhead
6
9th
3&frac14
High Bridge 20/1
Mr Alex Ferguson
11-7
B Pauling
6
10th
8
Pingshou (IRE) 25/1
Aidan Coleman
11-7
C L Tizzard
7
11th
2&frac12
Magna Cartor 200/1
Rachael Blackmore
11-7
J J Hanlon
7
12th
nk
Bunk Off Early (IRE) 6/1
P Townend
11-7
W P Mullins
5
13th
nse
Crack Mome (FR) 11/1
D E Mullins
11-7
W P Mullins
5
14th
56
Glaring 40/1
L P Aspell
11-7
Mrs A J Perrett
6

KENNEDY GAINS FIRST FESTIVAL VICTORY
Labaik provided young Irish rider Jack Kennedy with his first success at the Festival.

The six-year-old grey was settled towards the rear of the field by Kennedy early on in the two-mile contest but made stealthy progress approaching the home turn to tackle the leaders.
The son of Montmartre took the lead approaching the final flight and kept on gamely up the hill to score by a decisive two and a quarter-lengths. 3/1 joint-favourite Melon, trained by Willie Mullins, was second, with Nicky Henderson's River Wylde (8/1) a further eight lengths back in third.

17-year-old Kennedy has enjoyed a meteoric rise in the saddle and gained his first Grade One success aboard Outlander in the Lexus Chase at Leopardstown over Christmas. However, the jockey was elated to register his first victory at the Festival, commenting: " It is absolutely amazing. Words cannot describe what it is like [first Cheltenham winner]. There are too many people to thank. I have dreamt about this day for as long as I can remember. Today was the main day and it was great that it came right today."

A quirky horse, Labaik has refused to race in four races in the last 12 months. However, Kennedy was always happy with the imposing grey in today's contest. He continued: "I would just like to thank the owners for keeping faith in me when Labaik didn't jump off at Naas the last day, and for keeping faith in the horse.
"It all went brilliant. He was grand, just walking out onto the track he half had a think about things but I gave him a kick in the belly and everything was straightforward from there.

"He jumped and travelled great and it couldn't have gone any better. I was probably a little bit far back but we went a good gallop. Labaik travelled away, although he jumped a little bit careful.

"I had one or two behind me early on but he jumped brilliant throughout. He travelled into the race well and I got a clear run. He got to the last and pricked his ears but to be fair he dug deep up the hill - he is a fair horse.

"I can't believe it - it's just a dream come true. I'll be going home a very happy lad now at the end of the week."
HENDERSON SEES CONSOLATION IN RIVER WYLDE DEFEAT

Trainer Nicky Henderson may have felt a sense of sinking as River Wylde threatened then folded, but being placed brought its own comfort.
River Wylde, an 8/1 shot who eventually finished third, loomed like a winner on the home turn, but from that point he could not go the pace of runner-up Melon, nor the fast-finishing Labaik, who swooped to win by two and a quarter lengths and eight lengths. Melon, who was sent off the 3/1 joint-favourite with fourth-placed Ballyandy, was a first arrow at the meeting for Willie Mullins and jockey Ruby Walsh.

Henderson, who won the race 12 months ago with Altior, said in the winners' enclosure: "He's run a super race, and if you think of all the horses we've had that have stood here [in the spot for placed horses] after the Supreme down the years, it's not such a bad place to be. They include Buveur D'Air last year, Sprinter Sacre a few years before that - it's quite a good place to launch your career.

"I know Altior won it last year, but we've had a lot of good placed horses in the race. I don't mind - anything that stands here is okay."

Of River Wylde he said: "He doesn't have to go chasing next season, but we'll see."
2016-WINNER-ALTIOR 6-11-07 Owner-Patricia Pugh; Trainer-Nicky Henderson; Jockey-Nico de Boinville; SP-4/1
2ND-Min 5-11-07 Owner-Susannah Ricci; Trainer-Willie Mullins IRE; Jockey-Ruby Walsh; SP-15/8 Fav
3RD-Buveur D'Air 5-11-07 Owner-Potensis Bloodstock Ltd & Chris Giles; Trainer-Nicky Henderson; Jockey- Noel Fehily: SP-10/1
14 ran, Time-3m 46.00s; Dist-7, 1½
2015-WINNER-DOUVAN 5-11-07 Owner-Susannah Ricci; Trainer-Willie Mullins IRE; Jockey-Ruby Walsh; SP-2/1 Fav
2ND-Shaneshill 6-11-07 Owner-Andrea & Graham Wylie; Trainer-Willie Mullins IRE; Jockey-Paul Townend; SP-9/1
3RD-Sizing John 5-11-07 Owner-Ann & Alan Potts; Trainer-Henry de Bromhead IRE; Jockey-Johnny Burke; SP-25/1
12 ran, Time-3m 47.50s; Dist-41⁄2, 21⁄2
2014-WINNER-VAUTOUR 5-11-07 Owner-Susannah Ricci; Trainer-Willie Mullins IRE; Jockey-Ruby Walsh; SP-7/2 Jt-Fav
2ND-Josses Hill 6-11-07 Owner-Alan Spence; Trainer-Nicky Henderson; Jockey-Andrew Tinkler; SP-14/1
3RD-Vaniteux 5-11-01 Owner-Richard & Lizzie Kelvin-Hughes; Trainer-Nicky Henderson; Jockey-Barry Geraghty; SP-11/1
18 ran, Time-3m 46.40s; Dist-6, ½ 7/2 Jt-Fav Irving (9th)
2013-WINNER-CHAMPAGNE FEVER 6-11-07 Owner-Susannah Ricci; Trainer-Willie Mullins IRE; Jockey-Ruby Walsh; SP-5/1
2ND-My Tent Or Yours 6-11-07 Owner-J P McManus; Trainer-Nicky Henderson; Jockey-A P McCoy; SP-15/8 Fav
3RD-Jezki 5-11-07 Owner-J P McManus; Trainer-Jessica Harrington IRE; Jockey-Robert Power; SP-5/1
12 ran, Time-3m 55.60s; Dist-½, 2¼
2012-WINNER-CINDERS AND ASHES 5-11-07 Owner-Dermot Hanafin & Phil Cunningham; Trainer-Donald McCain; Jockey-Jason Maguire; SP-10/1
2ND-Darlan 5-11-07 Owner-J P McManus; Trainer-Nicky Henderson; Jockey-A P McCoy; SP-7/1
3RD-Trifolium 5-11-07 Owner-Gigginstown House Stud; Trainer-Charles Byrnes IRE; Jockey-Davy Russell; SP-15/2
19 ran, Time-3m 52.70s; Dist-1¼, nk 6/1 Fav Galileo's Choice (7th)
2011-WINNER-AL FEROF 6-11-07 Owner-John Hales; Trainer-Paul Nicholls; Jockey-Ruby Walsh; SP-10/1
2ND-Spirit Son 5-11-07 Owner-Michael Buckley; Trainer-Nicky Henderson; Jockey-Barry Geraghty; SP-5/1
3RD-Sprinter Sacre 5-11-07 Owner-Caroline Mould; Trainer-Nicky Henderson; Jockey-A P McCoy; SP-11/1
15 ran, Time-3m 52.10s; Dist-2, 31⁄4 7/4 Fav Cue Card (4th)
2010-WINNER-MENORAH 5-11-07 Owner-Diana Whateley; Trainer-Philip Hobbs; Jockey-Richard Johnson; SP-12/1
2ND-Get Me Out Of Here 6-11-07 Owner-J P McManus; Trainer-Jonjo O'Neill; Jockey-Tony McCoy; SP-9/2
3RD-Dunguib 7-11-07 Owner-Dan Hartnett/Lily Lawlor; Trainer-Philip Fenton IRE; Jockey-Brian O'Connell; SP-4/5 Fav
18 ran, Time-3m 56.52s; Dist-hd, 1¾
2009-WINNER-GO NATIVE 6-11-07 Owner-Docado Syndicate; Trainer-Noel Meade IRE; Jockey-Paul Carberry; SP-12/1
2ND-Medermit 5-11-07 Owner-The Dunkley & Reilly Partnership; Trainer-Alan King; Jockey-Robert Thornton; SP-12/1
3RD-Somersby 5-11-07 Owner-Camilla Radford; Trainer-Henrietta Knight; Jockey-Dominic Elsworth; SP-40/1
20 ran, Time-4m 1.00s; Dist-nk, 2¾ 9/4 Fav Cousin Vinny (5th)
2008-WINNER-CAPTAIN CEE BEE 7-11-07 Owner-J P McManus; Trainer-Edward Harty IRE; Jockey-Robert Thornton; SP-17/2
2ND-Binocular 4-10-13 Owner-J P McManus; Trainer-Nicky Henderson; Jockey-Tony McCoy; SP-8/1 Co Fav
3RD-Snap Tie 6-11-07 Owner-Diana Whateley; Trainer-Philip Hobbs; Jockey-Richard Johnson; SP-20/1
22 ran, Time-4m 6.45s; Dist-2, 4½ 8/1 Co Favs Pigeon Island (11th), Muirhead (12th)

2007-WINNER-EBAZIYAN 6-11-07 Owner-Peter Garvey; Trainer-Willie Mullins IRE; Jockey-Davy Condon; SP-40/1
2ND-Granit Jack 5-11-07 Owner-John Hales; Trainer-Paul Nicholls; Jockey-Ruby Walsh; SP-15/2
3RD-Amaretto Rose 6-11-00 Owner-Weatherbys Racing Club; Trainer-Nicky Henderson; Jockey-Mick Fitzgerald; SP-2/1 Fav
22 ran, Time-3m 56.1s; Dist-3, nk
2006-WINNER-NOLAND 5-11-07 Owner-John Hales; Trainer-Paul Nicholls; Jockey-Ruby Walsh; SP-6/1
2ND-Straw Bear 5-11-07 Owner-J P McManus; Trainer-Nick Gifford; Jockey-Tony McCoy; SP-11/1
3RD-Buena Vista 5-11-07 Owner-Matt Archer & the late Jean Broadhurst; Trainer-Martin Pipe; Jockey-Timmy Murphy; SP-14/1 20 ran, Time-3m 54.50s; Dist-nk, 1¼ 5/2 Fav Sweet Wake (5th)
2005-WINNER-ARCALIS 5-11-07 Owner-Andrea & Graham Wylie; Trainer-Howard Johnson; Jockey-Graham Lee: SP-20/1
2ND-Wild Passion 5-11-07 Owner-Des Sharkey; Trainer-Noel Meade IRE; Jockey-Paul Carberry; SP-10/1
3RD-Dusky Warbler 6-11-07 Owner-Mike Charlton & Rodger Sargent; Trainer-Gary Moore; Jockey-Jamie Moore; SP-20/1 20 ran, Time-3m 53.00s; Dist-6, ½ 13/2 Fav Marcel (13th)
2004-WINNER-BRAVE INCA 6-11-07 Owner-Novices Syndicate; Trainer-Colm Murphy IRE; Jockey-Barry Cash; SP-7/2 Fav
2ND-War Of Attrition 5-11-07 Owner-Gigginstown House Stud; Trainer-Mouse Morris IRE; Jockey-Conor O'Dwyer; SP-33/1
3RD-Fleet Street 5-11-07 Owner-Henry Ponsonby; Trainer-Nicky Henderson; Jockey-Andrew Tinkler; SP-20/1
19 ran, Time-3m 55.60s; Dist-nk, 7
2003-WINNER-BACK IN FRONT 6-11-08 Owner-Dermot Cox; Trainer-Edward O'Grady IRE; Jockey-Norman Williamson; SP-3/1 Fav
2ND-Kicking King 5-11-08 Owner-Conor Clarkson; Trainer-Tom Taaffe IRE; Jockey-Barry Geraghty; SP-13/2
3RD-Chauvinist 8-11-08 Owner-Bunny & Nick Roberts; Trainer-Nicky Henderson; Jockey-Mick Fitzgerald; SP-20/1
19 ran, Time-3m 56.80s; Dist-10, 4
2002-WINNER-LIKE-A-BUTTERFLY 8-11-03 Owner-J P McManus; Trainer-Christy Roche IRE; Jockey-Charlie Swan; SP-7/4 Fav
2ND-Westender 6-11-08 Owner-Matt Archer and Jean Broadhurst; Trainer-Martin Pipe; Jockey-Tony McCoy; SP-6/1
3RD-In Contrast 6-11-08 Owner-Peter Emery and A Staple; Trainer-Philip Hobbs; Jockey-Richard Johnson; SP-16/1
28 ran, Time-3m 54.25s; Dist-nk, 2½
2001 - Cancelled (Foot and Mouth Disease)
2000-WINNER-SAUSALITO BAY 6-11-08 Owner-The High Street Racing Syndicate; Trainer- Noel Meade IRE; Jockey-Paul Carberry; SP-14/1
2ND-Best Mate 5-11-08 Owner-Jim Lewis; Trainer-Henrietta Knight; Jockey-Jim Culloty; SP-6/1
3RD-Youlneverwalkalone 6-11-08 Owner-J P McManus; Trainer-Christy Roche IRE; Jockey-Conor O'Dwyer; SP-5/4 Fav 15 ran, Time-3m 51.70s; Dist-¾, 1¼
1999-WINNER-HORS LA LOI III 4-11-00 Owner-Paul Green; Trainer-Martin Pipe; Jockey-Tony McCoy; SP-9/2
2ND-Joe Mac 5-11-08 Owner-J P McManus; Trainer-Christy Roche IRE; Jockey-Conor O'Dwyer; SP-6/1
3RD-Arctic Fancy 6-11-08 Owner-The Cool Customers; Trainer-Julian Smyth-Osbourne; Jockey-Warren Marston; SP-66/1 20 ran, Time-3m 54.6s; Dist-17, 7 11/4 Fav Cardinal Hill (ur)
1998-WINNER-FRENCH BALLERINA 5-11-03 Owner-Sue Magnier; Trainer-Pat Flynn IRE; Jockey-Graham Bradley; SP-10/1
2ND-His Song 5-11-08 Owner-David Lloyd; Trainer-Mouse Morris IRE; Jockey-Richard Hughes; SP-4/1 Fav
3RD-Gatflax 6-11-08 Owner-Giles Clarke; Trainer-Nigel Twiston-Davies; Jockey-Carl Llewellyn; SP-16/1
30 ran, Time-3m 50.9s, Dist-7, 1
1997-WINNER-SHADOW LEADER 6-11-08 Owner-James Blackshaw; Trainer-Charles Egerton; Jockey-Jamie Osborne; SP-5/1
2ND-Princeful 6-11-08 Owner-Robert & Elizabeth Hitchins; Trainer-Jenny Pitman; Jockey-Rodney Farrant; SP-25/1
3RD-Nordic Breeze 5-11-08 Owner-Malcolm Jones; Trainer-Martin Pipe; Jockey-David Walsh; SP-100/1
16 ran, Time-3m 49.5s, Dist-10, ½ 2/1 Fav Finnegan's Hollow (f)
1996-WINNER-INDEFENCE 5-11-08 Owner-Indef Limited; Trainer-Jenny Pitman; Jockey-Warren Marston; SP-25/1
2ND-Kimanicky 6-11-08 Owner-Elaine Barnes; Trainer-Nicky Henderson; Jockey-Mick Fitzgerald; SP-11/2
3RD-Castle Sweep 5-11-08 Owner-Lord Vestey; Trainer-David Nicholson; Jockey-Peter Niven; SP-7/2 Fav
27 ran, Time-4m 1.8s, Dist-8, hd
SKYBET SUPREME NOVICES' HURDLE ROLL OF HONOUR
Year Winner Age/Wt Jockey Trainer Owner SP Ran
1995 Tourist Attraction 6-11-03 Mark Dwyer Willie Mullins IRE North Kildare Racing Club 25/1 20
1994 Arctic Kinsman 6-11-08 Carl Llewellyn Nigel Twiston-Davies Rosie Hambro 50/1 18
1993 Montelado 6-11-08 Charlie Swan Pat Flynn IRE Ollie Hannon 5/1 15
1992 Flown 5-11-08 Jamie Osborne Nicky Henderson Edward Winfield 13/2 17
1991 Destriero 5-11-08 Pat McWilliams Andy Geraghty IRE Elizabeth Furlong 6/1 21
1990 Forest Sun 5-11-08 Jimmy Frost Toby Balding Salehurst Paper Co Ltd 7/4F 18
1989 Sondrio 8-11-08 Jonathon Lower Martin Pipe Mrs J M Ryan 25/1 21
1988 Vagador 5-11-08 Mark Perrett Guy Harwood Amanda Harwood 4/1F 26
1987 Tartan Tailor 6-11-08 Phil Tuck Gordon Richards Edinburgh Woollen Mill Ltd 14/1 20
1986 River Ceiriog 5-11-07 Steve Smith Eccles Nicky Henderson Bobby McAlpine 40/1 29
1985 Harry Hastings 6-11-08 Chris Grant John Wilson Robert Leask 14/1 30
1984 Browne's Gazette 6-11-08 Mr Dermot Browne Michael Dickinson John Poynton 11/2 18
1983 Buck House 5-11-08 Tommy Carmody Mouse Morris IRE Mrs S Purcell 8/1 22
1982 Miller Hill 6-11-08 Tom Morgan Dessie Hughes IRE J Harvey 20/1 19
1981 Hartstown 6-11-08 Niall Madden Mick O'Toole IRE J McGowan 2/1F 16
1980 Slaney Idol 5-11-08 Tommy Carmody Liam Browne IRE Mrs M Hayes 9/1 27
1979 Stranfield 6-11-08 Tommy Kinane Des McDonogh IRE D Devlin 16/1 16
1978 Golden Cygnet 6-11-08 Mr Niall Madden Edward O'Grady IRE Raymond Rooney 4/5F 18
1977 Mac's Chariot 6-11-08 Dessie Hughes Mick O'Toole IRE Mrs A Jordan 7/1 16
1976 Beacon Light 5-11-08 Andy Turnell Bob Turnell Jim Joel 14/1 11
1975 Bannow Rambler6-11-08 Frank Berry Padge Berry IRE Mrs K White 9/2 18
1974 Avec Moi 5-11-06 Roger Rowell Auriol Sinclair Lord Blackford 5/4F 16
1973 King Pele 4-10-10 David Nicholson Gavin Pritchard-Gordon J Richardson 13/2 20
1972 Noble Life 5-11-06 Stan Murphy Christy Grassick IRE M Gallagher 16/1 18
1971(I) Persian Majesty 4-10-13 Terry Biddlecombe Ryan Price Ken Wheldon 13/2 10
1971 (II) Barnard 7-12-00 Johnnie Haine Fulke Walwyn Mrs B Heath 4/1 13
1970 (I) Ballywilliam Boy 5-12-00 Bobby Coonan Paddy Sleator IRE P Smyth 4/1 20
1970 (II) Bula 5-12-00 Paul Kelleway Fred Winter Bill Edwards-Heathcote 3/1F 21
1969 (I) Normandy 4-11-02 Terry Biddlecombe Fred Rimell Bryan Jenks 10/1 28
1969 (II) Private Room 5-11-10 Willie Robinson Fulke Walwyn Mrs A L Hoare 10/1 20
1968 (I) King Cutler 5-12-00 Brian Fletcher Denys Smith Joe Lisle 85/40 12
1968 (II) L'Escargot 5-12-04 Tommy Carberry Dan Moore IRE Raymond Guest 13/2 11
1967 (I) Chorus 6-11-12 Johnnie Haine Tom Jones Lord James Crichton-Stuart 15/2 20
1967 (II) Early To Rise 7-11-12 Jeff King Bob Turnell Paul Mellon 11/2 14
1966 (I) Beau Caprice 12-12-02 Tommy Jennings Fulke Walwyn Richard Head 6/1 14
1966 (II) Fosco 5-11-06 David Moore Mick Goswell David Montagu 7/2 19
1965 (I) Red Tears 5-11-06 Stan Mellor Tom Jones Major Victor McCalmont 7/1 19
1965 (II) Havago 6-12-04 Bobby Beasley Paddy Sleator IRE Clifford Nicholson 11/8 15
1964 (I) Flyingbolt 5-12-02 Pat Taaffe Tom Dreaper IRE Mrs Jean Wilkinson 4/9F 11
1964 (II) Elan 5-12-02 Dave Dick John Sutcliffe R Tucker 9/2 18
1963 (I) Honour Bound 5-11-10 Terry Biddlecombe Fred Rimell Katie Gaze 3/1F 18
1963 (II) Buona Notte 6-11-08 Johnnie Haine Bob Turnell Jim Joel 7/2 15
1963 (III) Deetease 5-12-02 Clive Chapman Basil Foster Charles Chandler 9/1 18
1962 (I) Tripacer 4-10-12 Tommy Carberry Dan Moore IRE Lady Honor Svejdar 20/1 18
1962 (II) Clerical Grey 4-11-02 Willie Robinson P Murphy IRE Mrs R A Palfreyman 100/8 18
1961 (I) Beau Normand 5-11-06 Bill Rees Bob Turnell Jim Joel 5/1 18
1961 (II) Greektown 5-12-02 Michael Scudamore Willie Stephenson Lionel Ensten 100/8 15
1960 (I) Blue Mountain 6-11-05 Dick Broadway George Todd Sidney Banks 5/1 20
1960 (II) Bastille 5-10-13 Bill Woods Tom Masson Mrs V Cripps 33/1 18
1959 (I) York Fair 5-11-10 Tommy Burns Vincent O'Brien IRE John McShain 4/5F 16
1959 (II) Albergo 5-11-06 Doug Page Clem Magnier IRE Mrs Clem Magnier 9/1 19
1958 (I) Admiral Stuart 7-11-12 Tommy Burns Vincent O'Brien IRE Mrs T V Ryan 6/5F 19
1958 (II) Prudent King 6-11-08 Tommy Burns Vincent O'Brien IRE Captain R Westmacott 3/1F 19
1957 (I) Tokoroa 6-12-01 Dave Dick Fred Rimell David Deyong 5/4F 10
1957 (II) Saffron Tartan 6-11-12 Tommy Burns Vincent O'Brien IRE Lady Cottenham 10/11F 12
1956 (I) Boys Hurrah 8-11-08 Tommy Burns Vincent O'Brien IRE M J Sheehan 9/4F 17
1956 (II) Pelargos 5-11-06 Tommy Burns Vincent O'Brien IRE Vincent O'Brien 6/4F 22
1955 (I) Vindore 6-11-12 Mr Phonsie O'Brien Vincent O'Brien IRE J A Wood Evs F 19
1955 (II) Illyric 6-11-08 Tommy Burns Vincent O'Brien IRE R Mulrooney 3/1F 23
1954 (I) Stroller 6-11-08 Pat Taaffe Vincent O'Brien IRE Joe Griffin 13/8F 18
1954 (II) Tasmin 4-10-07 Rene Emery Harry Count FR Harry Count 5/1 18
1953 (I) Assynt 5-11-01 Eddie Newman Danny Morgan IRE Lady Ursula Vernon 9/4F 18
1953 (II) Dessin 7-11-08 Johnny Gilbert Frank Hudson H J Barlow 100/9 17
1952 (I) Cockatoo 6-11-03 Mr Phonsie O'Brien Vincent O'Brien IRE Harry Keogh 4/1 13
1952 (II) Evian 4-10-07 Fred Winter George Archibald M S Westwick 10/1 14
1951 (I) Red Stranger 4-10-12 Denis Dillon Ron Smyth L Jarvis 100/8 20
1951 (II) Oukileles II 4-10-12 Fred Winter George Archibald B Campbell 6/1 13
1950 (I) Tsaoko 5-11-08 Martin Molony Sam Armstrong H E Habib I Rahimtoola 4/9F 9
1950 (II) Sir Charles 4-10-04 Mr Michael Scudamore Geoffrey Scudamore S A Mailes 25/1 15
1949 (I) French Wedding 4-10-07 Jimmy Brogan Gerry Wilson E L Gosling 11/2 14
1949 (II) Tough Guy 4-10-00 Denis Dillon Ivor Anthony Jack Olding 4/1 18
1948 (I) Vulgan 5-10-10 Rickie Black John De Moraville H Coriat 9/2 13
1948 (II) Jean's Last 6-11-00 Bryan Marshall Fulke Walwyn Lady Throckmorton 7/4F 21
1947 No race
1946 (I) Prince Rupert 5-11-03 Ron Smyth Ted Smyth John J Astor 9/2 19
1946 (II) Freetown 6-11-00 George Archibald W Larkin H Rogers 8/1 17
1946 (III) Gremlin 5-10-10 Phil Canty George Todd Desmond Baring 5/1 16