---
Neptune Investment Management Novices' Hurdle

Grade 1, Cheltenham 13:30
£125,000 added, 4yo plus,
2m 5f 26y, Class 1  
Wednesday 15th March 2017
1 Willoughby Court 14/1
2 Neon Wolf 2/1F
3 Messire Des Obeaux 8/1
15 ran Distances: hd, 3¾l, 4l
TIME 5m 8.80s (slow by 14.80s)
Willoughby Court gets the better of favourite Neon Wolf in a thriller
Willoughby Court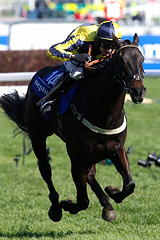 Trainer Ben Pauling scored his first Festival victory when Willoughby Court took the Grade One Neptune Investment Management Novices' Hurdle in a thrilling battle to the line with Neon Wolf.

The David Bass-ridden Willoughby Court, a 14/1 shot, made the vast majority of the running but in end only scored from 2/1 favourite Neon Wolf by a head in a photo-finish.

Pauling, who trains in Gloucestershire near Bourton-on-the-Water, said: "I can't believe it, honestly. It feels as good as I ever hoped it would and better. To do it for Paul [Rooney, owner], who has been a great supporter of mine since my second season when I literally had 12 horses, means a huge amount.

"Jason [Maguire - the owner's racing manager] has been a big part of the whole thing and my wife Sophie supports me day in, day out. It is fantastic, even down to Greg Walters who rides Willoughby Court every day because he is not an easy horse. I suppose Bassy did an all right job as well!"

"We set out with a plan. There weren't any confirmed front runners apart from ourselves, and I said to David [Bass], 'get him into a rhythm and then let him do what he can from there on in. He settled beautifully, didn't miss a beat on any of the hurdles, and I saw Neon Wolf coming there between the last two and I admit I was slightly concerned, but I hoped we'd get him off the bridle and we did. He was gutsy as you like and I think that was an absolutely exceptional ride from David.

"I think David and Nico [de Boinville], the two boys I use, their clocks from the front are second to none - they can almost ride others to sleep and I think that's exactly what happened today.

"Willoughby Court was an impossible horse to train for two years because he was so fractious and nervous, and this time he has just been a different kettle of fish.

"Greg Walters, who rides him every day, has done an exceptional job and he is here today to enjoy it.

"This means everything and more. We've had a fantastic start to my training career, and the yard, my support and my staff are exceptional, but this is really is the icing on the cake.

"Every option is open now, but I don't think we will be seeing Willoughby Court at Aintree. Never say never, but this could be the end of his season."

Neptune Investment Management Novices' Hurdle
(registered As The Baring Bingham Novices' Hurdle)
£125,000 added, 4yo plus, 2m 5f 26y, Class 1
15 ran
Going: Good to Soft, Good in places
Pos
Dist
Horse SP
Jockey Weight
Trainer
Age
1st
Willoughby Court (IRE) 14/1
D Bass
11-7
B Pauling
6
2nd
hd
Neon Wolf (IRE) 2/1f
N D Fehily
11-7
H Fry
6
3rd
3&frac34
Messire Des Obeaux (FR) 8/1
D A Jacob
11-7
A King
5
4th
4
Burbank (IRE) 50/1
J McGrath
11-7
N J Henderson
5
5th
1&frac14
Kemboy (FR) 16/1
D J Mullins
11-7
W P Mullins
5
6th
1&frac12
Brelade 18/1
J W Kennedy
11-7
G Elliott
5
7th
2&frac34
Keeper Hill (IRE) 25/1
G Sheehan
11-7
W Greatrex
6
8th
&frac12
Skipthecuddles (IRE) 66/1
Kielan Woods
11-7
G McPherson
6
9th
7
De Dollar Man (IRE) 50/1
Adam Wedge
11-7
Evan Williams
6
10th
1
Livelovelaugh (IRE) 16/1
D E Mullins
11-7
W P Mullins
7
11th
28
Poetic Rhythm (IRE) 66/1
P J Brennan
11-7
F O'Brien
6
12th
2&frac34
Shattered Love (IRE) 8/1
B J Cooper
11-7
G Elliott
6
Also Ran: Bacardys (FR) , Bon Papa (FR) , Consul De Thaix (FR)
BASS AND COURT HOLD WOLF AT BAY

Willoughby Court became trainer Ben Pauling's first Festival winner under jockey David Bass.

The 14/1 winner held off 2/1 favourite Neon Wolf by a head, with Messire Des Obeaux (8/1) a further three and three-quarters of a length back in third. Bass was riding his second winner at The Festival, following Darna's 2015 success in the Brown Advisory & Merriebelle Stable Plate for trainer Kim Bailey.

Today's win was particularly sweet for Bass, who rode Charbel in yesterday's Racing Post Arkle Challenge Trophy, and was still in contention when falling two out. Bass said: "Yesterday was a massive disappointment for me and Kim [Bailey, Charbel's trainer], but today was brilliant. It all went to plan, he was tough on the run-in, he stays very well and it worked out.

"He has form over two miles five furlongs on heavy ground, and my worry was that I hadn't ridden him on decent ground. I feared his stamina might not come into play, so I rode him positively and he really got into a lovely rhythm. We respected Neon Wolf, and when Noel [Fehily, on Neon Wolf] got to me turning in I thought it would be a close-run thing.

"He [Willoughby Court] is a three-mile chaser in the making and I think he's got a big future over fences.

"I went home last night and watched the replay [of Charbel] quite a few times and it hurt - we'll never know what will happen. I woke up today and said 'right, you've got two good rides today, so focus on that'. Ben is a really good young trainer, very ambitious and with good staff. It will mean a lot to him."
WOLF FAILS TO CATCH WILLOUGHBY

Trainer Harry Fry was pleased with the run of 2/1 favourite Neon Wolf who finished an agonising head second to 14/1 winner Willoughby Court, trained by Ben Pauling after a prolonged battle.

Always handy under Noel Fehily, Neon Wolf cruised into contention approaching the home turn and looked the likely winner in the home straight. However, Willoughby Court under a never-say-die ride from David Bass, found plenty for pressure and gamely repelled the sustained challenge of Fry's charge, to score by a head. Alan King's Messire Des Obeaux (8/1) was a further three and three-quarter lengths behind in third.

Fry said: "All credit to the winner, he just pulled out more and more. I'm absolutely delighted with the run of Neon Wolf. We have a lovely horse on our hands. Obviously, we would've loved to have won but all credit to Ben Pauling and his team for a fantastic performance by the winner."

The six-year-old son of Vinnie Roe pecked on landing at the final flight but Fry refused to blame that for the defeat, commenting: "There are plenty of what-ifs in racing. We were second on the day and we will now look forward to having an exciting horse on our hands.

"He has got the trip no problem. He was keeping on again at the end but the winner just kept finding a bit more. There we go, that's racing and they don't win all the time. He's run a great race in defeat."

Fry would not be drawn on where the gelding would go next, adding: "We'll see how he comes out of this but the owners are keen on Punchestown."

Jockey Noel Fehily said: "The ground just dried out a bit too much for him. He pecked badly at the back of the last as well."

Alan King was delighted with the performance of Messire Des Obeaux, who stayed on well to finish third. The Barbury Castle handler said: "He never missed a beat. He jumped well and we are really pleased with him."

Anthony Bromley, racing manager to Simon Munir and Isaac Souede, was similarly delighted with the performance of Messire Des Obeaux, remarking: "It was a very hot novice hurdle. We were so pleased to get third place. He stayed on well, Daryl had him in a good position and he has run a great race behind two very good horses.

"The handicapper had the two in front rated higher but we are very proud of our horses and can't wait to go chasing next year. He has much more relaxed as he is maturing so he may be an RSA or JLT horse I would like to hope for next season. We are very proud of him." Daryl Jacob, rider of the third, said: "He ran a great race."
Previous results - NEPTUNE INVESTMENT MANAGEMENT NOVICES' HURDLE
2016-WINNER-YORKHILL 6-11-07 Owner-Andrea & Graham Wylie; Trainer-Willie Mullins IRE; Jockey-Ruby Walsh; SP-3/1
2ND-Yanworth 6-11-07 Owner-J P McManus; Trainer Alan King; Jockey-Barry Geraghty; SP-11/10 Fav
3RD-Its'afreebee 6-11-07 Owner-Rebel Jumping; Trainer-Dan Skelton; Jockey-Ian Popham; SP-33/1
11 ran, Time-5m 0.89s; Dist-1¾, 7
2015-WINNER-WINDSOR PARK 6-11-07 Owner-Dr Ronan Lambe; Trainer-Dermot Weld IRE; Jockey-Davy Russell; SP-9/2
2ND-Parlour Games 7-11-07 Owner-Bloomfields; Trainer-John Ferguson; Jockey-A P McCoy; SP-13/2
3RD-Nichols Canyon 5-11-07 Owner-Andrea & Graham Wylie; Trainer-Willie Mullins IRE; Jockey-Ruby Walsh; SP-7/2 Fav
10 ran, Time-5m 7.40s; Dist-3¾, 1¼
2014-WINNER-FAUGHEEN 6-11-07 Owner-Susannah Ricci; Trainer-Willie Mullins IRE; Jockey-Ruby Walsh; SP-6/4 Fav
2ND-Ballyalton 7-11-07 Owner-John Westwood; Trainer-Ian Williams; Jockey-Will Kennedy; SP-20/1
3RD-Rathvinden 6-11-07 Owner-Ronnie Bartlett; Trainer-Willie Mullins IRE; Jockey-Paul Townend; SP-11/2
15 ran, Time-4m 54.80s; Dist-4½, ½
2013-WINNER-THE NEW ONE 6-11-07 Owner-Sarah Such; Trainer-Nigel Twiston-Davies; Jockey-Sam Twiston-Davies; SP-7/2
2ND-Rule The World 5-11-07 Owner-Gigginstown House Stud; Trainer-Mouse Morris IRE; Jockey-Davy Russell; SP-5/1
3RD-Pont Alexandre 5-11-07 Owner-Susannah Ricci; Trainer-Willie Mullins IRE; Jockey-Ruby Walsh; SP-6/4 Fav
8 ran, Time-5m 16.60s; Dist-4, 4½
2012-WINNER-SIMONSIG 6-11-07 Owner-Ronnie Bartlett; Trainer-Nicky Henderson; Jockey-Barry Geraghty; SP-2/1 Fav
2ND-Felix Yonger 6-11-07 Owner-Andrea & Graham Wylie; Trainer-Willie Mullins IRE; Jockey-Paul Townend; SP-16/1
3RD-Monksland 5-11-07 Owner-Patricia Hunt; Trainer Noel Meade IRE; Jockey-Paul Carberry; SP-11/2
17 ran, Time-4m 59.34s; Dist-7, 11
2011-WINNER-FIRST LIEUTENANT 6-11-07 Owner-Gigginstown House Stud; Trainer-Mouse Morris IRE; Jockey-Davy Russell; SP- 7/1
2ND-Rock On Ruby 6-11-07 Owner-The Festival Goers; Trainer-Paul Nicholls; Jockey-Daryl Jacob; SP-13/2 3RD-So Young 5-11-07 Owner-Mrs M McMahon; Trainer Willie Mullins IRE; Jockey-Ruby Walsh; SP-2/1 Fav
12 ran, Time-5m 10.50s; Dist-sh, 41⁄2
2010-WINNER-PEDDLERS CROSS 5-11-07 Owner-Tim Leslie; Trainer-Donald McCain; Jockey-Jason Maguire; SP-7/1
2ND-Reve De Sivola 5-11-07 Owner-Paul Duffy Diamond Partnership; Trainer-Nick Williams; Jockey-Daryl Jacob; SP-15/2
3RD-Rite Of Passage 6-11-07 Owner-Dr Ronan Lambe; Trainer-Dermot Weld IRE; Jockey-Mr Robbie McNamara; SP-7/2 Fav
17 ran, Time-5m 2.77s Dist-1½, 3¾
2009-WINNER-MIKAEL D'HAGUENET 5-11-07 Owner-Susannah Ricci; Trainer-Willie Mullins IRE; Jockey-Ruby Walsh; SP-5/2 Fav
2ND-Karabak 6-11-07 Owner-J P McManus; Trainer-Alan King; Jockey-Tony McCoy; SP-4/1
3RD-Diamond Harry 6-11-07 Owner-Paul Duffy Diamond Syndicate; Trainer-Nick Williams; Jockey-Timmy Murphy; SP-4/1
14 ran, Time-5m 17.10s Dist-1¾, 3¾
2008-WINNER-FIVEFORTHREE 6-11-07 Owner-Olde Crowbars Syndicate; Trainer-Willie Mullins IRE; Jockey-Ruby Walsh; SP-7/1
2ND-Venalmar 6-11-07 Owner-Michael O'Flynn; Trainer-Mouse Morris IRE; Jockey-Paddy Flood; SP-11/1
3RD-Trafford Lad 6-11-07 Owner-Butler Family Syndicate; Trainer-Eamon Sheehy IRE; Jockey-Tom Doyle; SP-9/1
15 ran, Time-5m 2.20s Dist-nk, 4; 4/1 Fav Aigle D'Or (13th)
2007-WINNER-MASSINI'S MAGUIRE 6-11-07 Owner-Alan Peterson; Trainer-Philip Hobbs; Jockey-Richard Johnson; SP-20/1
2ND-Tidal Bay 6-11-07 Owner-Andrea & Graham Wylie; Trainer-Howard Johnson; Jockey-Paddy Brennan; SP-10/1
3RD-Catch Me 6-11-07 Owner-J P O'Shea; Trainer-Edward O'Grady IRE; Jockey-Barry Geraghty; SP-7/1
15 ran, Time-5m 5.40s; Dist: nk, 1½; 5/2 Fav Aran Concerto (5th)
2006-WINNER-NICANOR 5-11-07 Owner-Des Sharkey; Trainer-Noel Meade IRE; Jockey-Paul Carberry; SP-17/2
2ND-Denman 6-11-07 Owner-Paul Barber & Maggie Findlay; Trainer-Paul Nicholls; Jockey-Ruby Walsh; SP-11/10 Fav
3RD-Refinement 7-11-00 Owner-Michael Tabor; Trainer-Jonjo O'Neill; Jockey-Tony McCoy; SP-11/2
17 ran, Time-5m 1.00s Dist: 2½, 6
2005-WINNER-NO REFUGE 5-11-07 Owner-Andrea & Graham Wylie; Trainer-Howard Johnson; Jockey-Graham Lee; SP-17/2
2ND-Racing Demon 5-11-07 Owner-Camilla Radford; Trainer-Henrietta Knight; Jockey-Jim Culloty; SP-14/1
3RD-Our Ben 6-11-07 Owner-Trevor Hemmings; Trainer-Willie Mullins IRE; Jockey-Ruby Walsh; SP-33/1
20 ran, Time-5m 00.00s Dist: ¾, 2½ 9/2 Jt Favs Gold Medalist (5th) & Royal Paradise (7th)
2004-WINNER-FUNDAMENTALIST 6-11-07 Owner-Gripen; Trainer-Nigel Twiston-Davies; Jockey-Carl Llewellyn; SP-12/1
2ND-Inglis Drever 5-11-07 Owner-Andrea & Graham Wylie; Trainer-Howard Johnson; Jockey-Graham Lee; SP-7/4 Fav
3RD-Grey Report 7-11-07 Owner-Anne La Trobe; Trainer-Philip Hobbs; Jockey-Richard Johnson; SP-25/1
15 ran, Time-5m 1.90s, Dist-.5, 4
2003-WINNER-HARDY EUSTACE 5-11-07 Owner-Laurence Byrne; Trainer-Dessie Hughes IRE; Jockey-Kieran Kelly; SP-6/1
2ND-Pizarro 6-11-07 Owner-Edward Wallace; Trainer-Edward O'Grady IRE; Jockey-Norman Williamson; SP-2/1 Fav
3RD-Lord Sam 7-11-07 Owner-Plain Peeps; Trainer-Victor Dartnall; Jockey-Warren Marston; SP-10/1
Coolnagorna, finished 2nd, placed last for causing interference 19 ran, Time-5m 5.70s, Dist (as they passed the post)-1¼, 1
2002-WINNER-GALILEO 6-11-07 Owner-Sharon Nelson, Allan Stennett, Terry Warner; Trainer-Tom George; Jockey-Jason Maguire; SP-12/1
2ND-Over The Bar 6-11-07 Owner-J P McManus; Trainer-Edward O'Grady IRE; Jockey-Norman Williamson; SP-14/1
3RD-Lanzerac 5-11-07 Owner-Cleartherm Ltd; Trainer-John Harris; Jockey-Paul Flynn; SP-66/1
27 ran; Time-5m 19.70s, Dist-3½, sh; 5/1 Fav Classified (4th)
2001-Cancelled (Foot and Mouth Disease)
2000-WINNER-MONSIGNOR 6-11-07 Owner-Malcolm Denmark; Trainer-Mark Pitman; Jockey-Norman Williamson; SP-5/4 Fav
2ND-No Discount 6-11-06 Owner-Seamus Ross; Trainer-Charlie Swan IRE; Jockey-Charlie Swan; SP-20/1
3RD-Gentle Rivage 6-11-07 Owner-Geoffrey and Donna Keeys; Trainer-Nigel Twiston-Davies; SP-50/1
14 ran, Time-4m 52.0s, Dist-8,5
1999-WINNER-BARTON 6-11-07 Owner-Stan Clarke; Trainer-Tim Easterby; Jockey-Lorcan Wyer, SP-2/1 Fav
2ND-Artadoin Lad 6-11-07 Owner-Jim Shaw; Trainer-Jenny Pitman; Jockey-Mick Fitzgerald; SP-28/1
3RD-Winston Run 7-11-07 Owner-Mr & Mrs John Poynton; Trainer-Ian Williams; Jockey-Glenn Tormey; SP-100/1
18 ran, Time-5m 5.6s, Dist-9, ½
1998-WINNER-FRENCH HOLLY 7-11-07 Owner-Kieran Flood; Trainer-Ferdy Murphy; Jockey-Andrew Thornton; SP-2/1 Fav
2ND-Torboy 8-11-07 Owner-Paul Green; Trainer-Martin Pipe; Jockey-Tony McCoy; SP-8/1
3RD-Cloone Bridge 6-11-07 Owner-Kathleen Gillane; Trainer-Aidan O'Brien IRE; Jockey-Charlie Swan; SP-8/1
18 ran, Time-4m 59.7s, Dist-14, 2½
1997-WINNER-ISTABRAQ 5-11-07 Owner-J P McManus; Trainer-Aidan O'Brien IRE; Jockey-Charlie Swan; SP-6/5 Fav
2ND-Mighty Moss 6-11-07 Owner-Ken Hutsby; Trainer-David Nicholson; Jockey-Mr Fred Hutsby; SP-11/1
3RD-Daraydan 5-11-07 Owner-David Johnson; Trainer-Martin Pipe; Jockey-Richard Hughes; SP-16/1
17 ran, Time-4m 58.2s, Dist-1, ¾

NEPTUNE INVESTMENT MANAGEMENT NOVICES' HURDLE ROLL OF HONOUR
Year Winner Age/Wt Jockey Trainer Owner SP Ran
1996 Urubande 6-11-07 Charlie Swan Aidan O'Brien IRE Martin St Quinton 8/1 24
1995 Putty Road 5-11-07 Norman Williamson David Nicholson Lady Harris 7/1 21
1994 Danoli 6-11-07 Charlie Swan Tom Foley IRE Dan O'Neill 7/4F 23
1993 Gaelstrom 6-11-02 Carl Llewellyn Nigel Twiston-Davies Jenny Powell 16/1 19
1992 Thetford Forest 5-11-07 Richard Dunwoody David Nicholson Saeed Manana 7/1 27
1991 Crystal Spirit 4-10-12 Jimmy Frost Ian Balding Paul Mellon 2/1F 29
1990 Regal Ambition 6-11-07 Peter Scudamore Martin Pipe Skeltools Ltd 3/1F 22
1989 Sayfar's Lad 5-11-07 Mark Perrett Martin Pipe Arthur Whiting 12/1 22
1988 Rebel Song 6-11-07 Simon Sherwood Oliver Sherwood Maggie Heath 14/1 25
1987 The West Awake 6-11-07 Simon Sherwood Oliver Sherwood Maggie Heath 16/1 28
1986 Ten Plus 6-11-07 Kevin Mooney Fulke Walwyn Basil Thwaites 5/2F 28
1985 Asir 5-11-07 Mr Ronnie Beggan Paul Kelleway HH Prince Yazid Saud 9/1 27
1984 Fealty 4-10-12 Seamus O'Neill Peter Brookshaw Peter Brookshaw 33/1 29
1983 Sabin Du Loir 4-10-08 Graham Bradley Michael Dickinson Brian Kilpatrick 16/1 27
1982 Mister Donovan 6-11-08 Tommy Ryan Edward O'Grady IRE J P McManus 9/2 21
1981 Gaye Chance 6-11-08 Sam Morshead Fred Rimell Mrs M Curtis 7/1 21
1980 Drumlargan 6-11-08 Tommy Ryan Edward O'Grady IRE Mary Cuddy 5/2F 27
1979 Venture To Cognac 6-11-08 Mr Oliver Sherwood Fred Winter Nat Sherwood 4/1 29
1978 Mr Kildare 5-11-07 Tommy Carmody Liam Browne IRE Owen Canty 8/11F 20
1977 Counsel Cottage 6-11-08 Sean Treacy Paddy Mullins IRE Lady Elizabeth Byng 6/1 26
1976 Parkhill 5-11-07 Dessie Hughes Mick O'Toole IRE Mrs J McGowan 4/1 21
1975 Davy Lad 5-11-07 Dessie Hughes Mick O'Toole IRE Mrs J McGowan 5/2F 20
1974 Brown Lad 8-11-08 Ron Barry Paddy Osborne IRE J Osborne 2/1F 25
1973 Willie Wumpkins 5-11-06 Pat Colville Adrian Maxwell IRE Jane Pilkington 11/1 15
1972 Even Dawn 5-11-06 Ron Hyett Katie Gaze Katie Gaze 40/1 17
1971 Midsprite 5-11-12 Macer Gifford Tom Jones Mrs Ogden Phipps 7/1 20