Synchronised gave Jonjo O'Neill his first Betfred Cheltenham Gold Cup winner as a trainer, after two as a rider on Alverton (1979) and Dawn Run (1986). And he is in no doubt as to which gave him the most pleasure.
"If you cock up as a jockey you let yourself down," he said. "If you cock up as a trainer you let the team down. Far more responsibility, far more pleasure when you get it right. And getting this horse to this day has been such a massive team effort, with a magic result.
"The horse came back from Leopardstown [where he won the Lexus Chase in late December] not quite right. He'd caught a chill and wasn't well at all. He's not a big robust horse and he needs minding, and time between his races. Everyone at the place [the Jackdaws Castle training operation] put their shoulders to the wheel over getting him right, gave it everything.
"It was really only in the past few days that he really came to himself, came right. He was like a flower who finally bloomed."
As a former top-class jockey O'Neill knows exactly the sort of solo effort and responsibility required in the saddle, and could not speak highly enough of Synchronised's rider Tony McCoy.
"This is a horse who really needs knowing," he said. "The important thing was to keep him in the race for the first mile, but he has his own way of getting from one side of a fence to another, and any little mistake at that stage would have knocked him back, and it would have been hard for him to recover the ground once he got detached.
"But AP got him into a great rhythm, and once he was still in touch after a circuit we knew we'd have a chance. He's not a big horse, looks more like a kid's pont compared with some. But he's got a heart bigger than himself and never gives up. Just like his jockey, really. The two of them will keep finding more, and more. They're made for each other."
THE GREATEST - TONY McCOY
Tony McCoy rode his 26th and greatest Festival winner on 8/1 chance Synchronised in the 2012 Betfred Cheltenham Gold Cup today.
The 16-time champion Jump jockey, breaker of all records in Jump racing, said: "It's great for Jonjo O'Neill, Noreen and J P McManus, the family have been so good to me since I started riding for them. I probably haven't really delivered for them, not enough.
"Jamie Moore got a seven-day ban and he said that he was going to Las Vegas. I told him that if I won the Gold Cup, then I would pay for it, so it's going to be expensive.
"Synchronised was off the bridle all the way and what I didn't want to do was fire him into the fences and make it hard for him. I missed the third last but I thought that I was close enough by that point.
"He is an amazing horse and it is an amazing training performance. I am delighted for Noreen and J P, who have put so much into racing and they have been so good to me. It's amazing.
"I have got a Gold Cup winner and a Grand National winner from Jonjo. I love the man - I have said that all along. Jackdaws Castle looks like a closed shop with J P and Derrick Smith, but the man deserves Gold Cup horses. He is bang there come Cheltenham."
Synchronised was O'Neill's 21st Cheltenham Festival victory.
BOLSTER PROVES 'BRIDGY' RIGHT WITH A 50/1 SHOCK TO PUNTERS
The Giant Bolster


© racing-images.co.uk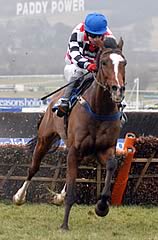 The Giant Bolster belied an SP of 50/1 to finish second in the Betfred Gold Cup, one place ahead of last year's winner Long Run.
David Bridgwater, the former jockey who trains The Giant Bolster at Stow-on-the-Wold, exclaimed: "That's effin' marvellous! I thought this horse was a Gold Cup horse from day one. I knew he was a machine. I've been gob-smacked by the price he's been all year.
"Tom [Scudamore] went too quick at Newbury [when the horse was fourth to Long Run] and I gave him a bollocking. He knows he went too quick and yet he gave him a peach of a ride today. He's fed up he hasn't won, but I'm thrilled.
"I get a bit pumped up about him and get fed up when all the so-called experts criticise him, but if you slag my horse off you might as well slag my children off. This is an exceptionally good horse.
"I don't want to run him again this season because he's only a baby. We'll go for all the big ones next year including the King George."
The Giant Bolster's owner, Simon Hunt, said: "David Bridgwater - what a training performance! I've had horses with him for five years and I can say there's not a better trainer to have horses with. He's a top man. I lumped on at 66/1 because Bridgy told me we'd nearly win this."
Sam Waley-Cohen, who rode Long Run, said: "He ran well, but that's racing. I'm pleased with him - no excuses that was the result on the day. I thought he might pick up turning in, but he didn't."
Nicky Henderson, who trained third and fourth Long Run and Burton Port, said: "They did nothing wrong and both ran super races. It's great for Jonjo, A P and J P because they are the best. I'm thrilled for them."
KAUTO STAR CONNECTIONS' REACTION AFTER THE BETFRED GOLD CUP
After pulling up
Kauto Star
before the 10th fence in the Betfred Cheltenham Gold Cup, Ruby Walsh said " It didn't last long but the horse is all right."
Paul Nicholls, Kauto Star's trainer, added: "Ruby said he jumped the water jump, stretched and then he said he wasn't happy with the horse so he pulled him up.
"We won't worry about whether or not that was the last run of his career. He has been a blinding horse, so we will turn him out during the summer and then see what happens. He is unlikely to run in a Betfred Cheltenham Gold Cup again.
"I will have a talk with Clive (Smith, owner) - I am not going to make any rash decisions at the moment - he has been a wonderful horse and we will do what is best for him.
"Ruby has done what is best for him today as well and that is exactly what I asked him to do. Kauto Star has come back 100 per cent, absolutely fine, but obviously something is niggling him. We tried to get everything right, but no matter what you do its not the pressure of race so until you run you don't know.
"We wouldn't have run him unless he had gone through all the tests. That is why we took him to Wincanton, schooled him and made sure everything was right but you still can't replicate the pressure of a race. Ruby knew he wasn't going and did the right thing by pulling him up."
Clive Smith, Kauto Star's owner, said: "Kauto Star is very well in himself and seems fine. I have just had a word with Ruby and he said that he jumped the first really well, jumped the second really well and he went on and, when he got to the water jump, Kauto Star just stretched a bit. He obviously felt a strain inside and pulled him up straight away.
"Obviously, Kauto didn't want to go on because he was hurting inside - it must have been from the tumble in the yard. Ruby said that he felt very well as he walked back, he said that he felt fine.
"I think that we will probably will (retire him). We said that we wouldn't say anything today, that we would just see what happens, but I think that it's a very good bet.
"I want to say what a great career he has had. He's been a wonderful horse and I have been so proud to own him. The support of everybody has been absolutely tremendous."