cheltenham festival / 2011 news /
Carlito Brigante Blasts Home in Coral Cup
16/03/11
1 Carlito Brigante 16/1
2 Bothy 12/1
3 Orsippus 33/1
4 Battle Group 33/1
NR: County Zen (FR), Gift Of Dgab (IRE), Montan (FR), Orzare (IRE),
Points Of View, Secret Dancer (IRE)
22 ran Distances: 6l, ½l, 2¼l
TIME 5m 9.30s (slow by 8.30s)
Carlito Brigante made it five winners from five races for Irish raiders at Cheltenham today when easily landing the Coral Cup.
The winner was completing different doubles for trainer Gordon Elliott (101/1), owner Michael O'Leary and jockey Davy Russell (135/1).

"He's a great little horse and it's the first time he's had his ground. He had a wind operation after Christmas and I think that has made a big difference as well," said Elliott. "This was always going to be the race for Carlito Briganto and it has been a great day with not only Chicago Grey winning but Jessies Dream running a great race to be second in the RSA Chase. Michael is one of our greatest supporters."

Russell added: "Everything went according to plan - he didn't miss a hurdle, didn't miss a beat the whole way. He's one of last year's good juveniles and we felt the better ground would suit him and he did it. He has been trained by a very good man with one day in mind and today's the day."

O'Leary added: "Gordon is an amazing young trainer, his first Cheltenham winner came just before 2pm today and his next one came just after 4pm. He's certainly a trainer going the right way."
Position

Horse
Trainer
Jockey
Weight
Starting Price
Beaten Distance
1

Carlito Brigante
G Elliott
D N Russell
10st 12lbs
16 - 1
Winner
2

Bothy
B Ellison
Danny Cook
10st 10lbs
12 - 1
6 lengths
3

Orsippus
M Smith
D J Condon
10st 8lbs
33 - 1
1/2 length
4

Battle Group
D Pipe
T Scudamore
10st 9lbs
33 - 1
2 1/4 lengths
5

Solix
N J Henderson
B J Geraghty
11st 10lbs
25 - 1
4 1/2 lengths
6

Dantari
Evan Williams
J E Moore
10st 0lbs
25 - 1
1 1/4 length
7

Walkon
A King
R Thornton
11st 12lbs
16 - 1
1 3/4 length
8

Arcalis
J Howard Johnson
B Hughes
10st 10lbs
20 - 1
2 3/4 lengths
9

Pistolet Noir
P F Nicholls
Ian Popham
10st 9lbs
33 - 1
1 1/2 length
10

Aachen
Miss V Williams
R T Dunne
10st 3lbs
33 - 1
3 3/4 lengths
11

Call The Police
W P Mullins
R Walsh
10st 12lbs
7 - 2
Neck
12

Mohanad
Miss S West
J Goldstein
10st 1lbs
100 - 1
3/4 length
13

Trenchant
A King
W Hutchinson
11st 7lbs
33 - 1
4 1/2 lengths
14

Busker Royal
N J Henderson
R J Killoran
10st 2lbs
40 - 1
1/2 length
15

Straw Bear
N J Gifford
L Treadwell
10st 7lbs
33 - 1
Neck
16

Aegean Dawn
N J Henderson
David Bass
11st 3lbs
5 - 1
Neck
17

Ballyhaunis
W P Mullins
P Townend
10st 7lbs
10 - 1
3 1/2 lengths
18

Lightning Strike
Miss V Williams
A Coleman
10st 1lbs
14 - 1
3 lengths
19

Song of Songs
Jonjo O'Neill
R P McLernon
10st 0lbs
66 - 1
1 1/2 length
20

Tiger O'Toole
Evan Williams
Paul Moloney
10st 9lbs
20 - 1
18 lengths
21

Lord Ragnar
N J Henderson
A Tinkler
10st 1lbs
50 - 1
3 1/4 lengths
Fell

For Non Stop
Nick Williams
D Jacob
10st 7lbs
5 - 1

Non Runner

Orzare
G L Moore
A Glassonbury
10st 2lbs
-

Non Runner

Secret Dancer
A E Jones
T J O'Brien
10st 1lbs
-

Non Runner

Montan
A J Martin
Non Runner
10st 1lbs
-

Non Runner

Gift Of Dgab
A J Martin
Non Runner
10st 0lbs
-

Non Runner

Points of View
K C Bailey
Edward Cookson
10st 0lbs
-

Non Runner

County Zen
P J Hobbs
Non Runner
10st 0lbs
-

BOTHY BEATS ALL BAR BRIGANTE

Bothy proved himself one of Britain's best handicap hurdlers when finishing runner-up in today's Coral Cup behind Carlito Brigante.

Trainer Brian Ellison said: "To be second in three big handicaps [the Greatwood Hurdle, the Totesport Trophy and Coral Cup] takes some doing. It's unreal. He's gone up 11lb in that time, and been beaten by Menorah and Recession Proof on his way here, and they are good horses.

"He just wants a bit more juice in the ground so we went for this longer race fearing the ground might dry out later in the week.

"He's such a good battler who jumps for fun. It was a brilliant ride by Danny [Cook] because the horse hasn't run over two miles, five furlongs before, and I told him to drop him in and not get carried away up front.

"Over two miles we've been up there making it, but today he was just off the pace and did everything right - we were simply beaten by a better horse. I've not thought about plans, but he's only had three jump races this season and could go to Punchestown. After that he'd be due a break."

Ellison's Marsh Warbler was unplaced in yesterday's Stan James Supreme Novices' Hurdle, but he could run on Friday in the JCB Triumph Hurdle. Ellison said: "He needed softer ground, but the time of the race was faster than the Champion Hurdle. Perhaps we should have dropped him and not been so handy. I might declare him for Friday's race because he's tough enough to run quickly, but he won't take part unless we get the rain that's forecast."
ORSIPPUS RUNS CRACKER AT BIG ODDS


Orsippus


© racing-images.co.uk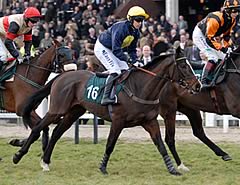 Trainer Michael Smith was thrilled by the effort of Orsippus after the five-year-old belied his 33/1 starting price to take third in the Coral Cup.

Last year's Fred Winter Hurdle third was having his first crack at the two mile, five furlong trip and got the distance well under Davy Condon to lose out by six lengths and half a length.

Smith said: "I am really pleased as we have had a really tough winter up north and there have been a lot of missed opportunities.

"I had to run him at Kelso the last day despite the ground being unsuitable as a prep for here.

"He was third here last year, won a Grade One at Aintree and has again proved himself a good horse.

"It can be tough for these young horses in the senior ranks and the plan was to get through the year.

"I have had to be patient with him but he should improve for this and if he is OK we will take him to Aintree."
CORAL CUP FACTS & FIGURES
The Coral Cup is one of the newer contests at The Festival, having been introduced in 1993, but is well established as one of the season's most competitive handicaps.
The first winner, Olympian, picked up an additional £50,000 bonus having won the Imperial Cup at Sandown Park the previous weekend. The bonus was put up by Sunderlands, bookmaking sponsor of the Imperial Cup, to any horse that won the Sandown race and went on to success in any contest at The Festival. Paddy Power, the Imperial Cup's current sponsor, is offering a £75,000 bonus to any horse that completes the double this year.
The fastest time in the 16 runnings was set in 2000 by What's Up Boys, who scored in 4m 53.8s, beating the previous best of 4m 57.0s set by Big Strand in 1997.
Ireland have won the race on six occasions, most recently with Ninetieth Minute in 2009.
Martin Pipe is the leading trainer in the contest, having scored three times with Olympian (1993), Big Strand (1997) and Ilnamar (2002). Among current trainers, Edward O'Grady (Time For A Run 1994 & Sky's The Limit 2006) and Philip Hobbs (What's Up Boys 2000 & Monkerhostin 2004) lead the way.
Barry Geraghty is the only jockey with more than one victory, scoring aboard Sky's The Limit (2006) and Spirit River (2010).
Both What's Up Boys (2000) and Idole First (2005) scored at 33/1 and they are the longest priced winners, while Olympian (1993) and Xenophon (2003) were successful at 4/1, the shortest priced scorers, and they are also the only two favourites to have obliged.
The 2008 winner Naiad Du Misselot was the first Festival scorer to get up by the then recently-introduced new distance of a nose.
CORAL CUP (HANDICAP HURDLE) PREVIOUS RESULTS
2010-WINNER-SPIRIT RIVER 5-11-02 Owner-Michael Buckley; Trainer-Nicky Henderson; Jockey-Barry Geraghty; SP-14/1
2ND-Tullamore Dew 8-10-10 Owner-Tullamore Dew; Trainer-Nick Gifford; Jockey-Liam Treadwell; SP-80/1
3RD-James De Vassy 5-11-04 Owner-Jakeman, Barrett, Booth & Ferrand; Trainer-Nick Williams; Jockey-Daryl Jacob; SP16/1
4TH-Micheal Flips 6-11-07 Owner-Martin Tedham; Trainer-Andy Turnell; Jockey-Nick Scholfield; SP-33/1 28 ran, Time-5m 13.50s; Dist-4½, 2¾ , 1/2 7/1 Fav Deutschland (12th)
2009-WINNER-NINETIETH MINUTE 6-10-03 Owner-Dermot Cox; Trainer-Tom Taaffe IRE; Jockey-Paddy Flood; SP-14/1
2ND-Mirage Dore 6-9-11 Owner-Mr & Mrs Duncan Davidson; Trainer-Lucinda Russell; Jockey-Mrs Rose Dobbin; SP-14/1
3RD-Pause And Clause 5-9-11 Owner-Robert Cohen; Trainer-Emma Lavelle; Jockey-Jack Doyle; SP-9/1
4TH-Star Of Angels 5-9-11 Owner-Roger Brookhouse; Trainer-David Pipe; Jockey-Hadden Frost; SP-40/1 27 ran, Time-5m 13.50s; Dist-1½, ½, 7 6/1 Fav The Polomoche (10th)
2008-WINNER-NAIAD DU MISSELOT 7-10-13 Owner-Hill, Trembath, Bryan & Outhart; Trainer-Ferdy Murphy; Jockey-Davy Russell; SP-7/1
2ND-Kicks For Free 7-11-12 Owner-Trevor Hemmings; Trainer-Paul Nicholls; Jockey-Ruby Walsh; SP-11/1
3RD-Junior 5-11-02 Owner-Paul Green; Trainer-Alan King; Jockey-Robert Thornton; SP12/1
4TH-Mendo 8-11-00 Owner-Mrs M C Sweeney; Trainer-Noel Chance; Jockey-Tom Siddall; SP14/1 24 ran, Time-5m 5.10s; Dist-nse, 1½, 3½ 11/2 Fav County Zen (18th)
2007-WINNER-BURNTOAKBOY 9-09-12 Owner-Dr Richard & Laura Newland; Trainer-Dr Richard Newland; Jockey-Sam Jones; SP-10/1
2ND-Powerstation 7-11-00 Owner-Fat Frog Syndicate; Trainer-Michael John Phillips IRE; Jockey-Denis O'Regan; SP-12/1
3RD-Baron De Feypo 9-10-03 Owner-Rita Shah; Trainer-Oliver Brady; Jockey-Niki O'Shea; SP-20/1
4TH-Oscatello 7-10-08 Owner-Rye Braune; Trainer-Philip Hobbs; Jockey-Richard Johnson; SP-8/1
28 ran, Time-5m 07.10s; Dist-3, 5, 1½ 6/1 Fav Copsale Lad (16th)
2006-WINNER SKY'S THE LIMIT 5-11-12 Owner-Raymond Rooney; Trainer-Edward O'Grady IRE; Jockey-Barry Geraghty; SP-11/1
2ND-Strangely Brown 5-11-03 Owner-We Didn't Name Him Syndicate; Trainer-Eric McNamara IRE; Jockey-Brian Byrnes; SP-25/1
3RD-Dom D'Orgeval 6-11-12 Owner-Jane Williams; Trainer-Nick Williams; Jockey-Richard Johnson; SP-20/1
4TH-Phar Bleu 5-11-06 Owner-The Stewart Family; Trainer-Paul Nicholls; Jockey-Ruby Walsh; SP-10/1
30 ran, Time-5m 02.50s; Dist-4, .75, nk 5/1 Fav No Where To Hyde (Fell)
2005-WINNER-IDOLE FIRST 6-10-10 Owner-Direct Sales UK Ltd; Trainer-Venetia Williams; Jockey-Alan O'Keeffe; SP-33/1
2ND-Dancing Bay 8-11-01 Owner-Elite Racing Club; Trainer-Nicky Richards; Jockey-Mick Fitzgerald; SP-14/1
3RD-Tumbling Dice 6-11-01 Owner-Mrs John Donegan; Trainer-Tom Taaffe IRE; Jockey-Barry Geraghty; SP-16/1
4TH-Covent Garden 7-10-07 Owner-Ada Partnership; Trainer-Howard Johnson; Jockey-Tony Dobbin; SP-14/1
29 ran, Time-5m 04.80s; Dist-5, 6, 5 100/30 Fav Distant Prospect (9th)
2004-WINNER-MONKERHOSTIN 7-10-08 Owner-Martin St Quinton; Trainer-Philip Hobbs; Jockey-Richard Johnson; SP-13/2
2ND-Court Shareef 9-9-11 Owner-Derek and Cheryl Holder; Trainer-Richard Price; Jockey-Wayne Hutchinson; SP-200/1
3RD-Rhinestone Cowboy 8-11-05 Owner-Sue Magnier; Trainer-Jonjo O'Neill; Jockey-Mr J P Magnier; SP-5/1 Fav
4TH-Mughas 5-10-05 Owner-B Winfield, C Fenton & A Longman; Trainer-Alan King; Jockey-Robert Thornton; SP-11/2
27 ran, Time-4m 59.50s; Dist-1, 1 1/4, 2 1/2
2003-WINNER-XENOPHON 7-11-00 Owner-Lane Syndicate; Trainer-Tony Martin IRE; Jockey-Mick FitzGerald; SP-4/1 Fav
2ND-Samon 6-11-03 Owner-The Macca & Growler Partnership; Trainer-Martin Pipe; Jockey-David Casey; SP-25/1
3RD-Spectrometer 6-11-08 Owner-Concertina Racing; Trainer-Philip Hobbs; Jockey-Richard Johnson; SP-10/1
4TH-Emotional Moment 6-11-04 Owner-Watercork Syndicate; Trainer-Tom Taaffe; Jockey-Barry Geraghty; SP-7/1
27 ran, Time-5m 4.30s, Dist-3.5, 1, 3
2002-WINNER-ILNAMAR 6-10-05 Owner-Joe Moran; Trainer-Martin Pipe; Jockey-Rodi Greene; SP-25/1
2ND-Joss Naylor 7-10-00 Owner-Darren Mercer; Trainer-Jonjo O'Neill; Jockey-Liam Cooper; SP-13/2
3RD-Master Tern 7-10-03 Owner-J P McManus; Trainer-Jonjo O'Neill; Jockey-Tony Dobbin; SP-8/1
4TH-Stromness 5-10-03 Owner-Lady Harris; Trainer-Alan King; Jockey-Robert Thornton; SP-12/1
27 ran, Time-5m 15.0s, Dist-8, 3, 4 11/2 Fav Golden Alpha (26th)
2001 - No Race (Foot and Mouth Disease)
2000-WINNER-WHAT'S UP BOYS 6-10-03 Owner-RJB Partners; Trainer-Philip Hobbs; Jockey-Mr Paul Flynn; SP-33/1
2ND-Native Dara 7-10-04 Owner-Oriel Two Syndicate; Trainer-Noel Meade IRE; Jockey-Barry Geraghty; SP-25/1
3RD-Ross Moff 7-10-03 Owner-Seamus Ross; Trainer-Tony Martin IRE; Jockey-Charlie Swan; SP-15/2
4TH-Vanilla Man 7-10-00 Owner-Mrs Paul Duffin; Trainer-Paddy Mullins IRE; Jockey-Tommy Treacy; SP-25/1
26 ran, Time-4m 53.80s, Dist-nk, 3, 2, 7/1 Fav Brandon Court (5th)
1999-WINNER KHAYRAWANI 7-11-03 Owner-J P McManus; Trainer-Christy Roche IRE; Jockey-Fran Berry; SP-16/1
2ND-Miltonfield 10-10-00 Owner-J C Savage; Trainer-John Mulhern IRE; Jockey-Conor O'Dwyer; SP-33/1
3RD-Generosa 6-10-10 Owner-Trish Hyde; Trainer-John Hassett IRE; Jockey-Tommy Treacy; SP-12/1
4TH-Darapour 5-10-00 Owner-J P McManus; Trainer-Aidan O'Brien IRE; Jockey-Charlie Swan; SP-14/1
30 ran, Time-5m 6.6s, Dist-hd, nk, 5 13/2 Fav Archive Footage (25th)
1998-WINNER-TOP CEES 8-10-00 Owner-Charlton Bloodstock Ltd; Trainer-Lynda Ramsden; Jockey-Barry Fenton; SP-11/1
2ND-Khayrawani 6-10-06 Owner-J P McManus; Trainer-Christy Roche IRE; Jockey-Fran Berry; SP-20/1
3RD-Royal Marine 6-10-00 Owner-J P McManus; Trainer-Arthur Moore IRE; Jockey-Conor O'Dwyer;SP-10/1
4TH-Like A Lion 7-10-00 Owner-Orla Finucane; Trainer-Donald Swan IRE; Jockey-Charlie Swan; SP-12/1
21 ran, Time-5m 1.1s, Dist-1.25, .75, 1 6/1 Fav Daraydan (10th)
1997-WINNER-BIG STRAND 8-10-00 Owner-E C Jones; Trainer-Martin Pipe; Jockey-Jamie Evans; SP-16/1
2ND-Allegation 7-11-06 Owner-Martin Pipe Racing Club; Trainer-Martin Pipe; Jockey-Tony McCoy; SP-20/1
3RD-Castle Sweep 6-12-00 Owner-Lord Vestey; Trainer-David Nicholson; Jockey-Richard Johnson; SP-14/1
4TH-Tullymurry Toff 6-10-10 Owner-John Wilson and J H Riley; Trainer-Malcolm Jefferson; Jockey-Eddie Callaghan;
SP-9/2 Fav 28 ran, Time-4m 57.0s, Dist-sh, hd, 1
1996-WINNER-TRAINGLOT 9-10-03 Owner-Marquesa de Moratalla; Trainer-Jimmy FitzGerald; Jockey-Mark Dwyer; SP-11/2
2ND-Treasure Again 7-10-00 Owner-J H Gwynne; Trainer-Merrita Jones; Jockey-Derek Byrne; SP-9/1
3RD-New Co 8-10-07 Owner-Mrs L C Ronan and Anne Daly; Trainer-Mouse Morris IRE; SP-9/1
4TH-Barna Boy 8-10-02 Owner-Lynn Wilson; Trainer-Nicky Henderson; Jockey-Mick FitzGerald; SP-16/1
20 ran, Time-5m 12.2s, Dist-hd, 1.25, 2 7/2 Fav Time For A Run (8th)
1995-WINNER-CHANCE COFFEY 10-10-00 Owner-Paddy O'Donnell; Trainer-Pat O'Donnell IRE; Jockey-Gerry O'Neill; SP-11/1
2ND-Derrymoyle 6-10-10 Owner-Herb Stanley; Trainer-Michael Cunningham IRE; Jockey-Mark Dwyer; SP-12/1
3RD-Time For A Run 8-11-10 Owner-J P McManus; Trainer-Edward O'Grady IRE; Jockey-Charlie Swan; SP-10/1
4TH-Collier Bay 5-10-06 Owner-Wally Sturt; Trainer-Jim Old; Jockey-Tom Grantham; SP-7/1
30 ran, Time-5m 18.4s, Dist-3.5, sh, 3 6/1 Fav Lemon's Mill (17th)