The Coral Cup (Handicap Hurdle) 14/03/07
1st (26) Burntoakboy 10-1
2nd (5) Powerstation 12-1
3rd (14) Baron De Feypo 20-1
4th (16) Oscatello 8-1
28 ran
Also: 6-1 Fav Copsale Lad
Burntoakboy sets the Coral Cup Alight 14/03/07
Burntoakboy (Felix De Giles) takes the second last in the totesport Masters Handicap Chase at Sandown, giving Gungadu plenty to think about, but eventually ran out of steam up the final hill to finish a good second (02-02-08)
© racing-images.co.uk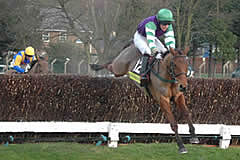 Doctor Richard Newland, who trains six horses in the Worcestershire village of Claines, lifted the Coral Cup after his Burntoakboy won under conditional jockey Sam Jones.

It was a first Festival winner for both the trainer and his 18-year-old jockey.

Dr Newland said: "That's fantastic. I've only been training four months and I've got four horses on the go. I bought Burntoakboy in November from Pierce Molony after the horse was led out unsold at a sale.

"The horse had been running well in Ireland, but not at this level. They felt he was badly handicapped over there. There were bits of his form that were very good.

"I've only just started and the horses are running blindingly well. When he came over he wasn't a great doer, but we've got him eating and he seems happy. We've learnt how to ride him because he's got a lot of speed and he used to use that up and not finish his races. Now we switch him off.

"I hope to get the numbers up to about eight, but I came into this as a hobby. I'm a part-time doctor, but a full-time working man with interests in medical companies. We've got a great little team of people at the yard and I'd like to mention Sue Burley and Tom Weston, our stable jockey, who have done a lot of work on this horse and got him to settle."
"I must say I did fancy his chances this morning. That was impressive. It's a fantastic thrill to be here. I've just fallen incredibly lucky with some cheap purchases that turned out to be good buys.
"The key to this horse is to switch him off in the first half of the race, but I didn't want him to be held up last. In fact, he was much handier that I thought he'd be, but he was clearly gong so well. I started screaming from the stands as Sam came down the hill. He's a top class young jockey. It's the first time he's ridden that horse and he did everything right. Brilliant."
Jones is based with Brendan Powell at Winchester in Hamspshire. He hails from Staffordshire. His father drives a racehorse ambulance, while his uncle is head lad to permit holder Renee Robeson.

He said: "It's the best feeling ever - better than your first winner, better than any winner you could ever have. He travelled so well through the race, and down the hill I was happy to sit just behind the leaders, but he has so much scope for not an over-big horse. He wings everything and comes out of your hands if you think you're going to get in tight. He jumps brilliantly. I felt I had to wing the last to seal it. He's not the biggest, but he's got a big heart and keeps galloping. A few of my relatives are here today."
IRISH TAKE SECOND AND THIRD IN CORAL CUP
Irish-trained horses filled second and third place in the Coral Cup with Powerstation taking second place and Baron de Feypo in third.

Michael Philips, trainer of Powerstation, beaten three lengths in second, said: "That was a great run. He's a small horse and had lots of weight. Hopefully, the handicapper will drop him a few pounds!
"The horse has been sick since I got him and today was the first time I've really had him right.

"We will hopefully get him home tonight and then see when where we go next.

"I think he could run well in graded races. We will look at Aintree and also the Champion Stayers Hurdle at Punchestown."
The Oliver Brady-trained Baron de Feypo finished a further five lengths back in third and returned to jubilant scenes in the winner's enclosure with Brady leading the singing and cheers, having stripped down to his Gaelic football Monaghan shirt.

A delighted Brady said: "We really wanted to run him in the Jewson Novices' Handicap Chase tomorrow, but the English handicapper gave him no chance of getting in so we had to run here. Whatever, I've still had my moment of happiness.

"This is a great result for everyone involved and for Monaghan - the county of hills and hollows. We only have seven horses in training.

"I knew he would run well. If he comes out of this race in good form, Baron de Feypo could run again on Friday in the Vincent O'Brien County Hurdle, where we could also run Maralan. Maralan would be right up there with this fellow.

"My health hasn't been great lately but your health doesn't bother you when you have a third in the Coral Cup."
Position

Horse
Trainer
Jockey
Weight
Starting Price
Beaten Distance
1

Burntoakboy
Dr R D P Newland
S P Jones
10st 3lbs
10 - 1
Winner
2

Powerstation
M Phillips
Denis O'Regan
11st 0lbs
12 - 1
3 lengths
3

Baron De Feypo
Patrick O Brady
N O'Shea
10st 8lbs
20 - 1
5 lengths
4

Oscatello
P J Hobbs
R Johnson
10st 8lbs
8 - 1
1 1/2 length
5

Mister Hight
W P Mullins
R Walsh
11st 6lbs
8 - 1
1 1/2 length
6

Supreme Prince
P J Hobbs
T J O'Brien
10st 9lbs
66 - 1
1 1/4 length
7

Oulart
D T Hughes
R Loughran
10st 12lbs
16 - 1
Neck
8

Dusky Lord
N J Gifford
B Fenton
10st 5lbs
33 - 1
Short Head
9

Dusky Warbler
G L Moore
W Hutchinson
11st 0lbs
33 - 1
1/2 length
10

Ross River
A J Martin
D N Russell
10st 4lbs
14 - 1
Head
11

Nathos
C J Mann
N Fehily
10st 7lbs
33 - 1
Head
12

The Spoonplayer
H De Bromhead
A E Lynch
10st 4lbs
20 - 1
3/4 length
13

Hills Of Aran
W K Goldsworthy
G Lee
10st 5lbs
33 - 1
1/2 length
14

Mahogany Blaze
N A Twiston-Davies
T Scudamore
10st 12lbs
40 - 1
1/2 length
15

Rayshan
N G Richards
Miss R Davidson
10st 7lbs
40 - 1
1 1/4 length
16

Copsale Lad
N J Henderson
M Foley
10st 12lbs
6 - 1
3/4 length
17

Emotional Moment
T J Taaffe
A B Joyce
11st 12lbs
50 - 1
Neck
18

Golden Bay
Miss S Smith
D Jacob
10st 7lbs
20 - 1
1 length
19

Nation State
G L Moore
Paul Moloney
10st 2lbs
12 - 1
Neck
20

Royals Darling
N J Henderson
A Tinkler
11st 0lbs
18 - 1
1/2 length
21

Verasi
G L Moore
E Dehdashti
10st 13lbs
16 - 1
1 1/4 length
22

Royal Paradise
P R Webber
S Thomas
10st 8lbs
66 - 1
6 lengths
23

Turtle Soup
T R George
W McCarthy
10st 6lbs
50 - 1
3/4 length
24

Dangerously Good
J Howard Johnson
A Dobbin
10st 2lbs
50 - 1
10 lengths
25

Redemption
N A Twiston-Davies
Tony Evans
11st 8lbs
66 - 1
24 lengths
26

All Star
N J Henderson
M A Fitzgerald
10st 7lbs
11 - 1
2 1/2 lengths
27

Penny Pictures
D Pipe
T J Murphy
10st 11lbs
33 - 1
9 lengths
na

Finger Onthe Pulse
T J Taaffe
B J Geraghty
11st 8lbs
18 - 1

Facts and Figures:
1. Other than the races added to the four-day Festival in 2005, the Coral Cup is the newest contest at The Festival, having been introduced in 1993, the year after the first running of the Weatherbys Champion Bumper.

2. The first winner, Olympian, picked up an additional £50,000 bonus having won the Imperial Cup at Sandown Park the previous weekend. The bonus, increased to £75,000 last year, is offered again by Sunderlands, bookmaking sponsor of the Imperial Cup, to any horse that wins the Sandown race and then goes on to success in any contest at The Festival.

3. The fastest time in the 13 runnings was set in 2000 by What's Up Boys, who scored in 4m 53.8s, beating the previous best of 4m 57.0s set by Big Strand in 1997.

4. Ireland have won the race on five occasions, most recently with Sky's The Limit last year, trained by Edward O'Grady, who also sent out Time For A Run to score in 1994.

5. Martin Pipe is the leading trainer in the contest, having scored three times with Olympian (1993), Big Strand (1997) and Ilnamar (2002). Among current trainers, Edward O'Grady and Philip Hobbs (What's Up Boys 2000 & Monkerhostin 2004) lead the way.

6. No jockey has won the Coral Cup more than once.

7. Both What's Up Boys (2000) and Idole First (2005) scored at 33/1 and are they are the longest priced winners, while Olympian (1993) and Xenophon (2003) were successful at 4/1, the shortest priced scorers, and they are also the only two favourites to have obliged.
CORAL CUP (HANDICAP HURDLE) PREVIOUS RESULTS
2006-WINNER SKY'S THE LIMIT 5-11-12 Owner-Raymond Rooney; Trainer-Edward O'Grady IRE; Jockey-Barry Geraghty; SP-11/1
2ND-Strangely Brown 5-11-03 Owner-We Didn't Name Him Syndicate; Trainer-Eric McNamara IRE; Jockey-Brian Byrnes; SP-25/1
3RD-Dom D'Orgeval 6-11-12 Owner-Jane Williams; Trainer-Nick Williams; Jockey-Richard Johnson; SP-20/1
4TH-Phar Bleu 5-11-06 Owner-The Stewart Family; Trainer-Paul Nicholls; Jockey-Ruby Walsh; SP-10/1
30 ran, Time-5m 02.50s; Dist-4, .75, nk 5/1 Fav No Where To Hyde (Fell)
2005-WINNER-IDOLE FIRST 6-10-10 Owner-Direct Sales UK Ltd; Trainer-Venetia Williams; Jockey-Alan O'Keeffe; SP-33/1
2ND-Dancing Bay 8-11-01 Owner-Elite Racing Club; Trainer-Nicky Richards; Jockey-Mick Fitzgerald; SP-14/1
3RD-Tumbling Dice 6-11-01 Owner-Mrs John Donegan; Trainer-Tom Taaffe IRE; Jockey-Barry Geraghty; SP-16/1
4TH-Covent Garden 7-10-07 Owner-Ada Partnership; Trainer-Howard Johnson; Jockey-Tony Dobbin; SP-14/1
29 ran, Time-5m 04.80s; Dist-5, 6, 5 100/30 Fav Distant Prospect (9th)
2004-WINNER-MONKERHOSTIN 7-10-08 Owner-Martin St Quinton; Trainer-Philip Hobbs; Jockey-Richard Johnson; SP-13/2
2ND-Court Shareef 9-9-11 Owner-Derek and Cheryl Holder; Trainer-Richard Price; Jockey-Wayne Hutchinson; SP-200/1
3RD-Rhinestone Cowboy 8-11-05 Owner-Sue Magnier; Trainer-Jonjo O'Neill; Jockey-Mr J P Magnier; SP-5/1 Fav
4TH-Mughas 5-10-05 Owner-B Winfield, C Fenton & A Longman; Trainer-Alan King; Jockey-Robert Thornton; SP-11/2
27 ran, Time-4m 59.50s; Dist-1, 1 1/4, 2 1/2
2003-WINNER-XENOPHON 7-11-00 Owner-Lane Syndicate; Trainer-Tony Martin IRE; Jockey-Mick FitzGerald; SP-4/1 Fav
2ND-Samon 6-11-03 Owner-The Macca & Growler Partnership; Trainer-Martin Pipe; Jockey-David Casey; SP-25/1
3RD-Spectrometer 6-11-08 Owner-Concertina Racing; Trainer-Philip Hobbs; Jockey-Richard Johnson; SP-10/1
4TH-Emotional Moment 6-11-04 Owner-Watercork Syndicate; Trainer-Tom Taaffe; Jockey-Barry Geraghty; SP-7/1
27 ran, Time-5m 4.30s, Dist-3.5, 1, 3
2002-WINNER-ILNAMAR 6-10-05 Owner-Joe Moran; Trainer-Martin Pipe; Jockey-Rodi Greene; SP-25/1
2ND-Joss Naylor 7-10-00 Owner-Darren Mercer; Trainer-Jonjo O'Neill; Jockey-Liam Cooper; SP-13/2
3RD-Master Tern 7-10-03 Owner-J P McManus; Trainer-Jonjo O'Neill; Jockey-Tony Dobbin; SP-8/1
4TH-Stromness 5-10-03 Owner-Lady Harris; Trainer-Alan King; Jockey-Robert Thornton; SP-12/1
27 ran, Time-5m 15.0s, Dist-8, 3, 4 11/2 Fav Golden Alpha (26th)
2001 - No Race (Foot and Mouth Disease)
2000-WINNER-WHAT'S UP BOYS 6-10-03 Owner-RJB Partners; Trainer-Philip Hobbs; Jockey-Mr Paul Flynn; SP-33/1
2ND-Native Dara 7-10-04 Owner-Oriel Two Syndicate; Trainer-Noel Meade IRE; Jockey-Barry Geraghty; SP-25/1
3RD-Ross Moff 7-10-03 Owner-Seamus Ross; Trainer-Tony Martin IRE; Jockey-Charlie Swan; SP-15/2
4TH-Vanilla Man 7-10-00 Owner-Mrs Paul Duffin; Trainer-Paddy Mullins IRE; Jockey-Tommy Treacy; SP-25/1
26 ran, Time-4m 53.80s, Dist-nk, 3, 2, 7/1 Fav Brandon Court (5th)
1999-WINNER KHAYRAWANI 7-11-03 Owner-J P McManus; Trainer-Christy Roche IRE; Jockey-Fran Berry; SP-16/1
2ND-Miltonfield 10-10-00 Owner-J C Savage; Trainer-John Mulhern IRE; Jockey-Conor O'Dwyer; SP-33/1
3RD-Generosa 6-10-10 Owner-Trish Hyde; Trainer-John Hassett IRE; Jockey-Tommy Treacy; SP-12/1
4TH-Darapour 5-10-00 Owner-J P McManus; Trainer-Aidan O'Brien IRE; Jockey-Charlie Swan; SP-14/1
30 ran, Time-5m 6.6s, Dist-hd, nk, 5 13/2 Fav Archive Footage (25th)
1998-WINNER-TOP CEES 8-10-00 Owner-Charlton Bloodstock Ltd; Trainer-Lynda Ramsden; Jockey-Barry Fenton; SP-11/1
2ND-Khayrawani 6-10-06 Owner-J P McManus; Trainer-Christy Roche IRE; Jockey-Fran Berry; SP-20/1
3RD-Royal Marine 6-10-00 Owner-J P McManus; Trainer-Arthur Moore IRE; Jockey-Conor O'Dwyer;SP-10/1
4TH-Like A Lion 7-10-00 Owner-Orla Finucane; Trainer-Donald Swan IRE; Jockey-Charlie Swan; SP-12/1
21 ran, Time-5m 1.1s, Dist-1.25, .75, 1 6/1 Fav Daraydan (10th)
1997-WINNER-BIG STRAND 8-10-00 Owner-E C Jones; Trainer-Martin Pipe; Jockey-Jamie Evans; SP-16/1
2ND-Allegation 7-11-06 Owner-Martin Pipe Racing Club; Trainer-Martin Pipe; Jockey-Tony McCoy; SP-20/1
3RD-Castle Sweep 6-12-00 Owner-Lord Vestey; Trainer-David Nicholson; Jockey-Richard Johnson; SP-14/1
4TH-Tullymurry Toff 6-10-10 Owner-John Wilson and J H Riley; Trainer-Malcolm Jefferson; Jockey-Eddie Callaghan;
SP-9/2 Fav 28 ran, Time-4m 57.0s, Dist-sh, hd, 1
1996-WINNER-TRAINGLOT 9-10-03 Owner-Marquesa de Moratalla; Trainer-Jimmy FitzGerald; Jockey-Mark Dwyer; SP-11/2
2ND-Treasure Again 7-10-00 Owner-J H Gwynne; Trainer-Merrita Jones; Jockey-Derek Byrne; SP-9/1
3RD-New Co 8-10-07 Owner-Mrs L C Ronan and Anne Daly; Trainer-Mouse Morris IRE; SP-9/1
4TH-Barna Boy 8-10-02 Owner-Lynn Wilson; Trainer-Nicky Henderson; Jockey-Mick FitzGerald; SP-16/1
20 ran, Time-5m 12.2s, Dist-hd, 1.25, 2 7/2 Fav Time For A Run (8th)
1995-WINNER-CHANCE COFFEY 10-10-00 Owner-Paddy O'Donnell; Trainer-Pat O'Donnell IRE; Jockey-Gerry O'Neill; SP-11/1
2ND-Derrymoyle 6-10-10 Owner-Herb Stanley; Trainer-Michael Cunningham IRE; Jockey-Mark Dwyer; SP-12/1
3RD-Time For A Run 8-11-10 Owner-J P McManus; Trainer-Edward O'Grady IRE; Jockey-Charlie Swan; SP-10/1
4TH-Collier Bay 5-10-06 Owner-Wally Sturt; Trainer-Jim Old; Jockey-Tom Grantham; SP-7/1
30 ran, Time-5m 18.4s, Dist-3.5, sh, 3 6/1 Fav Lemon's Mill (17th)