cheltenham festival / 2011 news /
By Marc Owen-Banks ValueChecker
Midnight Chase Can Win the Most Open Gold Cup in Years
18/03/11
What a Cheltenham Gold Cup we have on our hands once again, Three former champions lining up to take each other on, with a whole host of other Grade 1 winners looking to spoil the party or mark their arrival at the very top of the chasing game.
Imperial Commander
© racing-images.co.uk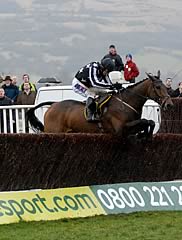 Kauto Star, Denman, last years winner Imperial Commander and this year's youngster hope Long Run I am sure will all be equally received welcome winners by many but there are so many questions to answer. For sure it looks like the winner will come from these four although I would confidently put a line through Kauto Star now. He seems to have shown his best now, and I don't give him a chance in this race.
So Imperial Commander will be looking to follow up, although he has the age trend against him. But so too, does Denman at a year older and Long Run as a 6yo, for the latter, that's an even worse trend. Denmans performance in the Hennessey was quite stunning, if not visually and finishing position wise, but as a weight carrying performance, quite stunning. But he has been beaten here last year by Imperial Commander, and in all honesty, quite comprehensively, and I see no reason why that for will be reversed. Long Run is the one who could improve, but there is a certain level of maturity required to contest and emerge victorious from a race like this and I feel his elders will get the better of him in another tough race.
So what of those that DO fall into the right age category. Kempes has been most impressive when last seen, Pandorama may have a little more to find whilst Midnight Chase loves this course and has won the last four time he has raced here. Of the three its difficult to choose which would have the best chance.
Tidal Bay
© racing-images.co.uk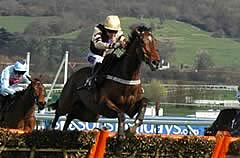 With the ground drying as it has, this has changed things a bit. We know the quicker the ground the better Kauto is and how Denman prefers a good bit of cut. So could this cost Denman his expected place? Imperial Commander has been the talk of the Villages around Cheltenham this week, and the general concensus is that he will be drifting in the market today.
A shock looks on the cards in that something from outside the head of the market could win the race. Midnight Chase looks the most likely, but an EW bet will not be misplaced on Tiday Bay. The horse is mad but he can stay all day. He proved that by coming from nowhere to run Imperial Commander close last time.
Recommendation: MIDNIGHT CHASE (win) - TIDAL BAY (ew)
THE totesport CHELTENHAM GOLD CUP
Class 1, Grade 1, £500,000 Total Prize Fund. 3.20pm, Cheltenham, Friday, March 18, 2011. For 5yo+ which are allotted a rating of 130 or more by the BHA Head of Handicapping following a review of the horses entered and after taking account of races run up to and including March 12 - horses which are not qualified for a rating in GB, IRE or FR may also be entered & such horses may be eligible providing the Handicapper is satisfied that the horse's racecourse performances up to and including March 12 would merit a minimum rating of 130 (the decision of the BHA Head of Handicapping shall be final), three miles, two and a half furlongs. Weights: 5yo 11st 9lb, 6yo+ 11st 10lb. Allowances: mares 7lb.
14 runners