cheltenham festival / 2011 news /
By Billy Blakeman ValueChecker
Oscar Whisky an Able Deputy for Binocular in Champion Hurdle
14/03/11
The Stan James Champion Hurdle takes pride of place on day one of the festival and just as last year, we have seen a dramatic twist take place in the days leading to up to the hurdling pinnacle. Twelve months ago, Binocular was effectively withdrawn in February, allowing a number of either misguided or shrewd punters to mop up some 999/1 on Betfair. The rest is history, Binocular not only made it to the start but he did of course go on to triumph. This time around, all was going swimmingly at home but a fairly common treatment to clear a harmless rash has seemingly declined to leave Binocular's system and Nicky Henderson had no option but to scratch his champion.
Menorah


© racing-images.co.uk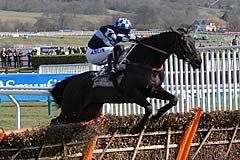 Still, things move ever forwards and we still have a really interesting Championship to enjoy. Hurricane Fly has been my fancy since way before Christmas and I couldn't see Willie Mullins' charge being beaten for many weeks. A classy, speedy, easy travelling kind of horse, Hurricane Fly has blown away all that has been put before him in Ireland without coming off the bridle if you view things positively but detractors could fairly point out that a repeated beating of Solwhit does not prove he will be up to this much stiffer challenge.
In addition, I have been beaten partly into submission by the endless onslaught of the stats and trends boys pointing to a lack of Cheltenham experience as a pretty fatal flaw in Hurricane Fly's profile. That same accusation was levelled at the yard's Mikael De Haguenet last year and that didn't stop him winning but with my resistance crumbling, I decided to get on side with Menorah. Last year's Supreme Novices winner, Philp Hobbs' star ticks all the right boxes and his form stands the closest scrutiny. A rapidly built portfolio of bets on Menorah and everything looked rosy but now the purveyors of stats are beating the drums of gloom on account of Menorah having been away from the track for too many days. That might have mattered once but the break is by design and I reject this particular stats argument. Still, I am quite concerned by the Philip Hobbs stable form and so I don't rest easy, despite the absence of Binocular.
Oscar Whisky


© racing-images.co.uk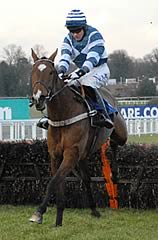 Starting today with a clean sheet of paper, I rather think that Oscar Whisky could provide Nicky Henderson with ample compensation for Binocular's unfortunate absence. A winner of six of his seven races, all under NH rules, Oscar Whisky has progressed dramatically, hosing up here on New Year's Day before converting a penalty kick in the Welsh Champion Hurdle. Impossible not to be impressed with how he travelled there and although the suspicion is that farther will suit him better, he is not a slow plodder and if Barry Geraghty can keep him handy, he could have well be capable of causing a mini-surprise. Trainer Nicky Henderson said on Monday;

"I think Oscar Whisky is in seriously good form, he is very, very well. He won what was my main target, the Welsh Champion Hurdle, which was important because Dai Walters, who owns him, owns Ffos Las, but having said that, I just think he has come on a fair bit from that."

I have not warmed to the chances of Peddler's Cross so that one will leave me with head in hands but I wouldn't rule out a decent run from that one's much bigger-priced stable companion, Overturn. The former classy flat racer is only rated a couple of pounds behind Menorah and if allowed to run his race from the front, could go very well for a long way. Trainer Donald McCain's thoughts;

"He's absolutely bouncing at the moment and is working out of his skin. I've said all along that I wouldn't mind going there with just him if I didn't have Peddlers. If he's anywhere near his best, he won't be the easiest horse to get past."

So there we have it, a decent ante-post play on both Hurricane Fly and Menorah is to be supplemented by a race day tickle on Oscar Whisky but it is without doubt an open race.

Recommendation: Oscar Whisky