cheltenham festival / 2011 news /
Nicky Henderson Looking Strong for Cheltenham
25/02/11
Nicky Henderson goes into The Festival 2011 with a strong team and he is pleased that the horses are running well.
Long Run


© racing-images.co.uk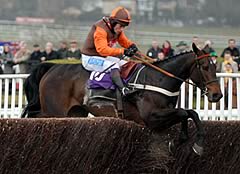 The Festival's leading current trainer, with 37 successes, said: "January was amazing month for us and then a few got beaten. The margin between absolutely firing and just getting beaten is very thin.
"The horses are in top form again and last weekend was good. By and large the horses have had their final outings before Cheltenham and now we are hoping they don't have problems before The Festival.
"It is nice to have a winner on the first day as that relaxes you. We have had realistic challengers all along for the Champion Hurdle but Long Run is my best chance of having a Gold Cup winner. The Gold Cup is very much missing off my list (of winners).
"The whole year hinges on the four days of The Festival."
Binocular goes for a second successive Stan James Champion Hurdle victory on the opening day of The Festival, Tuesday, March 15, Centenary Day.
"AP (15-time champion jockey Tony McCoy) is coming over next on Friday to partner Binocular and will school him next week.
Binocular


© racing-images.co.uk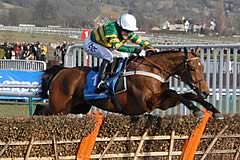 "Binocular has been checked over since he last ran, from head to toe, and everybody has given him complete ticks all along the line.

"I don't know why he ran the way he did (winning but not impressively) though if Ruthenoise made the running they cannot have been going very fast!

"It certainly looks a very open Champion Hurdle and the horses in it appear very good. Looking at the re-run of this season's Fighting Fifth and I would not be surprised if Peddlers Cross , who won that day, is still the one we will be frightened come the day.

"I do think the other one we have to be afraid of is Hurricane Fly who looks the best of a strong Irish challenge.

"AP was delighted with Binocular's first run of the season at Newbury in the Fighting Fifth - Binocular blew up at the last as he came to win the race and if he had been the same as he was at Kempton (in winning the William Hill Christmas Hurdle well) on his next start he would have won at Newbury.

"He would have been better off blowing up at the second last and AP would have been able to sit on him for 100 yards before the horse got his second wind. There was not time to get back at Newbury and AP was able to look after him.

"I probably wish I had not gone to Sandown now for £8,000 because all it has done is to sow doubts in people's minds. We had decided that it would be better to have a race rather continue galloping at home."

Turning to Long Run, the impressive winner of the William Hill King George VI Chase, who goes for the £500,000 totesport.com Cheltenham Gold Cup on Friday, March 18, Henderson commented: "He must be our best chance of winning a Gold Cup by quite a long way I suspect. Marlborough was knocking on the door.

"It does not worry me that he has been beaten twice at Cheltenham. Nothing went right in the RSA Chase at The Festival last year for him - we had an inkling the week before because of his coat and general demeanour that he had gone. I will tell you in a week's time if he has this year but at the moment everything is going well.

"There is no doubt the priority of the season was Kempton because nobody denies that Kempton is the perfect place for him. What was so good at Kempton was the rhythm he got into and I can see no reason why he cannot do that Cheltenham.

"In the Paddy Power over two miles, five furlongs, the experienced handicappers going lickety split just got him out of his comfort zone early on and therefore the rhythm just did not come into it. We have worked on that quite a lot and so has Sam (Long Run's amateur rider, Sam Waley-Cohen) and Yogi (Breisner). We have another session with Yogi next week in an indoor school - not ours - and previous ones definitely helped him.

"We know what we have to do in the build-up and I am not worried about Cheltenham. The RSA was not great last year but it had been a long campaign and we took in the Kingmaker over two miles which shows how much natural talent he has.

"He is very young for the Gold Cup but that is the French way. There is nothing else we can do after winning the King George. I would not bring him back in trip for the Ryanair because he stays. He gallops and gallops and gallops - he wasn't stopping at Kempton."