cheltenham festival / 2011 news /
Cheltenham Announces Exciting Additions to Pertemps Handicap Hurdle Series 16/09/10
Cheltenham Racecourse has announced that leading recruitment company Pertemps Group has renewed its sponsorship of the Pertemps Handicap Hurdle Series and added seven new qualifiers for the 2010/11 season.
Buena Vista made nearly all to land the 2010 Pertemps Final Handicap Hurdle


© racing-images.co.uk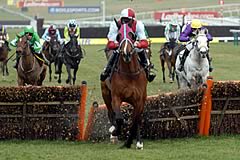 The Pertemps Handicap Hurdle Final has been a feature since 2002 and is always one of the most keenly-fought races at The Festival. Run over three miles and one and a half furlongs, the race is a betting highlight on the Thursday of Cheltenham's four-day March highlight and, in order to run in the final, horses must have taken part in a qualifier (or been declared to run should a qualifier be abandoned).
In 2007 a qualifier was introduced at Auteuil, and France features heavily in the series this season, with two new races each at Cagnes sur Mer (in December and January) and Pau (in January and February).
With additional races at Exeter, Huntingdon and Carlisle, and a new qualifier at Punchestown in Ireland, the Pertemps Handicap Hurdle series now includes 16 qualifying races plus the final, seven more than were programmed in 2009/10.
Tim Watts, Chairman of Pertemps Group, said: "The Pertemps Handicap Hurdle series is a significant investment for us, but one that is great value too.
"The final at The Festival is one of the highlights of the year for many of our staff and clients, and the series of qualifiers over the course of the season allows us to place our brand in front of countless racegoers, television viewers, newspaper readers and Internet users.
"I'm delighted that we have extended the series even further and look forward to welcoming some French-trained qualifiers to the Pertemps Handicap Hurdle Final this season."
Peter McNeile, Director of Sponsorship at Cheltenham, added: "We are thrilled that the Pertemps Series continues to flourish and grateful to Pertemps Group for their commitment.
"The addition of extra qualifying races this season will make the Final more competitive than ever, and with seven races taking place away from Britain, it truly is now a European race series."
The schedule for the series is as follows:
Friday, October 15, 2010 Cheltenham
Monday, November 1, 2010 Kempton Park
Sunday, November 7, 2010 Auteuil
Friday, November 19, 2010 Exeter
Saturday, December 4, 2010 Sandown Park
Monday, December 20, 2010 Cagnes sur Mer
Sunday, December 26, 2010 Wincanton
Sunday, January 9, 2011 Leopardstown
Sunday, January 9, 2011 Cagnes sur Mer
Saturday, January 15, 2011 Warwick
Sunday, January 16, 2011 Pau
Wednesday, January 26, 2011 Huntingdon
Sunday, January 30, 2011 Punchestown
Friday, February 4, 2011 Pau
Wednesday, February 9, 2011 Carlisle
Saturday, February 19, 2011 Haydock Park
Thursday, March 17, 2011 Cheltenham