cheltenham festival / 2008 news /

Master Minded Gives Masterclass in Queen Mother Champion Chase
13/03/08
1st (6) Master Minded 3-1
2nd (11) Voy Por Ustedes 5-2 Fav
3rd (3) Fair Along 12-1
8 ran
Also: 33-1 Schindlers Hunt 4th
NR: Azulejo, Contraband, Lennon


The superlatives were almost exhausted after a prodigious performance by Master Minded, who became the first-ever five-year-old to win the Seasons Holidays Champion Chase.
Master Minded
© racing-images.co.uk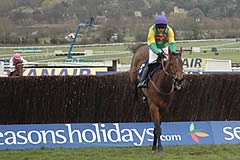 "This is some horse. He's unbelievable. I just couldn't steady him. He was pulling my arms all the way and I was worried that he might be going too easily," said jockey Ruby Walsh, " Jesus, he's some horse! He's only a five-year-old. They went a hell of a gallop and they were running away everywhere. I thought turning the top of the hill I was looking round thinking this is probably not the right thing but he was going so well it didn't matter, just get over these fences He's a machine."
"We thought he was good, but not this good. He was awesome," echoed the owner Clive Smith, whose Kauto Star goes in the totesport Gold Cup tomorrow.
"It's funny how things work out," Smith continued, "We had Kauto Star in this race two years ago and he fell. Maybe, if he had won then, he would still be in this race. So perhaps it was fate that he didn't.
"Paul thinks Master Minded has improved about two stone this year so that's incredible. The nerves aren't quite so jangled now!"
The word "awesome" also fell from the lips of the trainer Paul Nicholls, who had suggested to his rider before the race that Master Minded could even be better than Azertyuiop, who won the Champion Chase in 2004. "He is," said Walsh as he returned to the winner's enclosure.
Nicholls, winning the race for the third time, had been worried about Master Minded's jumping after Exeter in December, when the horse had unseated Sam Thomas. "He was jumping a bit French-style, so we did a lot more work with him after that. He's a very intelligent horse," he said.
Nicholls, who also won the Champion Chase with Call Equiname in 1999, was confident throughout the race. "It was always a good gallop which suited him and when he cruised up to the lead, I thought there's no way he's going to be stopping now."
"These are the races that we want to be winning," said the trainer, who added that the horse will now be put away for the season. "He's still only five and we've got to look after him.
"He's awesome isn't he for a five year-old. He jumped absolutely brilliantly, he travelled well and I'm gobsmacked really. I know he's been improving at home and he was obviously a hugely talented horse and it's just incredible.
"I said to Ruby beforehand why don't we win handicaps (at The Festival) and he said they win their races during the winter and it's the races like this that we want to be winning and he's spot on.
"He's a proper horse to win a race like that. I'll look forward to tomorrow and isn't Clive lucky to have horses like that. The great thing with Clive is that he leaves it to me and Charlie. I've got free hand to do what I want and run them when I like and it makes a massive difference.
"Anthony Bromley bought him for us and he was a horse that both Anthony and myself had been following for 12 months trying to buy. We could see huge potential in him and he wasn't that dear now."

KING SALUTES WINNER
Trainer Alan King was quick to pay tribute to Master Minded, runaway winner of the Seasons Holidays Queen Mother Champion Chase, after his defending champion Voy Por Ustedes finished the 19-length runner-up.
King said of the 5/2 favourite: "I'm very proud of my fella.
"That was an awesome performance from the winner and I take my hat off to him.
"We were beaten fair and square. It was a proper test today and the best horse won.
"It had been said before that it might not be a vintage renewal, but it doesn't look that way now does it?"
Looking to the future, King continued: "I think we might look at stepping him up in trip now.
"Providing he comes out of today OK, we could look at running him over two and a half miles at Aintree next month."
TOO FAST FOR FAIR ALONG
The normally front-running Fair Along could not take his customary early lead in the Seasons Holidays Queen Mother Champion Chase but stayed on to take third, albeit 35 lengths behind the hugely-impressive winner Master Minded.
"He was just flat out from the word go and then stayed on at the end," said Fair Along''s trainer Philip Hobbs. "He saved himself a bit and then ran on. The obvious race for him now is the two and a half miler at Aintree because there is knowhere else for him to go and the way he stayed on here you''d say he''d have no trouble with that trip."
It was left to Schindlers Hunt, who finished fourth, to make the running and his trainer Dessie Hughes added: "It was a great run and it was good to see him come back to himself. We maybe made a bit too much use of him and he could have finished third but the winner was just a machine, he was unbelievable and he''s a beautiful horse to look at as well. We might go to Aintree and we''d definitely think about the Swordlestown at Punchestown."
SEASONS HOLIDAYS QUEEN MOTHER CHAMPION CHASE FACTS
1. The National Hunt Two-Mile Champion Chase was first run in 1959 and the Queen Mother's name was added to the race title in 1980, the year of her 80th birthday.
2. The race's roll of honour includes plenty of multiple winners. Badsworth Boy (1983-85) is the only three-time winner. The double winners are Fortria (1960 and 1961), Drinny's Double (1967 and 1968), Royal Relief (1972 and 1974), Skymas (1976 and 1977), Hilly Way (1978 and 1979), Pearlyman (1987 and 1988), Barnbrook Again (1989 and 1990), Viking Flagship (1994 and 1995) and Moscow Flyer (2003 and 2005).

3. Irish-trained runners have a good record in the Seasons Holidays Queen Mother Champion Chase, winning 19 of the 48 runnings. Newmill, trained by John Murphy and ridden by Andrew McNamara, was the most recent Irish-trained scorer in 2006.

4. Tom Dreaper has the best record of any trainer in the race, winning six runnings with Fortria (1960 and 1961), Ben Stack (1964), Flyingbolt (1966), Muir (1969), and Straight Fort (1970). Of current trainers, Arthur Moore (Drumgora 1981 and Klairon Davis 1996), Paul Nicholls (1999 Call Equiname and Azertyuiop 2004) and Jessica Harrington (Moscow Flyer 2003 and 2005) have the best record.

5. Flyingbolt was the shortest-priced winner when succeeding at 1/5 in 1966, while Another Dolly, who was awarded the 1980 race at odds of 33/1, provided the biggest upset.

6. Pat Taaffe is the most successful rider with five wins, while Moscow Flyer's partner Barry Geraghty is the only current jockey to have landed more than one Seasons Holidays Queen Mother Champion Chase.

7. The oldest horse to have triumphed was the 12-year-old Skymas in 1977, while the youngest victors were the six-year-olds Inkslinger in 1973 and Voy Por Ustedes in 2007.

8. A small but select field usually lines up for the Seasons Holidays Queen Mother Champion Chase. The largest field was in 1999 when 13 runners went to post, one while only five runners lined up in 1985, 1972, 1968, 1964, 1963 and 1961.

9. The most successful owners are George Ansley, who enjoyed three wins with Fortria (1960 and 1961) and Straight Fort (1970), and Doug Armitage who had three victories with Badsworth Boy (1983, 1984 and 1985).

10. Michael Dickinson trained the winner for three consecutive years with Rathgorman (1982) and Badsworth Boy (1983 & 1984). His mother Monica had taken charge of the training operation for Badsworth Boy's final success in 1985.

11. In 1986, the Seasons Holidays Queen Mother Champion Chase winner Buck House subsequently met with that year's Cheltenham Gold Cup heroine Dawn Run in a special match race at Punchestown in April, 1986. It was Dawn Run who prevailed by two and a half lengths.

12. The Irish Independent Arkle Chase is a good guide for future success in the Seasons Holidays Queen Mother Champion Chase. Voy Por Ustedes (2007), Azertyuiop (2004), Moscow Flyer (2003 and 2005), Flagship Uberalles (2002), Klairon Davis (1996) and Remittance Man (1992) all won the novices' event before their Seasons Holidays Queen Mother Champion Chase victory.

PREVIOUS RESULTS -
SEASONS HOLIDAYS QUEEN MOTHER CHAMPION CHASE
2007-WINNER-VOY POR USTEDES 6-11-10 Owner-Sir Robert Ogden; Trainer-Alan King; Jockey-Robert Thornton; SP-5/1
2ND-Dempsey 9-11-10 Owner-Tracy Brown; Trainer-Carl Llewellyn; Jockey-Noel Fehily; SP-20/1
3RD-River City 10-11-10 Owner-Sarah Rowley-Williams; Trainer-Noel Chance; Jockey-Tom Doyle; SP-33/1
10 ran, 3m 53.88s, Dist-1½, 5 Evens Fav Well Chief (Fell)
2006-WINNER-NEWMILL 8-11-10 Owner-Mary Hayes; Trainer-John Murphy IRE; Jockey-Andrew McNamara; SP-16/1
2ND-Fota Island 10-11-10 Owner-J P McManus; Trainer-Mouse Morris IRE; Jockey-Tony McCoy; SP-4/1
3RD-Mister McGoldrick 9-11-10 Owner-Richard Longley; Trainer-Sue Smith; Jockey-Dominic Elsworth; SP-50/1
12 ran, Time-3m 51.50s, Dist-9, 1.5 2/1 Fav Kauto Star (Fell)
2005-WINNER-MOSCOW FLYER 11-11-10 Owner-Brian Kearney; Trainer-Jessica Harrington IRE; Jockey-Barry Geraghty; SP-6/4 Fav
2ND-Well Chief 6-11-10 Owner-David Johnson; Trainer-Martin Pipe; Jockey-Timmy Murphy; SP-7/2
3RD-Azertyuiop 8-11-10 Owner-John Hales; Trainer-Paul Nicholls; Jockey-Ruby Walsh; SP-2/1
8 ran, Time-3m 54.30s, Dist-2, 13
2004-WINNER-AZERTYUIOP 7-11-10 Owner-John Hales; Trainer-Paul Nicholls; Jockey-Ruby Walsh; SP-15/8
2ND-Flagship Uberalles 10-11-10 Owner-J P McManus; Trainer-Philip Hobbs; Jockey; Richard Johnson; SP-14/1
3RD-Tiutchev 11-11-10 Owner-The Liars Poker Partnership; Trainer-Martin Pipe; Jockey-Tony McCoy; SP-16/1
8 ran, Time-3m 54.10s, Dist-9, 1.5 5/6 Fav Moscow Flyer (UR)
2003-WINNER-MOSCOW FLYER 9-12-00 Owner-Brian Kearney; Trainer-Jessica Harrington IRE; Jockey-Barry Geraghty; SP-7/4 Fav
2ND-Native Upmanship 10-12-00 Owner-Sue Magnier; Trainer-Arthur Moore IRE; Jockey-Conor O'Dwyer; SP-12/1
3RD Cenkos 9-12-00 Owner-Judy Stewart; Trainer-Paul Nicholls; Jockey-Ruby Walsh; SP-7/1
11 ran, Time-3m 53.70s, Dist-7, 3
2002-WINNER-FLAGSHIP UBERALLES 8-12-00 Owner-Elizabeth Gutner & Michael Krysztofiak Racing; Trainer-Philip Hobbs; Jockey-Richard Johnson; SP-7/4 Fav
2ND-Native Upmanship 9-12-00 Owner-Sue Magnier; Trainer-Arthur Moore IRE; Jockey-Conor O'Dwyer; SP-9/1
3RD-Cenkos 8-12-00 Owner-Judy Stewart; Trainer-Paul Nicholls; Jockey-Timmy Murphy; SP-66/1
12 ran, Time-4m 7.70s, Dist-3, .5
2001- Cancelled
2000-WINNER-EDREDON BLEU 8-12-00 Owner-Jim Lewis; Trainer-Henrietta Knight; Jockey-Tony McCoy; SP-7/2
2ND-Direct Route 9-12-00 Owner-Michael Thompson; Trainer-Howard Johnson; Jockey-Norman Williamson; SP-5/1
3RD-Flagship Uberalles 6-12-00 Owner-Elizabeth Gutner & Michael Krysztofiak Racing; Trainer-Paul Nicholls; Jockey-Joe Tizzard; SP-11/10 Fav
9 ran, Time-3m 44.6s, Dist-sh, 6
1999-WINNER-CALL EQUINAME 9-12-00 Owner-Mick Coburn, Paul Barber and Colin Lewis; Trainer-Paul Nicholls; Jockey-Mick Fitzgerald; SP-7/2
2ND-Edredon Bleu 7-12-00 Owner-Jim Lewis; Trainer-Henrietta Knight; Jockey-Tony McCoy; SP-3/1 Fav
3RD-Direct Route 8-12-00 Owner-Chris Heron; Trainer-Howard Johnson; Jockey-Norman Williamson;
SP-11/2
13 ran, Time-3m 59.2s, Dist-1.25, 3.5
1998-WINNER-ONE MAN 10-12-00 Owner-John Hales; Trainer-Gordon Richards; Jockey-Brian Harding; SP-7/2
2ND-Or Royal 7-12-00 Owner-David Johnson; Trainer-Martin Pipe; Jockey-Tony McCoy; SP-7/2
3RD-Lord Dorcet 8-12-00 Owner-John Hogg; Trainer-Alistair Charlton; Jockey-Brian Storey; SP-50/1
8 ran, Time-3m 50.8s, Dist-4, 5 5/2 Fav Ask Tom (6th)
1997-WINNER-MARTHA'S SON 10-12-00 Owner-Paddy Hartigan and Michael Ward-Thomas; Trainer-Tim Forster; Jockey-Rodney Farrant; SP-9/1
2ND-Ask Tom 8-12-00 Owner-Brian Stewart-Brown; Trainer-Tom Tate; Jockey-Russ Garritty; SP-6/1
3RD-Viking Flagship 10-12-00 Owner-Roach Foods Ltd; Trainer-David Nicholson; Jockey-Richard Dunwoody; SP-3/1
6 ran, Time-3m 50.1s, Dist-2.5, .5 5/2 Fav Strong Promise (5th)
1996-WINNER-KLAIRON DAVIS 7-12-00 Owner-Chris Jones; Trainer-Arthur Moore IRE; Jockey-Francis Woods; SP-9/1
2ND-Viking Flagship 9-12-00 Owner-Roach Foods Limited; Trainer-David Nicholson; Jockey-Charlie Swan; SP-9/4
3RD-Sound Man 8-12-00 Owner-David Lloyd; Trainer-Edward O'Grady IRE; Jockey-Richard Dunwoody; SP-11/8 Fav
7 ran, Time-4m 0.4s, Dist-5, 1.25

SEASONS HOLIDAYS QUEEN MOTHER CHAMPION CHASE
ROLL OF HONOUR
(Seasons Holidays Queen Mother Champion Chase since 2007, Queen Mother Champion Chase 1980-2006, previously National Hunt Two Mile Champion Chase from when first run in 1959)
Year Winner Age/Wt Jockey Trainer Owner SP Ran
2007 Voy Por Ustedes 6-11-10 Robert Thornton Alan King Sir Robert Ogden 5/1 10
2006 Newmill 8-11-10 Andrew McNamara John Murphy IRE Mary Hayes 16/1 12
2005 Moscow Flyer 11-11-10 Barry Geraghty Jessica Harrington IRE Brian Kearney 6/4F 8
2004 Azertyuiop 7-11-10 Ruby Walsh Paul Nicholls John Hales 15/8 8
2003 Moscow Flyer 9-12-00 Barry Geraghty Jessica Harrington IRE Brian Kearney 7/4F 11
2002 Flagship Uberalles 8-12-00 Richard Johnson Philip Hobbs Elizabeth Gutner/Michael Krysztofiak 7/4F 12
2001 No Race (Foot and Mouth)
2000 Edredon Bleu 8-12-00 Tony McCoy Henrietta Knight Jim Lewis 7/2 9
1999 Call Equiname 9-12-00 Mick Fitzgerald Paul Nicholls Mick Coburn,Paul Barber,Colin Lewis 7/2 13
1998 One Man 10-12-00 Brian Harding Gordon Richards John Hales 7/2 8
1997 Martha's Son 10-12-00 Rodney Farrant Tim Forster Paddy Hartigan/Michael Ward-Thomas 9/1 6
1996 Klairon Davis 7-12-00 Francis Woods Arthur Moore IRE Chris Jones 9/1 7
1995 Viking Flagship 8-12-00 Charlie Swan David Nicholson Roach Foods Ltd 5/2F 10
1994 Viking Flagship 7-12-00 Adrian Maguire David Nicholson Roach Foods Ltd 4/1 8
1993 Deep Sensation 8-12-00 Declan Murphy Josh Gifford Robin Eliot 11/1 9
1992 Remittance Man 8-12-00 Jamie Osborne Nicky Henderson Jim Collins Evs F 6
1991 Katabatic 8-12-00 Simon McNeill Andrew Turnell Pell-Mell Partners 9/1 7
1990 Barnbrook Again 9-12-00 Hywel Davies David Elsworth Mel Davies 11/10F 9
1989 Barnbrook Again 8-12-00 Simon Sherwood David Elsworth Mel Davies 7/4F 8
1988 Pearlyman 9-12-00 Tom Morgan John Edwards Valerie Shaw 15/8F 8
1987 Pearlyman 8-12-00 Peter Scudamore John Edwards Valerie Shaw 13/8F 8
1986 Buck House 8-12-00 Tommy Carmody Mouse Morris IRE Mrs Phil Purcell 5/2 11
1985 Badsworth Boy 10-12-00 Robert Earnshaw Monica Dickinson Doug Armitage 11/8 5
1984 Badsworth Boy 9-12-00 Robert Earnshaw Michael Dickinson Doug Armitage 8/13F 10
1983 Badsworth Boy 8-12-00 Robert Earnshaw Michael Dickinson Doug Armitage 2/1 6
1982 Rathgorman 10-12-00 Kevin Whyte Michael Dickinson J Lilley 100/30 9
1981 Drumgora 9-12-00 Frank Berry Arthur Moore IRE D Monahan 25/1 9
1980 *Another Dolly 10-12-00 Sam Morshead Fred Rimell Ian Urquhart 33/1 7
1979 Hilly Way 9-12-00 Mr Ted Walsh Peter McCreery IRE J W Sweeney 7/1 9
1978 Hilly Way 8-12-00 Tommy Carmody Peter McCreery IRE J W Sweeney 7/1 10
1977 Skymas 12-12-00 Mouse Morris Brian Lusk IRE Mathew Magee 7/2 8
1976 Skymas 11-12-00 Mouse Morris Brian Lusk IRE Mathew Magee 8/1 7
1975 Lough Inagh 8-12-00 Sean Barker Jim Dreaper IRE A Martin 100/30 8
1974 Royal Relief 10-12-00 Bill Smith Edward Courage Edward Courage 6/1 6
1973 Inkslinger 6-12-00 Tommy Carberry Dan Moore IRE Mrs M Jenney 6/1 6
1972 Royal Relief 8-12-00 Bill Smith Edward Courage Edward Courage 15/8 5
1971 Crisp 8-12-00 Paul Kelleway Fred Winter Sir Chester Manifold 3/1 8
1970 Straight Fort 7-12-00 Pat Taaffe Tom Dreaper IRE George Ansley 7/4F 6
1969 Muir 10-12-00 Ben Hannon Tom Dreaper IRE Waring Willis 15/2 11
1968 Drinny's Double 10-12-00 Frank Nash Bob Turnell Paul Mellon 6/1 5
1967 Drinny's Double 9-12-00 Frank Nash Bob Turnell Paul Mellon 7/2 8
1966 Flyingbolt 7-12-00 Pat Taaffe Tom Dreaper IRE Mrs Jean Wilkinson 1/5F 6
1965 Dunkirk 8-12-00 Dave Dick Peter Cazalet Bill Whitbread 8/1 6
1964 Ben Stack 7-12-00 Pat Taaffe Tom Dreaper IRE Anne, Duchess of Westminster 2/1 5
1963 Sandy Abbot 8-12-00 Stan Mellor George Owen Mrs J D McKechnie 5/1 5
1962 Piperton 8-12-00 Dave Dick Archie Thomlinson Archie Thomlinson 100/6 7
1961 Fortria 9-12-00 Pat Taaffe Tom Dreaper IRE George Ansley 2/5F 5
1960 Fortria 8-12-00 Pat Taaffe Tom Dreaper IRE George Ansley 15/8F 7
1959 Quita Que 10-12-00 Bunny Cox Dan Moore IRE Mrs D R Brand 4/9F 9
*Another Dolly finished second to Chinrullah, who was subsequently disqualified after failing a post-race urine test