Seasons Holidays Queen Mother Champion Chase
14/03/07
1st (11) Voy Por Ustedes 5-1
2nd (2) Dempsey 20-1
3rd (9) River City 33-1
10 ran
Also: Evens Fav Well Chief, 4-1 Newmill 4th
NR: Marble Garden, Nickname
Voy Por Ustedes Champion Chaser 14/03/07
Voy Por Ustedes (Choc Thornton nearside), fighting off the vastly underrated Dempsey (Noel Fehily). River City (hidden) finished in third, with Newmill (Andrew McNamara) back in fourth (Cheltenham 14-03-07)
© racing-images.co.uk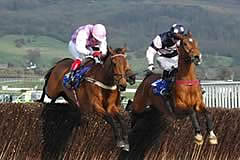 Voy Por Ustedes recorded his second Festival success when collecting the Seasons Holidays Queen Mother Champion Chase for owner Sir Robert Ogden, trainer Alan King and jockey Robert Thornton.

The winner, successful in last season's The Irish Independent Arkle Trophy, had a length and a half to spare over Dempsey with River City five lengths back in third.

Winning trainer Alan King said: "I had been looking forward to running him today.

"He was in great nick and the drying ground was just perfect for him.

"I was slightly nervous when he made a mistake two out but I always knew he would stay on - he gets the trip really well.

"He is a very lively horse at home and does too much on the gallops but fortunately he switches off and relaxes when he gets to the races.
"I am lucky to have such good horses. This was a real team effort and everyone involved with the horse deserves lots of credit.

"We will be having dinner with Dinah (Nicholson) tonight as we always do on the Wednesday of Cheltenham and I am sure it will be a good celebration.

"Good horses are easy to train - you have their whole season mapped out - and it was always the intention to give Voy Por Ustedes four runs this season.

"It was unfortunate that Well Chief fell but he would have wanted to be good, wouldn't he?
"Wonderful! It hasn't sunk in - I'm absolutely thrilled. I knew he was in wonderful form and the preparation has gone great. One thing he does is get a trip very well, and Choc gave him another wonderful ride."
"Chocolate is a good all-rounder. He is relaxed and is always in the right place at the right time."
Thornton added: "I'm very happy. I can't believe it - it hasn't sunk in yet. To be fair to myself and a few others, we picked up going to two out, and I felt my lad kept picking up to the line."
Voy Por Ustedes is rated at 4/1 (Boylesports, Ladbrokes, Paddy Power, totesport), 5/1 (Blue Square, William Hill) and 7/1 (Stan James) to repeat his win next year.
CHAMPION JOY FOR VOY - PRESS CONFERENCE QUOTES
Voy Por Ustedes continued an excellent Festival for trainer Alan King and jockey Robert Thornton when running out an impressive winner of the Seasons Holidays Queen Mother Champion Chase.

"Any winner here is superb but I enjoyed this more than My Way De Solzen's success yesterday because I've been more relaxed all morning and all day," said King. "Yesterday the pressure was really on.

"It might have been a blessing when Voy Por Ustedes unseated at Newbury last time. At least we got a day out and it took the fizz out of his head although obviously I'd have preferred it not to have happened. It was annoying but not the be-all and end-all, today was what mattered
"This has been a perfect racing surface for a Festival, it's a level playing field for everyone except the real soft ground specialists. He may go to Aintree for the two and a half mile race but I'm pretty sure he won't head to Punchestown, last year Sir Robert Ogden didn't want me to enter him there."
Thornton added: "I noticed Well Chief falling but you have to ride your own race. Thinking that you will win just because he has fallen is stupid although it is a trap you can fall into. As with yesterday, I just kept remembering Alan saying to me 'don't panic'. I had those words ringing in my ears.

"We quickened between the third last and second last and I could see from a long way out that it was going to be difficult there because it's a tricky fence. I knew it was a matter of holding on and getting from A to B safely there and luckily we did. Two and a half at Aintree should suit him."
Speaking about My Way De Solzen, yesterday's Irish Independent Arkle Chase winner, King added: "All the options are there for him this season, it's possible he might go to Ayr, but I'd be quite happy to put him away and maybe come back in what was the Plymouth Gin Chase over two miles and a furlong at Exeter in November.

"I'll have to try and keep these two apart but really I think My Way will definitely go back up in trip."
The late David Nicholson, a mentor to both King and Thornton, won the Seasons Holidays Queen Mother Champion Chase twice with Viking Flagship (1994 and 1995) and King added: "It's such a shame he's not here to enjoy this, but hopefully he's been looking down on us."
DELIGHT AND DISAPPOINTMENT FOR BEATEN TRAINERS
Voy Por Ustedes jumped brilliantly and had too much speed for his rivals when seeing off Dempsey, River City and last year's winner Nickname for the two-mile chasers' crown.

Carl Llewellyn, trainer of runner-up Dempsey, was choked by the defeat. Asked for his reaction, Llewellyn said: "Gutted. He's run a good race, but it's a shame isn't it."
Noel Chance was more upbeat about River City's effort when finishing third. Chance said: "He's a very sound jumper. Tom [Doyle] said he made a little error and was a little further back than he would have liked at the top of the hill, but he wasn't going to finish second any way.

"At least we beat Newmill. I said last year we might even have beaten Newmill [River City unseated four out when still in contention]. We'll probably go to Liverpool and Punchestown. He's had back problems, but we can control those, and he's a sound horse in every other way."
John Murphy, trainer of fourth-placed Newmill, said: "He made a couple of very bad mistakes and that just knocked the stuffing out of him. Andrew [McNamara] said that made the difference.

"It didn't help when Ashley Brook took him on early. That buzzed him and he got a bit low at them. He ran a cracking race apart from those two mistakes, but at that speed if you hit a fence it's difficult to get away with it.

"He was every bit as good as last year before the race. I was totally happy with him. He'll go to Punchestown, but he's had a pretty light campaign because of the weather and heavy ground, so he could go to Aintree as well."
Andrew McNamara added: "I was still in contention when he made a mistake at the third last. I wouldn't say that we were going to win, but we lost all chance after that mistake."
David Pipe, trainer of the Evens favourite Well Chief who fell at the second fence, said:" He was the best horse in the race but you need luck in running. and we just didn't have it.
"It is a shame that a lot of hard work has gone. The early signs are that the horse seems OK which is the main thing."
Position

Horse
Trainer
Jockey
Weight
Starting Price
Beaten Distance
1

Voy Por Ustedes
A King
R Thornton
11st 10lbs
5 - 1
Winner
2

Dempsey
C Llewellyn
N Fehily
11st 10lbs
20 - 1
1 1/2 length
3

River City
Noel T Chance
T Doyle
11st 10lbs
33 - 1
5 lengths
4

Newmill
John Joseph Murphy
A J McNamara
11st 10lbs
4 - 1
2 1/2 lengths
5

Justified
E Sheehy
A P McCoy
11st 10lbs
20 - 1
17 lengths
6

Mister McGoldrick
C Llewellyn
Paul Moloney
11st 10lbs
33 - 1
1 length
7

Sybellius D'artaix
R Chotard
J M Davies
11st 10lbs
150 - 1
22 lengths
na

Ashley Brook
K Bishop
P J Brennan
11st 10lbs
10 - 1

na

Well Chief
D Pipe
T J Murphy
11st 10lbs
1 - 1

na

Oneway
M G Rimell
R Johnson
11st 10lbs
50 - 1

Non Runner

Marble Garden
R Chotard
DOUBTFUL
11st 10lbs


Non Runner

Nickname
M Brassil
R Walsh
11st 10lbs


CHAMPION CHASE FACTS & MILESTONES*
* A dozen horses have been declared for Wednesday's highlight, the £310,00 Seasons Holidays Queen Mother Champion Chase. This is just one below the record field of 13 in 1999 and equal that in 2002 and 2006.

* The 2006 Seasons Holidays Queen Mother Champion Chase victor Newmill will be bidding to become the 10th dual victor in the two-mile championship following Fortria (1960 and 1961), Drinny's Double (1967 and 1968), Royal Relief (1972 and 1974), Skymas (1976 and 1977), Hilly Way (1978 and 1979), Pearlyman (1987 and 1988), Barnbrook Again (1989 and 1990), Viking Flagship (1994 and 1995) and Moscow Flyer (2003 and 2005). There has also been one triple winner - Badsworth Boy (1983, 1984 and 1985).

* Voy Por Ustedes, successful in the 2006 Irish Independent Arkle Trophy, would follow in the footsteps of previous Arkle winners Azertyuiop (2004), Moscow Flyer (2003 and 2005), Flagship Uberalles (2002), Klairon Davis (1996) and Remittance Man (1992) if he were to go on to victory in the Seasons Holidays Queen Mother Champion Chase.
The strong Irish challenge also includes the 2006 fourth Central House, impressive recent Leopardstown winner Nickname as well as In Compliance, who defeated War Of Attrition last time out in the Grade One John Durkan Memorial Chase at Punchestown in December.
Voy Por Ustedes and Monet's Garden, first and second respectively in the 2006 Irish Independent Arkle Trophy, are both entered. The former chased home Kauto Star in the Tingle Creek Chase at Sandown in December before winning the Grade Two Desert Orchid Chase at Kempton later in the month and is the ante-post favourite while Monet's Garden disappointed last time out in the King George VI Chase.