cheltenham 2007 / 2007 news / champion hurdle

Smurfit Kappa Champion Hurdle 2007 - Analysis 13/03/07
INCA, AFSOUN & EUSTACE PLEASE CONNECTIONS
The second, third and fourth all pleased their connections following the Smurfit Kappa Champion Hurdle.

The 2006 victor, Brave Inca, was beaten three lengths this year by Sublimity, but his trainer Colm Murphy was from despondent.

Murphy said: "The winner was exceptional.

"Brave Inca has runner a cracker and I'm thrilled to bits - he has run his heart out.

"There is new kid on the block now! That will probably be it for this year. We went to Punchestown after Cheltenham with him last year but that was a mistake."
A further neck back in third was the fast-finishing Afsoun and his trainer Nicky Henderson was very pleased.

The master of Seven Barrows said: "Afsoun has run a smashing race.
"He stayed on well and Mick said the good gallop today really suited him."
Afsoun's owner Trevor Hemmings added: "His fitness was a worry today as he had been suffering from a slight virus.

"I think it was evident from his run that he may have just lacked optimum fitness.

"However, he is only five whereas the winner is seven and the second is nine, so there is hope for the future."
Hardy Eustace, the winner in 2004 and 2005, was beaten under four lengths in fourth and his trainer Dessie Hughes was also satisfied.

Hughes said: "I thought it was a hell of a race.

"He never got a chance to get a breather today unlike in other years.
"Conor (O'Dwyer) said they were probably going about five miles an hour quicker today than for the past few years - nothing came easy today.

"He could go to Punchestown now and won't be retired, but all good things come to an end!"
Detroit City can't have been right, says jockey
Detroit City
© racing-images.co.uk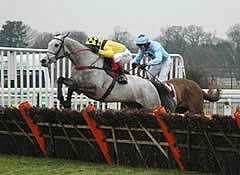 Philip Hobbs, trainer of Detroit City, who was favourite for the Smurfit Kappa Champion Hurdle but could finish only sixth, said: "It's very disappointing because he was favourite and he got stuffed. Richard [Johnson] got off and said the horse can't have been right, so we'll have to see. There's probably something amiss but we'll find out in the next few days.

"Even with a fast pace he can normally cope, but today he was never going. It's not the end of the world and the horse is still alive, but it's something you build for all season so it's very disappointing."
Seamus Mullins, trainer of fifth-placed Kawagino, said his horse will probably come back to the meeting on Friday for the Vincent O'Brien County Hurdle.

Mullins said: "A horse fell in front of him and baulked him, so he lost all momentum. Wayne had to try and get back into the race from that point on. What a thrill it would have been if he'd jumped the last on the tails of the best four hurdlers in Europe. Sadly it wasn't to be.

"I'd like to come back on Friday, but we'll have to see how he comes out of the race."
It was reported that the Nick Gifford-trained Straw Bear, who was pulled up, broke a blood vessel.
BOYLESPORTS SAVED FROM MASSIVE BONUS PAYOUT
The disappointing run of Smurfit Kappa Champion Hurdle favourite Detroit City saved Boylesports from paying out a £200,000 bonus.

The grey was successful in the £200,000 Boylesports.com International at Cheltenham on December 9 and qualified to go for the new bonus.
The £200,000 Boylesports bonus was offered to the winner of both the Boylesports.com International and Smurfit Kappa Champion Hurdle.

Boylesports sponsored Cheltenham's December meeting for the first time this season and it has been transformed into one of the season's biggest events, with prize money up 60 per cent on the 2005 total.
Position

Horse
Trainer
Jockey
Weight
Starting Price
Beaten Distance
1

Sublimity
J G Carr
P A Carberry
11st 10lbs
16 - 1
Winner
2

Brave Inca
Colm A Murphy
R Walsh
11st 10lbs
11 - 2
3 lengths
3

Afsoun
N J Henderson
M A Fitzgerald
11st 10lbs
28 - 1
Neck
4

Hardy Eustace
D T Hughes
C O'Dwyer
11st 10lbs
3 - 1
Neck
5

Kawagino
J W Mullins
W P Kavanagh
11st 10lbs
100 - 1
15 lengths
6

Detroit City
P J Hobbs
R Johnson
11st 10lbs
6 - 4
Head
7

Asian Maze
Thomas Mullins
R M Power
11st 3lbs
20 - 1
3/4 length
8

Marble Garden
R Chotard
J M Davies
11st 10lbs
250 - 1
distance
Fell

Iktitaf
N Meade
B J Geraghty
11st 10lbs
14 - 1

PulledUp

Straw Bear
N J Gifford
A P McCoy
11st 10lbs
7 - 1

Non Runner

Acambo
D Pipe
DOUBTFUL
11st 10lbs


SMURFIT KAPPA CHAMPION HURDLE RESULTS
2006-WINNER-BRAVE INCA 8-11-10 Owner-Novices Syndicate; Trainer-Colm Murphy IRE; Jockey-Tony McCoy; SP-7/4 Fav
2ND-Macs Joy 7-11-10 Owner-Mac's J Racing Syndicate; Trainer-Jessica Harrington IRE; Jockey-Barry Geraghty; SP-13/2
3RD-Hardy Eustace 9-11-10 Owner-Lar Byrne; Trainer-Dessie Hughes IRE; Jockey-Conor O'Dwyer; SP-11/2
18 ran. Time-3m 50.00s; Dist-1, 3.5
2005-WINNER-HARDY EUSTACE 8-11-10 Owner-Lar Byrne; Trainer-Dessie Hughes IRE; Jockey-Conor O'Dwyer; SP-
7/2 Jt Fav
2ND-Harchibald 6-11-10 Owner-Des Sharkey; Trainer-Noel Meade IRE; Jockey-Paul Carberry; SP-7/1
3RD-Brave Inca 7-11-10 Owner-Novices Syndicate; Trainer-Colm Murphy IRE; Jockey-Barry Cash; SP-10/1
14 ran, Time-3m 51.50s; Dist-nk, nk 7/2 Jt Fav Back In Front (9th)
2004-WINNER-HARDY EUSTACE 7-11-10 Owner-Lar Byrne; Trainer-Dessie Hughes IRE; Jockey-Conor O'Dwyer; SP-33/1
2ND-Rooster Booster 10-11-10 Owner-Terry Warner; Trainer-Philip Hobbs; Jockey-Richard Johnson; SP-11/8 Fav
3RD-Intersky Falcon 7-11-10 Owner-Interskyracing.com & Jacqui O'Neill; Trainer: Jonjo O'Neill; Jockey-Liam Cooper; SP-8/1
14 ran, Time-3m 54.50s; Dist-5, 4
2003-WINNER-ROOSTER BOOSTER 9-12-00 Owner-Terry Warner; Trainer-Philip Hobbs; Jockey-Richard Johnson; SP-9/2
2ND-Westender 7-12-00 Owner-Matt Archer & Jean Broadhurst; Trainer-Martin Pipe; Jockey-Rodi Greene; SP-33/1
3RD-Rhinestone Cowboy 7-12-00 Owner-Sue Magnier; Trainer-Jonjo O'Neill; Jockey-Norman Williamson; SP-5/2 Fav
17 ran, Time-3m 54.70s; Dist-11, 3
2002-WINNER-HORS LA LOI III 7-12-00 Owner-Paul Green; Trainer-James Fanshawe; Jockey-Dean Gallagher; SP-10/1
2ND-Marble Arch 6-12-00 Owner-Martin Wilson, Rory Sweet and Mary Wilson; Trainer-Hughie Morrison; Jockey-Ruby Walsh; SP-25/1
3RD-Bilboa 5-11-09 Owner-Jorg Vasicek; Trainer-Francois Doumen FR; Jockey-Thierry Doumen; SP-14/1
15 ran, Time-3m 53.80s; Dist- 3, .5 2/1 Fav Istabraq (pu)
2001 Cancelled
2000-WINNER-ISTABRAQ 8-12-00 Owner-J P McManus; Trainer-Aidan O'Brien IRE; Jockey-Charlie Swan; SP-8/15 Fav
2ND-Hors La Loi III 5-12-00 Owner-Paul Green; Trainer-Francois Doumen FR; Jockey-Dean Gallagher; SP-11/1
3RD-Blue Royal 5-12-00 Owner-Lynn Wilson; Trainer-Nicky Henderson; Jockey-Mick Fitzgerald; SP-16/1
12 ran, Time-3m 48.10s; Dist-4, nk
1999-WINNER-ISTABRAQ 7-12-00 Owner-J P McManus; Trainer-Aidan O'Brien IRE; Jockey-Charlie Swan; SP-4/9 Fav
2ND-Theatreworld 7-12-00 Owner-Sue Magnier; Trainer-Aidan O'Brien IRE; Jockey-Tommy Treacy; SP-16/1 3RD-French Holly 8-12-00 Owner-Kieran Flood; Trainer-Ferdy Murphy; Jockey-Andrew Thornton; SP-11/2
14 ran, Time 3m 56.7s; Dist-3.5, 2.5
1998-WINNER-ISTABRAQ 6-12-00 Owner-J P McManus; Trainer-Aidan O'Brien IRE; Jockey-Charlie Swan; SP-3/1 Fav
2ND-Theatreworld 6-12-00 Owner-Sue Magnier; Trainer-Aidan O'Brien IRE; Jockey-Tommy Treacy; SP-20/1
3RD-I'm Supposin 6-12-00 Owner-Nicholas Cooper; Trainer-Richard Rowe; Jockey-Richard Dunwoody; SP-6/1
18 ran, Time 3m 49.1s; Dist-12, 1
1997-WINNER-MAKE A STAND 6-12-00 Owner-Peter Deal; Trainer-Martin Pipe; Jockey-Tony McCoy; SP-7/1
2ND-Theatreworld 5-12-00 Owner-Sue Magnier; Trainer-Aidan O'Brien IRE; Jockey-Norman Williamson; SP-33/1
3RD-Space Trucker 6-12-00 Owner-Elaine Queally; Trainer-Jessica Harrington IRE; Jockey-John Shortt; SP-9/2
17 ran, Time-3m 48.4s, Dist-5, .75 7/2 Fav Large Action (pu)
1996-WINNER-COLLIER BAY 6-12-00 Owner-Wally Sturt; Trainer-Jim Old; Jockey-Graham Bradley; SP-9/1
2ND-Alderbrook 7-12-00 Owner-Ernie Pick; Trainer-Kim Bailey; Jockey-Richard Dunwoody; SP-10/11 Fav
3RD-Pridwell 6-12-00 Owner-Jones, Berstock and Fleet Partnership; Trainer-Martin Pipe; Jockey-Chris Maude;
SP-33/1 16 ran, Time-3m 59.0s, Dist-2.5, 6
1995-WINNER-ALDERBROOK 6-12-00 Owner-Ernie Pick; Trainer-Kim Bailey; Jockey-Norman Williamson; SP-11/2
2ND-Large Action 7-12-00 Owner-Brian Stewart-Brown; Trainer-Oliver Sherwood; Jockey-Jamie Osborne; SP-4/1 Jt Fav
3RD-Danoli 7-12-00 Owner-Dan O'Neill; Trainer-Tom Foley IRE; Jockey-Charlie Swan; SP-4/1 Jt Fav
14 ran, Time-4m 03.1s, Dist-5, 2

SMURFIT KAPPA CHAMPION HURDLE ROLL OF HONOUR
(Smurfit Kappa Champion Hurdle since 2006, Smurfit Champion Hurdle 1991-2005, Waterford Crystal Champion Hurdle 1978-1990,
no sponsor before 1978)
Year Winner Age/Wt Jockey Trainer Owner SP Ran
2006 Brave Inca 8-11-10 Tony McCoy Colm Murphy IRE Novices Syndicate 7/4F 18
2005 Hardy Eustace 8-11-10 Conor O'Dwyer Dessie Hughes IRE Lar Byrne 7/2JF 14
2004 Hardy Eustace 7-11-10 Conor O'Dwyer Dessie Hughes IRE Lar Byrne 33/1 14
2003 Rooster Booster 9-12-00 Richard Johnson Philip Hobbs Terry Warner 9/2 17
2002 Hors La Loi III 7-12-00 Dean Gallagher James Fanshawe Paul Green 10/1 15
2001 No Race (Foot and Mouth)
2000 Istabraq 8-12-00 Charlie Swan Aidan O'Brien IRE J P McManus 8/15F 12
1999 Istabraq 7-12-00 Charlie Swan Aidan O'Brien IRE J P McManus 4/9F 14
1998 Istabraq 6-12-00 Charlie Swan Aidan O'Brien IRE J P McManus 3/1F 18
1997 Make A Stand 6-12-00 Tony McCoy Martin Pipe Peter Deal 7/1 17
1996 Collier Bay 6-12-00 Graham Bradley Jim Old Wally Sturt 9/1 16
1995 Alderbrook 6-12-00 Norman Williamson Kim Bailey Ernie Pick 11/2 14
1994 Flakey Dove 8-11-09 Mark Dwyer Richard Price John Price 9/1 15
1993 Granville Again 7-12-00 Peter Scudamore Martin Pipe Eric Scarth 13/2 18
1992 Royal Gait 9-12-00 Graham McCourt James Fanshawe Sheikh Mohammed 6/1 16
1991 Morley Street 7-12-00 Jimmy Frost Toby Balding Michael Jackson Bloodstock Ltd 4/1F 24
1990 Kribensis 6-12-00 Richard Dunwoody Michael Stoute Sheikh Mohammed 95/40F 19
1989 Beech Road 7-12-00 Richard Guest Toby Balding Tony Geake 50/1 15
1988 Celtic Shot 6-12-00 Peter Scudamore Fred Winter David Horton 7/1 21
1987 See You Then 7-12-00 Steve Smith Eccles Nicky Henderson Stype Wood Stud Ltd 11/10F 18
1986 See You Then 6-12-00 Steve Smith Eccles Nicky Henderson Stype Wood Stud Ltd 5/6F 23
1985 See You Then 5-12-00 Steve Smith Eccles Nicky Henderson Stype Wood Stud Ltd 16/1 14
1984 Dawn Run 6-11-09 Jonjo O'Neill Paddy Mullins IRE Charmian Hill 4/5F 14
1983 Gaye Brief 6-12-00 Richard Linley Mercy Rimell Sheikh Ali Abu Khamsin 7/1 17
1982 For Auction 6-12-00 Mr Colin Magnier Michael Cunningham IRE F Heaslip 40/1 14
1981 Sea Pigeon 11-12-00 John Francome Peter Easterby Pat Muldoon 7/4F 14
1980 Sea Pigeon 10-12-00 Jonjo O'Neill Peter Easterby Pat Muldoon 13/2 9
1979 Monksfield 7-12-00 Dessie Hughes Des McDonogh IRE Dr Michael Mangan 9/4F 10
1978 Monksfield 6-12-00 Tommy Kinane Des McDonogh IRE Dr Michael Mangan 11/2 13
1977 Night Nurse 6-12-00 Paddy Broderick Peter Easterby Reg Spencer 15/2 10
1976 Night Nurse 5-12-00 Paddy Broderick Peter Easterby Reg Spencer 2/1F 8
1975 Comedy Of Errors 8-12-00 Ken White Fred Rimell Ted Wheatley 11/8F 13
1974 Lanzarote 6-12-00 Richard Pitman Fred Winter Lord Howard de Walden 7/4 7
1973 Comedy Of Errors 6-12-00 Bill Smith Fred Rimell Ted Wheatley 8/1 8
1972 Bula 7-12-00 Paul Kelleway Fred Winter Bill Edwards-Heathcote 8/11F 12
1971 Bula 6-12-00 Paul Kelleway Fred Winter Bill Edwards-Heathcote 15/8F 9
1970 Persian War 7-12-00 Jimmy Uttley Colin Davies Henry Alper 5/4F 14
1969 Persian War 6-12-00 Jimmy Uttley Colin Davies Henry Alper 6/4F 17
1968 Persian War 5-11-12 Jimmy Uttley Colin Davies Henry Alper 4/1 16
1967 Saucy Kit 6-12-00 Roy Edwards Peter Easterby K F Alder 100/6 23
1966 Salmon Spray 8-12-00 Johnnie Haine Bob Turnell Mrs John Rogerson 4/1 17
1965 Kirriemuir 5-12-00 Willie Robinson Fulke Walwyn Mrs Dorothy Beddington 50/1 19
1964 Magic Court 6-12-00 Pat McCarron Tommy Robson J McGhie 100/6 24
1963 Winning Fair 8-12-00 Mr Alan Lillingston George Spencer IRE George Spencer 100/9 21
1962 Anzio 5-11-12 Willie Robinson Fulke Walwyn Sir Thomas Ainsworth 11/2 14
1961 Eborneezer 6-12-00 Fred Winter Ryan Price Dr B N Pajgar 4/1 17
1960 Another Flash 6-12-00 Bobby Beasley Paddy Sleator IRE J J Byrne 11/4F 12
1959 Fare Time 6-12-00 Fred Winter Ryan Price Gerry Judd 13/2 14
1958 Bandalore 7-12-00 George Slack Stan Wright Mrs Dorothy Wright 20/1 18
1957 Merry Deal 7-12-00 Grenville Underwood Arthur Jones Arthur Jones 28/1 16
1956 Doorknocker 8-12-00 Harry Sprague Charlie Hall Clifford Nicholson 100/9 14
1955 Clair Soleil 6-12-00 Fred Winter Ryan Price Gerry Judd 5/2F 21
1954 Sir Ken 7-12-00 Tim Molony Willie Stephenson Maurice Kingsley 4/9F 13
1953 Sir Ken 6-12-00 Tim Molony Willie Stephenson Maurice Kingsley 2/5F 7
1952 Sir Ken 5-11-12 Tim Molony Willie Stephenson Maurice Kingsley 3/1F 16
1951 Hatton's Grace 11-12-00 Tim Molony Vincent O'Brien IRE Mrs Harry Keogh 4/1 8
1950 Hatton's Grace 10-12-00 Aubrey Brabazon Vincent O'Brien IRE Mrs Harry Keogh 5/2F 12
1949 Hatton's Grace 9-12-00 Aubrey Brabazon Vincent O'Brien IRE Mrs Harry Keogh 100/7 14
1948 National Spirit 7-12-00 Ron Smyth Vic Smyth Len Abelson 6/4F 12
1947 National Spirit 6-12-00 Danny Morgan Vic Smyth Len Abelson 7/1 13
1946 Distel 5-11-10 Bobby O'Ryan Charlie Rogers IRE Dorothy Paget 4/5F 8
1945 Brains Trust 5-11-10 Fred Rimell Gerry Wilson F Blakeway 9/2 16
1943-44 No Race
1942 Forestation 4-11-00 Ron Smyth Vic Smyth Vic Smyth 10/1 20
1941 Seneca 4-11-00 Ron Smyth Vic Smyth Sir Malcolm McAlpine 7/1 6
1940 Solford 9-12-00 Sean Magee Owen Anthony Dorothy Paget 5/2F 8
1939 African Sister 7-12-00 Keith Piggott Charles Piggott H Brueton 10/1 13
1938 Our Hope 9-12-00 Perry Harding Roderic Gubbins Roderic Gubbins 5/1 5
1937 Free Fare 9-12-00 Georges Pellerin Ted Gwilt Ben Warner 2/1F 7
1936 Victor Norman 5-11-00 Frenchie Nicholson Morgan Blair Michael Stephens 4/1 8
1935 Lion Courage 7-12-00 Gerry Wilson F Brown R Fox Carlyon 100/8 11
1934 Chenango 7-12-00 Danny Morgan Ivor Anthony Pete Bostwick 4/9F 5
1933 Insurance 6-12-00 Billy Stott Basil Briscoe Dorothy Paget 10/11F 5
1932 Insurance 5-12-00 Ted Leader Basil Briscoe Dorothy Paget 4/5F 3
1931 No race
1930 Brown Tony 4-11-00 Tommy Cullinan Jack Anthony Mrs J de Selincourt 7/2 5
1929 Royal Falcon 6-12-00 Dick Rees Bob Gore Miss Williams-Bulkeley 11/2 6
1928 Brown Jack 4-11-00 Bilby Rees Aubrey Hastings Major Harold Wernher 4/1 6
1927 Blaris 6-12-00 George Duller Bill Payne Mrs H Hollins 11/10F 4