Norfolk Stakes

Group 2, Ascot 14:30
£100,000 added,
2yo only,
5f, Class 1  
Thursday 21st June 2018
1 Shang Shang Shang 5/1
2 Pocket Dynamo 20/1
3 Land Force 7/1
10 ran Distances: nse, ½l, 1½l
Time: 59.83s (slow by 0.83s)
Shang Shang Shang lands the Norfolk Stakes in a close finish for American trainer Wesley Ward
Shang Shang Shang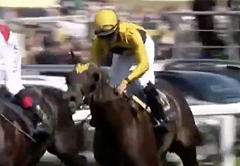 British racing's finest American import, Wesley Ward, had not enjoyed the best Royal Ascot until Shang Shang Shang landed the G2 Norfolk Stakes.
Victory for the filly against colts - the first such success since Superstar Leo beat male rivals in 2000 - was particularly sweet following the defeats of strongly-fancied Chelsea Cloisters and
Lady Aurelia
earlier in the week, although Shang Shang Shang did not make things easy for her trainer when prevailing on the nod by the smallest of margins. A 5/1 chance, she beat 20/1 shot Pocket Dynamo from Robert Cowell's stable, with Land Force at 7/1 a further half a length down in third.
Ward said of the Joel Rosario-ridden winner: "To do this with a filly is quite unbelievable. I come here every year, but we were kinda scratching our heads for a few days and felt like we were back at the beginning and wondering if we were in the wrong place or not.
"We had done all the planning just as before but it wasn't coming through - thank God it did today. Barely!
"I thought she had just done it, but you are never sure and I wanted to wait until the [photo finish] announcement before believing it. 
"I felt this filly was better than Chelsea Cloisters on firm ground, but not on soft ground. Unfortunately Chelsea Cloisters just didn't get a breather [during the race] like this filly did. I feel good right now."
The American then paid tribute to all his staff, emphasising their work in getting his team fit and ready to cross the Atlantic, and gave credit to Rosario, saying: "I have got to tell you something about this jockey. He is fabulous. He has put the time and effort in, which is why he is here. He has won Derbys, World Cups, yet he was in every day breezing my two-year-olds all winter long."
Ward has been popular with the press for the interviews he has given ahead of and during his annual visits to Royal Ascot, but today he turned the tables, expressing his thanks, with feeling, for the reception given to him by the media. 
The importance of his achievements - this was his tenth Royal Ascot winner - then seemed to hit home and he became slightly emotional before adding: "This really is the best, and everybody has been so gracious."
Norfolk Stakes
£100,000 added, 2yo only, 5f, Class 1
10 ran
Going: Good to Firm
Pos
Dr
D
Horse SP
Jockey Weight
Trainer
Age
1st
(4)
Shang Shang Shang (USA) 5/1
Joel Rosario
8-12
Wesley Ward
2
2nd
(2)
nse
Pocket Dynamo (USA) 20/1
M Barzalona
9-1
R M H Cowell
2
3rd
(7)
&frac12
Land Force (IRE) 7/1
R L Moore
9-1
A P O'Brien
2
4th
(1)
1&frac12
Rumble Inthejungle (IRE) 9/1
T P Queally
9-1
Richard Spencer
2
5th
(3)
nse
Konchek 9/2
A Kirby
9-1
C G Cox
2
6th
(5)
1&frac12
Kinks 12/1
Charles Bishop
9-1
M R Channon
2
7th
(9)
4
Glory Fighter 13/2
G Mosse
9-1
C Hills
2
8th
(8)
nk
Charming Kid 10/1
P Hanagan
9-1
R A Fahey
2
9th
(10)
5
Vintage Brut 4/1f
D Allan
9-1
T D Easterby
2
10th
(6)
3&frac14
The Paddocks (IRE) 22/1
Tom Marquand
9-1
R Hannon
2

NORFOLK STAKES WINNERS
YR/DATE GR WINNER TRAINER JOCKEY OWNER AGE/WGT SP
17/22/06 2 SIOUX NATION Aidan O'Brien IRE Ryan Moore Michael Tabor, Derrick Smith & Sue Magnier 2-9-01 14/1
16/16/06 2 PRINCE OF LIR Robert Cowell Luke Morris Cool Silk Racing Partnership 2-9-01 8/1
15/18/06 2 WATERLOO BRIDGE Aidan O'Brien IRE Ryan Moore Derrick Smith, Sue Magnier & Michael Tabor 2-9-01 12/1
14/19/06 2 BAITHA ALGA Richard Hannon Frankie Dettori Al Shaqab Racing 2-9-01 8/1
13/20/06 2 NO NAY NEVER Wesley Ward USA Joel Rosari Linda Shanahan & Ice Wine Stable 2-9-01 4/1
12/21/06 2 RECKLESS ABANDON Clive Cox Adam Kirby Miss J Deadman & S Barrow 2-9-01 4/1
11/16/06 2 BAPAK CHINTA Kevin Ryan Phillip Makin T A Rahman 2-9-01 6/1
10/17/06 2 APPROVE William Haggas Eddie Ahern Highclere Thoroughbred Racing 2-9-01 16/1
09/18/06 2 RADIOHEAD Brian Meehan Jamie Spencer Carmen Burrell & Jonathan Harvey 2-9-01 10/1
08/19/06 2 SOUTH CENTRAL Howard Johnson Robert Winston Transcend Bloodstock LLP 2-9-01 11/4F
07/21/06 2 WINKER WATSON Peter Chapple-Hyam Jimmy Fortune Comic Strip Heroes/Joy Trotter 2-9-01 2/1F
06/22/06 2 DUTCH ART Peter Chapple-Hyam Alan Munro Susan Roy 2-9-01 11/4
*05/16/06 3 MASTA PLASTA Howard Johnson Robert Winston Transcend Bloodstock Llp 2-8-12 7/2
04/17/06 3 BLUE DAKOTA Jeremy Noseda Eddie Ahern Adrian Nolan, Geraldine Ryan 2-8-12 5/4F
03/19/06 3 RUSSIAN VALOUR Mark Johnston Kevin Darley Tony Latter & Partners 2-8-12 4/1
02/20/06 3 BARON'S PIT Richard Hannon snr Richard Hughes Jeff & Kath Thomas 2-8-12 12/1
01/21/06 3 JOHANNESBURG Aidan O'Brien IRE Michael Kinane Michael Tabor & Sue Magnier 2-8-12 11/8F
00/22/06 3 SUPERSTAR LEO William Haggas Richard Quinn Superstar Leo Partnership 2-8-07 5/1
99/17/06 3 WARM HEART John Gosden Frankie Dettori Sheikh Mohammed 2-8-12 7/2
98/18/06 3 ROSSELLI Jack Berry John Carroll Terry Holdcroft 2-8-12 10/1
97/19/06 3 TIPPITT BOY Kevin McAuliffe John Reid Highgrove Developments Ltd 2-8-12 33/1
96/20/06 3 TIPSY CREEK Ben Hanbury Willie Ryan Abdullah Ali 2-8-12 7/2F
95/22/06 2 LUCKY LIONEL Richard Hannon snr Frankie Dettori Antonio Balzarini 2-8-12 11/1
94/16/06 3 MIND GAMES Jack Berry John Carroll Robert Hughes 2-8-13 5/2
93/17/06 3 TURTLE ISLAND Peter Chapple-Hyam John Reid Robert Sangster 2-8-13 3/1
92/18/06 3 NICHE Richard Hannon snr Lester Piggott Lord Carnarvon 2-8-08 9/1
91/20/06 3 MAGIC RING Paul Cole Alan Munro Fahd Salman 2-8-13 7/4F
90/21/06 3 LINE ENGAGED David Elsworth Steve Cauthen I Karageorgis 2-8-13 14/1
89/22/06 3 PETILLANTE Alex Scott Richard Hills Peter Newell 2-8-08 10/1
88/16/06 3 SUPERPOWER Bill O'Gorman Tony Ives Mrs Poh Lian Yong 2-8-13 EvensF
87/18/06 3 COLMORE ROW William Jarvis Bruce Raymond Doris Allen 2-8-13 10/3
86/19/06 3 SIZZLING MELODY Lord John FitzGerald Richard Hills Mary Watt 2-8-11 5/1
85/20/06 3 MAROUBLE Charlie Nelson Joe Mercer Countess of Lonsdale 2-8-11 20/1
84/21/06 3 MAGIC MIRROR Vincent O'Brien IRE Lester Piggott Stavros Niarchos 2-8-11 11/8
83/16/06 3 PRECOCIOUS Henry Cecil Lester Piggott Lord Tavistock 2-8-11 4/11F
82/17/06 3 BRONDESBURY Bill O'Gorman Tony Ives Ahmed Foustok 2-8-11 8/11F
81/18/06 3 DAY IS DONE Dermot Weld IRE Wally Swinburn Bertram Firestone 2-8-11 5/2
80/19/06 3 CHUMMYS SPECIAL Gavin Hunter Greville Starkey Jack Maxwell 2-8-11 11/2
79/21/06 3 ROMEO ROMANI Ryan Price Brian Taylor Harry Demetriou 2-8-11 7/2
78/22/06 3 SCHWEPPESHIRE LAD Michael Stoute Greville Starkey M Madden 2-8-11 9/4
77/16/06 3 EMBOSS Ron Boss Lester Piggott Torki Saud 2-8-11 11/4
76/16/06 3 GODSWALK Christy Grassick IRE Dermot Hogan Patrick Gallagher 2-8-11 8/13F
75/19/06 3 FALIRAKI Mick O'Toole IRE Lester Piggott Mrs M O'Toole 2-8-11 6/1
74/20/06 3 OVERTOWN Doug Smith Eric Eldin Sir H Calley 2-8-11 9/2
73/21/06 3 HABAT Peter Walwyn Pat Eddery Dr Carlo Vittadini 2-8-11 7/4F
*run at York