Bapak Chinta Storms to Norfolk Glory
16/06/11
1 Bapak Chinta 6/1
2 Boomerang Bob 20/1
3 Crown Dependency 8/1
NR: Ballesteros, Bear Behind (IRE), Caspar Netscher, Ebony Clarets, Frederick Engels, Lupo D'Oro (IRE)
15 ran Distances: 1l, 1¼l, ½l
TIME 1m 3.03s (slow by 3.33s)
Bapak Chinta blazed to a length victory over Boomerang Bob in the five-furlong Norfolk Stakes to put jockey Phillip Makin on the Royal Ascot winners' roll for the first time.
Bapak Chinta (Philip Makin) beating
Boomerang Bob (Seb Sanders) and Crown Dependency (Richard Hughes)


© racing-images.co.uk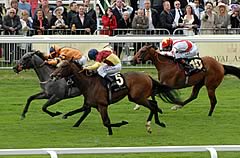 The Speightstown colt, sent off at 6/1 and sporting the colours of Malaysian owner Tengku Rahman, has always been highly regarded at trainer Kevin Ryan's Hambleton stables in North Yorkshire and lived up to the promise of a recent sparkling piece of home work.

Makin revealed: "He gave a 102-rated horse a stone and a beating. I've never sat on one like him - he's a different breed. He doesn't just feel like an early sharp two-year-old. He feels like there's more to him than that.

"I have always had a lot of faith in this horse and I have never sat on a two-year-old as sharp as him, even from day one. Obviously, we thought that he just had to turn up at Hamilton (on his debut) but then it turned out not to be a bad race and he still did it very easily.

"Today he was just unbelievable. He took me down to the two and, when I let him off, I was just half thinking what was going to happen because we gave him a blow the other day and it was the first time he had ever been off the bridle. But he tried his guts out today and he didn't really like the ground. He will be a better horse on better ground.

"I think he will get six furlongs eventually but he has so much speed. We wanted to tuck him in and get a lead today but he is so fast.

"I have been so confident for the past couple of months but then you get to the day - you are having second thoughts and the ground went against him. I am just so glad that he has shown how good he is. It's a great occasion and I just hope that it is the first of many winners here."

Ryan was saddling his second Royal Ascot winner after Uhumagoo in the 2006 Buckingham Palace Handicap.

The winning trainer said: "He is a very good horse and he does everything right at home. We were very confident when we went to Hamilton and we came here very confident but the rain came this morning and we were a bit worried.

"His breeding suggests that he wants top of the ground but it's the sign of a good horse when they can overcome the ground as well. He will have found it tough work on that ground and his breeding suggests top of the ground but he just a very, very good horse.

"It takes an older horse to lead him on the gallops. He just relaxes and had never been off the bridle before he went to Hamilton and he has never come off it at home since. He had to come off the bridle today and, when he did, he found gears.

"We have got a lot of nice horses but there is something different about him - everything he does, he does it easily and he has a great attitude. He is a lovely horse to train and he is only a May foal.

"He will get a Nunthorpe entry because the weight allowance is massive."
Position

Horse
Trainer
Jockey
Weight
Starting Price
Beaten Distance
1

Bapak Chinta
K A Ryan
P Makin
9st 1lbs
6 - 1
Winner
2

Boomerang Bob
J W Hills
S Sanders
9st 1lbs
20 - 1
1 length
3

Crown Dependency
R Hannon
R Hughes
9st 1lbs
8 - 1
1 1/4 length
4

Burwaaz
E A L Dunlop
R Hills
9st 1lbs
12 - 1
1/2 length
5

Signifer
M R Channon
J P Spencer
9st 1lbs
40 - 1
3 3/4 lengths
6

Bannock
M Johnston
S De Sousa
9st 1lbs
9 - 2
Neck
7

Forevertheoptimist
Mrs L Stubbs
K Fallon
9st 1lbs
33 - 1
3/4 length
8

Silverheels
P F I Cole
R L Moore
9st 1lbs
4 - 1
1/2 length
9

Pyman's Theory
Tom Dascombe
R Kingscote
8st 12lbs
9 - 1
1/2 length
10

Charles The Great
A M Balding
J Fortune
9st 1lbs
16 - 1
1/2 length
11

Everyday Dave
Wesley Ward
Jeffrey Sanchez
9st 1lbs
8 - 1
3/4 length
12

Tell Dad
R Hannon
P Dobbs
9st 1lbs
25 - 1
1 1/4 length
13

Sans Loi
A J McCabe
R Winston
9st 1lbs
14 - 1
2 lengths
14

Cravat
M Johnston
J Fanning
9st 1lbs
66 - 1
3/4 length
15

Marcus Augustus
R Hannon
T P Queally
9st 1lbs
50 - 1
2 1/4 lengths
NonRunner

Ballesteros
B J Meehan
Martin Dwyer
9st 1lbs
-

NonRunner

Bear Behind
Tom Dascombe
William Buick
9st 1lbs
-

NonRunner

Caspar Netscher
A J McCabe
N Callan
9st 1lbs
-

NonRunner

Frederick Engels
D H Brown
Non Runner
9st 1lbs
-

NonRunner

Lupo D'oro
J R Best
L Morris
9st 1lbs
-

NonRunner

Ebony Clarets
R A Fahey
P Hanagan
8st 12lbs
-

BOOMERANG BOUNCES BACK TO BEST

Trainer John Hills was delighted with Boomerang Bob's effort to finish a length second to Bapak Chinta in the Group Two Norfolk Stakes and the runner-up could now be set for a trip to France.

"It was a super run and he's a lovely little horse with a professional attitude and he got his head in front at one stage," said Hills. "He is only medium-sized but he has a massive action. I thought he was twice the price he should have been and this is probably only the second time he's gone on grass in his life.

"He's never worked on it and, after winning on the all-weather, he came second to Charles The Great at Windsor when we felt he was taken across the course a bit and he was also giving 5lb to the winner. He could go for something like the Prix Robert Papin now although we'll look at what some of the other horses are doing."

Richard Hannon felt Crown Prosecutor was slightly unlucky when finishing third. "He got a bang which could have cost him the race and he's a nice long-term prospect," said Hannon. "He's a fine horse, he's very quick and we might leave him now until the end of July and go for either the Molecomb or Richmond at Goodwood."