Coventry Stakes

Group 2, Ascot 15:05
£120,000 added,
2yo only,
6f, Class 1
Tuesday 17th June 2014

1 The Wow Signal 5/1 JF
2 Cappella Sansevero 6/1
3 Jungle Cat 12/1
NR: Prophesize
15 ran Distances: 1¾l, shd, nk
TIME 1m 12.99s (slow by 0.59s)

The Wow Signal takes the Group 2 Coventry Stakes for Frankie Dettori and Al Shaqab.
The Wow Signal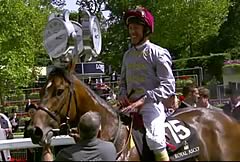 Frankie Dettori gets the most out The Wow Signal & its a Irish-bred 1,2,3,4.
Dettori: "I'm two away from 50 Royal Ascot wins - it'd be dream to achieve that this week."
The Wow Signal won the Coventry Stakes in good style, gaining the plaudit from trainer John Quinn of being: "The best I have trained."

Malton-based Quinn was speaking after Frankie Dettori had ridden the colt to victory by one and three-quarter lengths and a short-head from Cappella Sansevero and Jungle Cat. Winning owners Al Shaqab Racing were completing a double having also won the opening Queen Anne Stakes with Toronado.

This was The Wow Signal's first run for his present owners - he was bought for £50,000 at Ascot breeze-up sale in April and had won his only previous start - at Ayr - for owner Ross Harmon, who sold him to Al Shaqab following that run.
The Wow Signal was immediately given quotes for next year's QIPCO 2000 Guineas, with Boylesports and William Hill were offering 16/1, and MansionBet going 20/1.

Quinn said: "He worked on Saturday morning and I nearly crashed my four by four trying to keep up with him. We thought he was very good, but you need a top-class colt to win a Coventry. I'd have been disappointed if he wasn't in the mix, but this is the Olympics so I'm over the moon.

"Six furlongs here is fine, but this fellow is crying out for seven furlongs and a mile. He will turn up in the Guineas next year with a good chance. He had to run and win today, but he's very good and I'll campaign him this season accordingly. I'll talk to Harry Herbert [Al Shaqab's racing advisor].

"I expected him to win at Ayr, but a horse he was working with at home was beaten at Hamilton and that just made us think. Then he won at Ayr and the form was franked and franked - you can't fake that. I'm so, so pleased to have him and so pleased Harry Herbert bought him.

"Plenty of other people wanted to buy him to take him out of the yard, and I said to the owners, 'God, if this one goes I might never get another as good', but Harry matched the price and was the first to say he would leave him with me. I'm very grateful for that.

"He's come and beaten the best colts available today, comprehensively and wasn't held up but was right on the speed. I think he deserves a lot of credit, because horses came from out of the pack and couldn't get to him.

"You don't tell Frankie Dettori how to ride Ascot, but the one thing I said was he has huge cruising speed."

David Redvers, representing Qatar Racing, the owners of runner-up Cappella Sansevero, who they bought yesterday for £1,300,000 at Goffs London Sale, said: "He's run very well and clearly got every yard of the trip. My initial suspicion is that they went very hard in front and the winner is obviously a very good horse. Well done to them, but ours is a horse with a future."
Coventry Stakes (Group 2)
£120,000 added, 2yo only, 6f, Class 1
15 ran
Going: Good


Horse
Trainer
Jockey
Weight
SP
Distance
1

The Wow Signal
J J Quinn
L Dettori
9st 1lbs
5 - 1
Winner
2

Cappella Sansevero
G M Lyons
J P Spencer
9st 1lbs
6 - 1
1 3/4 length
3

Jungle Cat
M Johnston
J Fanning
9st 1lbs
12 - 1
Short Head
4

Justice Good
D R C Elsworth
R L Moore
9st 1lbs
16 - 1
Neck
5

Kodi Bear
C G Cox
A Kirby
9st 1lbs
20 - 1
Neck
6

Angelic Lord
Tom Dascombe
R Kingscote
9st 1lbs
20 - 1
Neck
7

Dr No
R Hannon
P J Dobbs
9st 1lbs
25 - 1
Head
8

Adaay
W J Haggas
P Hanagan
9st 1lbs
5 - 1
Neck
9

War Envoy
A P O'Brien
J P O'Brien
9st 1lbs
11 - 2
1/2 length
10

Bossy Guest
M R Channon
William Twiston-Davies
9st 1lbs
20 - 1
1/2 length
11

Cock Of The North
S Dixon
F Tylicki
9st 1lbs
20 - 1
Short Head
12

Kool Kompany
R Hannon
R Hughes
9st 1lbs
6 - 1
3/4 length
13

Kasb
J H M Gosden
Dane O'Neill
9st 1lbs
28 - 1
4 1/2 lengths
14

Portamento
C Appleby
W Buick
9st 1lbs
14 - 1
5 lengths
PU

Case Statement
M O'Callaghan
Oisin Murphy
9st 1lbs
66 - 1

NR

Prophesize
N Quinlan
P Cosgrave
9st 1lbs
-


COVENTRY STAKES
Previous results
YEAR WINNER TRAINER JOCKEY OWNER AGE/WEIGHT SP
2013 WAR COMMAND Aidan O'Brien IRE J A Heffernan J Allen/Mrs J Magnier/M Tabor/D Smith 2-9-01 20/1
2012 DAWN APPROACH Jim Bolger IRE Kevin Manning Jackie Bolger/J P Spain 2-9-01 7/2
2011 POWER Aidan O'Brien IRE Ryan Moore Michael Tabor, Derrick Smith & Sue Magnier 2-9-01 4/1F
2010 STRONG SUIT Richard Hannon Richard Hughes Julie Wood 2-9-01 15/8F
2009 CANFORD CLIFFS Richard Hannon Richard Hughes The Heffer Syndicate 2-9-01 7/4F
2008 ART CONNOISSEUR Michael Bell Jamie Spencer Richard Green 2-9-01 8/1
2007 HENRYTHENAVIGATOR Aidan O'Brien IRE Michael Kinane Sue Magnier 2-9-01 11/4F
2006 HELLVELYN Bryan Smart Ted Durcan Sheikh Rashid bin Mohammed 2-9-01 4/1JF
2005 RED CLUBS Barry Hills Michael Hills Ronnie Arculli 2-8-12 11/2
2004 ICEMAN John Gosden Kieren Fallon Cheveley Park Stud 2-8-12 5/1JF
2003 THREE VALLEYS Roger Charlton Richard Hughes Khalid Abdullah 2-8-12 7/1
2002 STATUE OF LIBERTY Aidan O'Brien IRE Michael Kinane Michael Tabor & Sue Magnier 2-8-12 5/2F
2001 LANDSEER Aidan O'Brien IRE Jamie Spencer Michael Tabor & Sue Magnier 2-8-12 20/1
2000 CD EUROPE Mick Channon Steve Drowne Circular Distributors Ltd 2-8-12 8/1
1999 FASLIYEV Aidan O'Brien IRE Michael Kinane Michael Tabor & Sue Magnier 2-8-12 15/8F
1998 RED SEA Paul Cole Richard Quinn Fahd Salman 2-8-12 6/1
1997 HARBOUR MASTER Aidan O'Brien IRE Christy Roche Sue Magnier 2-8-12 16/1
1996VERGLAS Kevin Prendergast IRE Willie Supple Chryss O'Reilly 2 8-12 9/1
1995 ROYAL APPLAUSE Barry Hills Walter Swinburn Maktoum Al Maktoum 2 8-12 13/2
1994 SRI PEKAN Paul Cole Richard Quinn Sultan Ahmad Shah 2 8-13 6/1
1993 STONEHATCH Peter Chapple-Hyam John Reid Robert Sangster 2 8-13 EvensF
1992 PETARDIA Geoff Wragg Walter Swinburn Mollers Racing 2 8-13 5/1CF
1991 DILUM Paul Cole Alan Munro Fahd Salman 2 8-13 11/10 F
1990 MAC'S IMP Bill O'Gorman Alan Munro Tamdown Ltd 2 8-13 2/1F
1989 ROCK CITY Richard Hannon Willie Carson A F Budge (Equine) Ltd 2 8-13 9/1
1988 HIGH ESTATE Henry Cecil Steve Cauthen Jim Joel 2 8-13 10/11 F
1987 ALWAYS FAIR Michael Stoute Walter Swinburn Maktoum Al Maktoum 2 8-13 9/2
1986 CUTTING BLADE Lester Piggott Cash Asmussen Mahmoud Fustok 2 8-11 11/1
1985 SURE BLADE Barry Hills Brent Thomson Sheikh Mohammed 2 8-11 3/1F
1984 PRIMO DOMINIE Brian Swift John Reid Peter Wetzel 2 8-11 4/7F
1983 CHIEF SINGER Ron Sheather Ray Cochrane Jeff Smith 2 8-11 20/1
1982 HORAGE Matt McCormack Pat Eddery Ahmed Rachid 2 8-11 85/40
1981 RED SUNSET Guy Harwood Greville Starkey Paddy Burns 2 8-11 14/1
1980 RECITATION Guy Harwood Greville Starkey Anthony Bodie 2 8-11 11/1
1979 VARINGO Ryan Price Brian Taylor PTP Plant Hire Ltd 2 8-11 11/8F
1978 LAKE CITY Ryan Price Brian Taylor Harry Demetriou 2 8-11 7/1
1977 SOLINUS Vincent O'Brien IRE Lester Piggott Daniel Schwartz 2 8-11 7/4F
1976 CAWSTON'S CLOWN Neil Adam Taffy Thomas John Murrell 2 8-11 11/2