LATEST NEWS 17/03/06
L'Ami


© racing-images.co.uk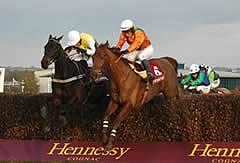 Cheltenham Festival Reaction From Edward Gillespie
Edward Gillespie, Cheltenham's managing director, said: "It has been great that people for the last four days have been going round saying how wonderful it is to be here. That is what this place means to people.
"It has been a very difficult season for everybody but it is terrific that the prize money has been well distributed at The Festival.
"There have been some great results, dreams accomplished and some sadness - that is The Festival.
"I am very sorry for those people who lost horses here. We are aware that we are very much in the spotlight and yesterday was as difficult as I can remember. We thought we were over significant loss of horses - it had not been on the agenda in recent seasons.
"Once again jump racing has proved that it is in excellent shape and we look forward to welcoming people back on March 13, 2007."
Today's attendance came to 67,512, up from 66,767 last year, which is the highest total since 1989 for totesport Cheltenham Gold Cup day.
Attendances for the other three days were also up
Tuesday
55,426 (55,184 - 2005)
Wednesday
55,083 (54,850)
Thursday
54,962 (54,817)
Total 2006 - a new record for The Festival
232,983 (231,618)
TOTE SETS NEW RECORDS
The 2006 Cheltenham Festival produced a record tote on-course cash turnover of £10,850,942 - an increase of £578,644 on the 2005 figure of £10,272,298.
Today's on-course cash turnover was £3,518,334, an increase of 11 per cent on the 2005 figure of £3,166,585.
There was a pool of £540,467 for the totesport Cheltenham Gold Cup, the highest ever win pool for a single race and surpassing the previous best in the 2004 Grand National.
Two £1 tickets missed out on a terrific end to the Cheltenham Festival when their selections were beaten in the last leg of the totejackpot. The players had Studmaster and Khetaam running for them but could only watch in despair as Desert Quest romped away. It means there is £200,267 rollover in the jackpot at Uttoxeter tomorrow.
14-10 TO BRITAIN AT END OF FESTIVAL
There were a record 10 wins for Irish-trained raiders at the 2006 Festival, beating last year's previous best of nine successes, when The Festival was run over four days for the first time although it was not quite enough to match the British tally of 14 victories.
The Irish raiders won the feature totesport Cheltenham Gold Cup, Smurfit Kappa Champion Hurdle and Queen Mother Champion Chase for a second successive year.
2006 FESTIVAL WINNERS
Tuesday
Anglo Irish Bank Supreme Novices' Hurdle - NOLAND (Paul Nicholls GB)
The Irish Independent Arkle Chase - VOY POR USTEDES (Alan King GB)
Smurfit Champion Hurdle - BRAVE INCA (Colm Murphy IRE)
William Hill National Hunt Handicap Chase - DUN DOIRE (Tony Martin IRE)
Sporting Index Handicap Chase - NATIVE JACK (Philip Rothwell IRE)
Fred Winter Juvenile Handicap Hurdle - SHAMAYOUN (Charles Egerton GB)
Wednesday
Royal & SunAlliance Novices' Hurdle - NICANOR (Noel Meade IRE)
Royal & SunAlliance Chase - STAR DE MOHAISON (Paul Nicholls GB)
Queen Mother Champion Chase - NEWMILL (John Murphy IRE)
Coral Cup - SKY'S THE LIMIT (Edward O'Grady IRE)
Fulke Walwyn Kim Muir Chase - YOU'RE SPECIAL (Ferdy Murphy GB)
Weatherbys Champion Bumper - HAIRY MOLLY (Joe Crowley IRE)
Thursday
Jewson Novices' Handicap Chase - REVEILLEZ (James Fanshawe GB)
Ryanair Chase - FONDMORT (Nicky Henderson GB)
Ladbrokes World Hurdle - MY WAY DE SOLZEN (Alan King GB)
Racing Post Plate - NON SO (Nicky Henderson GB)
Letheby & Christopher NH Chase - HOT WELD (Ferdy Murphy GB)
Pertemps Final - KADOUN (Michael O'Brien IRE)
Friday
JCB Triumph Hurdle - DETROIT CITY (Philip Hobbs GB)
Brit Insurance Novices' Hurdle - BLACK JACK KETCHUM (Jonjo O'Neill GB)
totesport Cheltenham Gold Cup - WAR OF ATTRITION (Mouse Morris IRE)
Christie's Foxhunter Chase - WHYSO MAYO (Raymond Hurley IRE)
Johnny Henderson Grand Annual Chase - GREENHOPE (Nicky Henderson GB)
Vincent O'Brien County Handicap Hurdle - DESERT QUEST (Paul Nicholls GB)
Henderson and Walsh Take Titles
On an emotional day for his family, Nicky Henderson claimed the Racing Post Festival Trainers' Award. Henderson had three winners, two seconds and one third place to take the title ahead of Paul Nicholls.
"It's always a great week, it's always special, but the most special victory was in the second last event," said Henderson, referring to Greenhope's victory in the race dedicated to his father, the Johnny Henderson Grand Annual Chase.
This was the eighth occasion that Henderson has topped the trainers' table, and his total of winners at The Festival now numbers 31, but the trainer could offer no clues as to why his form at Cheltenham has been so consistently brilliant.
"When we had two horses run well on the first day and get beaten I thought it was going to be a hard week. Why does it go so well here? I don't know. Maybe the horses have diaries," he said
Henderson achieved his eighth title in spite of the absence of a number of stable stars. "The horses have done so well this year, because one or two of the A team have been missing," he said.
The Racing Post Festival Rider's Award was won by Ruby Walsh, whose victory on Desert Quest in the final race, gave him three wins and three second places at The Festival, edging out Tony McCoy on countback. McCoy finished with three firsts, two second and four third places.
"I thought when Black Jack Ketchum won [with McCoy on board] I had no chance, but if you throw enough darts you should hit the bull," said Walsh
The Festival was not all smooth sailing for Walsh: "There have been ups and downs throughout the week. We were obviously disappointed with Kauto Star but we had to be happy with Denman. What a horse he is going to be next year!"
RACING POST FESTIVAL JOCKEYS' CHAMPIONSHIP AT THE END OF DAY FOUR
JOCKEY 1st 2nd 3rd
Ruby Walsh 3 3 -
Tony McCoy 3 2 4
Mick Fitzgerald 2 2 1
Barry Geraghty 2 1 3
Robert Thornton 2 - 1
Paul Carberry 2 - -
Mr Richard Harding 2 - -
Richard Johnson 1 2 2
Paddy Brennan 1 1 1
Davy Russell 1 1 -
Conor O'Dwyer 1 - 1
Andrew McNamara 1 - -
Mr Damien Murphy 1 - -
Tom Ryan 1 - -
Andrew Tinkler 1 - -
Brian Byrnes - 2 -
David Casey - 1 1
Mr J T McNamara - 1 1
Mr William Biddick - 1 -
Tony Dobbin - 1 -
Tom Doyle - 1 -
Jason Maguire - 1 -
Johnny Murtagh - 1 -
Mr Colman Sweeney - 1 -
Sam Thomas - 1 -
Mr Paul Tobin - 1 -
Miss Nina Carberry - - 2
Dominic Elsworth - - 1
Marcus Foley - - 1
Richard Kiely - - 1
Carl Llewellyn - - 1
Timmy Murphy - - 1
Mr Mark O'Hare - - 1
Tom Scudamore - - 1
RACING POST FESTIVAL TRAINERS' CHAMPIONSHIP AT THE END OF DAY FOUR
TRAINER 1st 2nd 3rd
Nicky Henderson 3 2 1
Paul Nicholls 3 1 1
Alan King 2 - 1
Ferdy Murphy 2 - -
Philip Hobbs 1 3 -
Mouse Morris IRE 1 1 -
Charles Egerton 1 - 2
Michael O'Brien IRE 1 - 1
Jonjo O'Neill 1 - 1
Joe Crowley IRE 1 - -
James Fanshawe 1 - -
Raymond Hurley IRE 1 - -
Tony Martin IRE 1 - -
Noel Meade IRE 1 - -
Colm Murphy IRE 1 - -
John Murphy IRE 1 - -
Edward O'Grady IRE 1 - -
Philip Rothwell IRE 1 - -
Eric McNamara IRE - 2 -
Venetia Williams - 2 -
Enda Bolger IRE - 1 1
Willie Mullins IRE - 1 1
Sean Aherne IRE - 1 -
Liam Burke IRE - 1 -
Charles Byrnes IRE - 1 -
Tom George - 1 -
Nick Gifford - 1 -
Michael Halford IRE - 1 -
Jessica Harrington IRE - 1 -
Arthur Moore IRE - 1 -
Nicky Richards - 1 -
Ted Walsh IRE - 1 -
Paul Webber - 1 -
Martin Pipe - - 2
Sue Smith - - 2
Henry Daly - - 1
Thierry Doumen FR - - 1
Ian Ferguson IRE - - 1
Dessie Hughes IRE - - 1
Henrietta Knight - - 1
Margaret Mullins IRE - - 1
Christy Roche IRE - - 1
Charlie Swan IRE - - 1
Tom Taaffe IRE - - 1
Nigel Twiston-Davies - - 1
Nick Williams - - 1