Cheltenham 2006 / running order & results /
THE totesport CHELTENHAM GOLD CUP
1st (24) War of Attrition 15-2
2nd (7) Hedgehunter 16-1
3rd (6) Forget The Past 9-1
22 ran
Also: 4-1 Fav Beef Or Salmon, 10-1 L'Ami 4th
NR: Astonville, Turnium
Michael O'Leary, Connor O'Dwyer and
War of Attrition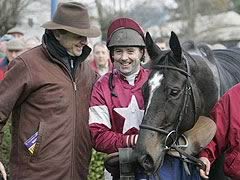 War Of Attrition capped a superb week for the Irish when running out an impressive winner of the Blue Riband of chasing, the totesport Cheltenham Gold Cup. Owned by Ryanair boss Michael O'Leary, trained by Mouse Morris and ridden by Conor O'Dwyer, the seven-year-old had two and a half lengths to spare over Hedgehunter at the finish with Forget The Past seven lengths back in third, to give the Irish a historic 1-2-3 on St Patrick's Day.

An elated Mouse Morris said afterwards: "He's put up a cracking performance.

"This horse has a high cruising speed and lots of class.

"He has travelled well throughout and Conor has given him a peach of a ride - even though he's an old fella!"

War Of Attrition had not previously won beyond two and three quarter miles. Morris continued: "You can never be confident going into a race like this and we rode him to get the trip.

"I walked the course earlier today and told Conor I didn't mind if he came up the inside or ran on the outside - the only place I didn't want him to be was in the middle as that was where the ground was most cut up."

War Of Attrition finished second in the Anglo Irish Bank Supreme Novices' Hurdle two years ago behind Brave Inca and last year finished seventh in the Irish Independent Arkle Trophy.

The trainer added: "The Supreme of a couple of years ago has certainly worked out well and last year his preparation wasn't brilliant for the Arkle.

"I won't be making a statement about where he goes next - I can't even think about while all this is going! Lets get today out of the way first and enjoy the moment!

"Cheltenham feels like home for me."

The totesport Gold Cup win was Mouse Morris's sixth Cheltenham Festival victory.

Prices for a repeat win for War Of Attrition in 2007 include 7/1 (Stan James,Cashmans), 6/1 (Boylesports, Ladbrokes) and 5/1 (Paddy Power).

TOTESPORT CHELTENHAM GOLD CUP
Grade 1 (Class 1) 3m 2f 110y New Course, £400,000 guaranteed For 5yo+ Weights 5yo 11st; 6yo+ 11st 10lb Allowances mares 7lb Entries 64 pay £450 First forfeit 39 pay £900 Confirmed 28 pay £450 Penalty value 1st £228,080; 2nd £85,560; 3rd £42,840; 4th £21,360; 5th £10,720; 6th £5,360

1 WAR OF ATTRITION (IRE) (Gigginstown House Stud) Mouse Morris IRE 7-11-10 Conor O'Dwyer 15/2
2 HEDGEHUNTER (IRE) (Trevor Hemmings) Willie Mullins IRE 10-11-10 Ruby Walsh 16/1
3 FORGET THE PAST (Sean Mulryan) Michael O'Brien IRE 8-11-10 Barry Geraghty 9/1
4 L'AMI (FR) (Jim McCarthy) Francois Doumen FR 7-11-10 Mick Fitzgerald 10/1
5 TAKE THE STAND (IRE) (David Robbins Frank Ridge) Peter Bowen 10-11-10 Tony Dobbin
6 MONKERHOSTIN (FR) (Martin St Quinton) Philip Hobbs 9-11-10 Richard Johnson
7 SIR REMBRANDT (IRE) (A Hordle) Robert Alner 10-11-10 Andrew Thornton
8 ROYAL EMPEROR (IRE) (Widdop Wanderers) Sue Smith 10-11-10 Dominic Elsworth
9 ROYAL AUCLAIR (FR) (Clive Smith) Paul Nicholls 10-11-10 Christian Williams
10 KINGSCLIFF (IRE) (Arnie Sendell) Robert Alner 9-11-10 Robert Walford
11 BEEF OR SALMON (IRE) (Joe Craig) Michael Hourigan IRE 10-11-10 Paul Carberry 4/1f
12 TIKRAM (Mike Charlton & Roger Sargent) Gary Moore 9-11-10 Jamie Moore
13 JOES EDGE (IRE) (Chemipetro Ltd) Ferdy Murphy 9-11-10 Keith Mercer
14 BILLYCASSIDY (IRE) (R Owen & P Fullager) Peter Bowen 10-11-10 Graham Lee
15 IZNOGOUD (FR) (The County Stores And Avalon Surfacing) Martin Pipe 10-11-10 Tom Scudamore
16 CORNISH REBEL (IRE) (Graham Roach) Paul Nicholls 9-11-10 Joe Tizzard
17 OLLIE MAGERN (Roger Nicholls) Nigel Twiston-Davies 8-11-10 Carl Llewellyn
18 LORD OF ILLUSION (IRE) (P Kennedy) Tom George 9-11-10 Jason Maguire
P IRIS'S GIFT (Robert Lester) Jonjo O'Neill 9-11-10 Tony McCoy
P LIMERICK BOY (GER) (Favourites Racing III) Venetia Williams 8-11-10 Sam Thomas
P ONE KNIGHT (IRE) (R Gibbs) Philip Hobbs 10-11-10 Paddy Brennan
U CELESTIAL GOLD (IRE) (David Johnson) Martin Pipe 8-11-10 Timmy Murphy

Non-runners: Astonville, Turnium
22 ran
Time: No official time
Distances: 2 1/2, 7, 3/4, 1/2, 1/2, 1 1/2, 3, nk, 2, 3/4, 17, 1 1/2, 7, 5, 1/2, 10, 5
Breeder: Bridget Murphy
Breeding: br g Presenting - Una Juna (IRE)
Tote: Win; £7.50 Places; £2.80, £4.00, £2.70 Exacta; £218.10

O'Dwyer Puts Retirement On Hold

Jockey Conor O'Dwyer, whose fortieth birthday is just over three weeks away, put any thoughts of retirement on hold following the victory of War Of Attrition in the totesport Cheltenham Gold Cup.

"Hopefully the horse will be back here next year and I'd hate to be at home watching it on the telly," said the jockey.

O'Dwyer, who has now won two Smurfit Kappa Champion Hurdles and two totesport Cheltenham Gold Cups, was full of praise for the horse: "He jumped absolutely impeccably and the way he jumped the last two fences was unbelievable.

Hedgehunter was the danger and O'Dwyer was aware that the Willie Mullins-trained horse was closing. "I saw the colours [of Hedgehunter] coming, but the way my horse jumped the second last nothing was going to go by him," said O'Dwyer.

Owner Michael O'Leary, the Ryanair boss, led the plaudits for trainer Mouse Morris. "I think you have to look at the way that Mouse has handled the horse. He was always determined that we took the slow road and every decision he's made has been correct," said O'Leary.

"There have been remarkably few Irish trainers who have won a Cheltenham Gold Cup," he added.

Although the horse was competing in the blue riband race of the National Hunt season, O'Leary did not feel under any pressure.

"I would have been more worried at a point to-point than I was here today. I think we were under much more pressure last year in the Arkle when he was the Irish banker."

MORE TOTESPORT CHELTENHAM GOLD CUP QUOTES

CONOR O'DWYER (JOCKEY OF THE WINNER WAR OF ATTRITION)
"It was easy to ride him - even the last two fences he stood off, he just loves his racing and loves his jumping.

"This is even better than the first one! (Imperial Call in 1996) Fair play to Mouse Morris and Michael O'Leary - they made the decision to come here with him and it paid off.

"War Of Attrition just travelled very well, jumped super and had a great run. I had him very wide but he's a novice and I didn't want to get him too tight down the inner.

"He did everything I wanted and everywhere I wanted to go he was able to go, which was a huge plus. He gave me 100 per cent today."

MOUSE MORRIS (TRAINER OF THE WINNER WAR OF ATTRITION)
"He's a horse I've always held in very high regard. If you go back two years to his Supreme Novices' run with Brave Inca - you can't get any better form than that! This is just magical! Unbelievable!"

MICHAEL O'LEARY (OWNER OF THE WINNER WAR OF ATTRITION)
"It was amazing! What a training performance by Mouse Morris and what a ride by Conor!

"My brother Eddie bought this horse about four years ago and always thought he had a chance in this race - I thought he was dreaming! It's fantastic! He's well-named - like his owner, always causing trouble!"

TREVOR HEMMINGS (OWNER OF THE SECOND HEDGEHUNTER)
"It was a marvellous run and a super race. An excellent training performance - you couldn't wish for more.

"We were wondering whether he should be here or shouldn't be here - but the trainer said he earned it. To be second to War Of Attrition is great - he's a super horse and my congratulations go to Michael O'Leary."

PHILIP HOBBS (TRAINER OF SIXTH MONKERHOSTIN)
"It is very disappointing but he is a very decent horse and has come back in one piece and I am sure he will win plenty more races. I cannot see him running in the Grand National off top-weight but he is in the three-mile conditions chase at Aintree (the Betfair Bowl) and the Nakayama Grand Jump in Japan which has £500,000 for the winner."

TIMMY MURPHY
Timmy Murphy, who was unseated by Celestial Gold in the totesport Gold Cup, has been stood down for the day. He is shaken and has soft tissue bruising but otherwise is all right.

GOLD, SILVER AND BRONZE FOR IRELAND

Forget The Past


© racing-images.co.uk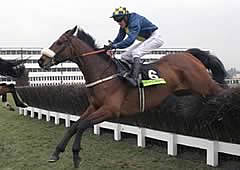 Fittingly on St Patrick's Day, Irish-trained horses filled the first three places in the totesport Cheltenham Gold Cup as Hedgehunter came home two and a a half lengths behind War Of Attrition with Forget The Past in third and French raider L'Ami in fourth.
Hedgehunter will now head to Aintree, bidding to win his second successive John Smith's Grand National. "I was never as delighted to finish second in a race as I was today," said the runner-up's trainer Willie Mullins. "He got a fantastic ride, maybe the pace was a bit too strong in the first half mile but he got into it nicely.
"I was seriously thinking of withdrawing him beforehand as I was so disappointed with how Mister Hight ran in the first race but I couldn't really give myself any reason to take him out. I'd fancied the winner for this race since November and little did I think then that we'd be second to him, he's a great Gold Cup winner.
"Hedgehunter lost a shoe so I hope he comes back alright but he's 10, he's fit and he's a hardy horse and can take his racing well so all being well it will be on to Aintree."
Jockey Ruby Walsh added: "He ran a blinder and I thought I might get there going into the last but the winner stayed on too well."
Anne-Marie Cullen, daughter of trainer Michael O'Brien, was delighted with Forget The Past's effort. "We were thrilled, the winner just had one gear too many for our fellow. He'll be entered in the Irish National but he could be an ideal English National horse next year as he wants further."
Francois Doumen, trainer of fourth-placed L'Ami, hopes to be back at Cheltenham in 12 months time. "He had a hard time laying up with them early on, having to do long ones and exert himself. He was flying at the end with plenty in hand and wasn't tired.
"He's only seven and perhaps he's still a little tender but he should be an ideal Gold Cup horse next year. Softer ground is the key to him but you don't really get that at Cheltenham but he will be better with a bit more experience. He looked so well today that I may consider Aintree."
Jockey Mick Fitzgerald added: "They went too quick for him early on."
Michael Hourigan, trainer of beaten favourite Beef Or Salmon, said: "I probably have to believe what people say about this horse and Cheltenham now. He just didn't perform today and I don't really have any excuses. There are plenty of good races for him back in Ireland and he will run in the Heineken Gold Cup at Punchestown and then go to grass. I don't know if we will come back here again."
Hourigan Bites The Bullet
Beef Or Salmon


© racing-images.co.uk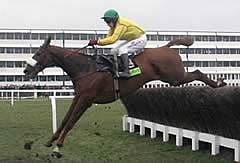 Beef Or Salmon's fourth failure in the totesport Gold Cup has finally convinced his trainer Michael Hourigan that the horse does not act on the Cheltenham course.
"I have to believe the people know, that he just doesn't like it here. I just spoke to the owners and said maybe we shouldn't bring him back here any more," said Hourigan, of the race favourite.
"There was no excuses, he was off the bridle too early," said Hourigan and his jockey Paul Carberry agreed. "He was never travelling. The ground did not suit him," said Carberry.
Hourigan was not too despondent, though. "He's a very good horse and he'll still win a couple more Group Ones for me. But we'll have to find another one to come back here," he said.
Monkerhostin, who had vied for ante-post favouritism, was never travelling like a potential winner. "He made a mistake early on, but no excuses, he just wasn't good enough," said trainer Philip Hobbs.
There was no joy for Jonjo O'Neil's Iris's Gift either. Champion jockey Tony McCoy pulled up the horse. "We were in a good position for a circuit then struggling when he came off the bridle. The way he jumped the last ditch, if I'd have carried on he would have fallen," said McCoy.
Andrew Thornton, jockey of Sir Rembrandt, thought the good ground might have been the reason his horse, who was seventh, did not get in the frame. "In last year's ground, he would have got in the money, but on this ground he was always tapped for toe," he said.