Mighty Frankel Best Ever - Cecil
27/07/11
Trainer Henry Cecil declared Frankel not just the most outstanding horse he had trained but the best he had seen as he galloped five lengths clear to take the Group One QIPCO Sussex Stakes in one of the highest-class performances ever seen in Goodwood's long history.
Tom Queally always had his mount at the front of the four-runner field and gradually extended his advantage in the home straight.

"He's the best I've ever seen," said Cecil, who was greeted by three cheers from the large crowd surrounding the winner's enclosure. "I've great respect for Blushing Groom, who was a great miler on his day and Shergar was a brilliant horse and I can't go back to Tudor Minstrel and the days of match races but he's the best in my lifetime. I'm just very lucky to train him.

"I don't want to sound facetious but I did think he'd win. We really do think the world of him and I'm not surprised at how he won, although it's an awful thing to say.

"We had two options today, either settle him behind or if there was no pace on then settle him in front, he's very relaxed through his races. I told Tom to relax as well and this horse has most fantastic turn of foot. When he quickens, he quickens very fast.

"He's growing up all the time and relaxing more. When he hears horses coming behind then he just wants to please. He's a much better horse now than earlier in the year, he's still improving. He's not as big as Canford Cliffs but he's getting stronger. That horse is very good so to beat him like that, hats off to Frankel!

"I was fairly relaxed, my job was done and it was a bit like going to the dentist's beforehand, just waiting for it to be over.

"I think he'll get a mile and a quarter and whether he has one more run or two we'll have to see. He is in the Juddmonte International at York and he's 50/50 to go there and all being well he'll go to Ascot at the end of the year for either the Queen Elizabeth II Stakes or Champion Stakes. We'll see what the Prince wants to do, it's his horse - I just train him.

"We all need a champion in any sport, the publicity it creates goes through the country, I'm just glad everyone has been able to see a really good horse.

Owner Khalid Abdulla added: "I was hearing what Henry was saying about the horse and I thought that he was the best I had had and I followed what he said. I was hoping that he'd win today and it's nice when it happens.

"I haven't thought further than today for the horse and if Henry wants him next season then he can stay with him."
Position

Horse
Trainer
Jockey
Weight
Starting Price
Beaten Distance
1

Frankel
H R A Cecil
T P Queally
8st 13lbs
8 - 13
Winner
2

Canford Cliffs
R Hannon
R Hughes
9st 7lbs
7 - 4
5 lengths
3

Rio De La Plata
S bin Suroor
L Dettori
9st 7lbs
22 - 1
2 1/2 lengths
4

Rajsaman
F Head
T Jarnet
9st 7lbs
22 - 1
2 1/2 lengths
'CANFORD NOT HIMSELF' SAYS HANNON

A stunning showdown in the QIPCO Sussex Stakes ended in easy victory for Frankel, and left trainer Richard Hannon questioning the performance of runner-up Canford Cliffs.
Canford Cliffs


© racing-images.co.uk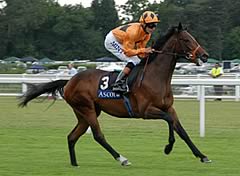 He finished five lengths behind the mighty winner, and just two and a half lengths ahead of third-placed Rio De La Plata after drifting off a straight line towards the grandstand in the final furlong.

Hannon said: "Either the winner is a machine or our horse just wasn't himself. He's either unbeatable or we should have been closer. It wasn't his [Canford Cliffs'] run, and Hughesie [jockey Richard Hughes] said the horse was beaten three furlongs out - that's not him.

"He came here in good order - his blood was good, his scope was good. We would have expected him to stick with the winner a bit longer than that.

"He's won five Group 1s, so we know he's a very good horse, and he's not hung like that this year. I don't know what made him do that. I don't think this is his track - he's never liked going downhill."

Canford Cliffs looked calm after the race, and was not breathing particularly hard. Hannon acknowledged that and repeated: "I'm sure he's better than that. One had to win, one to lose - we'll have to have another go at him [Frankel]."

Saeed bin Suroor, the trainer of Rio De La Plata, was far happier with his horse's performance, and said: "He ran a huge race. For a while I thought he was going to finish second. We're happy to finish third and just a few lengths behind Canford Cliffs.

"Our horse is a Group 1 winner in Germany, France and Italy, so to see him finish third to Frankel in a Group 1 here is very good form. The Group 1s overseas are where he is going to win, but we'll keep options open for him. We had to take our chance, even against the best horses in the world."