RacingBetter News

Friday 3rd August 2018
New Horse Racing Betting Sites are Entering the UK Market
There always seems to be a new horse racing betting site cropping up somewhere online. Most new betting sites offer in-house racebooks, along with numerous horse racing markets. This gives racetrack fans numerous opportunities to sign for new online accounts.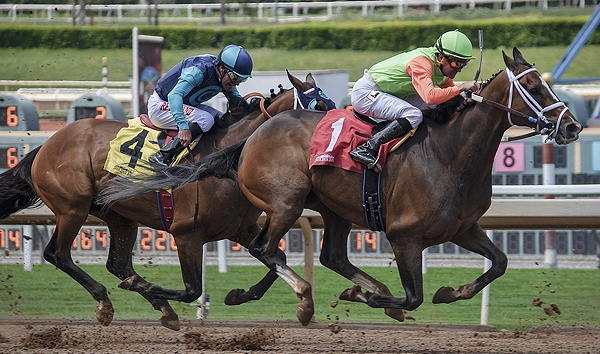 No two betting sites are created equally, however. Some offer attractive bonuses with generous odds. Others emphasise the customer experience, with 24/7 support, either by phone or chat.
Choosing the right site for you
Before you take the steps necessary to open an account with a new horse racing betting site, take a good look around. Which markers are the site serving? Some like to market to daily bettors who enjoy real-time betting. Others offer futures way in advance of time-honoured sweepstakes such as the Grand National. Comparison sites like horseracingbetting.co.uk offer a quick insight at the latest horse racing sites, including average odds, number of races, and welcome offer. This is very useful especially since nowadays more and more sites pop up.
Getting started
Once you've found a site that you feel is the right one for you, take a look around and ensure that it adheres to the following criteria on what any new horse racing betting site should have.
User-friendliness
Sites should be well-designed and versatile enough to browse and make transactions with ease from most mobile devices. If you're a more experienced gambler, you expect total reliability, along with 24/7 customer support. You spend long spells of time in front of their laptop, looking at odds and timing the very best bets on each sweepstake, so you want life to be as comfortable as possible.
Helpful advice
The site doesn't necessarily need to have a tipster service (unless you're specifically looking for one), but some general information would be useful. If it includes a page with some helpful tips and advice, or at least links to one, it's a good sign that the site is credible.
Mobile use
Racebooks that market to a mobile audience are great if you're a recreational bettor. Being able to bet from work or perhaps on the train, or even at a restaurant, is a great advantage. They can save you both time and money. For example, the odds can change so rapidly that a great bet needs to be made quickly.
It's always advantageous to choose a betting site that's easy to use on multiple devices. If you're a part-time gambler, you can't spend the entire day in front of your laptop in search of the latest movements in the odds. An efficient and smooth website enables you to spend more time assessing the runners, as opposed to struggling with the interface.
Varieties of bets and odds
Any decent new horse racing betting site will provide a number of betting options. You likely know these already, but here is a selection of the more popular markets that should be included in any new betting site.
A straight wager is one bet on one horse, typically to win the race. It is the most straightforward bet on the betting board.
The place bet is a bet on a runner to finish in the first few places, usually in the first three.
Three more bets you should expect to be available are the exacta, trifecta, and superfecta. In these markets, the bettor names the winner and place, the winner, place, and each way, or the 1st, 2nd, 3rd, and 4th finishing horses in order, respectively.
You can try these bets with your bonus, of course. New sites will even often offer additional bonuses along the way in order to try and retain your business. So keep your eyes open for new offers to ensure that you're taking full advantage of your new betting site.