---
RSA Chase

Grade 1, Cheltenham 14:10
£175,000 added,
5yo plus,
3m 80y, Class 1  
Wednesday 15th March 2017

1 Might Bite 7-2F
2 Whisper 9-2
3 Bellshill 5-1
12 ran Distances: nse, 10l, 8l
TIME 6m 8.80s (slow by 11.80s)
Might Bite wins the RSA Chase after almost blowing a 20-length lead on the run-in, all but pulling himself up and then rallying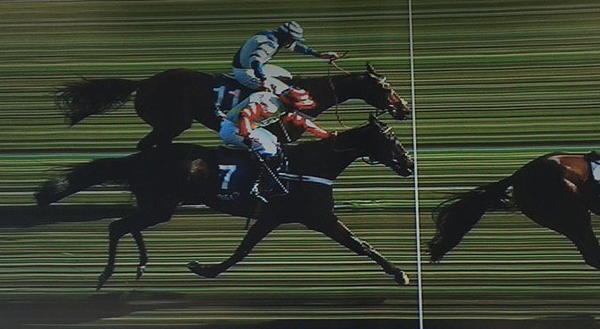 Might Bite (near side) snatches the win from Whisper
The Nicky Henderson-trained Might Bite rallied amazingly in the closing stages to edge a dramatic finish after appearing to throw certain victory.

Having led, Might Bite under Nico de Boinville, was well clear approaching the final fence, having jumped superbly throughout the three mile contest. However, the son of Scorpion clambered his way through the last fence and subsequently began to hang violently to his right, losing all momentum.

However, de Boinville and the eight-year-old heroically battled back to catch the Davy Russell-ridden Whisper, also trained by Henderson, by a nose in the most exciting race many had witnessed, drawing huge cheers from the crowd at Prestbury Park.

The Willie Mullins-trained Bellshill was a further 10 lengths behind in third.

Henderson, gaining his third winner of the week at the Festival, his 58th winner overall at the meeting and his third RSA Chase, said: This place has extraordinary tricks in its tales and that was another one.

"It looked, for all the world, that Might Bite had thrown it away when Whisper came along but to be fair Might Bite was the best horse.

"You thought Might Bite had done it all well and then he goes and does that. What can you make of it all? It shows why you should run two in a race or maybe why you shouldn't.

"Nico said going to the last he was looking around but it was just quite extraordinary. He came here as a novice hurdler and did exactly the same thing.

"He is hugely talented. He is only a baby and hasn't had a lot of experience. It is deceptive how quickly he is going.
"The future is enormous with him. I was worried whether Cheltenham would suit him at all but he has showed he handles the place and everything that comes with it because he is the sort of horse I couldn't guarantee was a certainty."
Reflecting on Whisper's heroic effort, the Seven Barrows maestro said: "Davy [Russell, jockey] did everything right on Whisper. He did exactly what he wanted to do - hunt around. You could see him creeping in there but you thought Might Bite had got away."
RSA Chase
£175,000 added, 5yo plus, 3m 80y, Class 1
12 ran
Going: Good to Soft, Good in places
Pos
D
Horse SP
Jockey Weight
Trainer
Age
1st
Might Bite (IRE) 7/2f
Nico de Boinville
11-4
N J Henderson
8
2nd
nse
Whisper (FR) 9/2
D N Russell
11-4
N J Henderson
9
3rd
10
Bellshill (IRE) 5/1
R Walsh
11-4
W P Mullins
7
4th
8
Alpha Des Obeaux (FR)6/1
B J Cooper
11-4
M F Morris
7
5th
30
O O Seven (IRE) 14/1
Aidan Coleman
11-4
N J Henderson
7
6th
13
Acapella Bourgeois (FR) 5/1
R Loughran
11-4
M S Sandra Hughes
7
Also Ran: Aurillac (FR) , Heron Heights (IRE) , Marinero (IRE) , Our Kaempfer (IRE) , Royal Vacation (IRE) , Briery Belle
DE BOINVILLE GETS A SECOND BITE OF THE CHERRY

Nico de Boinville drove 7/2 favourite Might Bite to a last-gasp victory to record his second win of The Festival 2017 and his sixth in total.
Might Bite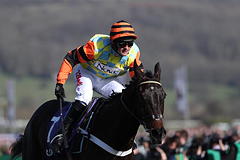 De Boinville had a clear lead on the Nicky Henderson-trained eight-year-old at the final fence, but an error there was followed by the horse drifting strongly to the right. His stable mate Whisper, ridden by Davy Russell, headed him on the run-in but Might Bite fought back dramatically to score by a nose in a photo-finish.

The jockey said: "I had deja vu there. Might Bite did exactly the same in his hurdle race around here - he saw the entrance to the track where he came in. He was on a perfect stride to the last fence and he's seen that and just lost concentration. He was lugging, trying to get there, and then he saw the loose horse [Marinero] and was like, 'oh right, we are in a race again'. Without that loose horse, I would not have won.

"I thought we'd stand a chance of getting back up because he has such a good turn of foot, but it just depended how fast Whisper was coming. If he had been coming any quicker than that, we wouldn't have won.

"He is like that. He is a thinker but so talented. He jumped for fun and should have won by five or 10 lengths. It is great for the owners and great for the guvnor [Nicky Henderson], who is having a tremendous time of it. I kept the faith with this horse, although I can see why others might not.

"You can just see what a talented horse he is - jumps and travels for fun. He just has his quirks sometimes. You just deal with it and try and make it as easy as you can.

"He's got a huge future. Kempton suits him because the entrance to the track is after the line!"
WHISPER BITTEN ON LINE

Nicky Henderson saddled his 58th Cheltenham Festival winner when Might Bite landed the RSA Novices' Chase, beating his stablemate Whisper in a dramatic finish.

Might Bite (7/2 favourite), another from a long line of stunning-looking Henderson horses, made most of the running, pulled well clear turning in, but wandered markedly right on the run-in, slowed to a canter, and was passed by Whisper who was staying on powerfully. Incredibly, Might Bite rallied to such good purpose that he got back in front to win by a nose, with Bellshill a further 10 lengths back in third.

Davy Russell, who rode Whisper, said: "They went quick, and I couldn't go that early pace, so I had to sit and suffer. Nico's horse gave it away on the run-in, by straying, and if anything I got to him too soon.

"Obviously, the best horse has won and there are no excuses for my horse. He just kept going at one pace."

Whisper's owner, Dai Walters, said: "You go back three years and it was his day when he won the Coral Cup - that was inches and I think there is only a half-inch in this. It was fantastic and I thought he had it!

"It's brilliant and it's good for Nicky Henderson. Whisper was in bad form last year and he sent him back [over fences]. It's a credit to Nicky."

JOSEPHINE'S FIRST BITE AT A FESTIVAL WIN

While Nicky Henderson was welcoming in his 58th Festival winner, a member of his family was experiencing her first.

His sister Josephine, who lives in Wiltshire, is one of 10 members of the Knot Again Partnership which owns Might Bite. Others in the group include David Minton, the bloodstock agent who bought Might Bite privately as an unbroken store horse.

Josephine said: "It's terrifying to own this horse, but also really thrilling. On the run-in I thought 'Oh God', but he's done that before when winning a hurdle race here. Well done Nico for getting him going again. I couldn't believe he was going to lose it, but after the fall he had at Kempton at Christmas it's so wonderful to have him back and winning.

"I saw him in his box as a four-year-old and couldn't help but notice his incredibly long legs. That's where he gets his speed from - he really covers the ground."

BELLSHILL DELIGHTS MULLINS

Bellshill, who fell at the last when a beaten horse at Leopardstown in a Grade One novice chase in February, turned that upset around when finishing third.

Willie Mullins, trainer of the 5/1 chance, said: "It was a fabulous race to watch and very brave of the winner to do what he did - extraordinary to do what he did.

"It was a very strongly run race and my fellow just wasn't able to go the pace. Bellshill ran well considering his last run - we were delighted. He jumped fantastically and ran well, no excuses."
Previous results
RSA CHASE
2016-WINNER-BLAKLION 7-11-04 Owner-S Such & C G Paletta; Trainer-Nigel Twiston-Davies; Jockey-Ryan Hatch; SP-8/1 2ND-Shaneshill 7-11-04 Owner-Andrea & Graham Wylie; Trainer-Willie Mullins IRE; Jockey-Paul Townend; SP-16/1 3RD-More Of That 8-11-04 Owner-J P McManus; Trainer-Jonjo O'Neill; Jockey-Barry Geraghty; SP-6/4 Fav 8 ran, Time-6m 6.20s Dist-1⁄2, 8
2015-WINNER-DON POLI 6-11-04 Owner-Gigginstown House Stud; Trainer-Willie Mullins IRE; Jockey-Bryan Cooper; SP-13/8 Fav
2ND-Southfield Theatre 7-11-04 Owner-Angela Yeoman; Trainer-Paul Nicholls; Jockey-Sam Twiston-Davies; SP-13/2
3RD-Wounded Warrior 6-11-04 Gigginstown House Stud; Trainer-Noel Meade IRE; Jockey-Paul Carberry; SP-12/1
8 ran, Time-6m 9.20s Dist-6, 1½
2014-O'FAOLAINS BOY 7-11-04 Owner-Trembath, Hyde, Outhart & Hill; Trainer-Rebecca Curtis; Jockey-Barry Geraghty; SP- 12/1
2ND-Smad Place 7-11-04 Owner-Mrs Peter Andrews; Trainer-Alan King; Jockey-Robert Thornton; SP-13/2 Jt-Fav
3RD-Morning Assembly 7-11-04 Owner-Clipper Logistics Group Ltd; Trainer-Pat Fahy IRE; Jockey-Davy Russell; SP-9/1
15 ran, Time-6m 0.32s(record) Dist-nk, 6 13/2 Jt-Fav Ballycasey (4th)
2013-WINNER-LORD WINDERMERE 7-11-04 Owner-Dr Ronan Lambe; Trainer-Jim Culloty IRE; Jockey-Davy Russell; SP-8/1
2ND-Lyreen Legend 6-11-04 Owner-Lyreen Syndicate; Trainer-Dessie Hughes IRE; Jockey-Bryan Cooper; SP-10/1
3RD-Hadrian's Approach 6-11-04 Owner-Richard & Lizzie Kelvin Hughes; Trainer-Nicky Henderson; Jockey-Barry Geraghty; SP-7/1
11 ran, Time-6m 25.80s Dist-1¾, 6 5/2 Fav Unioniste (4th)
2012-WINNER-BOBS WORTH 7-11-04 Owner-The Not Afraid Partnership; Trainer-Nicky Henderson; Jockey-Barry Geraghty; SP-9/2
2ND-First Lieutenant 7-11-04 Owner-Gigginstown House Stud; Trainer-Mouse Morris IRE; Jockey-Davy Russell; SP-9/2
3RD-Call The Police 9-11-04 Owner-DD Racing Syndicate; Trainer-Willie Mullins IRE; Jockey-Paul Townend; SP-20/1
9 ran, Time-6m 8.00s Dist-2½, 11 6/5 Fav Grands Crus (4th)
2011-WINNER-BOSTONS ANGEL 7-11-04 Owner-Elder Scouller; Trainer-Jessica Harrington IRE; Jockey-Robert Power; SP-16/1 2ND-Jessies Dream 8-11-04 Owner-David Johnson; Trainer-Gordon Elliott IRE; Jockey-Timmy Murphy; SP-10/1 3RD-Wayward Prince 7-11-04 Owner-John & Hilary Parrott; Trainer-Ian Williams; Jockey-A P McCoy; SP-15/2
12 ran, Time-6m 16.55s Dist-nk, 3⁄4 7/4 Fav Time For Rupert (5th)
2010-WINNER-WEAPON'S AMNESTY 7-11-04 Owner-Gigginstown House Stud; Trainer-Charles Byrnes IRE; Jockey-Davy Russell; SP-10/1 2ND-Burton Port 6-11-04 Owner-Trevor Hemmings; Trainer-Nicky Henderson; Jockey-Tony McCoy; SP-9/1 3RD-Long Run 5-11-03 Owner-Robert Waley-Cohen; Trainer-Nicky Henderson; Jockey-Mr Sam Waley-Cohen; SP-11/4 9 ran, Time-6m 13.50s Dist-7, sh 2/1 Fav Punchestowns (5th)
2009-WINNER-COOLDINE 7-11-04 Owner-Violet O'Leary; Trainer-Willie Mullins IRE; Jockey-Ruby Walsh; SP-9/4 Fav
2ND-Horner Woods 7-11-04 Owner-Howard Spooner; Trainer-Jessica Harrington IRE; Jockey-Robert Power; SP-66/1
3RD-Massini's Maguire 8-11-04 Owner-Alan Paterson; Trainer-Paul Nicholls; Jockey-Richard Johnson; SP-10/1
15 ran, Time-6m 22.80s. Dist-16, 9
2008-WINNER-ALBERTAS RUN 7-11-04 Owner-Trevor Hemmings; Trainer-Jonjo O'Neill; Jockey-Tony McCoy; SP-4/1 Fav
2ND-Roll Along 8-11-04 Owner-Bryan & Philippa Burrough; Trainer-Carl Llewellyn; Jockey-Timmy Murphy' SP-20/1
3RD-Battlecry 7-11-04 Owner-Hamsard Ltd; Trainer-Nigel Twiston-Davies; Jockey-Paddy Brennan; SP-25/1
11 ran, Time-6m 23.5s Dist-4½, 3½
2007-WINNER-DENMAN 7-11-04 Owner-Maggie Findlay & Paul Barber; Trainer-Paul Nicholls; Jockey-Ruby Walsh; SP-6/5 Fav
2ND-Snowy Morning 7-11-04 Owner-Quayside Syndicate; Trainer-Willie Mullins IRE; Jockey-Mick Fitzgerald; SP-10/1
3RD-According To John 7-11-04 Owner-Sir Robert Ogden; Trainer-Nicky Richards; Jockey-Tony Dobbin; SP-66/1 17 ran, Time-6m 6.80s Dist-10, 3½
2006-WINNER-STAR DE MOHAISON 5-10-08 Owner-Sir Robert Ogden; Trainer-Paul Nicholls; Jockey-Barry Geraghty; SP-14/1
2ND-Idle Talk 7-11-04 Owner-Mrs M J George; Trainer-Tom George; Jockey-Jason Maguire; SP-33/1
3RD-Darkness 7-11-04 Owner-Lady Lloyd-Webber; Trainer-Charles Egerton; Jockey-Paddy Brennan; SP-11/2
15 ran, Time-6m 9.20s Dist-6, 11 9/2 Fav Commercial Flyer (PU)
2005-WINNER-TRABOLGAN 7-11-04 Owner-Trevor Hemmings; Trainer-Nicky Henderson; Jockey-Mick FitzGerald;SP- 5/1
2ND-Comply Or Die 6-11-04 Owner-David Johnson; Trainer-Martin Pipe; Jockey-Timmy Murphy; SP-3/1 Fav
3RD-Cornish Rebel 8-11-04 Owner-Graham Roach; Trainer-Paul Nicholls; Jockey-Ruby Walsh; SP-9/2
9 ran, Time-6m 12.85s Dist-3, 3
2004-WINNER-RULE SUPREME 8-11-04 Owner-John Lynch; Trainer-Willie Mullins IRE; Jockey-David Casey; SP-25/1
2ND-Royal Emperor 8-11-04 Owner-Widdop Wanderers; Trainer-Sue Smith; Jockey-Dominic Elsworth; SP-6/1
3RD-Our Vic 6-11-04 Owner-David Johnson; Trainer-Martin Pipe; Jockey-Tony McCoy; SP-11/8 Fav
10 ran, Time-6m 9.70s Dist-1½, 2
2003-WINNER-ONE KNIGHT 7-11-04 Owner-Robert Gibbs; Trainer-Philips Hobbs; Jockey-Richard Johnson; SP-15/2
2ND-Jair Du Cochet 6-11-04 Owner-Miriam Montauban; Trainer-Guillaume Macaire FR; Jockey-Jacques Ricou; SP-4/1
3RD-Barrow Drive 7-11-04 Owner-Mrs B Leniham; Trainer-Tony Mullins IRE; Jockey-Barry Geraghty; SP-9/1 9 ran, Time-6m 14.90s Dist- 1¾, 10 9/4 Fav Keen Leader (5th)
2002-WINNER-HUSSARD COLLONGES 7-11-04 Owner-Nick Bannister; Trainer-Peter Beaumont; Jockey-Russ Garritty; SP-33/1
2ND-Iznogoud 6-11-04 Owner-County Stores-Avalon Surfacing; Trainer-Martin Pipe; Jockey-Tony McCoy; SP-14/1
3RD-Chives 7-11-04 Owner-Trevor Hemmings; Trainer-Henrietta Knight; Jockey-Richard Guest; SP-33/1
19 ran, Time-6m 35.65s Dist- 2, 4 9/2 Fav Colonel Braxton (5th)
2001-Cancelled
2000-WINNER-LORD NOELIE 7-11-04 Owner-Executive Racing; Trainer-Henrietta Knight; Jockey-Jim Culloty; SP-9/2
2ND-Alexander Banquet 7-11-04 Owner-Miriam O'Callaghan; Trainer-Willie Mullins; Jockey-Ruby Walsh; SP-9/2
3RD-Toto Toscato 6-11-04 Owner-Hilda Clarke; Trainer-Alan King; Jockey-Richard Johnson; SP-11/1
9 ran Time-6m 5.3s Dist-1¼, hd 7/2 Fav-Native Upmanship (4th)
1999-WINNER-LOOKS LIKE TROUBLE 7-11-04 Owner-Universal Conference & Incentive Trv Ltd; Trainer-Noel Chance; Jockey-Paul Carberry; SP-16/1
2ND-Lord Of The River 7-11-04 Owner-Brian Stewart-Brown; Trainer-Oliver Sherwood; Jockey-Tony McCoy; SP-11/2
3RD-Billingsgate 7-11-04 Owner-Dr David and Mrs B Chesney; Trainer-David Elsworth; Jockey-Paul Holley;
SP-25/1 14 ran Time-6m 21.5s Dist-dist, 3 5/4 Fav-Nick Dundee (fell)
1998-WINNER-FLORIDA PEARL 6-11-04 Owner-Violet O'Leary; Trainer-Willie Mullins IRE; Jockey-Richard Dunwoody; SP-11/8 Fav
2ND-Escartefigue 6-11-04 Owner-Darren Mercer; Trainer-David Nicholson; Jockey-Adrian Maguire; SP-5/1
3RD-Fulip 5-10-08 Owner-Roger Barby; Trainer-Francois Doumen FR; Jockey-Mr Thierry Doumen; SP-9/1
10 ran Time-6m 8.3s Dist-1½, 19
1997-WINNER-HANAKHAM 8-11-04 Owner-Malcolm Brereton; Trainer-Ron Hodges; Jockey-Richard Dunwoody; SP-13/2
2ND-Eudipe 5-10-08 Owner-David Johnson; Trainer-Martin Pipe; Jockey-Tony McCoy; SP-4/1
3RD-Djeddah 6-11-04 Owner-Stella Elkaim; Trainer-Francois Doumen FR; Jockey-Adam Kondrat; SP-100/30 Fav 14 ran Time-6m 8.8s, Dist-2½, 5
RSA CHASE ROLL OF HONOUR
(RSA Chase from 2009, Royal & SunAlliance Chase 1998-2008, Royal Sun Alliance Chase 1997, Sun Alliance Chase 1974-96, Totalisator Champion Chase 1971-73, Totalisator Champion Novices' Chase 1964-1970, Broadway Chase 1961-63, Broadway Novices' Chase before 1961)

Year Winner Age/Wt Jockey Trainer Owner SP Ran
1996 Nahthen Lad 7-11-04 Warren Marston Jenny Pitman Jim Shaw 7/1 12
1995 Brief Gale 8-10-13 Philip Hide Josh Gifford Carrie Zetter 13/2 13
1994 Monsieur Le Cure 8-11-04 Peter Niven John Edwards Hector Brown 15/2 18
1993 Young Hustler 6-11-04 Peter Scudamore Nigel Twiston-Davies Gavin MacEchern 9/4 8
1992 Miinnehoma 9-11-04 Peter Scudamore Martin Pipe Freddie Starr 7/2F 18
1991 Rolling Ball 8-11-04 Peter Scudamore Martin Pipe Hilda Clarke 7/2F 20
1990 Garrison Savannah 7-11-04 Ben de Haan Jenny Pitman Autofour Engineering 12/1 9
1989 Envopak Token 8-11-04 Peter Hobbs Josh Gifford Frank Arthur 16/1 15
1988 The West Awake 7-11-04 Simon Sherwood Oliver Sherwood Maggie Heath 11/4F 14
1987 Kildimo 7-11-04 Graham Bradley Toby Balding Lady Harris 13/2 18
1986 Cross Master 9-11-04 Reg Crank Tom Bill Harlow Bros 16/1 30
1985 Antarctic Bay 8-11-04 Frank Berry Pat Hughes IRE P Meade 6/4F 11
1984 A Kinsman 8-11-04 Geordie Dun John Brockbank Mrs John Brockbank 10/1 18
1983 Canny Danny 7-11-04 Niall Madden Jimmy FitzGerald P Norton 33/1 14
1982 Brown Chamberlin 7-11-04 John Francome Fred Winter Mrs Coral Samuel 7/1 15
1981 Lesley Ann 7-11-04 Colin Brown David Elsworth Brian Gaule 25/1 17
1980 Lacson 8-11-04 Steve Knight Bob Hawker Bob Hawker 16/1 17
1979 Master Smudge 7-11-04 Richard Hoare Arthur Barrow Arthur Barrow 16/1 17
1978 Sweet Joe 6-11-04 Steve Smith Eccles Tom Jones Milton Ritzenberg 12/1 17
1977 Gay Spartan 6-11-04 Michael Dickinson Tony Dickinson M Armstrong 13/2 15
1976 Tied Cottage 8-11-00 Tommy Carberry Dan Moore IRE Anthony Stanley Robinson 12/1 15
1975 Pengrail 7-11-00 John Francome Fred Winter Mrs G Morton 12/1 11
1974 Ten Up 7-11-00 Tommy Carberry Jim Dreaper IRE Anne, Duchess of Westminster 7/2 12
1973 Killiney 7-11-03 Richard Pitman Fred Winter Enid Boucher 8/15F 9
1972 Clever Scot 7-11-07 David Mould Tom Jones Milton Ritzenberg 11/1 18
1971 Tantalum 7-11-07 David Nicholson Michael Pope Colonel S W Green 14/1 16
1970 Proud Tarquin 7-11-12 Pat Taaffe Tom Dreaper IRE John Thomson 100/7 17
1969 Spanish Steps 6-11-12 John Cook Edward Courage Edward Courage 100/8 22
1968 Herring Gull 6-11-12 Joe Crowley Paddy Mullins IRE Mrs G A J Wilson 9/1 16
1967 Border Jet 7-11-00 Josh Gifford Ryan Price Lady Weir 4/1F 19
1966 Different Class 6-11-12 David Mould Peter Cazalet Gregory Peck 10/1 17
1965 Arkloin 6-11-07 Liam McLoughlin Tom Dreaper IRE George Ansley 100/7 17
1964 Buona notte 7-12-04 Johnnie Haine Bob Turnell Jim Joel 11/8F 16
1963 Arkle 6-12-04 Pat Taaffe Tom Dreaper IRE Duchess Of Westminster 4/9F 15
1962 Caduval 7-11-08 Laurie Morgan Bogden Lubecki Bogden Lubecki 11/2 13
1961 Grallagh Cnoc 7-12-01 Pat Taaffe Joe Osborne IRE Mrs K Harper 8/13F 17
1960 Solfen 8-11-12 Pat Taaffe Willie O'Grady IRE B Naughton 5/4F 21
1959 Mac Joy 7-11-12 Arthur Freeman Ken Bailey W C Simpson 4/1 11
1958 Just Awake 6-11-08 Arthur Freeman Peter Cazalet Bill Whitbread 100/7 19
1957 Mandarin 6-12-01 Michael Scudamore Fulke Walwyn Peggy Hennessy 8/1 14
1956 Polar Flight 6-11-08 Tommy Cusack George Spann Mrs P Pleydell-Bouverie 100/7 19
1955 Great Eliza 7-11-13 B Cooper Danny Morgan IRE Mrs N Hope Collins 7/2F 23
1954 Glenbeigh 8-11-13 Dave Dick Fulke Walwyn Dorothy Paget EvsF 16
1953 Coneyburrow 7-11-03 Pat Taaffe Joe Osborne IRE I E Levy 100/8 13
1952 Good And Plenty 8-11-08 Jimmy Power Jack Fawcus Lady Joicey 8/1 18
1951 On View 8-11-13 Bryan Marshall Fulke Walwyn Dorothy Paget 8/1 23
1950 (I) Manicou 5-11-06 Lord Mildmay Peter Cazalet Lord Mildmay 2/1F 9
1950 (II) Arctic Gold 5-10-13 Glen Kelly Gerald Balding John Hay Whitney 100/30 9
1949 (I) Glen Fire 6-11-02 Mr J Spencer Syd Mercer J G Greenaway 100/8 19
1949 (II) Comeragh 8-11-02 D Kelly Major Noel Furlong Major Noel Furlong 10/1 10
1948 (I) Blakely Grove 7-11-04 Joe Maguire Ivor Anthony Paul Mellon 5/4F 17
1948 (II) Mountain Prince 9-11-04 Bryan Marshall Fulke Walwyn Dorothy Paget 100/8 15
1947 No race (snow and frost)
1946 Birthlaw 11-11-07 Ted Vinall Tommy Rayson Mrs V Bruce 20/1 16