cheltenham festival / 2011 news /
Big Buck's Heads 46 Entries for Ladbrokes World Hurdle
21/01/11
Dual winner Big Buck's features among a superb entry of 46 for this year's £260,000 Grade One Ladbrokes World Hurdle, one of the feature races on the third day of The Festival, St Patrick's Day, Thursday, March 17.
Big Buck's


© racing-images.co.uk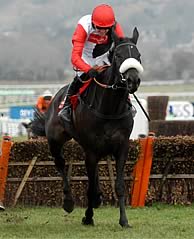 The Stewart family's eight-year-old will bid to emulate the other outstanding staying hurdler of recent times, Inglis Drever, by taking the three-mile championship race for a third time. Race sponsor Ladbrokes makes Paul Nicholls' charge its 4/7 favourite as he bids to follow up the successes of 2009 and 2010. If successful in 2011, Big Bucks would become the first horse to win the championship contest for three consecutive years.
Since being switched to the smaller obstacles by trainer Paul Nicholls after unseating his rider in the 2008 Hennessy Gold Cup, Big Buck's has yet to taste defeat in 10 outings and he recorded a fifth Grade One success when producing yet another authoritative display in the rearranged Long Walk Hurdle at Newbury at the end of December.
Some of his chief dangers may come from the stable of Nicky Henderson as the Seven Barrows handler has entered Punchestowns (8/1 second favourite with Ladbrokes), runner-up in 2009, as well as impressive recent Cheltenham winner Oscar Whisky (10/1) and Zaynar (12/1), who triumphed in the Grade One JCB Triumph Hurdle at The Festival in 2009.
Quevega


© racing-images.co.uk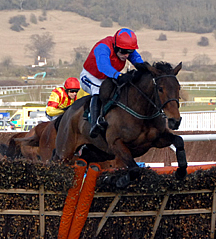 An Irish-trained winner would raise the roof on St Patrick's Day and a record 15 Irish entries are headed by a formidable quintet from Willie Mullins that includes two previous winners of the Grade One Neptune Investment Management Novices' Hurdle - Fiveforthree (20/1) and Mikael D'Haguenet (16/1), dual Grade Two David Nicholson Mares' Hurdle heroine Quevega (10/1) and recent Grade Two scorer Mourad (12/1). Six-time Grade One victor Solwhit (12/1) could also make the journey across the Irish Sea for trainer Charles Byrnes.
Other notable contenders include the David Pipe-trained Grand Crus (10/1), who sauntered to victory in a valuable fixed brush handicap at Haydock in November, and the Alan King-trained pair of Karabak (14/1), successful in the Grade Two Unicoin Homes Relkeel Hurdle at Cheltenham in December, and Grade One Ladbrokes.com World Series Hurdle runner-up Bensalem (16/1).
Trainer Robin Dickin is hopeful that Restless Harry (33/1) can book his place for The Festival with a bold show in the Grade Two Cleeve Hurdle, run over the same course and distance as the Ladbrokes World Hurdle, on Festival Trials Day, Saturday, January 29.
The lightly raced seven-year-old posted an emphatic eight-length victory over General Miller in the Grade Two Neptune Investment Management Novices' Hurdle on Festival Trials Day last year before falling at the last when still in contention in the Grade One Albert Bartlett Novices' Hurdle at The Festival. On his latest start, Restless Harry stayed on resolutely to come home third behind Big Buck's and Grade One winner Lough Derg in the Long Walk Hurdle.
Dickin revealed: "Restless Harry runs in the Cleeve Hurdle at Cheltenham on Saturday week and I am hopeful that he can run a big race. He is tremendously well in himself and we always said that we would remain over hurdles this season because of his limited mileage.
"All we saw was the fog when he ran at Newbury but Lough Derg is a top-class horse on his day and it was far from a disgrace to go down by a head to him. There are probably four or five horses that are quite evenly matched behind Big Buck's but you should never be scared of taking on one horse – who would have thought that Kauto Star would have got beaten on Saturday?
"It's not his fault that he is competing in the top staying hurdles but when you run in those kind of races, then you are bound to take on champions like Big Buck's."
LADBROKES WORLD HURDLE
Class 1, Grade One, £260,000 Total Prize Fund, three miles. Cheltenham, 3.20pm, Thursday, March 17, three miles. For four-year-olds and upwards which are allotted a rating of 130 or more by the BHA Head of Handicapping following a review of the horses entered and after taking account of races run up to and including March 10 - horses which are not qualified for a rating in GB, IRE or FR may also be entered (such horses may be eligible providing the Handicapper is satisfied that the horse's racecourse performances up to and including March 10 would merit a minimum rating of 130 – the decision of the BHA Head of Handicapping shall be final), three miles. Weights: 4yo: 11st 1lb; 5yo+: 11st 10lb; fillies & mares allowed 7lb. Entries closed January 18, entries revealed January 20 (46 entries). Scratchings deadline February 15, £13,000 supplementary entry stage & six-day confirmation stage March 11, final declarations 10am, March 15. Form figures supplied by Weatherbys and are correct up to and including the racing of Monday, January 17.
Form Horse Age Owner Trainer
0-21422 ANY GIVEN DAY (IRE) 6 Tim Leslie Donald McCain
0023-63 ARCALIS 11 Andrea & Graham Wylie Howard Johnson
11-4051 ASHKAZAR (FR) 7 David Johnson David Pipe
310-221 BARAFUNDLE (IRE) 7 Judith Ratcliff Jennie Candlish
25-5220 BARWELL BRIDGE 5 Tracey Brown Warren Greatrex
40/31-0F BENBANE HEAD (USA) 7 Louise Jones Martin Keighley
12F2F2- BENSALEM (IRE) 8 Alan Marsh & John Duggan Alan King
341-445 BERTIES DREAM (IRE) 8 Half A Keg Syndicate Paul Gilligan IRE
51//411-U BESHABAR (IRE) 9 Maggie Findlay Tim Vaughan
1111-11 BIG BUCK'S (FR) 8 The Stewart Family Paul Nicholls
1021-52 BLACKSTAIRMOUNTAIN (IRE) 6 Susannah Ricci Willie Mullins IRE
43-3035 CATCH ME (GER) 9 J P O'Shea Edward O'Grady IRE
4F-F333 CELESTIAL HALO (IRE) 7 The Stewart Family Paul Nicholls
11-1625 CRISTAL BONUS (FR) 5 Robin Geffen Evan Williams
146-61B CROSS KENNON (IRE) 7 P & Mrs G Clarke Jennie Candlish
23-0445 DUKE OF LUCCA (IRE) 6 Lesley Field Philip Hobbs
01500-1 FAIR ALONG (GER) 9 Alan Peterson Philip Hobbs
132/12/1- FIVEFORTHREE (IRE) 9 Olde Crowbars Syndicate Willie Mullins IRE
0212-11 GRANDS CRUS (FR) 6 Roger Stanley & Yvonne Reynolds III David Pipe
1-14 HIGHLAND VALLEY (IRE) 6 M E Thompson Emma Lavelle
1423-01 JAMES DE VASSY (FR) 6 Jakeman, Barrett, Booth & Ferrand Nick Williams
240-214 KARABAK (FR) 8 J P McManus Alan King
51121-4 KHYBER KIM 9 Caroline Mould Nigel Twiston-Davies
3P-0204 LE BEAU BAI (FR) 8 Glass Half Full Richard Lee
10-1432 LUSKA LAD (IRE) 7 Magestic Syndicate John Hanlon IRE
111/1-F5 MIKAEL D'HAGUENET (FR) 7 Susannah Ricci Willie Mullins IRE
215P-61 MOBAASHER (USA) 8 Seasons Holidays Venetia Williams
1213-41 MOURAD (IRE) 6 Teahon Consulting Limited Willie Mullins IRE
214122 ORGANISATEUR (IRE) 6 Angela Tincknell & W Tincknell Paul Nicholls
65-1540 OSCAR DAN DAN (IRE) 9 Mrs Paul Duffin/D Hutton/Sean Corby Tom Mullins IRE
1/1114-1 OSCAR WHISKY (IRE) 6 Walters Plant Hire Ltd Nicky Henderson
30-1002 POWERSTATION (IRE) 11 Fat Frog Syndicate Eamon O'Connell IRE
22/115-2 PUNCHESTOWNS (FR) 8 Judy Wilson Nicky Henderson
11/3011- QUEVEGA (FR) 7 Hammer & Trowel Syndicate Willie Mullins IRE
F1-3303 RESTLESS HARRY 7 R G Whitehead Robin Dickin
31P-101 RICK (FR) 7 J P Dunne Dessie Hughes IRE
1-14613 RIGOUR BACK BOB (IRE) 6 Gaticoma Syndicate Edward O'Grady IRE
12/111/3- SHALONE 7 Tony & Jeni Fisher Alan King
11P-151 SHINROCK PADDY (IRE) 7 Barry Connell Paul Nolan IRE
162-122 SOLWHIT (FR) 7 Top Of The Hill Syndicate Charles Byrnes IRE
P04122- SOUFFLEUR 8 Karen Bowen, W Bryan, Mr & Mrs J Timmons Peter Bowen
5101-FF SPIRIT RIVER (FR) 6 Michael Buckley Nicky Henderson
2365-1F THE GIANT BOLSTER 6 Simon Hunt David Bridgwater
1013-04 THOUSAND STARS (FR) 7 Hammer & Trowel Syndicate Willie Mullins IRE
121121/- WALKON (FR) 6 McNeill Family Alan King
1233-44 ZAYNAR (FR) 6 Men In Our Position Nicky Henderson
46 entries
15 Irish-trained
LADBROKES WORLD HURDLE FACTS
1. The Ladbrokes World Hurdle is one of the youngest races at The Festival. Known as the Stayers' Hurdle up to and including 2004, it was only introduced with its current race conditions in 1972. Before that, it was known as the Spa Hurdle.
2. The Ladbrokes World Hurdle has been run on the Tuesday, Wednesday and Thursday of the meeting. It moved to its current Thursday slot in 1993.
3. Its first year of sponsorship was 1972, under the title of the Lloyds Bank Hurdle. There have been four sponsors of the race, Waterford Crystal from 1978 to 1990 and Bonusprint from 1991 to 2004. 2005 was the first year of Ladbrokes' sponsorship and prize money currently stands at £260,000.
4. The Ladbrokes World Hurdle used to be a favourite with the Irish, who have won it nine times, most recently in 1995 with Dorans Pride. Baracouda provided a first success for France in 2002 and followed up in 2003. In 2004 and 2005, he was runner-up behind Iris's Gift and Inglis Drever respectively, while in 2006 he ran fifth behind My Way De Solzen. Baracouda's trainer Francois Doumen also saddled Kasbah Bliss to finish second in 2008 and fourth in 2009.
5. In 2008, Inglis Drever created history by becoming the first horse to win the contest three times. He was successful in 2005, missed the 2006 race due to injury before returning to land both the 2007 and 2008 renewals. There have been four dual winners - Crimson Embers (1982 & 1986), Galmoy (1987 & 1988), Baracouda (2002 & 2003) and Big Buck's (2009 & 2010).
6. Howard Johnson (trainer of Inglis Drever) and the late Fulke Walwyn - with three wins apiece - are the only trainers to have won the contest more than twice. The race was dominated in the mid-1980s by Crimson Embers, trained by Walwyn, and the winner in 1982 and 1986. Indeed, Crimson Embers would have been awarded the race in the stewards' room in 1985 had his rider not declined to give evidence to the enquiry afterwards, but the trainer won the race anyway with Rose Ravine. The owner, Sally Smart, was ambivalent about the result - she owned both horses!
7. Gaye Chance, the winner in 1984, was a full-brother to the 1983 Champion Hurdle winner Gaye Brief. Both horses were trained by Mercy Rimell.
8. No horse has managed to win both the Stan James Champion Hurdle and the Ladbrokes World Hurdle.
9. A total of 12 favourites have been successful.
10. The smallest field to go to post was eight in 1973 while the largest was 22 in both 1985 and 1990. The current safety limit is 24.
11. Tommy Carberry, Stuart Shilston, Tommy Carmody, Mark Perrett, Charlie Swan, Jamie Osborne and Thierry Doumen each recorded two victories while Ruby Walsh is the only current jockey to have partnered more than one winner following his victories on Big Buck's in 2009 and 2010. The three-time winner Inglis Drever was partnered by different jockeys for each of his victories – Graham Lee (2005), Paddy Brennan (2007) and Denis O'Regan (2008)
[more]