cheltenham festival / 2010 news /
Tearful Walsh Adds to Family's Cheltenham Record
17/03/10
1 Poker De Sivola 14/1
2 Becauseicouldntsee 13/2
3 Prudent Honour 40/1
18 ran
Poker De Sivola


© racing-images.co.uk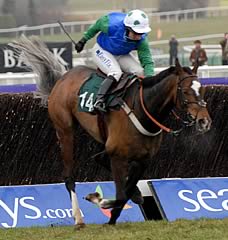 Her brother Ruby has ridden 25 Festival winners and her father Ted had four Festival wins as a jockey and this afternoon Katie Walsh added to the family's record when winning the opening National Hunt Chase Challenge Cup on Poker De Sivola.

It was a 1-2 for female riders in the amateurs' contest as Walsh beat Nina Carberry on Becauseicouldntsee to win.

"Nina's a great friend and knows how much it means to me," said a tearful Walsh. "Winning at Cheltenham is something that everyone wants to do and I'm fortunate that it's my turn this year.

"Ruby said well done to me but he didn't really need to say anything, the look in his eyes said it all. He knows what it means.

"I'm lost for words. I don't want to sound soft but this is definitely the best day of my life. My father is the person I go whenever I need something. I know how much this means to him but it means very much to me as well.

"I couldn't believe it turning in that Nina was coming - I thought Jesus, of all people, not Nina! But I put my head down and it's just lucky that it paid off. He stayed on well and jumped great. It's brilliant."
"He's not the biggest of horses and travels well. I probably got to the front too early but had to go with him when he wanted and just put my head down."
Trainer Ferdy Murphy added: "I go a long way back with the Walsh family and Ruby and Katie's grandfather, who was also called Ruby, was like a father figure to me and many people. He was a very shrewd man that you always listened to. I'm so delighted for her family.

"Nina rode this horse last year but unfortunately for her she was already booked for the other horse and I was delighted to get Katie.
"With a circuit to go she switched to the inside and got a few fantastic leaps out of him. I thought they'd got to the front too soon but not at all.

"It was an unbelievable ride, fantastic. He was a bit unlucky in the Kim Muir last year - he was favourite and got pushed a but wide - and then we ran him in a four-miler at Kelso on very heavy ground, and he made a bit of noise. Graham (Lee) rode him then and he said put a cross nose-band on him at that seems to have helped.

"I entered him this morning in the Irish National but I think he's probably more likely to go to the Scottish National."
Position

Horse
Trainer
Jockey
Weight
Starting Price
Beaten Distance
1

Poker De Sivola
Ferdy Murphy
Ms K Walsh
11st 6lbs
14 - 1
Winner
2

Becauseicouldntsee
N F Glynn
Miss N Carberry
11st 6lbs
13 - 2
2 1/4 lengths
3

Prudent Honour
T Cooper
Mr M J O'Connor
11st 6lbs
40 - 1
2 1/4 lengths
4

Any Currency
M Keighley
Mr Derek O'Connor
11st 6lbs
7 - 1
Head
5

Mobaasher
Miss V Williams
Mr Harry Challoner
11st 6lbs
6 - 1
17 lengths
6

Fabalu
D McCain Jnr
Mr R O Harding
11st 6lbs
14 - 1
10 lengths
7

Far More Serious
C E Longsdon
Mr S Waley-Cohen
11st 6lbs
22 - 1
3 lengths
8

Presenting Forever
J Howard Johnson
Mr O Greenall
11st 6lbs
14 - 1
2 3/4 lengths
9

Noakarad De Verzee
G R I Smyly
Mr D Maxwell
11st 6lbs
20 - 1
5 lengths
10

Massasoit
P F Nicholls
Mr R Mahon
11st 6lbs
12 - 1
5 lengths
11

Pennek
A King
Mr Joshua Moore
11st 6lbs
16 - 1
1 1/2 length
na

Carlas Dream
D P Murphy
Mr S C Byrne
10st 13lbs
100 - 1

na

Abbeybraney
J Howard Johnson
Mr R P McNamara
11st 6lbs
11 - 1

na

Pettifour
N A Twiston-Davies
Mr S Twiston-Davies
11st 6lbs
15 - 2

na

Tinakellylad
M F Morris
Mr R P Quinlan
11st 6lbs
20 - 1

na

Youngstown
D McCain Jnr
Mr C Motherway
11st 6lbs
33 - 1

na

Cast Cada
C J Mann
Mr C J Sweeney
11st 6lbs
20 - 1

na

Gentle Ranger
D Pipe
Mr J Guerriero
11st 6lbs
28 - 1

Non Runner

Kildonnan
J A B Old
Mr P D Collins
11st 6lbs


Non Runner

Synchronised
Jonjo O'Neill
Mr J T McNamara
11st 6lbs


WALSH FAMILY OVER THE MOON
There was a tremendous reaction to Katie Walsh's first victory at The Festival in the 140th Year Of The National Hunt Chase Challenge Cup.
Her father, Ted Walsh - an ace amateur rider in his day, trainer and television pundit - said: "Poker De Sivola was running a bit lazy - she just keeps hunting him along and he keeps finding a bit.
"I thought at the second last that second was as good as Katie was going to be. But Nina's (Carberry) mount ran up and down a bit in the one place and this old fellow, who has been here before, kept finding a bit.

"What a great ride Katie got off him. It is great for her. Nina's a big part of our family too. This a great day for me, Helen, Katie and all of us. Katie will remember this for the rest of her life."

Her mother Helen commented: "It was brilliant - absolutely great for Katie. It would have been lovely to have been second and to win is just wonderful for her. Words cannot describe it.

"She is a great girl. We have been very lucky. Cheltenham means so much to everybody - the Olympics - the pinnacle."

Ruby Walsh, her brother and record-breaking jump jockey, declared: "It is brilliant for Katie - she works so hard. I am delighted for her."
140TH YEAR OF THE NATIONAL HUNT CHASE FACTS & FIGURES
1. The National Hunt Chase has been run more times than any other race at The Festival, and is in its 140th year in 2010. Until the 1930s, only the Grand National was more important than the National Hunt Chase in the jump calendar. The race had been run at a number of venues until it became a part of the new two-day National Hunt Festival at Cheltenham in 1911. It had also been run at Cheltenham in 1904 and 1905.
2. The four-mile National Hunt Chase is the longest race run at The Festival. The race was reduced in distance by a furlong in 2008 and reverted back to the old course.
3. The race is usually one of the best supported at The Festival, with very competitive fields each year. The largest post-war field size is 37 (1948) and the smallest 13 (1993). There is now a safety limit of 20 runners.
4. Flimsy Truth, a 33/1 chance, set a record post-war time of 8 mins 11.09s in 1998 but that was beaten by Relaxation in 2000, who scored in 8 mins 0.60s.
5. Flimsy Truth is not the longest priced post-war winner - that honour goes to Topsham Bay, successful in 1990, and 2005 winner Another Rum, who were both returned at 40/1. Castledermot, 6/4 favourite in 1949, is the shortest-priced victor.
6. The race has proved a good guide to future success in recent seasons. The 2007 winner Butler's Cabin subsequently won the Irish Grand National, while 2006 victor Hot Weld landed a memorable double in 2007 by collecting the Scottish National and the Sandown Gold Cup in the space of a week. 2007 John Smith's Grand National victor Silver Birch finished fourth in 2004.
7. The 2008 race was run as the Peter O'Sullevan National Hunt Chase to celebrate the legendary commentator's 90th birthday.
NATIONAL HUNT CHASE CHALLENGE CUP PAST RESULTS
2009-WINNER-TRICKY TRICKSTER 6-11-11 Owner-Million In Mind Partnership; Trainer-Nigel Twiston-Davies; Jockey-Mr Sam
Waley-Cohen; SP-11/1
2ND-Drumconvis 8-11-11 Owner-Billy Moffett; Trainer-Tony Martin IRE; Jockey-Mr Derek O'Connor; SP-22/1
3RD-Nine De Sivola 8-11-07 Owner-The DPRP Sivola Partnership; Trainer-Ferdy Murphy; Jockey-Mrs Rose Dobbin
19 ran, Time-8m 25.80s; Dist-10, nk 4/1 Fav Can't Buy Time (4th)
2008-WINNER-OLD BENNY 7-11-07 Owner-Trevor Hemmings; Trainer-Alan King; Jockey-Charlie Huxley; SP-9/1
2ND-Over The Creek 9-12-00 Owner-David Johnson; Trainer-David Pipe; Jockey-Mr Josh Guerriero; SP-7/1
3RD-Back On Line 8-11-07 Owner-ROA Arkle Partnership; Trainer-Venetia Williams; Jockey-Mr William Biddick
20 ran, Time-8m 26.6s; Dist-7, 4½ 9/2 Fav Ornais (5th)
2007-WINNER-BUTLER'S CABIN 7-12-00 Owner-J P McManus; Trainer-Jonjo O'Neill; Jockey-Mr Alan Berry; SP-33/1
2ND Character Building 7-12-00 Owner-Mrs E Wright; Trainer-John Quinn; Jockey-Mr Derek O'Connor; SP-7/1
3RD Countess Trifaldi 7-11-00 Owner-C Wilkinson; Trainer-Michael Phillips IRE; Jockey-Mr Colman Sweeney; SP-100/1
19 ran, Time-8m 38.70s; Dist-¾, 10 2/1 Fav Gungadu (Fell)
2006-WINNER-HOT WELD 7-11-11 Owner-S Hubbard Rodwell; Trainer-Ferdy Murphy; Jockey-Mr Richard Harding; SP-33/1
2 Beantown 8-11-07 Owner-Eoin Barry; Trainer-Sean Aherne IR; Jockey-Mr Paul Tobin; SP-40/1
3 Far From Trouble 7-11-11 Owner-J P McManus; Trainer-Christy Roche IRE; Jockey-Mr J T McNamara; SP-7/2 Fav
22 ran, Time-8m 33.20s; Dist-nk, 1
2005-WINNER-ANOTHER RUM 7-11-07 Owner-Ronald Lilley; Trainer-Ian Duncan IRE; Jockey-Mr Mark O'Hare; SP-40/1
2ND Caislean Ui Cuain 9-11-11 Owner-Seamus O'Farrell; Trainer-Jim Lambe IRE; Jockey-Mr J P O'Farrell; SP-150/1
3RD Control Man 7-12-00 Owner-David Johnson; Trainer-Martin Pipe; Jockey-Mr Gordon Elliott; SP-11/1
20 ran, Time-8m 49.90s; Dist-7, .5 100/30 Fav Point Barrow (5th)
2004-WINNER-NATIVE EMPEROR 8-11-11 Owner-J C, J R & S R Hitchins; Trainer-Jonjo O'Neill; Jockey-Mr Robert Widger; SP-5/1 Jt Fav
2ND Celestial Gold 6-11-11 Owner-David Johnson; Trainer-Martin Pipe; Jockey-Mr Ashley Farrant; SP-33/1
3RD Drombeag 6-11-07 Owner-J P McManus; Trainer-Jonjo O'Neill; Jockey-Mr J T McNamara; SP-8/1
22 ran, Time-8m 12.10s; Dist-1.75, 6 5/1 Jt Fav Silver Birch (5th)
2003-WINNER-SUDDEN SHOCK 8-11-07 Owner-Darren Mercer; Trainer-Jonjo O'Neill; Jockey-Mr Denis Cullen; SP-25/1
2ND Stormez 6-12-00 Owner-David Johnson; Trainer-Martin Pipe; Jockey-Mr Jamie Moore; SP-7/4 Fav
3RD Young Ottoman 7-11-11 Owner-D G Staddon; Trainer-Victor DartnAll; Jockey-Mr Julian Pritchard; SP-10/1
24 ran, Time-8m 21.80s; Dist-1, 13
2002-WINNER-RITH DUBH 10-11-11 Owner-J P McManus; Trainer-Jonjo O'Neill; Jockey-Mr J T McNamara; SP-10/1
2ND-Timbera 8-12-00 Owner-Josephine Breen; Trainer-Dessie Hughes IRE; Jockey-Mr Davy Russell; SP-8/1
3RD-Silver Steel 7-12-00 Owner-Thomas Harty; Trainer-Christy Roche IRE; Jockey-Mr Alan Crowe; SP-12/1
26 ran, Time 8m 46.40s; Dist-hd, 13 6/1 Fav Mister Bigtime (8th)
2001-Race Cancelled
2000-WINNER-RELAXATION 8-12-00 Owner-Sir Philip Payne-Gallwey and Mrs Vicky Wiggin; Trainer-Henry Daly; Jockey-Mr Mark Bradburne; SP-8/1
2ND-Inch Rose 6-11-13 Owner-E Hunston, P White and Mrs V Griffiths; Trainer-Noel Chance; Jockey-Mr Tom Doyle; SP-9/1
3RD-Mister One 9-12-07 Owner-Colin Tizzard; Trainer-Colin Tizzard; Jockey-Mr J D Moore; SP-11/2
21 ran, Time-8m 0.60s, Dist-6, 5 4/1 Fav Fandango De Chassy (PU)
1999-WINNER-DEEJAYDEE 7-12-00 Owner- Mrs M Devine; Trainer-Michael Hourigan IRE; Jockey-Mr Tony Martin; SP-13/2
2ND-Riot Leader 9-12-07 Owner-Mrs & Mrs D A Gamble; Trainer-Tom George; Jockey-Mr Alan Dempsey; SP-10/1
3RD-Spot Thedifference 6-12-04 Owner-Mrs S Bolger; Trainer-Enda Bolger IRE; Jockey-Mr Paul Moloney; SP-13/2
21 ran, Time-8m 33.7s, Dist-nk, 6 6/1 Fav Derrymore Mist (4th)
1998-WINNER-WANDERING LIGHT 9-12-7 Owner- Anne Duchess of Westminster; Trainer-Tim Forster; Jockey-Mr Rupert Wakley; SP-10/1
2ND-Thatswhatithought 6-12-0 Owner-Joy Valentine; Trainer-Mouse Morris IRE; Jockey-Mr Ruby Walsh; SP-20/1
3RD-Torduff Express 7-12-7 Owner-Two Plus Two; Trainer-Paul Nicholls; Jockey-Mr Joe Tizzard; SP-7/1
24 ran, Time-8m 21.1s, Dist-16, 7 100/30 Fav Farfadet V (BD)
1997-WINNER-FLIMSY TRUTH 11-12-07 Owner-Martin Weston; Trainer-Martin Weston; Jockey-Mr Mike Harris; SP-33/1
2ND-Vol Par Nuit 6-12-04 Owner-D O McIntyre; Trainer-Francois Doumen FR; Jockey-Mr Thierry Doumen;SP-13/2
3RD-Robsand 8-12-00 Owner-Sir Brian McGrath; Trainer-Toby Balding; Jockey-Mr Andrew Balding; SP-9/1
23 ran, Time-8m 11.09s, Dist-1.25, 27 6/1 Fav Random Harvest (PU)
1996-WINNER-LOVING AROUND 8-11-13 Owner-Lord Tavistock; Trainer-Edward O'Grady IRE; Jockey-Mr Philip Fenton; SP-10/1
2ND-Fellow Countryman 9-12-07 Owner-A D Wardall; Trainer-Kim Bailey; Jockey-Mr Marcus Armytage; SP-10/1
3RD-Class of Ninetytwo 7-12-07 Owner-Lord Cadogan; Trainer-Tim Forster; Jockey-Mr Jim Culloty; SP-3/1 Fav
22 ran, Time-8m 34.7s, Dist-13, 6
1995-WINNER-FRONT LINE 8-12-07 Owner-J P McManus; Trainer-Jonjo O'Neill; Jockey-Mr John Berry; SP-7/1
2ND-Keano 6-12-00 Owner-Midavon Partnership; Trainer-Philip Hobbs; Jockey-Mr Sean Mulcaire; SP-8/1
3RD-Lacken Cross 7-12-04 Owner-John J Howlett; Trainer-Aidan O'Brien IRE; Jockey-Mr Henry Cleary; SP-7/1
25 ran, Time-8m 55.5s, Dist-dist, 7 13/2 Fav Extra Special (PU)
1994-WINNER-CHRISTMAS GORSE 8-12-04 Owner-David Stoddart; Trainer-Nick Gaselee; Jockey-Mr Marcus Armytage; SP-14/1
2ND-Extra Special 9-12-00 Owner-Robert Ogden; Trainer-Gordon Richards; Jockey-Capt Adam Ogden; SP-25/1
3RD-Nearly Splendid 9-12-04 Owner & Trainer-Roy Stevens; Jockey-Mr Tom Greed; SP-14/1
19 ran Time-8m 36.8s, Dist-3.5, 4 11/4 Fav Front Line (PU)
NATIONAL HUNT CHASE CHALLENGE CUP (AMATEUR RIDERS)
ROLL OF HONOUR
Year Winner Age/Wt Jockey Trainer Owner SP Ran

2009 Tricky Trickster 6-11-11 Mr Sam Waley-Cohen Nigel Twiston-Davies Million In Mind Partnership 11/1 19
2008 Old Benny 7-11-07 Mr Charlie Huxley Alan King Trevor Hemmings 9/1 20
2007 Butler's Cabin 7-12-00 Mr Alan Berry Jonjo O'Neill J P McManus 33/1 19
2006 Hot Weld 7-11-11 Mr Richard Harding Ferdy Murphy S Hubbard Rodwell 33/1 22
2005 Another Rum 7-11-07 Mr Mark O'Hare Ian Duncan IRE Ronald Lilley 40/1 20
2004 Native Emperor 8-11-11 Mr Robert Widger Jonjo O'Neill J C, J R & S R Hitchins 5/1JF 22
2003 Sudden Shock 8-11-07 Mr Denis Cullen Jonjo O'Neill Darren Mercer 25/1 24
2002 Rith Dubh 10-11-11 Mr J T McNamara Jonjo O'Neill J P McManus 10/1 26
2001 No Race (Foot and Mouth)
2000 Relaxation 8-12-00 Mr Mark Bradburne Henry Daly Sir Philip Payne-Gallwey/Vicky Wiggin 8/1 21
1999 Deejaydee 7-12-00 Mr Tony Martin Michael Hourigan IRE Mrs M Devine 13/2 21
1998 Wandering Light 9-12-07 Mr Rupert Wakley Tim Forster Anne Duchess of Westminster 10/1 24
1997 Flimsy Truth 11-12-07 Mr Micky Harris Martin Weston Martin Weston 33/1 23
1996 Loving Around 5-11-06 Mr Philip Fenton Edward O'Grady IRE Lord Tavistock 10/1 22
1995 Front Line 8-12-07 Mr John Berry Jonjo O'Neill J P McManus 7/1 25
1994 Christmas Gorse 8-12-04 Mr Marcus Armytage Nick Gaselee David Stoddart 14/1 19
1993 Ushers Island 7-12-04 Mr Noel Wilson Howard Johnson Bob Bowden 15/2 13
1992 Keep Talking 7-12-07 Mr Marcus Armytage Tim Thomson Jones Jim Joel 5/2F 24
1991 Smooth Escort 7-12-00 Mr Tony Martin Di Haine A F Budge (Equine) Ltd 7/1 18
1990 Topsham Bay 7-12-00 Mr Paul Hacking David Barons Michael Marsh 40/1 25
1989 Boraceva 6-12-07 Mr Seamus Mullins Toby Balding Duke of Atholl 4/1F 21
1988 Over The Road 7-12-04 Mr Tom Costello Terry Casey John Upson 10/1 28
1987 Mighty Mark 8-12-07 Mr Jimmy Walton Frank Walton Frank Walton 8/1 30
1986 Omerta 6-12-07 Mr Lorcan Wyer Homer Scott IRE Mrs J McMorrow 9/4F 22
1985 Northern Bay 9-12-04 Mr Tony Fowler Tom Bill Twycross Frozen Food Centre Ltd 12/1 20
1984 Macks Friendly 7-12-07 Mr Willie Mullins Paddy Mullins IRE John Mulhern 11/4 18
1983 Bit Of A Skite 7-12-00 Mr Frank Codd Edward O'Grady IRE J P McManus 5/1F 29
1982 Hazy Dawn 7-12-07 Mr Willie Mullins Paddy Mullins IRE R Daniels 8/1 26
1981 Lucky Vane 6-12-07 Mr Stephen Bush Toby Balding Bridget Swire 13/1 21
1980 Waggoners Walk 11-12-04 Mr Tony Fowler Caroline Mason George Mason 10/1 23
1979 Artic Ale 8-12-00 Mr John Fowler Dan Moore IRE Anthony Robinson 20/1 25
1978 Gay Tie 5-11-09 Mr John Fowler Mick O'Toole IRE Dr P Morrissey 10/1 17
1977 Alpenstock 10-12-04 Mr Dick Saunders Stan Mellor Harron Thompson 14/1 21
1976 Sage Merlin 8-12-07 Mr Peter Greenall Jack Hardy John Bingham 5/2F 22
1975 Abandoned (course waterlogged)
1974 Mr Midland 7-12-04 Mr Mouse Morris Edward O'Grady IRE B Naughton 7/2 17
1973 Foreman 7-12-01 Mr Bill Shand Kydd Tom Jones R Dean 11/2F 25
1972 Charley Winking 7-12-00 Mr Derrick Scott Leslie Scott Leslie Scott 20/1 23
1971 Deblin's Green 8-11-07 Mr Derek Edmunds George Yardley George Yardley 9/2F 20
1970 Domason 7-12-01 Mr Robert Alner Harry Dufosee Harry Dufosee 10/1 18
1969 Lizzy The Lizard 10-12-00 Mr Grant Cann Tony Hartnoll Tony Hartnoll 10/1 35
1968 Fascinating Forties 9-11-07 Mr Michael Dickinson George Owen Lord Leverhulme 9/1 22
1967 Master Tammy 9-11-07 Mr Brian Fanshawe George Guilding George Guilding 100/7 24
1966 Polaris Missile 7-11-09 Mr John Thorne John Thorne John Thorne 100/6 29
1965 Red Vale 11-12-00 Mr George Small Albert Piper Mrs C Smith 100/8 26
1964 Dorimont 10-12-01 Mr Charles Vaughan Tom Taaffe IRE M A Walshe 4/1 30
1963 Time 8-12-00 Mr Ian Balding Willie Stephenson John Cheatle 8/1 35
1962 Go Slow 7-12-07 Mr George Small Albert Piper Mrs I R Millar 10/1 26
1961 Superfine 8-12-04 Sir William Pigott-Brown Frank Cundell I Kerwood 10/1 33
1960 Proud Socks 8-12-00 Mr H Thompson Vivian Bishop Vivian Bishop 100/6 22
1959 Sabaria 8-12-00 Mr John Lawrence Bob Turnell Bob Turnell 5/2F 17
1958 Spud Tamson 7-12-04 Mr Geordie Dun Tommy Dun Mrs T D C Dun 13/2 28
1957 Kari Sou 8-12-00 Mr Alan Lillingston Archie Thomlinson Archie Thomlinson 100/6 24
1956 Rosana III 7-12-00 Mr G Everitt G Everitt G Everitt 9/1 22
1955 Reverend Prince 9-12-00 Mr C Pocock P Dufosee P Dufosee 33/1 26
1954 Quare Times 8-12-04 Mr Bunny Cox Vincent O'Brien IRE Mrs R Smyth 5/2F 26
1953 Pontage 7-12-04 Mr Bunny Cox Dan Moore IRE Lady Honor Svejdar 9/4F 22
1952 Frosty Knight 6-12-00 Mr Charles Straker Ian Straker Ian Straker 15/2 19
1951 Cushendun 6-12-04 Mr Peter Chisman Bobby Renton Lurline Brotherton 10/1 18
1950 Ellesmere 7-12-07 Mr Atty Corbett Ken Cundell Lord Bicester 100/30F 26
1949 Castledermot 7-12-07 Lord Mildmay Vincent O'Brien IRE Mrs Harry Keogh 6/4F 17
1948 Bruno II 8-12-03 Major Guy Cunard William Anstruther-Gray William Anstruther-Gray 20/1 37
1947 Maltese Wanderer 8-12-03 Major Dermot Daly Tom Yates G J Wells 6/1 20
1946 Prattler 11-12-03 Major Dermot Daly Tom Yates E Manner 33/1 20