cheltenham festival / 2010 news /
Game Copper Bleu Holds on for Jewson Honours
18/03/10
1 Copper Bleu 12/1
2 Othermix 50/1
3 The Midnight Club 16/1
20 ran
Copper Bleu


© racing-images.co.uk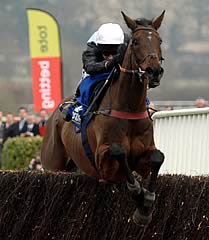 Copper Bleu gave trainer Philip Hobbs and jockey Richard Johnson a second success at the 2010 Festival when capturing the opening Jewson Novices' Handicap Chase. The pair had also teamed up to win Tuesday's Spinal Research Supreme Novices' Hurdle with Menorah.


"I thought Dickie was brilliant because the plan was to be handy but of course they went far too quick. The pace was tremendous and Dickie said he was virtually flat out the whole way," said Hobbs. "This is only his fourth run over fences and he has taken a few runs to gets his act together chasing. He jumped brilliantly all the way.


"But on his fourth in last season's Spinal Research Supreme Novices' Hurdle, you would have had to give him a chance today.


"We have also had another issue with him because he has developed a breathing problem over the last few months and that's why he had a tongue tie on today.

"There is a new 2m 5f handicap chase (the Betfair Novice Handicap Chase) at Punchestown and he could go for that.

"We thought we had one or two reasonable each-way chances going into the week and would have certainly settled for one winner so two is tremendous."

Johnson added: "We couldn't go much quicker than we did in the first half of the race but from the water jump they came back to us.

"He's a very genuine horse but just didn't totally know what to do."

Appropriately the winner is owned by Jewson's former chief executive Alan Peterson, who added: "People had doubts over his jumping but after his latest schooling session. This is a great victory for Philip and Sarah Hobbs and I thought Dickie gave him a fantastic ride."
Position

Horse
Trainer
Jockey
Weight
Starting Price
Beaten Distance
1

Copper Bleu
P J Hobbs
R Johnson
11st 1lbs
12 - 1
Winner
2

Othermix
T R George
P J Brennan
11st 0lbs
50 - 1
3 1/2 lengths
3

The Midnight Club
W P Mullins
Paul Townend
11st 1lbs
16 - 1
1/2 length
4

China Rock
M F Morris
N P Madden
11st 3lbs
9 - 1
3 3/4 lengths
5

Seven Is My Number
D Pipe
T J Murphy
11st 9lbs
25 - 1
8 lengths
6

Fiendish Flame
D McCain Jnr
J M Maguire
11st 4lbs
20 - 1
1/2 length
7

Rivaliste
P F Nicholls
R Walsh
10st 13lbs
6 - 1
2 1/4 lengths
8

Take The Breeze
P F Nicholls
Harry Skelton
11st 10lbs
33 - 1
1 1/2 length
9

King's Forest
Miss E C Lavelle
Jack Doyle
10st 11lbs
16 - 1
6 lengths
10

Dave's Dream
N J Henderson
B J Geraghty
11st 0lbs
10 - 1
22 lengths
11

Gansey
Mrs S J Smith
R McGrath
10st 13lbs
25 - 1
6 lengths
12

Working Title
N J Henderson
D Bass
10st 13lbs
33 - 1
1/2 length
Fell

Lenabane
D T Hughes
P W Flood
11st 6lbs
18 - 1

Fell

Jered
N Meade
A P McCoy
11st 4lbs
14 - 1

Fell

Door Boy
J Howard Johnson
Denis O'Regan
11st 1lbs
25 - 1

PulledUp

Nicanor
N Meade
P Carberry
11st 2lbs
14 - 1

PulledUp

The Hollinwell
Ferdy Murphy
G Lee
11st 0lbs
12 - 1

PulledUp

Awesome George
A King
Charlie Huxley
11st 2lbs
28 - 1

PulledUp

Tanks For That
N J Henderson
A Tinkler
10st 11lbs
22 - 1

UnseatedRider

Hey Big Spender
C L Tizzard
J Tizzard
11st 8lbs
8 - 1

50/1 OTHERMIX RUNS A BLINDER
Local Slad-base handler Tom George was understandably thrilled with the performance of 50/1 shot Othermix, the three and a half length runner-up in the Jewson Novices' Handicap Chase.

The six-year-old grey fought out the finish with eventual winner Copper Bleu and kept on gamely after being headed before the last
Tom George said: "He has run well and we are obviously all delighted. He is now starting to show the sort of form he had in France and is a horse that will keep on improving.

"He ran in blinkers for the first time today and they have just sharpened him up.
"We are only now getting him right and he could head to Aintree. He is an enormous horse and just coming to himself."
MIDNIGHT JOINS FESTIVAL'S PLACED CLUB
Trainer Willie Mullins has a totesport Gold Cup contender in Cooldine, and the wellbeing of his chasers was given a boost when The Midnight Club finished third in the Jewson Novices' Handicap Chase.

The nine-year-old, who was ridden by Cooldine's jockey Paul Townend, was just half a length behind runner-up Othermix, and Mullins said: "We're absolutely delighted with him. He was flat out from start to finish, jumped great and it was a credit to him that he was able to run a race like that on that sort of ground.

"It was a worry that it would be too quick for him, and ideally we would have liked a three-mile novices' handicap chase. The Jewson is only two miles five furlongs and there was nothing we could do about that."
The Midnight Club ran with ear plugs, and Mullins said: "He just gets a little upset before a race with all the crowds, but if it was a smaller meeting we wouldn't use them."
Joe Tizzard, who unseated from Hey Big Spender, said: "He had a bit of a guess at the fence. Shame, he was going really well."
Tony McCoy, whose mount Jered fell at the first, was initially attended by paramedics as he lay on the ground, but he was soon on his feet and walked into the weighing room.
JEWSON NOVICES' HANDICAP CHASE PAST RESULTS
2008-WINNER-FINGER ONTHE PULSE
2007-WINNER-L'ANTARTIQUE 7-10-11 Owner-Mary Durkan; Trainer-Ferdy Murphy; Jockey-Graham Lee; SP-20/1
2ND-Bob Hall 6-10-09 Owner-J P McManus; Trainer-Jonjo O'Neill; Jockey-Noel Fehily; SP-10/1
3RD-Wee Robbie 7-10-13 Owner-P H Betts (Holdings) Ltd; Trainer-Nick Gifford; Jockey-Leighton Aspell; SP-20/1
4TH-Rasharrow 8-10-10 Owner-Ashleybank Investments Limited; Trainer-Len Lungo; Jockey-Keith Mercer; SP-14/1
19 ran, Time-5m 10.70s, Dist-2, 2½, 4 7/2 Fav New Little Bric (7th)
2006-WINNER-REVEILLEZ 7-10-11 Owner-J P McManus; Trainer-James Fanshawe; Jockey-Tony McCoy; SP-9/2 Fav
2ND-Copsale Lad 9-11-00 Owner-Swallow Partnership; Trainer-Nicky Henderson; Jockey-Mick Fitzgerald; SP-8/1
3RD-Tumbling Dice 7-11-01 Owner-Mrs John Donegan; Trainer-Tom Taaffe IRE; Jockey-Barry Geraghty; SP-14/1
4TH-Direct Flight 8-10-04 Owner-Top Flight; Trainer-Noel Chance; Jockey-Paul Carberry; SP-25/1
18 ran, Time-5m 05.00s, Dist-1.25, 9, shd
2005-WINNER-KING HARALD 7-10-04 Owner-Piers Pottinger & PBJ Partnership; Trainer-Mark Bradstock; Jockey-Mattie Batchelor; SP-9/1
2ND-Lacdoudal 6-11-10 Owner-Carol Skan; Trainer-Philip Hobbs; Jockey-Richard Johnson; SP-12/1
3RD-See You Sometime 10-11-03 Owner-J A G Meaden; Trainer-Seamus Mullins; Jockey-Andrew Thornton; SP-12/1
4TH-Sir Oj 8-10-11 Owner-Brian Keenan; Trainer-Noel Meade IRE; Jockey-Paul Carberry; SP-18/1
19 ran, Time-5m 12.20s, Dist-12, 8, 2 8/1 Fav Captain Corelli (PU)
JEWSON NOVICES' HANDICAP CHASE ROLL OF HONOUR
(First running in 2005)
Year Winner Age/Wt Jockey Trainer Owner SP Ran
2009 Chapoturgeon
2008 Finger Onthe Pulse
2007 L'Antartique 7-10-11 Graham Lee Ferdy Murphy Mary Durkan 20/1 19
2006 Reveillez 7-10-11 Tony McCoy James Fanshawe J P McManus 9/2F 18
2005 King Harald 7-10-04 Mattie Batchelor Mark Bradstock Piers Pottinger & P B-J Partnership 9/1 19