cheltenham festival / 2010 news /
Berties Dream On Cloud Nine at 33-1
19/03/10
1 Berties Dream 33/1
2 Najaf 25/1
3 Kennel Hill 66/1
19 ran
Bertie's Dream


© racing-images.co.uk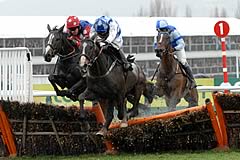 An ecstatic Paul Gilligan enjoyed Festival success with his first runner when Bertie's Dream galloped clear of Najaf on the run-in to take the Albert Bartlett Novices' Hurdle.


The winner was Andrew Lynch's second winner of the meeting, and rewarded his backers at 33-1 - from the scenes of jubilation it seems likely members of the Half A Keg Syndicate who own him had availed themselves of bookmakers' cash.


Paddy Power gave Bertie's Dream a 33-1 quote for next year's Ladbrokes World Hurdle, but Gilligan was living for the day, and said: "I'm speechless and cannot believe it. We really did think he would run well, but Cheltenham is Cheltenham and you don't come here thinking you are going to win.


"I did fancy him because the horses are flying at home and we were unlucky not to have a double last Sunday. Things had kicked into gear and to have a winner here - money can't buy it.


"The rain didn't matter to him because he goes on any ground. Good horses go on any ground and he's a good horse. He never runs a bad race and ran a super race here in November [when third to Tell Massini who was pulled up in today's race] and was just behind Reve De Sivola who ran a good race here earlier this week [second in the Neptune Investment Management Novice's Hurdle].


"AP rode him that day and he felt that without another 50 yards he would have been second.


"I don't know whether he'll run again this season, I just want to enjoy today."
Position

Horse
Trainer
Jockey
Weight
Starting Price
Beaten Distance
1

Berties Dream
P J Gilligan
A E Lynch
11st 7lbs
33 - 1
Winner
2

Najaf
P F Nicholls
T J Murphy
11st 7lbs
25 - 1
6 lengths
3

Kennel Hill
W K Goldsworthy
J M Maguire
11st 7lbs
66 - 1
8 lengths
4

Arvika Ligeonniere
W P Mullins
D J Condon
11st 7lbs
28 - 1
13 lengths
5

Possol
H D Daly
R Johnson
11st 7lbs
28 - 1
7 lengths
6

Quel Esprit
W P Mullins
R Walsh
11st 7lbs
11 - 2
4 lengths
7

Silver Kate
D M Richards
A Coleman
11st 0lbs
14 - 1
5 lengths
8

Premier Victory
T Hogan
J Cullen
11st 0lbs
33 - 1
18 lengths
9

Chartreux
D Pipe
T Scudamore
11st 7lbs
28 - 1
22 lengths
10

Watamu Bay
C J Mann
D Jacob
11st 7lbs
66 - 1
5 lengths
na

The Betchworth Kid
A King
R Thornton
11st 7lbs
16 - 1

na

Cappa Bleu
Evan Williams
Paul Moloney
11st 7lbs
18 - 1

na

The Hurl
M F Morris
A P McCoy
11st 7lbs
25 - 1

na

Restless Harry
R Dickin
H Oliver
11st 7lbs
8 - 1

na

Bostons Angel
Mrs J Harrington
R M Power
11st 7lbs
50 - 1

na

Enterprise Park
W P Mullins
Paul Townend
11st 7lbs
11 - 1

na

Fionnegas
W P Mullins
D J Casey
11st 7lbs
16 - 1

na

Shinrock Paddy
P Nolan
A P Cawley
11st 7lbs
8 - 1

na

Tell Massini
T R George
P J Brennan
11st 7lbs
10 - 3

Non Runner

Wayward Prince
Ian Williams
D C Costello
11st 7lbs


BERTIES FULFILS ULTIMATE DREAM FOR DUBLIN SYNDICATE
Victory at the Cheltenham Festival was a dream come true for the members of the Half A Keg Syndicate from Dublin, which is run by Conor Broderick, who named the horse after his late father.

The delighted co-owner of Berties Dream said: "This is our first horse with Paul (Gilligan). We bought him the April before last - he didn't even have a shoe on him, he was straight from the field.

"I named him after my father, Bertie Broderick. He died three days after we bought the horse. When I told him I'd bought him, he said, 'I always dreamed you'd own a racehorse'."
For jockey Andrew Lynch, Berties Dream's victory gave him yet more reason for celebration as the young jockey also won the Irish Independent Arkle Chase on Sizing Europe on Tuesday.

He said: "All he does is stay. He's won over shorter trips in Ireland but on heavier ground. Coming down the hill I thought we had a chance. We just missed the last a bit. I couldn't believe it really. I've been lucky to be on two really genuine horses.

"I'm delighted for the lads who own him, they've all come over from Dublin."

NICHOLLS LOOKS FORWARD TO CHASING WITH NAJAF
Paul Nicholls was delighted with the effort of Najaf to finish second to Berties Dream in the Albert Bartlett Novices' Hurdle and the seven-year-old will not be seen out again this season.

"He'll be going chasing in the autumn, that was what he was bought for and he won't run again this season. I was delighted with his run there," said Nicholls.

Najaf was bought for 250,000 euros at Arqana's sale at Saint-Cloud in November by Highflyer Bloodstock and is owned jointly by the families of leading owners David Johnson and Andy Stewart.

Fourth-placed Arvika Ligeonniere is also set for a chasing career.

"He's still a big raw horse and I was delighted with that run, especially as a five-year-old," said trainer Willie Mullins. "He's going to improve a lot and go chasing next year but if the weather breaks at home we might go to Punchestown."
DOGGED KENNEL HILL TAKES THIRD
Kennel Hill, trained by Keith Goldsworthy, claimed third place in the Albert Bartlett Novices' Hurdle. Though Robin Dickin's Restless Harry, who fell at the last when he was ahead of Kennel Hill, was clearly unlucky, Goldsworthy thought his horse may have got up anyway.

"He was still galloping all the time. He was closing them down and looked like he was going into a place anyway," said the trainer.

"He's an experienced novice, he's entitled to be galloping on at the end because he's a bit more mature and he's kept on to the line. He travelled well but he never looks like he's doing anything, does he?" he added.

The horse had started at 66/1, but the trainer had taken 200/1 this morning. "His reputation said, 'Be Careful', but the price was ridiculous. Bit if it was all about favourites, we wouldn't bother, would we?" he said.

"If we could get him to win a little maiden now that may put his confidence up," said Goldsworthy.

Kennel Hill, who has form on both good to firm and heavy ground, was unaffected by the going, but jockey Jason Maguire said he felt that the rain was getting into the ground.

Goldsworthy thought that it was still quick enough though: "But there's not much grass out there. With the rain on it, there's a bit of slap in the ground. There's no cushion."
PREVIOUS RESULTS

2009-WINNER-WEAPON'S AMNESTY
2008-WINNER-NENUPHAR COLLONGES 7-11-07 Owner-Top Brass Partnership; Trainer-Alan King; Jockey-Robert Thornton; SP-9/1
2ND-Liskennett 5-11-00 Owner- Patrick Pierce; Trainer-Charles Byrnes IRE; Jockey-Niall Madden; SP-16/1
3RD-The Tother One 7-11-07 Owner-Graham Roach; Trainer-Paul Nicholls; Jockey-Sam Thomas; SP-9/2 Jt Fav
18 ran, Time-6m 0.20s; Dist-2¾, ½ 9/2 Jt Fav Carruthers (11th)
2007-WINNER-WICHITA LINEMAN 6-11-07 Owner-J P McManus; Trainer-Jonjo O'Neill; Jockey-Tony McCoy; SP-11/8 Fav
2ND-Air Force One 5-11-07 Owner-Brian Walsh (Co Kildare); Trainer-Charlie Mann; Jockey-Noel Fehily; SP-25/1
3RD-Itsa Legend 8-11-07 Owner-The We're A Legend Partnership; Trainer-The We're A Legend Partnership; SP-100/1
20 ran Time-5m 43.60s; Dist-12, 6
2006-WINNER-BLACK JACK KETCHUM 7-11-07 Owner-Gay Smith; Trainer-Jonjo O'Neill; Jockey-Tony McCoy; SP-Evens Fav
2ND-Powerstation 6-11-07 Owner-Fat Frog Syndicate; Trainer-Charles Byrnes IRE; Jockey-Davy Russell; SP-9/1
3RD-Travino 7-11-07 Owner-P Kilroy; Trainer-Mags Mullins IRE; Jockey-Barry Geraghty 6/1
19 ran Time-5m 43.6s; Dist-12,6
2005-WINNER-MOULIN RICHE 4-11-00 Owner-Elite Racing Club; Trainer-Alan King; Jockey-Robert Thornton; SP-9/1
2ND-Faasel 4-11-00 Owner-Jim Ennis; Trainer-Nicky Richards; Jockey-Tony Dobbin; SP-7/1
3RD-Akilak 4-11-00 Owner-Andrea & Graham Wylie; Trainer-Howard Johnson; Jockey-Graham Lee; SP-7/2 Fav
23 ran. Time-4m 3.60s; Dist-hd, 8
FACTS AND FIGURES ALBERT BARTLETT NOVICES' HURDLE
1. The Albert Bartlett Novices' Hurdle was added to The Festival in 2005 and provides a valuable opportunity for staying novice hurdlers as it is run over three miles. Initially sponsored by Brit Insurance, it was backed by Albert Bartlett for the first time in 2008, coinciding with its upgrade to Grade One status.
2. The inaugural running went to Moulin Riche, trained by Francois Doumen in France and partnered to success by Robert Thornton. Thornton enjoyed a second success aboard the Alan King-trained Nenuphar Collonges in 2008.
3. Trainer Jonjo O'Neill and jockey Tony McCoy have combined to take the two of the last three runnings with impressive winners – Wichita Lineman, who scored by 12 lengths in 2007, and Black Jack Ketchum, a nine-length winner in 2006. Both started favourite.