cheltenham festival / 2010 news /
Venetia Williams is Winner of Cheltenham Ladies' Award
12/03/10
Venetia Williams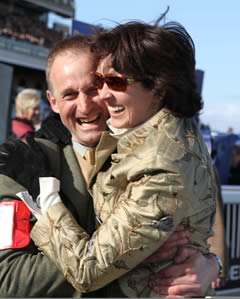 Cheltenham Racecourse today announced that Venetia Williams is the winner of this year's award for 'The Outstanding Contribution made by a Lady to Jump Racing'.
Venetia won the John Smith's Grand National in 2009 with Mon Mome and in the same year added two more victories at The Festival at Cheltenham to her impressive CV.
The panel of judges, made up of several female professionals from different sides of the racing industry, had a tough job finding a winner, but Venetia emerged victorious in an incredibly tight vote. Others on the shortlist were Joan Moore, Jessica Harrington, Sally Alner, Clare Balding and equine therapist Belinda Cullen.
Commenting on the news, Edward Gillespie, Managing Director of Cheltenham, declared: "I am delighted that after a stellar year in a wonderful career Venetia Williams has been recognised in this way.
"The victory of Mon Mome in last year's Grand National did as much as anything in the last 12 months to highlight the contribution that women make to the wonderful sport of Jump racing and it would be fitting if Venetia was able to add to her Festival tally next week."
Venetia Williams said: "I'm honoured to have been chosen to receive this award, which owes much to the fantastic team that I work with at home and the loyal owners who have supported me over the years since I began training."
The award will be presented in a ceremony before racing on Ladies Day, Thursday, March 18, in the winner's enclosure at Cheltenham Racecourse.
Cheltenham Announces Shortlist for Ladies' Award
09/03/10
Cheltenham Racecourse today announced the six names that form the shortlist for its award recognising "the outstanding contribution made by a Lady to Jump Racing". A large number of nominations were received from members of the public, and those shortlisted include women involved in racing in a host of different ways.
The six names in the frame are: Venetia Williams, Sally Alner and Jessica Harrington, representing the ranks of trainers, Belinda Cullen, an equine physiotherapist who has overcome almost 20 years of pain from a racing injury to continue her successful career, Joan Moore, a towering presence in Jump racing in Ireland for decades and Clare Balding, the award-winning broadcaster and journalist.
The winner is being decided by an all female panel of racing professionals and will be announced on Friday, March 12. The successful lady will then be presented with her award at The Festival on Thursday, March 18, the date of Cheltenham's Ladies' Day.
Commenting on the shortlist, Edward Gillespie, Managing Director of Cheltenham Racecourse, said: "Cheltenham is proud of this award, which is one of the main parts of Ladies' Day at The Festival.
"We were delighted to receive so many nominations covering a wide cross-section of the industry and the make up of the final six sums up the hugely significant contribution ladies make across the whole spectrum of Jump Racing. The judges do not face an easy task!"
Previous winners include Heather Atkinson, who has been the senior nurse in the jockeys' hospital at the racecourse for over 30 years, Lady Chicky Oaksey, from the Injured Jockeys Fund, Ann Saunders from the Professional Jockeys Association and Nina Carberry, leading female Jump Jockey.
The Outstanding Contribution made by a Lady to Jump Racing
2010 Award Nominees
Sally Alner, long-time ace point-to-point trainer and wife of Cheltenham Gold Cup-winning handler Robert Alner is almost certainly one of the most popular and best loved people in Jump racing. Her 'promotion' to joint holder of the couple's training licence reflects the fact that Robert is now confined to a wheelchair following his serious road accident two and a half years ago. However, no-one who knows anything about the set-up at Locketts Farm in deepest Dorset is in any doubt that the couple were equal partners in every sense for many years prior to the change of name on the licence. Up to 50 examples of 'proper jumping stock' are taught their job by Sally, Robert and the team, with the skill and patience that has produced a string of top steeplechasers – the ultimate aim for almost every horse in the yard. Cool Dawn's totesport Cheltenham Gold Cup win in 1998, after having graduated from point-to-points was a classic example of the way that they operate. Sally Alner shuns the limelight and is not particularly fond of having her photograph taken, but the way she has handled the adversity of the last year or so, combining her incredible appetite for hard work with the changes to the daily routine brought about by Robert's injury has endeared her to Jump racing fans everywhere, but surprised no-one who knows her well. When Miko de Beauchene won the Coral Welsh National in December, 2007, the emotional scenes in the winner's enclosure summed up what a proper Jump racing family means to a generation or two of Jump racing enthusiasts and she would be a deserving recipient of the outstanding contribution award this year.
Clare Balding
One of the BBC's main sports presenters, Clare fronts all of its live televised racing coverage, including the Grand National from Aintree, which secures the biggest TV audience for racing every year. Clare has also anchored BBC 5 Live's award winning radio coverage of The Festival at Cheltenham for many years. From a family steeped in racing, Clare's enthusiasm for the sport is apparent to anyone who watches or listens to her. The fact that she hosts many other sports, including the Olympic Games and Winter Olympic Games, whilst still being known as a racing presenter, reflects well on our sport and encourages people who would not normally relate to Jump racing to take a look at it. Clare has been part of BAFTA award winning coverage for a decade and can turn her hand to rugby league, three-day-eventing, show-jumping, swimming, golf, tennis, bowls or darts. Clare, a Cambridge graduate, was elected President of the Union in 1992. She was a good all-rounder in sport, and was champion lady rider in 1990 and leading amateur flat jockey in 1989 and 1990. Clare was honoured with the Horse Writers and Photographers Association (HWPA) Racing Journalist of the Year Award in 2003, and in 2004 she won both the HWPA Sir Peter O'Sullevan Broadcaster of the Year award and the prestigious Royal Television Society Sports Presenter of the Year award. In 2009, she was praised for "perfect presentation" by the judges of the Broadcast Awards who named the Grand National 2008 as their sports programme of the year.

Venetia Williams always knew that her life was going to revolve around horses. After briefly considering a career as a show jumper she has dedicated her life to Jump racing. One of the first ladies to ride in the John Smiths Grand National, Venetia spent time as assistant trainer to John Edwards and Martin Pipe as well as a spell with Barry Hills, and in 1995 she set up on her own with less than a dozen horses in beautiful countryside close to the River Wye in rural Herefordshire. From relatively humble beginnings she now has 100 boxes with a strike rate which is the envy of most other trainers. Williams has trained the winners of scores of big races, including the Hennessy Cognac Gold Cup, the King George VI Chase, the Paddy Power Gold Cup, the Coral Welsh National and five Cheltenham Festival races, including two in 2009. Until April last year, she was probably best known for her superb handling of the tiny but gallant mare Lady Rebecca, who lit up Jump racing for five years, but that all changed when Mon Mome galloped clear of the Grand National field for a famous victory at 100/1, elevating his trainer to international prominence. Venetia Williams has been the top female Jumps trainer for a number of years and is quite clearly one of the leading ladies of Jump racing. Her successes last spring have done as much as anything in the last 12 months to highlight the role of women in Jump racing.
Joan Moore is an icon of Jump racing in Ireland, with her influence spreading through the generations, including to her granddaughter Nina Carberry, winner of this award last year. Joan was a huge part of the team which produced 14 Festival winners when the licence was held by her husband Dan and included the great L'Escargot, winner of the Cheltenham Gold Cup in 1970 and 1971. In the latter years of her husband's life, when he was battling serious illness, she supervised the training of a team that included Tied Cottage. Joan Moore made history by becoming the first woman to become a steward of the Irish National Hunt Steeplechase Committee, of which she had been an active member for many years, and was also an energetic, enthusiastic and resourceful manager of Punchestown racecourse. Her own achievements alone would easily qualify her to be on any shortlist for an award such as this, but the success of her family adds further weight to her case. Joan raised two influential children – trainer Arthur, himself a legend of Jump racing and daughter Pamela, who married Tommy Carberry, giving us Paul, Philip and Nina, three of the brightest riding talents around. By any measure, Joan has made an outstanding contribution to Jump racing.
Belinda Cullen is someone who has devoted her life to horses in the most difficult of circumstances. The accident that terminated her fledgling career as an amateur jockey and dramatically affected the remainder of her life, came at a point-to-point at Larkhill on Salisbury Plain. On the same day, around the same time, Rhyme 'n' Reason was winning the 1988 Grand National. At the point-to-point, she was leading the field and look set for her fourth win when the horse did a U-turn and galloped headlong into the pack. The injury was initially misdiagnosed as a sprained ankle. She was allowed home from hospital that evening, but Belinda's agony intensified, and 48 hours after the fall she underwent surgery. She was then in plaster for two years and eventually her body became impervious to the most potent painkillers. After 18 years and countless operations, her left leg was amputated below the knee. Over that period of almost two decades she had continued her profession as an equine massage therapist. Clients included Oliver Sherwood, Peter Makin, Jonathan Geake, the Headley Stud and many three-day event trainers. In 2006, Oliver and Tarnya Sherwood organised a charity race for her at Chepstow. At around the same time, the couple mentioned Belinda's plight to the Injured Jockeys Fund chief executive Jeremy Richardson, and that admirable organisation quickly came to her aid, removing the worst of her financial worries, but also giving her a vital support network. Funding was arranged too, for a variety of prostheses to assist Belinda in living a near normal, pain-free life. A life that now sees her back on a horse, doing dressage and working full-time, to the delight of her many friends and clients in the world of Jump racing.
Jessica Harrington, the universally popular Irish racehorse trainer, will forever be associated with Moscow Flyer, one of the greatest two-mile steeplechasers in the history of the sport. A former world class three-day event rider, Jessica's first top class horse was Space Trucker, who won 15 races between 1995 and 2002. His most memorable victory came in the Grand Annual Handicap Chase at the 1999 Cheltenham Festival, where he landed a substantial gamble on the day. Spirit Leader proved to be another lucrative performer for the yard, with a great season culminating in victory in the 2003 Vincent O'Brien County Hurdle and Jessica also enjoyed success with Cork All Star in the 2007 Weatherbys Bumper at The Festival. Moscow Flyer was a leading hurdler, but really came into his own when sent over fences. In his first season he won the Irish Independent Arkle Chase of 2002 and progressed to win the Queen Mother Champion Chase of 2003. Unseating jockey Barry Geraghty in the 2004 renewal of that race, he made amends in 2005, sparking a reception rarely seen at Cheltenham. His final win was in a charity Flat race at the 2007 Punchestown Festival, ridden by Jessica's daughter, following which there was not a dry eye in the house! In total, he won 27 of his 45 starts including 13 wins at Grade One level and over £1,000,000 in prize money. Approachable, affable and always one to treat both winning and losing with huge dignity, Jessica Harrington is one of the legends of modern Jump Racing and a worthy nominee for this special award.