Kauto Star Aiming to Join Racing Immortals
15/01/10
After becoming the first horse ever to regain chasing's Blue Riband last season, Kauto Star will bid to emulate Golden Miller, Cottage Rake, Arkle and Best Mate with a third victory in the £475,000 Grade One totesport Cheltenham Gold Cup.
Kauto Star
© racing-images.co.uk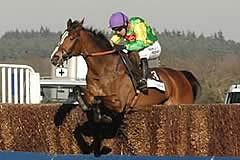 A total of 27 horses have been entered for the extended three and a quarter-mile chase, highlight of the fourth day of The Festival on Friday, March 19. This is the smallest number in recent times but compares favourably with the level of entries in 1964, 1965 and 1966 – 14, 13 and 18 – when Arkle won his three Gold Cups.
The Paul Nicholls-trained 10-year-old has looked better than ever this season and produced an imperious display of jumping on his latest start, beating Madison Du Berlais by a record 36 lengths in the Grade One King George VI Chase at Kempton – his fourth successive victory in the Boxing Day showpiece.
Denman
© racing-images.co.uk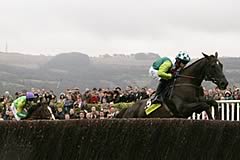 His chief rival this season looks once again to be stable-companion Denman, who had his rival seven lengths in arrears when winning the 2008 totesport Cheltenham Gold Cup and took the runner-up spot in last year's contest after an interrupted preparation. On his only appearance so far this season, the 10-year produced one of the great weight-carrying performances of modern times to land the Grade Three Hennessy Gold Cup at Newbury in November.
A strong hand for the champion trainer, bidding to become the first handler to win four successive totesport Cheltenham Gold Cups since Basil Briscoe (1932-35), may also include the Hennessy Gold Cup runner-up What A Friend, who has gone on to Grade One success in the Lexus Chase at Leopardstown for part-owner Sir Alex Ferguson.
Imperial Commander
© racing-images.co.uk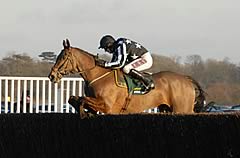 Other notable contenders include Imperial Commander, who took the Grade One Ryanair Chase at The Festival last season and went down by a nose to Kauto Star in the Grade One Betfair Chase at Haydock Park in November. A potential Irish challenge of eight is headed by the Willie Mullins-trained pair of Cooldine, successful in last season's Grade One RSA Chase, and the unexposed Glencove Marina.
Trainer Mark Bradstock is considering letting his star chaser Carrurthers take on the very best at Cheltenham on Friday, March 19. The seven-year-old finished fourth in the RSA Chase at The Festival in 2009 and was a comfortable winner on his latest start at Newbury last month.
Bradstock revealed: "There are obviously Kauto Star and Denman, who are both fairly exceptional but, below that, it would be nice to think that we would be in with a shout of making the frame.
"I was over the moon with his run at Newbury because it cemented what he did in his novice season. The time was quicker than the Long Walk Hurdle on the same card so, while they didn't appear to be going very fast, they must have been going a fair lick.
"He has come out of that race incredibly well but we have been held up by the weather and I would like to get another run into him before making any final decision regarding Cheltenham. We could go for the AON Chase at Newbury, where he would have to take on Denman, so the alternative could be the Letheby & Christopher Chase at Cheltenham on Festival Trials Day (Saturday, January 30).
"He is still a baby and he probably lacks a bit of experience at the moment but he is improving all of the time and we have plenty to look forward to with him. It would be fun to go for the totesport Cheltenham Gold Cup and it would certainly be no disgrace to finish behind the likes of Kauto Star and Denman."
THE totesport CHELTENHAM GOLD CUP
Class 1, Grade 1, £475,000 Total Prize Fund. 3.20pm, Cheltenham, Friday, March 19, 2010. For 5yo+ which are allotted a rating of 130 or more by the BHA Head of Handicapping following a review of the horses entered and after taking account of races run up to and including March 12 - horses which are not qualified for a rating in GB, IRE or FR may also be entered & such horses may be eligible providing the Handicapper is satisfied that the horse's racecourse performances up to and including March 12 would merit a minimum rating of 130 (the decision of the BHA Head of Handicapping shall be final), three miles, two and a half furlongs. Weights: 5yo 11st 9lb, 6yo+ 11st 10lb. Allowances: mares 7lb. Entries closed January 12, entries revealed January 13 (27 entries), scratchings deadline February 16, £23,750 supplementary entry stage & six-day confirmation stage March 13. Final 48-hour declaration stage, 10.00am, March 17. Form figures supplied by Weatherbys and are correct up to and including the racing of Tuesday, January 12.
Form Horse Age Owner Trainer
22506-P AIR FORCE ONE (GER) 8 Brian Walsh (Co Kildare) Charlie Mann
03-P136 ALBERTAS RUN (IRE) 9 Trevor Hemmings Jonjo O'Neill
15//11-FP ARAN CONCERTO (IRE) 9 John Corr Noel Meade IRE
204-P01 CALGARY BAY (IRE) 7 Camilla Radford Henrietta Knight
2114-51 CARRUTHERS 7 The Oaksey Partnership Mark Bradstock
P15P-14 CASEY JONES (IRE) 9 Gillian Burke Noel Meade IRE
50PP/05- CERIUM (FR) 9 Judith Wilson Paul Murphy
431FU-3 CLOUDY LANE 10 Trevor Hemmings Donald McCain Jnr
1311-4P COOLDINE (IRE) 8 Violet O'Leary Willie Mullins IRE
11/22F-1 DENMAN (IRE) 10 Paul Barber & Maggie Findlay Paul Nicholls
1/0411/-3 GLENCOVE MARINA (IRE) 8 John Brennan Willie Mullins IRE
161-P25 IMPERIAL COMMANDER (IRE) 9 Our Friends in the North Nigel Twiston-Davies
13/4/-12P IN COMPLIANCE (IRE) 10 Mrs B Mulryan/Mrs Noeleen Mccreevy Dessie Hughes IRE
1U11-11 KAUTO STAR (FR) 10 Clive Smith Paul Nicholls
1101-32 MADISON DU BERLAIS (FR) 9 Roger Stanley & Yvonne Reynolds II David Pipe
2001-P3 MON MOME (FR) 10 Vida Bingham Venetia Williams
F21-112 MONEY TRIX (IRE) 10 Craig Bennett Nicky Richards
6P/6220- MR POINTMENT (IRE) 11 Judith Wilson Paul Murphy
553-205 MY WILL (FR) 10 The Stewart Family Paul Nicholls
12-1F54 NOTRE PERE (FR) 9 Tillie Conway Jim Dreaper IRE
31414-1 RARE BOB (IRE) 8 D A Syndicate Dessie Hughes IRE
3P6-454 ROLL ALONG (IRE) 10 Bryan & Philippa Burrough Nigel Twiston-Davies
32-2245 SCHINDLERS HUNT (IRE) 10 Slaneyville Syndicate Dessie Hughes IRE
112/14P/- TARANIS (FR) 9 Angela Yeoman Paul Nicholls
1/1///P6-4 TRABOLGAN (IRE) 12 Trevor Hemmings Nicky Henderson
422121- TRICKY TRICKSTER (IRE) 7 Chris Giles Paul Nicholls
1161-21 WHAT A FRIEND 7 Ged Mason & Sir Alex Ferguson Paul Nicholls
27 Entries
8 Irish-trained
Latest totesport prices -
5/4 Kauto Star, 15/8 Denman, 16/1 Cooldine, Imperial Commander, 20/1 What A Friend, 33/1 Carruthers, Glencove Marina, Madison Du Berlais, Money Trix, Notre Pere, 40/1 Casey Jones, 50/1 Albertas Run, Tricky Trickster, 66/1 In Compliance, Rare Bob, Schindlers Hunt, 100/1 Air Force One, Aran Concerto, Calgary Bay, Mon Mome, My Will, Roll Along, Taranis, Trabolgan, 200/1 Cerium, Cloudy Lane, Mr Pointment
[more]