cheltenham festival / 2009 news /
Kauto Star The Comeback King
13/03/09
Kauto Star
© racing-images.co.uk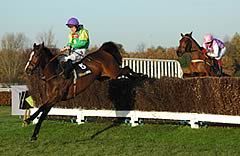 For Muhammad Ali, regaining titles was like shelling peas. Boxing is the great comeback sport, after all. In motor racing, it comes with the territory too, as Jim Clark (one comeback) and Jackie Stewart (two comebacks) found. In golf and tennis, hardly a day passes without somebody somewhere regaining something. But in National Hunt racing, regaining a title (as opposed to retaining one) has proved fearsomely difficult.
Okay, Red Rum did it in the Grand National; retained his title in 1974, then regained it three years later. But Red Rum was different gravy, and you have to go back to 1871 and The Lamb to find another horse to make a similar comeback.
In the totesport Cheltenham Gold Cup, it had not happened until Kauto Star managed it in style today - the first time in 85 runnings.
Kauto Star won his initial totesport Cheltenham Gold Cup two years ago and last year was second to his stablemate Denman in one of the classic confrontations. He was the comeback king today by 13 lengths.
Plenty have retained the crown - Best Mate (twice), L'Escargot (once), Arkle (twice), Cottage Rake (twice), Golden Miller (four) - but none before had regained it.
The closest previously in the last 50 years, in terms of placing, was Mill House, who was second to Arkle in 1965. Mill House had won the Gold Cup in 1963, was beaten into second the following year (five lengths adrift). In 1965, though, Mill House was 20 lengths behind an imperious Arkle. So, if we are going to be pedantic (and why waste an opportunity?) that doesn't make Mill House the closest to regaining the crown.
In 1991, the redoubtable Desert Orchid was third in his attempt to regain the crown he had won in 1989, but was closer than Mill House, being just 15 lengths behind the winner, Garrison Savannah. Back in 1973, L'Escargot was even nearer to regaining the title he had won in 1970 and 1971, the Dan Moore-trained horse finishing fourth, just over 11 lengths behind The Dikler.
The horse that has come closest though (and it takes us full circle) is See More Business, who gave trainer Paul Nicholls his first Gold Cup win in 1999. The following year the horse came close to retaining his title, finishing a six-length fourth to Looks Like Trouble, but was then denied a first attempt to regain the title by the cancellation of The Festival in 2001 due to the outbreak of foot and mouth. Despite the advancing years (he was now 12) See More Business returned to The Festival in 2002 and proved that age is no obstacle in finishing third, just nine and three-quarter lengths behind Best Mate.