43 for Christie's Foxhunter Chase Challenge Cup
03/03/09
The final piece of the jigsaw ahead of The Festival 2009 falls into place today with the unveiling of the 43 entries for the Christie's Foxhunter Chase. The contest, run over the Gold Cup trip of an extended three and a quarter miles, takes place on the final day of The Festival, Friday, March 13. It has closed a week later than originally advertised, in order to give entrants extra time to qualify. This was due to the large number of point-to-points and hunter chases abandoned in January/February.
Royal Auclair


© racing-images.co.uk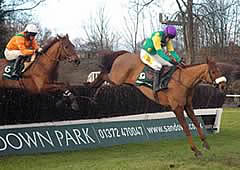 Three former winners are among this year's entry – the 2003 scorer Kingscliff, Sleeping Night, successful in 2005 and Amicelli, who prevailed last year for trainer Cherry Coward.
A leading fancy for this year's renewal is the prolific point-to-point scorer Cappa Bleu from the yard of Sheila Crow while there are nine entries from Ireland, including leading hopes Carronmhills, a winner at Thurles in January. Juveigneur, successful in the 2005 Fulke Walwyn Kim Muir Chase at The Festival when trained by Nicky Henderson, has been impressive in Irish point-to-points this season for his current handler Eugene O'Sullivan. Chief Oscar is another leading hope from Ireland, having won his latest two starts in hunter chases at Down Royal.
Champion trainer Paul Nicholls, seeking his third success in the contest, could be represented by the evergreen veteran Royal Auclair who has scored on his latest two outings in hunter chase company and Ofarel D'Airy, who has also been successful on his two most recent starts in hunter chases.
Other interesting contenders including the Venetia William-trained Limerick Boy, who has scored cosily on his last two starts and Murphy's Cardinal from the Noel Chance stable, who won impressively at Haydock last time out.
The maximum permitted field size for the Christie's Foxhunter Chase Challenge Cup is 24.
THE CHRISTIE'S FOXHUNTER CHASE CHALLENGE CUP
Class 2, Total Prize Fund £40,000. 4.00pm, Friday, March 13, 2009, three miles and two and a half furlongs. For five-year-olds & upwards which since December 1, 2006, & before March 2, 2009, have been placed first or second on two occasions in a hunters' steeple chase in Great Britain or Ireland or have won two Open steeple chases at Point-to-Point Meetings (i.e. Gentlemens, Ladies or Mixed Open Races) in Great Britain or Ireland or have won one Open steeple chase at a Point-to-Point Meeting in Great Britain or Ireland and have been placed first or second in a hunters' steeple chase. Weights: 5-y-o 11st 12lb; 6-y-o & up 12st; mares allowed 7lb. Entries closed March 3, entries revealed March 4, six-day confirmations March 7, final declaration 10.00am Thursday, March 12. Form figures supplied by Weatherbys and are correct up to and including the racing of Monday, March 2, 2009. Does not include point-to-point form.
Form Horse Age Owner Trainer
U/2/1- A BOY NAMED SIOUX (IRE) 11 Emma Reed Tim Reed
1F ALWAYS RIGHT (IRE) 7 John Wade John Wade
1F00/P1- AMICELLI (GER) 10 Lord Daresbury Cherry Coward
11533-1 ANSHAN SPIRIT (IRE) 11 Roger Green Roger Green
12/1/3/-21 BABY RUN (FR) 9 Nigel Twiston-Davies Nigel Twiston-Davies
321-161 BACK NINE (IRE) 12 Jane Western Jane Western
13/223-2 BACKSTAGE (FR) 7 Capranny Stablestaff Syndicate Gordon Elliott IRE
22/1-123 BORDER FUSION 10 Crawford, Edkins, Shaw Gary Hanmer
1/10///F-3 BUCKBY LANE 13 Ann Starkey Jane Starkey
CAPPA BLEU (IRE) 7 Mr & Mrs William Rucker Sheila Crow
12 CARRONHILLS (IRE) 7 John McCarthy John Costello IRE
54F-011 CHIEF OSCAR (IRE) 8 R W Donaldson Brian Hamilton IRE
0022/25- CHILLING PLACE (IRE) 10 Mike Tuckey Mike Tuckey
FP/1F15- CHRISTY BEAMISH (IRE) 12 M Mann Sue Taylor
4600/P-2 DANCER LIFE (POL) 10 Terry Reffell Tim Vaughan
010U/P-3 DERAWAR (IRE) 10 Simon Jones Simon Jones
3/000P0- DUBLIN HUNTER (IRE) 13 T D Howley Jnr Gordon Elliott IRE
F/4- GAELSBOB 12 Emma Baker Emma Baker
4-2D2P0 GALLIK DAWN 11 Perry Adams Alan Hollingsworth
32-F254 HOLLY WALK 8 James Cole James Cole
405SP-0 JAMADIEL (IRE) 8 R V Shaw Shay Slevin IRE
P0/66P4- JUVEIGNEUR (FR) 12 Trevor Hemmings Eugene O'Sullivan IRE
4602/5P- KINGSCLIFF (IRE) 12 Arnie Sendell Marie McGuinness
P/60-U11 LIMERICK BOY (GER) 11 Favourites Racing III Venetia Williams
0/6/1PP/P- LONG NIGHT 10 The It'll Be A Long Night Partnership Marie McGuinness
P2P-PP2 LORD OF ILLUSION (IRE) 12 Sue Popham Sue Popham
02-2146 LYDON HOUSE 10 Michael Lydon Gordon Elliott IRE
001-2P4 MARBLEHEAD (IRE) 7 J C Collett Ferghal O'Brien
651/4PP- MEL IN BLUE (FR) 11 N Sutton Kim Smyly
FP4PF-6 MODEL SON (IRE) 11 Mrs C Magill William Magill IRE
145P///2-1 MURPHY'S CARDINAL (IRE) 13 Eimear Chance Noel Chance
00-2111 OFAREL D'AIRY (FR) 7 The Hon Mrs Townshend Paul Nicholls
1 PROUD ANDEES (IRE) 10 Sarah Thomas Gary Hanmer
U21-11B ROBBERS GLEN (IRE) 9 Val Jackson Val Jackson
352-P11 ROYAL AUCLAIR (FR) 12 Clive Smith Paul Nicholls
P/20-122 ROYAL BLOOD (IRE) 8 Golden Syndicate Philip Dempsey IRE
6/1B-2P2 SLEEPING NIGHT (FR) 13 Adam Waugh Simon Waugh
3///215F-4 SOUTHWESTERN (IRE) 10 The Exmoor Partners Camilla Scott
1P STRONG WELD 12 Serena Gowling Nicky Sheppard
1-12040 TAKE THE STAND (IRE) 13 David Robbins Frank Ridge Peter Bowen
TRUE FRIDAY 9 Mrs M Arthers Malcolm Arthers
U/35P20- TURTHEN (FR) 8 Charles Fox Charles Fox
0/121-31 YOU DO THE MATH (IRE) 9 Charles Horton Charlie Longsdon
43 entries
9 Irish-trained