Leading Festival Jockeys
05/02/09
Champion jockey Tony McCoy, with 20 wins to date, is the most successful current rider at The Festival. Since partnering Kibreet to success in the 1996 Johnny Henderson Grand Annual Chase, the record-breaking jockey has gone on to land a further 19 successes, with two of his greatest triumphs coming in 1997 through a rare big-race double aboard Mr Mulligan in the totesport Cheltenham Gold Cup and Make A Stand in the Smurfit Kappa Champion Hurdle two days earlier.
Brave Inca


© racing-images.co.uk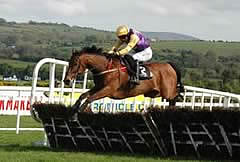 The 2006 Festival saw McCoy ride three winners, including Brave Inca in the Smurfit Kappa Champion Hurdle, to draw level with the retired Richard Dunwoody's 18 triumphs. He has enjoyed a single winner at each of the past two Festivals, following up Wichita Lineman's success in the 2007 Albert Bartlett Novices' Hurdle with Albertas Run in the RSA Chase last year, when he had four seconds. His best score at The Festival was five in 1998. He is currently second in the list of leading post-war jockeys at The Festival, five winners adrift of the late Pat Taaffe who recorded 25 triumphs.
Ruby Walsh, stable jockey to champion trainer Paul Nicholls, is catching up thanks to nine Festival winners in the past three years which has brought his total to 17.
Robert "Chocolate" Thornton has also gained nine Festival victories in the last three years, giving him a total of 15.
Tom Scudamore, son of eight-time champion jockey Peter Scudamore gained his first Festival success in 2008 while other jockeys riding their first winner last year included Dominic Elsworth, Noel Fehily, Charlie Huxley, Denis O'Regan and Sam Thomas.
The winners of the Leading Rider Award are listed below.
2008 Ruby Walsh (3)
2007 Robert Thornton (4)
2006 Ruby Walsh (3)
2005 Graham Lee (3)
2004 Ruby Walsh (3)
2003 Barry Geraghty (5)
2002 Richard Johnson (2)
2001 Cancelled - foot & mouth
2000 Mick Fitzgerald (4)
1999 Mick Fitzgerald (4)
1998 Tony McCoy (5)
1997 Tony McCoy (3)
1996 Richard Dunwoody (2)
1995 Norman Williamson (4)
1994 Charlie Swan (3)
1993 Charlie Swan (4)
1992 Jamie Osborne (5)
1991 Peter Scudamore (2)
1990 Richard Dunwoody (2)
1989 Tom Morgan (2)
1988 Simon Sherwood (2)
1987 Peter Scudamore (2)
1986 Peter Scudamore (2)
1985 Steve Smith Eccles (3)
1984 Jonjo O'Neill (2)
1983 Graham Bradley (2)
1982 Jonjo O'Neill (1)
1981 John Francome (3)
1980 Jim Wilson (3)
LEADING CURRENT JOCKEYS AT THE FESTIVAL
Tony McCoy 20
Ruby Walsh 17
Robert Thornton 15
Richard Johnson 13
Barry Geraghty 13
Paul Carberry 10
Carl Llewellyn 7
Timmy Murphy 7
Graham Lee 4
Davy Russell 4
Paddy Brennan 3
Miss Nina Carberry 3
Andrew Thornton 3
Mr J T McNamara 3
TOP JOCKEYS AT THE FESTIVAL (SINCE 1945)
Pat Taaffe 25
Tony McCoy 20
Richard Dunwoody 18
Charlie Swan 17
Ruby Walsh 17
Fred Winter 17
Tommy Carberry 16
Robert Thornton 15
Mick Fitzgerald 14
Barry Geraghty 13
Richard Johnson 13
Peter Scudamore 13
SCUDAMORE CONTINUING FAMILY TRADITION
An Accordion's brave victory in last year's William Hill National Hunt Handicap Chase ensured that a third generation of the Scudamore family enjoyed the distinction of riding a winner at The Festival, with Tom following in the footsteps of grandfather Michael, successful in the 1957 totesport Cheltenham Gold Cup, and eight-time champion jockey father Peter, who himself rode 13 winners at Jump racing's most prestigious meeting.
With such a formidable pedigree, it was little surprise that Tom gained Festival success in his first season as number one jockey to David Pipe, echoing the immense success enjoyed by their fathers Peter Scudamore and Martin Pipe in the 1980s and 1990s.
Scudamore Jnr grew up less than 20 minutes from the racecourse and spent his formative years at Cheltenham College, rarely passing up the opportunity to see his father in action at the home of jump racing.
"It was a tremendous thrill to ride a first winner at The Festival and it was also a great relief at the same time. It was my first season riding as stable jockey for David and it was great to ride a winner at such a big meeting. It's a high-pressure job riding for such a powerful yard but it's much more stressful training winners because you have to produce for the owners and I think that David was just as relieved as I was when An Accordion won.
"You always want to have winners, but it's great to ride one at Cheltenham and even more special at The Festival – it's the biggest meeting of the season. I was always aware of the prestige of the meeting, having heard about my grandfather's exploits and seen some of my father's victories at the Festival. I grew up near Cheltenham so I went to most of the meetings at Prestbury Park from around the age of seven. I used to try and see my father ride there and I went to The Festival on most days."
Having tasted success at The Festival, Tom is eager to return to the winner's enclosure at this year's four-day meeting and the jockey looks set to have several excellent chances courtesy of the Pipe stable, including Lough Derg, Or Noir De Somoza, and An Accordion, together with the perennial strong team of novices and handicappers.
"An Accordion has a couple of entries coming up, and his target at The Festival will depend on how he gets on beforehand. He holds an entry in the totesport Cheltenham Gold Cup and will probably also be given another entry in the William Hill National Hunt Handicap Chase. He's raring to go at the moment and it's just a question of finding the right race for him.
"Lough Derg has been entered in the Ladbrokes World Hurdle or he could take his chance in the Coral Cup. He won the Steel Plate And Sections Hurdle over a similar trip to the Coral Cup on New Year's Day and he also ran well over three miles in the Byrne Group Cleeve Hurdle on Festival Trials Day, so we will just wait and see which option is best for him.

"Or Noir De Somoza has lots of options at The Festival - the Seasons Holidays Queen Mother Champion Chase, the Ryanair Chase and the totesport Cheltenham Gold Cup. I was very pleased with his run at Ascot, especially considering it was his first appearance for quite some time.
"David said beforehand that he would need the run and obviously Master Minded is the champion two-miler at the moment. Or Noir De Somoza's best form in France was over slightly further but we will decide which race to go for at The Festival nearer the time.
"We've also got Tamarinbleu, who holds entries in the Seasons Holidays Queen Mother Champion Chase and the Ryanair Chase, so there are plenty of options in the championship chases at the moment and a lot will depend on the ground and how the horses perform beforehand.
"I rode two nice four-year-olds to victory over the weekend - Master Of Arts at Doncaster on Saturday and Mr Thriller at Fontwell on Sunday. They both impressed me and have several possible engagements at The Festival, including the JCB Triumph Hurdle, the Supreme Novices Hurdle and the Fred Winter Juvenile Novices' Hurdle."
While Tom is excited over his potential rides at this year's Festival, he is also keen on the chances of Osana, whom he rode to finish second to Katchit in last year's Smurfit Kappa Champion Hurdle. The seven-year-old made an encouraging seasonal return under Paddy Brennan at Sandown on January 31, when he finished three and a half lengths second to Celestial Halo, despite conceding 4lb to last season's JCB Triumph Hurdle victor.
"I also think that Osana will have a great chance in the Smurfit Kappa Champion Hurdle. It will be a shame to miss out on riding him but that's racing. I've gained from similar things happening to other jockeys and there's nothing personal in the decisions that owners make. He ran a good race at Sandown over the weekend and he will be meeting Celestial Halo on level weights at The Festival, so he goes there with every chance."
WINNING RECORDS OF SELECTED JOCKEYS AT THE FESTIVAL
ARMYTAGE, MR MARCUS 3 wins. NH Chase: 1992 Keep Talking, 1994 Christmas Gorse
Walwyn Muir: 1992 Tug Of Gold
ARMYTAGE, GEE 2. Festival Plate: 1987 Gee-A
Walwyn Muir: 1987 The Ellier
BARRY, SHAY 1. Johnny Henderson Grand Annual: 1999 Space Trucker
BATCHELOR, MATTIE 1, Jewson: 2005 King Harald
BEASLEY, MISS CAROLINE 1. Christie's Foxhunter: 1983 Eliogarty
BERRY, MR ALAN 1. NH Chase: 2007 Butler's Cabin
BERRY, FRANK Sr 6. RSA Chase: 1985 Antarctic Bay
Irish Independent Arkle: 1984 Bobsline
Festival Plate: 1982 Doubleuagain
Seasons Holidays Queen Mother: 1981 Drumgora
Supreme: 1975 Bannow Rambler
totesport Gold Cup: 1972 Glencaraig Lady
BERRY, FRAN 1. Coral Cup: 1999 Khayrawani
BERRY, MR JOHN 2. Walwyn Muir: 1990 Master Bob
NH Chase: 1995 Front Line
BOLGER, MR ENDA 1. Christie's Foxhunter: 1996 Elegant Lord
BRADBURNE, MARK 2. NH Chase: 2000 Relaxation
Johnny Henderson Grand Annual: 2003 Palarshan
BRADLEY, GRAHAM 9. Johnny Henderson Grand Annual: 1986 Pearlyman, 1992 My Young Man,
1995 Sound Reveille, 1997 Uncle Ernie
RSA Chase: 1987 Kildimo
Ballymore: 1983 Sabin Du Loir
totesport Gold Cup: 1983 Bregawn
Smurfit Kappa Champion: 1996 Collier Bay
Supreme: 1998 French Ballerina
BRENNAN, PADDY 3. Fred Winter: 2006 Shamayoun
Ladbrokes World: 2007 Inglis Drever
Pertemps Final: 2008 Ballyfitz
BRIDGWATER, DAVID 5. Vincent O'Brien County: 1991 Winnie The Witch
Johnny Henderson Grand Annual: 1994 Snitton Lane
Ladbrokes World: 1996 Cyborgo
Cathcart: 1996 Challenger du Luc
William Hill: 1997 Flyer's Nap
BRODERICK, SHANE 1. Ladbrokes World: 1995 Dorans Pride
BURKE, JOHN 1. William Hill: 1994 Antonin
BURTON, MR RICHARD 2. Walwyn Muir: 2005 Juveigneur, 2007 Cloudy Lane
CARBERRY, MISS NINA 3. Fred Winter: 2005 Dabiroun
Glenfarclas: 2007 Heads Onthe Ground, 2008 Garde Champetre
CARBERRY, PAUL 10. Weatherbys Bumper: 1993 Rhythm Section, 2006 Hairy Molly
William Hill: 1998 Unguided Missile, 2002 Frenchman's Creek
Ballymore: 2006 Nicanor
RSA Chase: 1999 Looks Like Trouble
Supreme: 2000 Sausalito Bay
Pertemps Final: 2005 Oulart
Johnny Henderson Grand Annual: 2005 Fota Island
Fred Winter: 2008 Crack Away Jack
CARBERRY, PHILIP 2. Smurfit Kappa Champion: 2007 Sublimity
Vincent O'Brien County: 2007 Pedrobob
CASEY, DAVID 2. Johnny Henderson Grand Annual: 2002 Fadoudal Du Cochet
RSA Chase: 2004 Rule Supreme
CASH, BARRY 1. Supremeurdle: 2004 Brave Inca
CHARLES-JONES, MR ALEX 1. Christie's Foxhunter: 2000 Cavalero
CONDON, DAVY 1. Supreme: 2007 Ebaziyan
COSTELLO, MR TOM 1. NH Chase: 1988 Over The Road
CRONE, GARY 1. Festival Plate: 1996 Old Bridge
CROSSE, DAVID 1. Walwyn Muir: 2002 The Bushkeeper
CULLEN, MR DENIS 1. NH Chase: 2003 Sudden Shock
CULLOTY, JIM 5. RSA Chase: 2000 Lord Noelie
totesport Gold Cup: 2002, 2003 and 2004 Best Mate
Weatherbys Bumper: 2004 Total Enjoyment
CURLING, MISS POLLY 1. Christie's Foxhunter: 1995 Fantus
DAVIES, HYWEL 2. Johnny Henderson Grand Annual: 1990 Katabatic
Seasons Holidays Queen Mother: 1990 Barnbrook Again
DOBBIN, TONY 3. Vincent O'Brien County: 1994 Dizzy, 2000 Master Tern
Pertemps Final: 2002 Freetown
DOUMEN, THIERRY 3. JCB Triumph: 2000 Snow Drop
Ladbrokes World: 2002 and 2003 Baracouda
DOYLE, TOM 1. Pertemps Final: 2007 Oscar Park
DUNWOODY, RICHARD 18. Ballymore: 1992 Thetford Forest
Weatherbys Bumper: 1992 Montelado, 1997 Florida Pearl
Irish Independent Arkle: 1991 Remittance Man, 1989 Waterloo Boy, 1996 Ventana Canyon
William Hill: 1990 Bigsun, 1985 West Tip
Smurfit Kappa Champion: 1990 Kribensis
JCB Triumph: 1988 Kribensis, 1996 Paddy's Return
totesport Gold Cup: 1988 Charter Party
Johnny Henderson Grand Annual: 1987 French Union
Pertemps Final: 1985 Von Trappe
RSA Chase: 1997 Hanakham,1998 Florida Pearl
Vincent O'Brien County: 1993 Thumbs Up, 1997 Barna Boy
DURACK, SEAMUS 1. Walwyn Muir: 1998 In Truth
DWYER, MARK 9. totesport Gold Cup: 1993 Jodami, 1985 Forgive 'N Forget
Irish Independent Arkle: 1988 Danish Flight
Pertemps Final: 1983 Forgive'N Forget, 1991 Danny Connors
Smurfit Kappa Champion: 1994 Flakey Dove
Weatherbys Bumper: 1995 Dato Star
Supreme: 1995 Tourist Attraction
Coral Cup: 1996 Trainglot
EDWARDS, MR DARREN 1. Walwyn Muir: 2004 Maximize
ELSWORTH, DOMINIC 1. Festival Plate Plate: 2008 Mister McGoldrick
EVANS, JAMIE 1. Coral Cup: 1997 Big Strand
FARRANT, RODNEY 2. Seasons Holidays Queen Mother: 1997 Martha's Son
Ladbrokes World: 1998 Princeful
FARTHING, MR JUSTIN 1. Christie's Foxhunter: 1992 Rushing Wild
FEHILY, NOEL 1. Vincent O'Brien County: 2008 Silver Jaro
FENTON, BARRY 1. Coral Cup: 1998 Top Cees
FENTON, MR PHILIP 1. NH Chase: 1996 Loving Around
FITZGERALD, MICK 14. William Hill: 1995 Rough Quest, 2000 Marlborough
Seasons Holidays Queen Mother: 1999 Call Equiname
JCB Triumph: 1999 Katarino
totesport Gold Cup: 1999 See More Business
Cathcart: 1994 Raymylette, 1999 & 2000 Stormyfairweather
Irish Independent Arkle: 2000 Tiutchev
Ladbrokes World: 2000 Bacchanal
Coral Cup: 2003 Xenophon
RSA Chase: 2005 Trabolgan
Ryanair Chase: 2006 Fondmort
Festival Plate Plate: 2006 Non So
FLYNN, PAUL 1. Coral Cup: 2000 What's Up Boys
FROST, JIMMY 3. Ballymore: 1991 Crystal Spirit
Smurfit Kappa Champion: 1991 Morley Street
Supreme: 1990 Forest Sun
GALLAGHER, DEAN 2. Vincent O'Brien County: 1996 Star Rage
Smurfit Kappa Champion: 2002 Hors La Loi III
GARRITY, RUSS 1. RSA Chase: 2002 Hussard Collonges
GERAGHTY, BARRY 13. Irish Independent Arkle: 2002 Moscow Flyer
William Hill: 2003 Youlneverwalkalone
RSA Chase: 2006 Star De Mohaison
Coral Cup: 2006 Sky's The Limit
Pertemps Final: 2003 Inching Closer
Seasons Holidays Queen Mother: 2003 & 2005 Moscow Flyer
JCB Triumph: 2003 Spectroscope
Vincent O'Brien County: 2003 Spirit Leader
Ladbrokes World: 2004 Iris's Gift
totesport Gold Cup: 2005 Kicking King
Weatherbys Bumper: 2007 Cork All Star
Jewson: 2008 Finger Onthe Pulse
GIBSON, BRUCE 1. Walwyn Muir: 1999 Celtic Giant
GLASSONBURY, ANDREW 1. Fred Winter: 2007 Gaspara
GOSCHEN, MISS RILLY 1. Christie's Foxhunter: 2004 Earthmover
GREENALL, MR OLIVER 1. Christie's Foxhunter: 2008 Amicelli
GREENE, RODI 1. Coral Cup: 2002 Ilnamar
GUEST, RICHARD 2. Smurfit Kappa Champion: 1989 Beech Road
Vincent O'Brien County: 1987 Neblin
HAAN DE, BEN 3. RSA Chase: 1990 Garrison Savannah
William Hill: 1987 Gainsay
Johnny Henderson Grand Annual: 1980 Stopped
HACKING, MR PAUL 2. NH Chase: 1990 Topsham Bay
Christie's Foxhunter: 1988 Certain Light
HARDING, BRIAN 1. Seasons Holidays Queen Mother: 1998 One Man
HARDING, MR RICHARD 2. Walwyn Muir: 2006 You're Special
National Hunt Chase: 2006 Hot Weld
HARVEY, LUKE 1. Pertemps Final: 1987 Taberna Lord
HARRIS, MR MICKY 1. NH Chase: 1997 Flimsy Truth
HAWKE, NIGEL 1. William Hill: 1991 Seagram
HENLEY, MR PETER 1. Walwyn Muir: 1995 Flyer's Nap
HIDE, PHILIP 1. RSA Chase: 1995 Brief Gale
HILL, MR ALAN 1. Christie's Foxhunter: 1985 Elmboy
HOBBS, PETER 4. Irish Independent Arkle: 1990 Comandante
Vincent O'Brien County: 1990 Moody Man
RSA Chase: 1989 Envopak Token
Pertemps Final: 1995 Miracle Man
HOLLEY, PAUL 2. William Hill: 1993 Givus A Buck
JCB Triumph: 1991 Oh So Risky
HUXLEY, CHARLIE 1. NH Chase: 2008 Old Benny
JENKS, TOM 1. Walwyn Muir: 1993 Strong Beau
JOHNSON, RICHARD 13. Ladbrokes World: 1999 Anzum
Festival Plate: 2000 Dark Stranger, 2003 Young Spartacus
totesport Gold Cup: 2000 Looks Like Trouble
Seasons Holidays Queen Mother: 2002 Flagship Uberalles
Vincent O'Brien County: 2002 Rooster Booster
Smurfit Kappa Champion: 2003 Rooster Booster
RSA Chase: 2003 One Knight
Cathcart: 2003 La Landiere
Coral Cup: 2004 Monkerhostin
JCB Triumph: 2004 Made In Japan, 2006 Detroit City
Ballymore: 2007 Massini's Maguire
JONES, SAM 1. Coral Cup: 2007 Burntoakboy
KEIGHTLEY, SHAUN 1. Pertemps Final: 1989 Rogers Princess
KONDRAT, ADAM 1. totesport Gold Cup: 1994 The Fellow
LEE, GRAHAM 4. Supreme: 2005 Arcalis
Ballymore: 2005 No Refuge
Ladbrokes World: 2005 Inglis Drever
Jewson: 2007 L'Antartique
LLEWELLYN, CARL 7. Ballymore: 1993 Gaelstrom, 2004 Fundamentalist
William Hill: 1992 Tipping Tim
Festival Plate: 1988 Smart Tar
Supreme: 1994 Arctic Kinsman
JCB Triumph: 1998 Upgrade
Pertemps Final: 2000 Rubhahunish
LOWER, JONOTHAN 2. Supreme: 1989 Sondrio
JCB Triumph: 1995 Kissair
LYNCH, MARTIN 1. Festival Plate: 1992 Elfast
MAGUIRE, ADRIAN 6. Cathcart: 1993 Second Schedual
Johnny Henderson Grand Annual: 1993 Space Fair
totesport Gold Cup: 1992 Cool Ground
Walwyn Muir: 1991 Omerta
Seasons Holidays Queen Mother: 1994 Viking Flagship
JCB Triumph: 1994 Mysilv
MAGUIRE, JASON 2. Ballymore: 2002 Galileo
David Nicholson Mares Hurdle: 2008 Whiteoak
MARSTON, WARREN 2. Supreme: 1996 Indefence
RSA Chase: 1996 Nahthen Lad
MARTIN, MR TONY 2. NH Chase: 1991 Smooth Escort, 1999 Deejaydee
MARTIN, MR RAY 1. Christie's Foxhunter: 1990 Call Collect
McCARTHY, MR TIM 1. Walwyn Muir: 1994 Fighting Words
McCOURT, GRAHAM 5. Festival Plate: 1993 Sacre D'Or, 1994 Elfast
Smurfit Kappa Champion: 1992 Royal Gait
totesport Gold Cup: 1990 Norton's Coin
Pertemps Final: 1986 Motivator
McCOY, TONY 20. Supreme: 1999 Hors La Loi III
Johnny Henderson Grand Annual: 1996 Kibreet, 1998 Edredon Bleu
Irish Independent Arkle: 1997 Or Royal, 1998 Champleve, 2004 Well Chief
Smurfit Kappa Champion: 1997 Make A Stand, 2006 Brave Inca
totesport Gold Cup: 1997 Mr Mulligan
Pertemps Final: 1998 Unsinkable Boxer
Cathcart: 1998 Cyfor Malta, 2002 Royal Auclair
Vincent O'Brien County: 1998 Blowing Wind
Festival Plate: 1999 Majadou
Seasons Holidays Queen Mother: 2000 Edredon Bleu
Weatherbys Bumper: 2003 Liberman
Jewson: 2006 Reveillez
Albert Bartlett: 2006 Black Jack Ketchum, 2007 Wichita Lineman
RSA Chase: 2008 Albertas Run
McGRATH, LARRY 1. Cathcart: 2004 Our Armageddon
McGRATH, RICHARD 1. Pertemps Final: 1996 Great Easeby
McHUGH, MR SAUL 1. Walwyn Muir: 2003 Royal Predica
McNAMARA, ANDREW 1. Seasons Holidays Queen Mother: 2006 Newmill
McNAMARA, MR J T 3. NH Chase: 2002 Rith Dubh
Glenfarclas: 2005 Spot Thedifference
Christie's Foxhunter: 2007 Drombeag
McNEILL, SIMON 1. Seasons Holidays Queen Mother: 1991 Katabatic
McWILLIAMS, PAT 1. Supreme: 1991 Destriero
MITCHELL, MR TIM 1. Christie's Foxhunter: 1997 Fantus
MOFFATT, JIMMY 1. Vincent O'Brien County: 1995 Home Counties
MULHOLLAND, TONY 1. Pertemps Final: 1990 Henry Mann
MULLINS, MR PATRICK 1. Weatherbys Bumper: 2008 Cousin Vinny
MULLINS, MR SEAMUS 1. NH Chase: 1989 Boraceva
MULLINS, MR WILLIE 1. Weatherbys Bumper: 1996 Wither Or Which
MURPHY, MR DAMIEN 1. Christies' Foxhunter: 2006 Whyso Mayo
MURPHY, DECLAN 1. Seasons Holidays Queen Mother: 1993 Deep Sensation
MURPHY, EAMON 1. Festival Plate: 1991 Foyle Fisherman
MURPHY, TIMMY 7. Festival Plate: 1997 Terao, 2004 Tikram
Vincent O'Brien County: 1999 Sir Talbot, 2005 Fontanesi
Pertemps Final: 2004 Creon
Irish Independent Arkle: 2005 Contraband
Ryanair: 2008 Our Vic
NEEDHAM, MRS FIONA 1. Christie's Foxhunter: 2002 Last Option
NIVEN, PETER 1. RSA Chase: 1994 Monsieur Le Cure
O'DWYER, CONOR 4. totesport Gold Cup: 1996 Imperial Call, 2006 War Of Attrition
Smurfit Kappa Champion: 2004 & 2005 Hardy Eustace
O'HARE, MR MARK 1. NH Chase: 2005 Another Rum
O'KEEFFE, ALAN 2. Coral Cup: 2005 Idole First
Festival Plate: 2007 Idole First
O'NEILL, GERRY 1. Coral Cup: 1995 Chance Coffey
O'NEILL, SEAMUS 1. Ballymore: 1984 Fealty
O'REGAN, DENIS 2. Irish Independent Arkle: 2008 Tidal Bay
Ladbrokes World: 2008 Inglis Drever
O'SULLIVAN, MR WILLIAM 1. Christie's Foxhunter: 1991 Lovely Citizen
OSBORNE, JAMIE 11. Irish Independent Arkle: 1993 Travado, 1992 Young Pokey, 1994 Nakir
Supreme: 1997 Shadow Leader, 1992 Flown
Seasons Holidays Queen Mother: 1992 Remittance Man
Ladbrokes World: 1992 Nomadic Way, 1997 Karshi
Vincent O'Brien County: 1992 Dusty Miller
Johnny Henderson Grand Annual: 1991 Aldino
Cathcart: 1995 Coulton
PERRETT, MARK 5. Ladbrokes World: 1991 King's Curate, 1994 Balasani
Ballymore: 1989 Sayfar's Lad
Supreme: 1988 Vagador
JCB Triumph: 1983 Saxon Farm
PITMAN, MARK 1. totesport Gold Cup: 1991 Garrison Savannah
POLLOCK, MR BEN 1. Christie's Foxhunter: 1999 Castle Mane
POWELL, BRENDAN 2. Cathcart: 1988 Private Views
Weatherbys Bumper: 1999 Monsignor
QUEALLY, MR JOHN 1. Walwyn Muir: 1986 Glyde Court
RICHARDS, MARK 2. JCB Triumph: 1992 Duke Of Monmouth
Cathcart: 1992 Repeat The Dose
RIMELL, MISS KATIE 1. Christie's Foxhunter: 1989 Three Counties
RUSSELL, DAVY 4. Glenfarclas: 2006 Native Jack
William Hill: 2007 Joes Edge
Coral Cup: 2008 Naiad Du Misselot
Johnny Henderson Grand Annual: 2008 Tiger Cry
RYAN, TOM 1. Pertemps Final: 2006 Kadoun
SCUDAMORE, PETER 13. Coral Cup: 1993 Olympian
Smurfit Kappa Champion: 1988 Celtic Shot, 1993 Granville Again
RSA Chase: 1993 Young Hustler, 1992 Miinnehoma, 1991 Rolling Ball
Cathcart: 1991 Chatam, 1987 Half Free
Ballymore: 1990 Regal Ambition
Johnny Henderson Grand Annual: 1989 Pukka Major
Seasons Holidays Queen Mother: 1987 Pearlyman
William Hill: 1986 Charter Party
JCB Triumph: 1986 Solar Cloud
SCUDAMORE, TOM 1. William Hill: 2008 An Accordion
SPENCER, JAMIE 1. Weatherbys Bumper: 2002 Pizarro
STOREY, BRIAN 1. Cathcart: 1997 Sparky Gayle
SWAN, CHARLIE 17. Supreme: 1993 Montelado, 2002 Like-A-Butterfly
Pertemps Final: 1993 Fissure Seal
JCB Triumph: 1993 Shawiya, 2002 Scolardy
Ladbrokes World: 1990 Trapper John, 1993 Shuil Ar Aghaidh
Ballymore: 1994 Danoli, 1996 Urubande, 1997 Istabraq
Coral Cup: 1994 Time For A Run
Weatherbys Bumper: 1994 Mucklemeg, 2000 Joe Cullen
Seasons Holidays Queen Mother: 1995 Viking Flagship
Smurfit Kappa Champion: 1998 Istabraq, 1999 Istabraq, 2000 Istabraq
SWEENEY, MR COLMAN 1. Christie's Foxhunter: 2005 Sleeping Night
THOMAS, SAM 1. totesport Gold Cup: 2008 Denman
THORNTON, ANDREW 3. William Hill: 1996 Maamur
Ballymore: 1998 French Holly
totesport Gold Cup: 1998 Cool Dawn
THORNTON, ROBERT 15. Irish Independent Arkle: 2006 Voy Por Ustedes, 2007 My Way De Solzen
Walwyn Muir: 1997 King Lucifer
Pertemps Final: 1997 Pharanear
William Hill: 2004 Fork Lightning, 2005 Kelami
JCB Triumph: 2005 Penzance, 2007 Katchit
Albert Bartlett: 2005 Moulin Riche
Ladbrokes World Hurdle: 2006 My Way De Solzen
Seasons Holidays Queen Mother: 2007 Voy Por Ustedes
Johnny Henderson Grand Annual: 2007 Andreas
Albert Bartlett: 2008 Nenuphar Collognes
Supreme: 2008 Captain Cee Bee
Smurfit Kappa Champion: 2008 Katchit
TIERNEY, EAMON 1. Festival Plate: 1990 New Halen
TINKLER, ANDREW 1. Johnny Henderson Grand Annual: 2006 Greenhope
TITLEY, JASON 1. Pertemps Final: 1992 My View
TIZZARD, JOE 2. Christie's Foxhunter: 1998 Earthmover
Irish Independent Arkle: 1999 Flagship Uberalles
TRELOGGEN, MR RON 2. Christie's Foxhunter: 1993 & 1994 Double Silk
TUDOR, MR JAMES 1. Walwyn Muir: 2008 High Chimes
WAKLEY, RUPERT 1. NH Chase: 1998 Wandering Light
WALEY-COHEN, MR SAM 1. Festival Plate: 2005 Liberthine
WALFORD, ROBERT 1. Walwyn Muir: 2000 Honey Mount
WALL, TREVOR 1. Vincent O'Brien County: 1988 Cashew King
WALSH, RUBY 17. Supreme: 2006 Noland
William Hill: 2006 Dun Doire
Weatherbys Bumper: 1998 Alexander Banquet, 2005 Missed That
Festival Plate: 2002 Blowing Wind
Irish Independent Arkle: 2003 Azertyuiop
Seasons Holidays Queen Mother: 2004 Azertyuiop, 2008 Master Minded
Johnny Henderson Grand Annual: 2004 St Pirran
Vincent O'Brien County: 2004 Sporazene, 2006 Desert Quest
Ryanair: 2005 Thisthatandtother, 2007 Taranis
RSA Chase: 2007 Denman
totesport Gold Cup: 2007 Kauto Star
Ballymore: 2008 Fiveforthree
JCB Triumph: 2008 Celestial Halo
WALSH, MR TED 4. Christie's Foxhunter: 1986 Attitude Adjuster
Seasons Holidays Queen Mother: 1979 Hilly Way
Walwyn Muir: 1974 Castleruddery, 1976 Prolan
WHELAN, KEN 1. Walwyn Muir: 1996 Stop The Waller
WIDGER, MR ROBERT 1. NH Chase: 2004 Native Emperor
WILLIAMS, PAUL 1. Pertemps Final: 1994 Tindari
WILLIAMSON, NORMAN 11. Smurfit Kappa Champion: 1995 Alderbrook
totesport Gold Cup: 1995 Master Oats
Festival Plate: 1995 Kadi, 1998 Super Coin
Ballymore: 1995 Putty Road, 2000 Monsignor
JCB Triumph: 1997 Commanche Court
William Hill: 1999 Betty's Boy
Pertemps Final: 1999 Generosa
Johnny Henderson Grand Annual: 2000 Samakaan
Supreme: 2003 Back In Front
WILSON, MR NOEL 1. NH Chase: 1993 Ushers Island
WOODS, FRANCIS 2. Irish Independent Arkle: 1995 Klairon Davis
Seasons Holidays Queen Mother: 1996 Klairon Davis
WYER, LORCAN 2. NH Chase: 1986 Omerta
Ballymore: 1999 Barton
YOUNG, MR RICHARD 1. Christie's Foxhunter: 2003 Kingscliff
KEY
Albert Bartlett - Albert Bartlett Novices' Hurdle
Ballymore - Ballymore Novices' Hurdle
Cathcart - Cathcart Challenge Cup Chase (no longer run)
Christie's Foxhunter - Christie's Foxhunter Chase Challenge Cup
Coral Cup - The Coral Cup (Handicap Hurdle)
David Nicholson Mares Hurdle - David Nicholson Mares Hurdle
Festival Plate - Festival Plate Handicap Chase
Fred Winter - Fred Winter Juvenile Novices' Hurdle
Glenfarclas - Glenfarclas Cross-Country Steeple Chase
Irish Independent Arkle - The Irish Independent Arkle Challenge Trophy Chase
JCB Triumph - JCB Triumph Hurdle
Jewson - Jewson Novices' Handicap Chase
Ladbrokes World - Ladbrokes World Hurdle
Johnny Henderson Grand Annual - Johnny Henderson Grand Annual Chase Challenge Cup Handicap Chase
NH Chase - 139th Year Of The National Hunt Challenge Cup Chase
Pertemps Final - Pertemps Series Final (Handicap Hurdle)
RSA Chase - RSA Chase
Ryanair - Ryanair Chase
Seasons Holidays Queen Mother - Seasons Holidays Queen Mother Champion Chase
Smurfit Kappa Champion - Smurfit Kappa Champion Hurdle
Supreme - Supreme Novices' Hurdle
totesport Gold Cup - totesport Cheltenham Gold Cup Chase
Vincent O'Brien County - Vincent O'Brien County Handicap Hurdle
Walwyn Muir - Fulke Walwyn Kim Muir Challenge Cup Handicap Chase
Weatherbys Bumper - Weatherbys Champion Bumper
William Hill - William Hill National Hunt Handicap Chase