An Accordion Squeezes Out Rivals in William Hill Trophy
11/03/08
1st (6) An Accordion 7-1
2nd (4) New Alco 10-1
3rd (5) L'ami 11-2 Fav
14 ran
Also: 6-1 Patsy Hall 4th
NR: King Harald
An Accordion (Tom Scudamore right) takes the last alongside Patsy Hall (Paul Carberry) and runs on well to win.
© racing-images.co.uk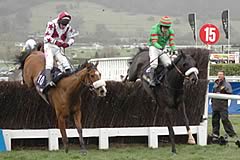 On Tuesday morning, one bookmaker described An Accordion as friendless in the betting market for the William Hill Trophy Handicap, but after a driving victory, at a generous 7/1, the seven-year-old gelding had friends everywhere.
For trainer David Pipe and jockey Tom Scudamore, the victory was a swift compensation for just missing out on Osana in the Smurfit Kappa Champion Hurdle, when Scudamore suffered a two-day ban for his excessive use of the whip.
It was also the Scudamore's first success at the Festival. His father Peter had 13 winners, so there is still some way to go to be the best in the family.
The jockey said: "He's done it well and it's a great credit to the team because he has had his problems jumping. To come out and win another big race like this, David and everyone has done such a wonderful job.
"I was just the lucky man steering him in the right direction, and David has such a great team at the moment. I always knew he would keep battling and trying and he's done that. It's just a tremendous thrill.
"We've had, touch wood, such a good day so far and long may it continue. I'm not normally delighted about finishing second but Osana has run a really tremendous race in the Champion Hurdle and I couldn't fault him. He's jumped from hurdle to hurdle and to be beaten by a horse like Katchit, we were probably up against it today.
"The team has done a great job to get him here fit and well and he's just a pleasure to ride. It's a relief to get a first Festival winner. It's the first year in a big job and I've had plenty of shots at the target without hitting the bullseye
"But this is the first year I've come here with a handful of decent rides. I've come here before with one or two chances, and I suppose Heltornic was probably my best chance in this race last year. It's so important and now things are going really well. My whole family are here and that's very special too. It's a wonderful place."
Pipe paid credit to both horse and jockey: "Tom had a superb ride, they kept coming at him up the hill and he kept repelling them. The horse is very fit, they have to be at this level. They are elite athletes.
"Osana ran his heart out in the last race – he was just beaten by a better horse on the day. An Accordion's win is great for Mr Kilpatrick, he's been a supporter at Pond House for a long, long time. He's had a lot of good horses and this is a good horse. It's great for the yard and everyone involved."
An Accordion's win continued an extraordinary record for the owner Brian Kilpatrick. "I get a Cheltenham winner about every ten years and this is my fourth," he said.
Kilpatrick, who also bred An Accordion, had his first winner with Sabin du Loir in the Royal and Sun Alliance in 1983 and his most recent success came with Terao, in the Mildmay, in 1997. In between, Aquilifier won the Ritz Club Chase in 1988, which is now the William Hill Trophy.
NATIONAL NEXT FOR LAZY L'AMI
L'Ami (far side)
© racing-images.co.uk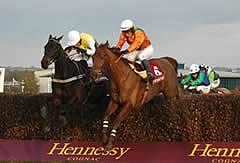 The Francois Doumen-trained L'Ami will run in the John Smith's Grand National following his third-place finish in today's William Hill Trophy Chase.
However, Doumen hopes Aintree's National fences will act as a wake-up to the nine-year-old, who finished tenth behind Silver Birch last year.
Doumen said: "He's getting a little bit lazy and Tony [McCoy] complained that he was being too cold during the race. He had to ask him to keep up, and I hope he will be keener in the National.
"The pace was a bit too slow today, and that allied to the horse being too lazy was the reason we were beaten - simple. The horse is well and that is the principle, and the whole plan is to get to the National.
"I only wish this horse had won today like his brother, Kelami, did a few years ago."
L'Ami wore cheekpieces today, and when asked if he might put blinkers on the horse at Aintree, Doumen said: "We'll see. We have plenty of time to think about that."
Paddy Power make L'Ami a 25-1 chance (from 50-1) for the John Smith's Grand National, while today's fourth, Patsy Hall is 25-1 from 40-1.
Sean Murphy, who owns runner-up New Alco with Danny McGowan, was delighted with his horse, who is trained by Ferdy Murphy (no relation).
New Alco could run at Aintree, said Sean Murphy, who added: "That's three seconds and a third for him at Cheltenham [including non-Festival races] and he was sixth in this race last year. He's been a bit unlucky today and nearly came to a stop at one fence, but he got back into contention and Davy Russell gave him a great ride.
"Ferdy reckoned we were too close to the pace last year and burnt him out, so we held him back today. He's only seven, but he comes up that hill and loves it."
Facts and Figures
1. The William Hill Trophy Handicap Chase was sponsored between 1981 and 1996 by the Ritz Club. Astec Buzz Shop backed the race in 1997, with William Hill taking over in 1998.
2. Five horses have used the William Hill Trophy Handicap Chase as a stepping stone to the totesport Cheltenham Gold Cup. These are:
Silver Fame (1950) Gold Cup 1951
Four Ten (1953) Gold Cup 1954
Limber Hill (1955) Gold Cup 1956
Kerstin (1956) Gold Cup 1958
Charter Party (1986) Gold Cup 1988
3. The shortest-priced winner was Silver Fame in 1950 at 5/4. The longest-priced scorer was Joes Edge, who belied odds of 50/1 to win last year.

4. Only two horses have won the race twice - Sentina in 1957 and 1958, and Scot Lane in 1982 and 1983. Unguided Missile, successful in 1998, had been runner-up in 1996.
WILLIAM HILL TROPHY HANDICAP CHASE - Analysis
The £90,000 William Hill Trophy Handicap Chase, one of the most competitive races of The Festival, has attracted a strong entry of 84, including 17 from Ireland and two from France. The last three winners of the extended three-mile contest are also among the entries to become just the third dual victors in the race's history.

Shrewd Irish trainer Tony Martin, who landed the 2006 renewal with Dun Doire, has entered five from his County Meath stable in a bid to scoop another big handicap prize this season. Along with that nine-year-old, he has both Newbay Prop, winner of a valuable handicap chase at Leopardstown over the Christmas period, and William Hill Troytown Chase winner Royal County Star entered.

His strong entry also includes the useful The Roney Man, a winner of his only two starts in Irish point-to-points before making an impact on the track, and Patsy Hall, winner of a good novice chase over an extended three miles and a furlong at Cheltenham in December, 2006.

Last year's 50/1 winner Joes Edge has been entered by Ferdy Murphy. However, the 11-year-old hasn't been seen since pulling up lame in the John Smith's Grand National following his Cheltenham success. Stable companion's Noir Et Vert and 2006 Kim Muir winner You're Special are also entered.

John Spearing's Simon heads a strong home challenge along with Donald McCain Jnr's pair of Cloudy Lane and Regal Heights. David Pipe's Celestial Gold is likely to be at the top end of the weights along with Nigel Twiston-Davies' Ollie Magern and Paul Nicholls' Mr Pointment.

Gary Moore's Verasi, who has completed a hat-trick of novice chase wins this season, is also entered, as is Mark Bradstock's King Harald and Miko De Beauchene, winner of the Coral Welsh National and Red Square Vodka Gold Cup from the stable of Robert and Sally Alner.

A strong challenge from Ireland includes Grand National third Slim Pickings, Irish Grand National Trial winner Chelsea Harbour and Hordago, winner of the amateur handicap chase at Cheltenham inNovember, in which The Roney Man was fourth.

Davy Fitzgerald's Pierse Leopardstown Handicap Chase winner Mister Top Notch is also among the raiding team, along with Noel Meade's trio of Afistfullofdollars, Back To Bid and Mattock Ranger.

Francois Doumen's pair includes 2005 winner Kelami and former totesport Cheltenham Gold Cup fourth L'Ami.

Other notable entries include Nigel Twiston-Davies' Fundamentalist, who hasn't been out of the first four in his five starts this season, David Pipe's recent Listed chase winner An Accordion and Nick Gifford's Wee Robbie.
WILLIAM HILL TROPHY HANDICAP CHASE – Past Results
2007-WINNER-JOES EDGE 10-10-06 Owner-Chemipetro Limited; Trainer-Ferdy Murphy; Jockey-Davy Russell; SP-50/1
2ND-Juveigneur 10-11-09 Owner-Trevor Hemmings; Trainer-Nicky Henderson; Jockey-Mick Fitzgerald; SP-7/1Co Fav
3RD-Distant Thunder 9-10-11 Owner-Old Moss Farm; Trainer-Noel Chance; Jockey-Andrew McNamara; SP-7/1 Co Fav
4TH-Mon Mome 7-11-01 Owner-Vida Bingham; Trainer-Venetia Williams; Jockey-Liam Treadwell; SP-16/1
23 ran, Time-6m 15.94s, Dist-sh, sh, 8 7/1 Co Fav New Alco (6th)
2006-WINNER-DUN DOIRE 7-10-09 Owner-Dunderry Racing Syndicate; Trainer-Tony Martin IRE; Jockey-Ruby Walsh; SP-7/1 2ND-Juveigneur 9-11-05 Owner-Trevor Hemmings; Trainer-Nicky Henderson; Jockey-Mick Fitzgerald; SP-16/1
3RD-Irish Hussar 10-11-12 Owner-Major Christopher Hanbury; Trainer-Nicky Henderson; Jockey-Marcus Foley; SP-66/1
4TH-Model Son 8-10-08 Owner-P J Hughes Developments Ltd; Trainer-Patrick Haslam; Jockey-Paddy Merrigan; SP-14/1
21 ran, Time-6m 12.10s, Dist-2, 1.25, 1.5 100/30 Fav Moulin Riche (PU)
2005-WINNER-KELAMI 7-10-02 Owner-Halewood International Ltd; Trainer-Francois Doumen FR; Jockey-Robert Thornton; SP-8/1
2ND-Keen Leader 9-11-12 Owner-Adair Catherwood; Trainer-Jonjo O'Neill; Jockey-Barry Geraghty; SP-28/1
3RD-Irish Hussar 9-11-07 Owner-Major Christopher Hanbury; Trainer-Nicky Henderson; Jockey-Mick Fitzgerald; SP- 33/1
4TH-Chives 10-11-13 Owner-Trevor Hemmings; Trainer-Sue Smith; Jockey-Dominic Elsworth; SP-33/1
20 ran, Time-6m 08.60s, Dist-1.25, 2, .75 11/2 Fav Iris Bleu (9th)
2004-WINNER-FORK LIGHTNING 8-10-05 Owner-Fred and Sue Welch; Trainer-Alan King; Jockey-Robert Thornton; SP-7/1
2ND-Shardam 7-10-07 Owner-Howard Parker; Trainer-Nigel Twiston-Davies; Jockey-Carl Llewellyn; SP-11/2
3RD-Royal Auclair 7-10-09 Owner-Clive Smith; Trainer-Paul Nicholls; Jockey-Ruby Walsh; SP 7/1
11 ran, Time-6m 12.30s, Dist-2, 9 100/30 Fav Haut Cercy (8th)
2003-WINNER-YOULNEVERWALKALONE 9-10-11 Owner-J P McManus; Trainer-Christy Roche IRE; Jockey-Barry Geraghty; SP-7/1
2ND-Haut Cercy 8-10-00 Owner-The Wiggin Partnership; Trainer-Henry Daly; Jockey-Richard Johnson; SP-10/1
3RD-Ad Hoc 9-11-00 Owner-Sir Robert Ogden; Trainer-Paul Nicholls; Jockey-Ruby Walsh; SP-5/1 Jt Fav
4TH Maximize 9-10-01 Owner-Lady Vestey; Trainer-Henrietta Knight; Jockey-Jim Culloty; SP-20/1
18 ran, Time-6m 16.90s, Dist- .75, 9, 1.25 5/1 Jt Fav Joss Naylor (11th)
2002-WINNER-FRENCHMAN'S CREEK 8-10-05 Owner-Rory Sweet and Panda Wilson; Trainer-Hughie Morrison; Jockey-Paul Carberry; SP-8/1
2ND-Carbury Cross 8-10-02 Owner-Anne, Duchess of Westminster; Trainer-Jonjo O'Neill; Jockey-Liam Cooper; SP-25/1
3RD-Ad Hoc 8-11-07 Owner-Sir Robert Ogden; Trainer-Paul Nicholls; Jockey-Ruby Walsh; SP-7/1
4TH-You're Agoodun 8-11-00 Owner-Jeff Lammiman; Trainer-Martin Pipe; Jockey-Johnny Kavanagh; SP-20/1
23 ran, Time-6m 12.10s, Dist-3, 16, .75 4/1 Fav Gunther McBride (6th)
2001 - No Race (Foot and Mouth)
2000-WINNER-MARLBOROUGH 8-10-03 Owner-Robert Ogden; Trainer-Nicky Henderson; Jockey-Mick Fitzgerald; SP-11/2
2ND-Beau 7-10-02 Owner-Sylvia Tainton; Trainer-Nigel Twiston-Davies; Jockey-Carl Llewellyn; SP-5/1 Jt Fav
3RD-Star Traveller 9-10-00 Owner-Jill Griffith & Liz Strachan; Trainer-Henry Daly; Jockey-Andrew Thornton; SP-6/1 12 ran, Time-5m 59.70s, Dist-2.5, .5 5/1 Jt Fav Spendid (5th)
1999-WINNER-BETTY'S BOY 10-10-02 Owner-Ted Benfield and Bill Brown; Trainer-Kim Bailey; Jockey-Norman Williamson; SP-25/1
2ND-Island Chief 10-10-01 Owner-George Dilger; Trainer-Peter Beaumont; Jockey-Brian Storey; SP-10/1
3RD-Nahthen Lad 10-10-10 Owner-Jim Shaw; Trainer-Jenny Pitman; Jockey-Richard Dunwoody; SP-25/1
4TH-Macgeorge 9-11-08 Owner-Mr & Mrs J H Watson; Trainer-Richard Lee; Jockey-Adrian Maguire; SP-16/1
18 ran, Time-6m 22.6s, Dist-5, 2, 2.5 4/1 Fav Kadou Nonantais (fell)
1998-WINNER-UNGUIDED MISSILE 10-11-10 Owner-David Harrison; Trainer-Gordon Richards; Jockey-Paul Carberry; SP-10/1
2ND-Glitter Isle 8-10-02 Owner-Mrs Timothy Pilkington; Trainer-Josh Gifford; Jockey-Philip Hide; P-20/1
3RD-Even Flow 9-10-07 Owner-Andrew Wates; Trainer-Terry Casey; Jockey-Mick Fitzgerald; SP-7/2 Fav
13 ran, Time-6m 11.6s, Dist-7, .5
1997-WINNER-FLYER'S NAP 11-11-02 Owner-Jim Tory; Trainer-Robert Alner;Jockey-David Bridgwater; SP-20/1
2ND-Stormtracker 8-10-00 Owner-Tim Davis; Trainer-Colin Weedon; Jockey-Mark Richards; SP-25/1
3RD-General Command 9-11-02 Owner-Robert Ogden; Trainer-Gordon Richards; Jockey-Jamie Osborne; SP-9/4 Fav 14 ran, Time-6m 13.8s, Dist-1.5, .75
1996-WINNER-MAAMUR 8-10-00 Owner-Jean Wood; Trainer-Tim Forster; Jockey-Andrew Thornton; SP-13/2
2ND-Unguided Missile 8-10-10 Owner-David Harrison; Trainer-Gordon Richards; Jockey-Richard Dunwoody; SP-11/4 Fav
3RD-Chatam 12-10-02 Owner-Adrian Nolan and Dr B Nolan; Trainer-Martin Pipe; Jockey-David Bridgwater; SP-28/1 10 ran, Time-6m 22.9s, Dist-7, 13
1995-WINNER-ROUGH QUEST 9-10-03 Owner-Andrew Wates; Trainer-Terry Casey; Jockey-Mick Fitzgerald; SP-16/1
2ND-Antonin 7-11-08 Owner-G R Bailey Ltd (Baileys Horse Feeds); Trainer-Sue Bramall; Jockey-John Burke; SP-14/1
3RD-Cache Fleur 9-10-06 Owner-Brian Kilpatrick; Trainer-Martin Pipe;Jockey-Richard Dunwoody; SP-6/1
4TH-Grange Brake 9-10-10 Owner-Jenny Mould; Trainer-Nigel Twiston-Davies; Jockey-David Bridgwater; SP-14/1 16 ran, Time-6m 32.9s, Dist-9, sh, .75 7/2 Fav Couldnt Be Better (11th)

WILLIAM HILL TROPHY HANDICAP CHASE ROLL OF HONOUR
(William Hill Trophy Handicap Chase since 2005, William Hill National Hunt Handicap Chase 1998-2004, Astec Buzz Shop National Hunt Handicap Chase 1997, Ritz Club National Hunt Handicap Chase 1981-96, National Hunt Handicap before 1981)

Year Winner Age/Wt Jockey Trainer Owner SP Ran

2007 Joes Edge 10-10-06 Davy Russell Ferdy Murphy Chemipetro Limited 50/1 23
2006 Dun Doire 7-10-09 Ruby Walsh Tony Martin IRE Dunderry Racing Syndicate 7/1 21
2005 Kelami 7-10-02 Robert Thornton Francois Doumen FR Halewood International Ltd 8/1 20
2004 Fork Lightning 8-10-05 Robert Thornton Alan King Fred and Sue Welch 7/1 11
2003 Youlneverwalkalone 9-10-11 Barry Geraghty Christy Roche IRE J P McManus 7/1 18
2002 Frenchman's Creek 8-10-05 Paul Carberry Hughie Morrison Rory Sweet and Panda Wilson 8/1 23
2001 No Race (Foot and Mouth)
2000 Marlborough 8-10-03 Mick Fitzgerald Nicky Henderson Robert Ogden 11/2 12
1999 Betty's Boy 10-10-02 Norman Williamson Kim Bailey Ted Benfield and Bill Brown 25/1 18
1998 Unguided Missile 10-11-10 Paul Carberry Gordon Richards David Harrison 10/1 13
1997 Flyer's Nap 11-11-02 David Bridgwater Robert Alner Jim Tory 20/1 14
1996 Maamur 8-10-00 Andrew Thornton Tim Forster Jean Wood 13/2 10
1995 Rough Quest 9-10-03 Mick Fitzgerald Terry Casey Andrew Wates 16/1 16
1994 Antonin 6-11-05 John Burke Sue Bramall Michael Stanners 4/1F 11
1993 Givus A Buck 10-10-08 Paul Holley David Elsworth Kevin Costello 11/2 7
1992 Tipping Tim 7-10-00 Carl Llewellyn Nigel Twiston-Davies Jenny Mould 20/1 17
1991 Seagram 11-10-11 Nigel Hawke David Barons Sir Eric Parker 6/1 14
1990 Bigsun 9-10-11 Richard Dunwoody David Nicholson John Horn 15/2 14
1989 Dixton House 10-11-00 Tom Morgan John Edwards Peter S Hill 13/2 16
1988 Aquilifer 8-10-12 Paul Croucher David Murray-Smith Brian Kilpatrick 9/2 16
1987 Gainsay 8-10-05 Ben de Haan Jenny Pitman Errol Brown 10/1 12
1986 Charter Party 8-10-10 Peter Scudamore David Nicholson Claire Smith 12/1 16
1985 West Tip 8-10-13 Richard Dunwoody Michael Oliver Peter Luff 6/1 20
1984 Tracys Special 7-11-01 Steve Knight Andy Turnell Major Jack Rubin 5/1 12
1983 Scot Lane 10-11-07 Craig Smith Martin Tate T Isherwood 20/1 19
1982 Scot Lane 9-10-12 Craig Smith Martin Tate T Isherwood 15/2 18
1981 Current Gold 10-10-07 Neale Doughty Gordon Richards A Picken 10/1 16
1980 Again The Same 7-11-01 Mr Jim Wilson John Edwards G D Smith 10/1 16
1979 Fair View 9-10-04 Ridley Lamb George Fairbairn Michael Shone 12/1 13
1978 No race (Abandoned because of snow)
1977 Gay Vulgan 9-11-04 Bill Smith Fulke Walwyn Mrs W Pilkington 4/1F 12
1976 Barmer 8-10-03 Jimmy McNaught Robin Blakeney Richard Dean 20/1 14
1975 King Flame 9-10-06 John Francome Richard Head Lord Head 12/1 14
1974 Cuckolder 9-10-13 Andy Turnell Bob Turnell Bob Turnell 6/1 11
1973 The Chisler 7-10-10 Michael Dickinson Tony Dickinson J Haggas 6/1 13
1972 Jomon 6-10-12 David Mould Tom Jones Mrs W Jones 8/1 15
1971 Lord Jim 10-10-08 Johnnie Haine Fulke Walwyn Gilbert Dudley Jnr 8/1 14
1970 Charter Flight 8-11-09 Andrew Turnell Bob Turnell John Rogerson 100/8 16
1969 Chancer 7-11-00 Pat McCarron Charlie Hall A H P Hope 6/1F 13
1968 Battledore 7-10-10 Kit Stobbs Arthur Stephenson W Morton 3/1F 8
1967 Different Class 7-11-13 David Mould Peter Cazalet Gregory Peck 13/2 16
1966 Arkloin 7-12-05 Pat Taaffe Tom Dreaper IRE George Ansley 5/2F 12
1965 Rondetto 9-11-10 Johnnie Haine Bob Turnell A B Mitchell 11/2 20
1964 Prudent Barney 10-10-11 Terry Biddlecombe Bobby Renton Lurline Brotherton 10/1 10
1963 Team Spirit 11-11-04 Willie Robinson Fulke Walwyn Ronald B Woodward 100/8 24
1962 Longtail 7-11-00 Stan Mellor Dick Curran Arthur Dickinson 100/7 18
1961 Ravencroft 8-10-03 Fred Winter Fulke Walwyn Larch Loyd 9/2 10
1960 Isle Of Skye 9-10-05 Tony Keen Alec Kilpatrick Sir Thomas Pilkington 100/8 12
1959 Winning Coin 7-11-07 Dave Dick George Beeby Lord Bicester 100/9 14
1958 Sentina 8-11-07 Tom Taaffe Tom Dreaper IRE Duchess of Westminster 7/1 14
1957 Sentina 7-10-04 Pat Taaffe Tom Dreaper IRE A Craigie 3/1F 12
1956 Kerstin 6-10-05 George Milburn Verly Bewicke G H Moore 100/9 14
1955 Limber Hill 8-11-02 Tim Molony Bill Dutton John Davey 7/1 19
1954 Holly Bank 7-10-13 Mr Peter Brookshaw Fred Rimell S H Brookshaw 7/2F 12
1953 Four Ten 7-10-07 Tommy Cusack John Roberts A Strange 4/1 12
1952 Royal Tan 8-11-06 Mr Phonsie O'Brien Vincent O'Brien IRE Joe Griffin 7/2JF 11
1951 Land Fort 7-11-08 Johnny Bullock Fred Rimell H Oliver 8/1 14
1950 Silver Fame 11-12-07 Martin Molony George Beeby Lord Bicester 5/4F 11
1949 Frere Jacques II 7-10-06 Ted Vinall Fred Rimell Mrs A Simmons 20/1 13
1948 Cavaliero 7-11-10 Ted Vinall Fred Rimell W R Porter 7/1 21
1947 No race (Abandoned because of snow and frost)
1946 Dunshaughlin 8-10-10 Bobby O'Ryan Charlie Rogers IRE Dorothy Paget 7/1 18