cheltenham festival / 2008 news /
Our Vic Lands Ryanair Chase
13/03/08
1st (7) Our Vic 4-1
2nd (5) Mossbank 4-1
3rd (11) Turko 7-1
9 ran
Also: 10-3 Fav The Listener, 33-1 Knight Legend 4th
NR: Newmill, Tamarinbleu
Our Vic
© racing-images.co.uk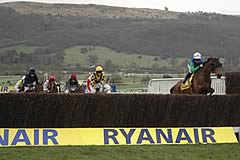 Our Vic went one place better than last year when taking the Ryanair Chase, run as a Grade One race for the first time in 2008, for owner David Johnson, trainer David Pipe and jockey Timmy Murphy.
Always prominent, the 10-year-old saw out the two mile, five furlong contest well to record a five-length victory over Mossbank.
David Pipe said: "He is a real old favourite and has been around a long time. This is a great result for Pond House as well as David Johnson and his family. This horse deserved to win a race at The Festival.
"Today's trip on an undulating course like Cheltenham really suited him. The (first-time) blinkers just sharpened him up a bit. It was Eddie Buckley, who rides him every day, who suggested that we tried blinkers on him. Timmy got some fantastic jumps out of him .
"Timmy gave him a great ride and was positive on him. We just put the blinkers on because last year he got a bit outpaced and he's travelled well today. I could see Mossbank coming on the outside, but Out Vic has travelled all the way to the line. He's a very good horse. David said he's won £440,000 in prize money and he's just collected a bit more now."
Timmy Murphy said: "The horse really deserves this win and it is great for the yard.
"The blinkers have made a good bit of difference and the ground is slower this year as well. We went a pretty good gallop considering the ground and I know he stays a little bit further.
"I was just worried again turning in that he was going to fold on me but he's kept picking up all the way to the line. He deserves to win a big race. He's one of our best horses and he's earned an awful lot of prize money and he deserves a big day here."
Successful owner David Johnson added: "Timmy was being modest because he has given the horse a great ride. Coming to the last I was slightly worried but he did it brilliantly.
"I'd like to say well done to Timmy. The horse has been knocking on the door all season and he deserved a big race and now he's got it. Hopefully, they will take away his Timeform squiggle now.
"David has thought for some time that the blinkers might liven him up as he's been a little bit lethargic in one or two of his races and it has worked the oracle today. We've worked him in them at home and he's gone the right way and he's done it today. Coming over the last we were fingers crossed that he would get up the hill. He's disappointed us once or twice before when he hasn't got the trip but he's got there today and all credit to Timmy and David, whose got him spot on the day and I'm just lucky enough to be the owner.
"Once he jumped the first I thought he had a really good chance. He needs things to go his own way and that's what's happened today. Tom Costello sold us this horse. We have had some good and some bad horses off of him. This is a brilliant horse."
CREDIT GOES TO OLD VIC
Michael Hourigan, who trained second-placed Mossbank in the Ryanair Chase was quick to give credit to the horse which beat his. "The winner [Our Vic] was very deserving and the blinkers really worked on him today. I was expecting him to stop, but he didn't."
"I'm very pleased with the way our's ran. He jumped well and although the ground may have been a bit tacky for him, I've no excuses and he was beaten fair and square. He's just able to cruise on better ground and he'll go to Punchestown now and see what happens there."
Andy Stewart, owner of the third-placed Turko, was equally generous in defeat. "They did well with Old Vic, that David Pipe will make a trainer yet," he said, smiling.
Stewart will take the Paul Nicholls trained Turko to Aintree and is then set upon entering a significant number of horses at Punchestown, including Turko.
Trainer Jessica Harrington was delighted by the run of Knight Legend, who finished fourth at 33/1.
"I'm really thrilled, he jumped brilliantly throughout. People can't go on saying that he's a bad jumper now. And it was on ground that he probably have preferred a bit quicker," she said.
RYANAIR CHASE - Facts & Figures
1. The Ryanair Chase was introduced to The Festival in 2005. It replaced the Cathcart Chase, although the conditions of the race changed slightly with it being open to all horses rather than being restricted to first and second season chasers.
2. The first three renewals were run as Grade Two contests. It becomes a Grade One affair in 2008.
3. The Daily Telegraph backed the inaugural contest, with Irish airline Ryanair taking over the sponsorship for 2006.
4. Fondmort, the 100/30 joint-favourite, was landing his fourth race at Cheltenham when victorious in 2006.

RYANAIR CHASE - Past Winners
(Ryanair Chase from 2006, Daily Telegraph Chase 2005)

Year Winner Age/Wt Jockey Trainer Owner SP Ran
2007 Taranis 6-11-00 Ruby Walsh Paul Nicholls Mrs A B Yeoman & C R Whittaker 9/2 9
2006 Fondmort 10-11-00 Mick Fitzgerald Nicky Henderson Bill Brown 100/30JF 11
2005 Thisthatandtother 9-11-03 Ruby Walsh Paul Nicholls Graham Roach 9/2 12
RYANAIR CHASE - Past Results
2007-WINNER-TARANIS 6-11-00 Owner-Mrs A B Yeoman & C R Whittaker; Trainer-Paul Nicholls; Jockey-Ruby Walsh; SP-9/2
2ND –Our Vic 9-11-05 Owner-David Johnson; Trainer-David Pipe; Jockey-Timmy Murphy; SP-7/2
3RD–Billyvoddan 8-11-00 Owner-Trevor Hemmings; Trainer-Henry Daly; Jockey-Richard Johnson; SP-20/1
9 ran, Time-5m 10.60s Dist-nk, ½ 7/4 Fav Monet's Garden (4th)
2006-WINNER-FONDMORT 10-11-00 Owner-Bill Brown; Trainer-Nicky Henderson; Jockey-Mick Fitzgerlad; SP-100/30 Jt Fav
2ND-Lacdoudal 7-11-00 Owner-Carol Skan; Trainer-Philip Hobbs; Jockey-Richard Johnson; SP-20/1
3RD-Impek Owner-Jim Lewis; Trainer-Henrietta Knight; Jockey-Tony McCoy; SP-100/30 Jt Fav
11 ran, Time-5m 3.00s Dist-1¼, hd
2005-WINNER-THISTHATANDTOTHER 9-11-03 Owner-Graham Roach; Trainer-Paul Nicholls; Jockey-Ruby Walsh;
SP-9/2
2ND-Fondmort 9-11-00 Owner-Bill Brown; Trainer-Nicky Henderson; Jockey-Mick Fitzgerald; SP-9/1
3RD-Rathgar Beau 9-11-03 Owner-One-O-Eight Racing Club; Trainer-Eamon Sheehy IRE; Jockey-Shay Barry; SP-9/2
12 ran, Time-5m 11.90s Dist: ½, 2½ 7/4 Fav Our Vic (PU)