Jack Makes Emma's Day
11/03/08
1st 3 Crack Away Jack 14/1
2nd 1 Ashkazar 15/8 Fav
3rd 10 Grand Schlem 12/1
4th 8 Indian Spring 66/1
NR 12 Mr Crystal 15 Callisto Moon
Given a sublime ride at the rear of the field, Paul Carberry brings Crack Away Jack (maroon and white) through to collar the gambled on Ashkazar at the last to save the bookies yet again.
© racing-images.co.uk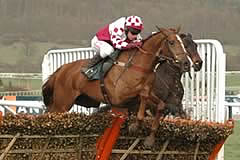 Emma Lavelle had eyes for only one horse in the Fred Winter Juvenile Novices' Hurdle. "I was just watching my horse [Crack Away Jack] for the whole race. I didn't dare look at anything else at all," she said.
Small wonder that Lavelle was only focused on Crack Away Jack for while the punters had put their faith in Ashkazan and River Liane, Lavelle suggested that her horse, which started at a healthy 14/1, was nevetheless the most fancied horse she had ever had at the Festival.
Crack Away Jack belied his odds coming up the hill strongly to overtake the long-time leader and race favourite Ashkazar to give the 34-year-old trainer her first-ever Cheltenham success. "I think the moment I knew we could win was when Paul [Carberry] was coming to the second-last and he took a bit of a pull on him," said Lavelle.
Lavelle had thought the softened ground could militate against Crack Away Jack, but felt that Carberry, for whom this was a 10th Cheltenham Festival winner, made the difference. "I thought maybe he would struggle, but Paul gave him such an amazing ride. He got him so relaxed that he didn't even know he'd been in a race until after the second-last fence," she said.
Crack Away Jack has long been the apple of Lavelle's eye. "I went to France to buy him as a two-year-old and I couldn't believe how developed he was even then. He just looked like a three-year-old," she said.
The horse is owned by the GDM Partnership of Gregory and Daniel Charlesworth and Michael Smith. They also own the prolific mare Labelthou, who is entered in the David Nicholson Mare's Hurdle on Friday.
The winning rider commented: "Barry Fenton is a very good friend of mine and he told me to walk him out of the gate and just find your way from there. He's got plenty of pace and jumped very well. He was always travelling well and even down the hill when they came back. He jumped the last well and went on to the line.
"I was always confident that we would catch Timmy even turning in when there were three or four in front of me. I took a pull back because I thought he was going well enough and didn't want to hit the front too soon.
"He winged the last and galloped on about his business to the line. I had to pick one up after Nina won just because I'd never let her get all of the attention."
ASHKAZAR JUST MISSES OUT ON BONUS
Ashkazar
© racing-images.co.uk


The David Pipe-trained Ashkazar, winner of the Sunderlands Imperial Cup at Sandown on Saturday, just missed out on a £75,000 bonus after finishing second in the Fred Winter Juvenile Novices' Handicap Hurdle.
Sunderlands put up the bonus, won by the Pipe-trained Gaspara 12 months ago, for any horse that scored on Saturday and went on to win at The Festival but Ashkazar missed out by two and a half lengths.
"I thought we were going to win then Emma Lavelle's came there too strongly," said Pipe. "But he's run a blinder and perhaps the ground may have just gone against him. It was a great run and I don't know where he'll go now, we'll get Cheltenham out of the way first."
Fred Winter Juvenile Novices' Handicap Hurdle – Analysis
The fourth running of the Fred Winter Juvenile Novices' Handicap Hurdle, the final race on day one of The Festival, Tuesday, March 11, has received 85 entries, including 26 from Ireland and two from France.
David Pipe landed the contest in 2007 with Gaspara and the Nicholashayne handler has half a dozen entered this time around. The sextet include Ashkazar and Mamlook, both successful in two of their three starts, Sainte Kadette, successful at Cheltenham in October, Soliya, Mutual Friend and Royal Rationale.
Champion trainer Paul Nicholls has four engaged including Chapoturgeon, triumphant on his latest two starts, Five Dream, a winner at Cheltenham in January before finishing seventh in the totesport Trophy at Newbury, Pierrot Lunaire and Qrackers.
Ireland took the first running of this contest with Dariboun in 2005 and the 26 Irish-trained entries this year include Harper Valley, who got the better of current JCB Triumph Hurdle favourite Franchoek in the Boylesports.com Best Odds Juvenile Novices' Hurdle at Cheltenham in December, before disappointing at Musselburgh last time out.
Trainer Willie Mullins accounts for five of the entries from Ireland in Sonnium, Sesenta, Dani California, Temlett and C'est Ca, an impressive winner on his last two starts. Beau Michael, trained by Adrian McGuinness, collected a Grade Three contest at Punchestown last time out when he accounted for the Jessica Harrington-trained Personal Column.
Other interesting contenders include the Howard Johnson-trained Act Sirius, victorious on his latest two starts at Musselburgh, Hypnotic Vibes, successful on three of his four outings for Welsh handler Evan Williams and Songe from the Charlie Longsdon stable who has won both his starts in Britain since arriving from France.
The two French-trained entries are If You Ever, trained by Rupert Pritchard-Gordon and victorious on his latest two outings at Cagnes-Sur-Mer and Grand Schlem, from the Francois Doumen yard, and third behind Ashkazar at Sandown last time.
FACTS & FIGURES
1. The Fred Winter Juvenile Novices' Handicap Hurdle commemorates one of the greatest figures in the history of jump racing both as a jockey and trainer. Fred Winter, who died aged 77 in April, 2004, was champion jockey four times and rode the totesport Cheltenham Gold Cup winner twice (1961 Saffron Tartan, 1962 Mandarin) and won the Smurfit Kappa Champion Hurdle on three occasions as a rider (1955 Clair Soleil, 1959 Fare Time, 1961 Eborneezer). He had 17 Festival successes as a jockey. He retired from the saddle at Cheltenham's spring meeting in 1964 and went on to be champion trainer on eight occasions. He won four Champion Hurdles as a trainer (1971 and 1972 Bula, 1974 Lanzarote, 1988 Celtic Shot) and, although the Cheltenham Gold Cup proved elusive for a long while as a trainer, he finally landed the race in 1978 with Midnight Court. He saddled a total of 28 Festival winners and holds the unique feat of having been the only man to have both ridden and trained winners of the Cheltenham Gold Cup and Champion Hurdle.
2. The Fred Winter Juvenile Novices' Handicap Hurdle was one of the new races introduced to The Festival in 2005 when it was extended to four days.
3. The inaugural running went to Dabiroun, partnered by Nina Carberry. Carberry became the second female jockey to win a Festival race other than the Christie's Foxhunter Chase, following on from Gee Armytage.
4. David Pipe enjoyed his first Festival success last year with Gaspara, who also landed a £75,000 put up by bookmaker Sunderlands for any horse that landed the Sunderlands Imperial Cup and a race at The Festival.
FRED WINTER JUVENILE NOVICES' HANDICAP HURDLE PAST RESULTS
2007-WINNER-GASPARA 4-10-11 Owner-Martin Pipe; Trainer-David Pipe; Jockey-Andrew Glassonbury; SP-9/2 Joint Fav
2ND-Altilhar 4-10-08 Owner-H R Hunt; Trainer-Gary Moore; Jockey-Noel Fehily; SP-12/1
3RD-Laustra Bad 4-11-00 Owner-Sarah Ling; Trainer-David Pipe; Jockey-Tom Scudamore; SP-16/1
4TH-Zilcash 4-11-07 Owner-David Bellamy & Stephen Williams; Trainer-Alan King; Jockey-Gerard Tumelty; SP-50/1
24 ran, Time-3m 57.75s, Dist-5, nk, 3 9/2 Joint Fav Pouvoir (10th)
2006-WINNER-SHAMAYOUN 4-11-03 Owner-Ronald Brimacombe; Trainer-Charles Egerton; Jockey-Paddy Brennan; SP-40/1
2ND-Artist's Muse 4-10-13 Owner-Seamus Ross; Trainer-Ted Walsh IRE; Jockey-Ruby Walsh; SP-12/1
3RD-Patman du Charmil 4-11-03 Owner-Raymond Mould; Trainer-Nigel Twiston-Davies; Jockey-Carl Llewellyn; SP-40/1
4TH-Gardasse 4-11-03 Owner-A S Helaissi; Trainer-Tom Tate; Jockey-Jason Maguire; SP-33/1
24 ran, Time-3m 57.20s, Dist-2.5, 2.5, 2.5 9/2 Fav Royals Darling (15th)
2005-WINNER-DABIROUN 4-11-04 Owner-Donal O'Gorman; Trainer-Paul Nolan IRE; Jockey-Miss Nina Carberry; SP-20/1
2ND-At Your Request 4-11-03 Owner-Cockbury Court Partnership; Trainer-Ian Williams; Jockey-David Dennis; SP-33/1
3RD-Nation State 4-11-04 Owner-J D Brownrigg; Trainer-Gary Moore; Jockey-Jamie Moore; SP-7/1
4TH-Miss Academy 4-11-12 Owner-David Johnson; Trainer-Martin Pipe; Jockey-Timmy Murphy; SP-16/1
14 ran, Time-3m 54.00s, Dist-8, 1.5 , 1.75 4/1 Fav Ease The Way (14th)
FRED WINTER JUVENILE NOVICES' HANDICAP HURDLE ROLL OF HONOUR
(First running in 2005)
Year Winner Age/Wt Jockey Trainer Owner SP Ran
2007 Gaspara 4-10-11 Andrew Glassonbury David Pipe Martin Pipe 9/2 JF 24
2006 Shamayoun 4-11-03 Paddy Brennan Charles Egerton Ronald Brimacombe 40/1 24
2005 Dabiroun 4-11-04 Miss Nina Carberry Paul Nolan IRE Donal O'Gorman 20/1 24