Royal Ascot




Excellent Art Effort Caps Stunning O'Brien Training Feat 19/06/07
1st 6 Excellent Art 8/1
2nd 4 Duke Of Marmalade 11/1
3rd 1 Astronomer Royal 14/1
Excellent Art (Jamie Spencer pink) came from last to first with a dream run to split his stablemates, Duke of Marmalade (Mick Kinane hidden) and Astronomer Royal (C O`Donoghue purple), with Dutch Art (Jimmy Fortune) fourth.
© racing-images.co.uk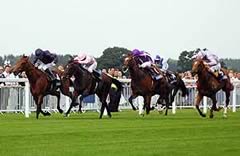 Aidan O'Brien saddled the first three home in the St James's Palace Stakes with winner Excellent Art capping an extraordinary training achievement.
Excellent Art pipped stable-mate Duke Of Marmalade by a neck and fellow Ballydoyle inmate Astronomer Royal was a further length-and-a-quarter back.

John Magnier, husband of co-owner Sue Magnier, summed it up when he commented:: "It is quite a training performance."
Jamie Spencer gave a stellar performance in the saddle on Excellent Art, who met trouble in running in the French 2000 Guineas last month.
Magnier added: "He was maybe unlucky in France and was the unknown horse in the race, I guess.
"He had quite a good record as two-year-old. He won the Mill Reef - Neville Callaghan did a very good job with him.
"Paul Shanahan thought we should buy him (towards the end of 2006) and we went along with his suggestion and that is how it happened."
Spencer said: "He travelled very smoothly and my only concern through the race was that the pace was a bit too steady for him.
"But I got a nice run around the fence and once a gap opened he quickened impressively into it.
"He was running at sprint distances last year. In France he was a little bit fresh but today he was nice and relaxed. In France, being unlucky he didn't get to have a hard race.
"I felt in France I did what was best for the horse on the day. After the race, I felt he would have won easily if he had got the gaps. Today's he's proved it.
"Aiden was confident and that the horse had improved and he was very happy: you take that on board.
"Excellent Art is a very exciting colt and I am just pleased to be part of the team this afternoon. This fellow goes on anything and is a powerful compact colt.
"He settled lovely towards the rear, they didn't go quick, which was my only concern, and once he got the split a furlong out he was always going to win, and he won snugly in the end.
"I always feel that this race is the race that counts as far as three-year-old milers [are concerned]. All the Guineas winners come here and it's the best one who wins this race, and I think this fellow has proven it today.
"He's a smashing horse to deal with and I'm pleased and thankful that Aidan O'Brien and his team allowed me to ride the horse. They had confidence in me to leave me on him and I got the job done."
REBEL ONLY FIFTH
Cockney Rebel could only finish fifth


© racing-images.co.uk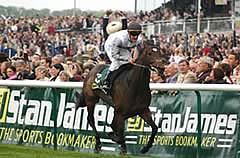 Even-money favourite Cockney Rebel finished fifth after hanging left in the St James's Palace Stakes and is set to next appear in the Prix Jacques Le Marois at Deauville.

"He hanged a lot and I couldn't ride the horse properly," said jockey Olivier Peslier.

Trainer Geoff Huffer added: "He tends to hang left, we don't know why he does but we'll look at going back to a straight track with him. We'll think about the Jacques Le Marois."
Owner Phil Cunningham said: "I'm absolutely gutted but I would be if I'd been beaten in a seller at Folkestone as I'm a racing man. This horse owes us absolutely nothing."
3.45pm ST JAMES'S PALACE STAKES (GROUP ONE)
£250,000 guaranteed, one mile, For 3yo entire colts Weights 9st Entries 72 pay £700 First Forfeit 28 pay £800 Confirmed 11 pay £500 Penalty Value 1st £141,950; 2nd £53,800; 3rd £26,925; 4th £13,425; 5th £6,725; 6th £3,375
1 EXCELLENT ART (Sue Magnier, Michael Tabor, Derrick Smith, Matthew Green) Aidan O'Brien IRE 3-9-00 Jamie Spencer [1] 8/1
2 DUKE OF MARMALADE (IRE) (Sue Magnier & Michael Tabor) Aidan O'Brien IRE 3-9-00 Michael Kinane [7] 11/1
3 ASTRONOMER ROYAL (USA) (Derrick Smith, Sue Magnier, Michael Tabor) Aidan O'Brien IRE 3-9-00 Colm O'Donoghue [6] 14/1
4 DUTCH ART (Susan Roy & Cheveley Park Stud) Peter Chapple-Hyam 3-9-00 Jimmy Fortune [4] 100/30
5 COCKNEY REBEL (IRE) (Phil Cunningham) Geoff Huffer 3-9-00 Olivier Peslier [3] Evens f
6 CREACHADOIR (IRE) (Jackie Bolger) Jim Bolger IRE 3-9-00 Kevin Manning [8]
7 JACK JUNIOR (USA) (Roldvale Limited) Brian Meehan 3-9-00 Frankie Dettori [2]
8 HE'S A DECOY (IRE) (Joseph Joyce) David Wachman IRE 3-9-00 Kerrin McEvoy [5]
8 ran
Distances: nk, 1 1/4, hd, sh, 1, 2 1/2, 3/4
Time: 1m 39.33s
Breeding: b c Pivotal - Obsessive (USA) (Seeking The Gold (USA))
Breeder: Cheveley Park Stud Ltd
Totes: Win: £7.30 Places:£1.60; £2.80; £3.00 Exacta: £89.50
Winning trainer:-Name: Aidan O'Brien Date of birth: 16/10/69 Previous occupation: Assistant trainer to Jim Bolger and Anne-Marie Crowley O'Brien Date of first licence: 1993 British Classic wins: (10) Vodafone Derby (2001 Galileo, 2002 High Chaparral), 2000 Guineas (1998 King Of Kings, 2002 Rock Of Gibraltar, 2005 Footstepsinthesand, 2006 George Washington), 1000 Guineas (2005 Virginia Waters),Vodafone Oaks (1998 Shahtoush, 2001 Imagine, 2006 Alexandrova), St Leger (2001 Milan, 2003 Brian Boru, 2005 Scorpion) Irish Classic Wins: (12) Irish 2,000 Guineas (1997 Desert King, 1999 Saffron Walden, 2001 Black Minnaloushe, 2002 Rock Of Gibraltar), Irish 1,000 Guineas (1997 Classic Park, 2001 Imagine, 2003 Yesterday), Irish Derby (1997 Desert King, 2001 Galileo, 2002 High Chaparral, 2006 Dylan Thomas), Irish Oaks (2006 Alexandrova) Other major wins include: Vodafone Coronation Cup (2005 Yeats, 2007 Scorpion), Coventry Stakes (1997 Harbour Master), Criterium de Saint-Cloud (2001 Ballingary, 2002 Alberto Giacometti), Dante Stakes (1998 Saratoga Springs), Darley Dewhurst Stakes (2001 Rock Of Gibraltar), Dee Stakes (2005 Gypsy King), Eclipse Stakes (2000 Giant's Causeway, 2002 Hawk Wing), French 2,000 Guineas (2002 Landseer, 2006 Aussie Rules, Astronomer Royal), French 1,000 Guineas (2001 Rose Gypsy), Futurity Stakes (2002 Van Nistelrooy), Irish Champion Stakes (2000 Giant's Causeway, 2003 High Chaparral), Juddmonte International Stakes (2000 Giant's Causeway), Juddmonte Lockinge Stakes (2003 Hawk Wing), July Cup (1999 Stravinsky, 2001 Mozart), King George VI and Queen Elizabeth Diamond Stakes (2001 Galileo), Middle Park Stakes (2000 Minardi, 2001 Johannesburg), Moyglare Stud Stakes (2000 Sequoyah, 2001 Quarter Moon, 2003 Necklace), National Stakes (1996 Desert King; 1997 King Of Kings, 2000 Beckett, 2001 Hawk Wing; 2003 One Cool Cat), Nunthorpe Stakes (1999 Stravinsky, 2001 Mozart), Phoenix Stakes (1998 Lavery, 1999 Fasiliyev, 2000 Minardi, 2001 Johannesburg, 2002 Spartacus, 2003 One Cool Cat, 2005 George Washington, 2006 Holy Roman Emperor), Prix Jean-Luc Lagardere/Grand Criterium (1997 Second Empire, 1999 Ciro, 2001 Rock Of Gibralter, 2002 Hold That Tiger, 2004 Oratorio, 2006 Holy Roman Emperor), Prix Morny (1998 Orpen, 1999 Fasiliyev, 2001 Johanesburg), Prix du Moulin (2002 Rock Of Gibraltar), Queen Elizabeth II Stakes (2006 George Washington), Racing Post Trophy (1997 Saratoga Springs, 1999 Aristotle, 2001 High Chaparral, 2002 Brian Boru), Royal Lodge Stakes (2006 Admiralofthefleet), Sussex Stakes (2000 Giant's Causeway, 2002 Rock Of Gibraltar), Tattersalls Gold Cup (2003 Black Sam Bellamy), Yorkshire Oaks (2006 Alexandrova) Wins in Britain 2000-2006: 10; 20 (champion trainer for win and place prize money); 10 (champion trainer for win and place prize money); 6; 4; 20; 11 Wins in 2007 (In Britain): 6 Royal Ascot wins: (18) Coventry Stakes (1997 Harbour Master, 1999 Fasliyev, 2001 Landseer, 2002 Statue Of Liberty, 2007 Henrythenavigator), Chesham Stakes (1999 Bach), St James's Palace Stakes (2000 Giant's Causeway, 2001 Black Minnaloushe, 2002 Rock Of Gibraltar, 2007 Excellent Art), Norfolk Stakes (2001 Johannesburg), Jersey Stakes (2001 Mozart), Coronation Stakes (2002 Sophisticat), Hampton Court Stakes (2004 Moscow Ballet, 2005 Indigo Cat), King Edward VII Stakes (2004 Five Dynasties), Queen Anne Stakes (2006 Ad Valorem), Gold Cup (2006 Yeats)
Winning jockey:-Name: Spencer, James (Jamie) Peter Date of Birth: 08/06/1980 British Classic Wins: St Leger (2003 Brian Boru) Achievements: Champion Jockey in 2005 with 162 wins that Turf season. First jockey since 1885 to complete the Autumn Double (2006 Formal Decree and Detroit City) Major wins include: Cambridgeshire (2006 Formal Decree), Cesarewitch (2006 Detroit City), Champion Stakes (2005 David Junior), Dubai Duty Free (2006 David Junior), Eclipse Stakes (2006 David Junior), Falmouth Stakes (2003 Macadamia), Irish 1,000 Guineas (1998 Tarascon, 2002 Gossamer), Jockey Club Stakes (2002 Marienbard), Lockinge Stakes (2007 Red Evie), Matron Stakes (Red Evie), Moyglare Stud Stakes (2000 Sequoyah), Nunthorpe Stakes (2002 Kyllachy), Prix de l'Abbaye (2006 Desert Lord), Tattersalls Gold Cup (2004 Powerscourt), Weatherbys Champion Bumper (2002 Pizarro), William Hill Sprint Cup (2005 Goodricke), totesport Cambridgeshire (2006 Formal Decree) Wins in Britain (1998-2006): 3, 8, 78, 112, 86, 102, 27, 180* (*Champion Jockey), 155 Other details: Champion apprentice in Ireland 1999. Stable jockey to Aidan O'Brien in 2004, now freelance in Britain Wins in Britain in 2007: 71 Royal Ascot wins: (11) St James's Palace Stakes (2007 Excellent Art), Coventry Stakes (2001 Landseer), Britannia Handicap (2003 New Seeker), Queen Mary Stakes (2004 Damson), Hampton Court Stakes (2004 Moscow Ballet), King Edward VII Stakes (2004 Five Dynasties), Albany Stakes (2005 La Chunga), Windsor Forest Stakes (2006 Soviet Song), Royal Hunt Cup (2006 Cesare), Sandringham Handicap (2006 Red Evie), Britannia Handicap (2006 Sir Gerard)