A P McCOY OUT IN FRONT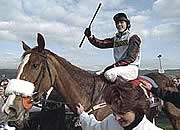 A P McCoy
Following Charlie Swan's retirement in April 2003, champion Tony McCoy, with 14 wins to date, is the most successful current jockey at the National Hunt Festival.

Since partnering Kibreet to success in the 1996 Grand Annual Chase, the record-breaking rider has gone on to land a further 13 successes, with his two greatest triumphs coming in 1997 when he partnered Mr Mulligan to land the Tote Cheltenham Gold Cup and took the Smurfit Champion Hurdle aboard Make A Stand. He was also leading rider in both 1997 and 1998, although in each of the two most recent seasons he has only managed one winner, landing the Cathcart on Royal Auclair in 2002 and the Weatherbys Champion Bumper aboard Liberman in 2003.

McCoy is closely followed by Mick FitzGerald, who has 11 successes to his name, and Richard Johnson with nine victories. But Barry Geraghty was the jockey to follow at the Festival last year, when he won an amazing five races to add to his only previous success.

This season, Jim Culloty could become only the fifth jockey in history to have won three renewals of the Tote Cheltenham Gold Cup if Best Mate can land chasing's Blue Riband for the third year in succession.

The previous winners of The Daily Telegraph Award for leading National Hunt Festival rider are listed below, with current jockeys in bold. (On some occasions the winner was decided on the number of placed horses achieved):

2003 Barry Geraghty (5)
2002 Richard Johnson (2)
2001 Cancelled - foot & mouth
2000 Mick FitzGerald (4)
1999 Mick FitzGerald (4)
1998 Tony McCoy (5)
1997 Tony McCoy (3)
1996 Richard Dunwoody (2)
1995 Norman Williamson (4)
1994 Charlie Swan (3)
1993 Charlie Swan (4)
1992 Jamie Osborne (5)
1991 Peter Scudamore (2)
1990 Richard Dunwoody (2
1989 Tom Morgan (2)
1988 Simon Sherwood (2)
1987 Peter Scudamore (2)
1986 Peter Scudamore (2)
1985 Steve Smith Eccles (3)
1984 Jonjo O'Neill (2)
1983 Graham Bradley (2)
1982 Jonjo O'Neill (1)
1981 John Francome (3)
1980 Jim Wilson (3)

Edward Gillespie, Cheltenham's Managing Director, said: "Jockeys, both professional and amateur, play an integral part in the huge appeal and success of the Cheltenham Festival and are the heroes of the sport in their quest for winners."