RacingBetter News

Friday 21st July 2023
A Look Ahead to Glorious Goodwood 2023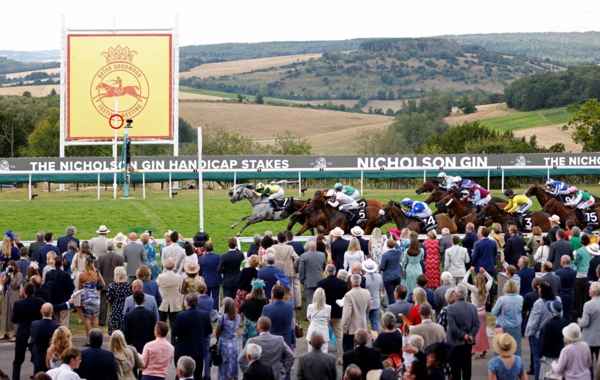 The UK is home to some of the world's most prestigious and entertaining horse racing events. This includes Royal Ascot, The Grand National, the Cheltenham Festival, and Glorious Goodwood.
Fans of flat racing in the UK will have the opportunity to flock to Chichester in West Sussex for 5 days of wonderful racing. With 36 races in total, the event offers viewers and crowds a great range of betting opportunities over the summer.
Glorious Goodwood a Brief History
Glorious Goodwood's origins date back to 1802, with the Goodwood stakes following 21 years later in 1823. Goodwood Racecourse was built by Charles Lennox, the 3rd Duke of Richmond, on his estate in 1902 as a way to attract a high calibre of racing.
The term "Glorious Goodwood" arrived at some point during the mid-19th century and the event traditionally takes place during the summer in late July or early August.
The South Downs backdrop of the event ensures visitors enjoy a picturesque day out at the races and the vibrant atmosphere adds to the appeal.
Glorious Goodwood 2023
Glorious Goodwood 2023 runs from Tuesday the 1st of August until Saturday the 5th at Goodwood Racecourse, Chichester, West Sussex. Viewers will be able to watch the racing action on Racing TV and ITV Racing as well as the live streaming platform from Bet365.
With so many great races, it offers the ideal opportunity for people to bet on horse racing. The Goodwood Cup takes place at the midway point of day 1. The Group 1 flat race is run over 2 miles with the winner taking over £280,000 from the £500,000 purse.The race dates back to 1808 and is one of the oldest and most respected races anywhere in the world.
Wednesday and Thursday both boast impressive lineups with the Group 1 Sussex Stakes and Nassau Stakes being the respective highlights.
Friday is one of the biggest days for many horse racing enthusiasts because of the King George Stakes. This race is widely considered to be one of the fastest races and the world's best jockeys and horses descend for King George's Day.
Saturday, August 5th sees the last day of racing with the Stewards Cup being the last high-profile race of the meeting. The race is run over 6 furlongs and takes place at 16:10.
Glorious Goodwood 2023 Race Schedule
With so many great races taking place, it can be challenging to plan your bets. The schedule below will help you to plan your bets and ensure you don't miss a minute of the action.
Glorious Goodwood 2023 Day 1 Schedule
13:50 pm        Chesterfield Cup 1m2f

14:25 pm        Vintage Stakes 7f

15:00 pm        Lennox Stakes 7f

15:35 pm        Goodwood Cup 2m

16:10 pm        Nicholson Gin Handicap 5f

16:45 pm        British Stallion Studs 6f

17:20 pm        Fillies' Handicap 1m

17:55 pm        World Pool EBF Fillies' Handicap 6f
Glorious Goodwood 2023 Day 2 Schedule
13:50 pm        Coral Handicap 1m 4f

14:25 pm        Whispering Angel Oak Tree Stakes 7f

15:00 pm        Markel Molecomb Stakes 5f

15:35 pm        Qatar Sussex Stakes 1m

16:10 pm        EBF European Breeders Fund Fillies' Handicap 1m 2f

16:45 pm        British EBF Alice Keppel Fillies' Conditions Stakes 5f

17:20 pm        World Pool Handicap 7f
Glorious Goodwood 2023 Day 3 Schedule
13:50 pm        Kincsem Handicap 1m 2f

14:25 pm        Richmond Stakes 6f

15:00 pm        John Pearce Racing Gordon Stakes 1m 4f

15:35 pm        Qatar Nassau Stakes 1m 2f

16:10 pm        Jaeger-LeCoultre Nursery Handicap 7f

16:45 pm        World Pool Handicap 5f

17:20 pm        Tatler EBF Fillies' Maiden 7f
Glorious Goodwood 2023 Day 4 Schedule
13:50 pm        Goodwood Handicap 2m 4 1/2f

14:25 pm        Bonhams Thoroughbred Stakes 1m

15:00 pm        Golden Mile Handicap 1m

15:35 pm        King George Qatar Stakes 5f

16:10 pm        L'Ormarins Queen's Plate Glorious Stakes 1m 4f

16:45 pm        Nursery Handicap 6f

17:20 pm        Oliver Brown Handicap 1m 3f
Glorious Goodwood 2023 Day 5 Schedule
 

13:50 pm        British European Breeders' Fund EBF Maiden 7f

 

14:25 pm        Stewards' Sprint Handicap 6f

 

15:00 pm        Summer Handicap 1m 6f

 

15:35 pm        Qatar Lillie Langtry Stakes 1m 6f

 

16:10 pm        Stewards' Cup 6f

 

16:45 pm        Medallia Handicap 7f

 

17:20 pm        Singleton Handicap 1m 1f
Glorious Goodwood Favourites
Betting on Goodwood is easy in the UK with over 6,000 bookmakers and countless great online options. Some bookmakers are listed here that offer a range of sign-up bonuses and special offers, this can be a great way to maximise your stakes. It will also give you an opportunity to find the best odds on the horses you fancy this year.
While it's important to remember there is no such thing as a sure thing in horse racing, looking at the form and history of a horse can give you a better understanding.
Courage Mon Ami, winner of the Gold Cup is joint-favourite with Coltrane for many bookmakers for the Al Shaqab Goodwood Cup. However, many eyes are also looking at Gregory and Giavellotto as offering good value for money this year.
The King George Stakes sees King of Steel and Auguste Rodin battle it out for favourite with both enjoying a good year. Auguste Rodin enjoyed Irish and Epsom derby wins with King of Steel finishing second at Epsom, this battle looks set to be reunited.
Orazio and Saint Lawrence are the favourites for the 2023 Glorious Goodwood Stewards Cup. A return to form for Saint Lawrence after disappointing at Newmarket could be just in time to make an impact at this level. Orazio boasts a 50% win record in its six flat races to date making it a good contender.
Conclusion
With such a great selection of races, horse racing enthusiasts are sure to enjoy this magnificent event. Those lucky enough to visit the Qatar Goodwood Festival will have the opportunity to use on-course bookmakers or smartphone apps to find the best odds.
In the coming weeks there will undoubtedly be changes in the market and some horses may be forced to withdraw, so keeping a close eye on lineups and form will help you enjoy the festival even more.