Great Endeavour Brings Johnson Seventh Paddy Power
12/11/11
1 Great Endeavour 8/1
2 Quantitativeeasing 20/1
3 Divers 20/1
4 Aerial 33/1
20 ran Distances: 7l, 3½l, 4½l
TIME 5m 1.95s (slow by 1.95s)
Owner David Johnson claimed his seventh victory in the Paddy Power Gold Gup as Great Endeavour provided trainer David Pipe with his fourth win at this year's The Open meeting under Timmy Murphy.
Great Endeavour


© racing-images.co.uk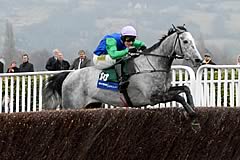 Pipe's father, Martin, farmed this meeting during his time in charge at Pond House and won the Paddy Power Gold Cup no less than eight times. And Pipe junior continued the family tradition as Great Endeavour scooted clear to improve on his sixth-place finish 12 months ago.
The seven-year-old showed that running to be wrong when second over the course and distance subsequently and shrugged of a 217-day absence to win by seven lengths at odds of 8/1.
Johnson said: "This race was always the plan after things went wrong last year. He got left at the start slightly then but Timmy has made up for that and this is fantastic. Timmy gave him a great ride and listening to the commentator you would have thought that he was not in the race!
"The horse has a great racing weight on 10st 3lb and got a peach of a ride. This is like the old days! It is my seventh win in the race and David's fourth winner at the meeting this year. It is nice for David who doesn't have the same ammunition but he has got the horse spot on and no-one can do that like the Pipes.
"I have punched above my weight thanks to Martin and now David, as well as A P and now Timmy. It's been a lucky day for me and it is a lucky course."
Pipe said: "Plotting horses for races is the thing I find most fun about this sport. Some horses improve and surprise you and some disappoint but it is great fun.
"This horse is lovely to have - he has a big engine, has improved and this race has always been his target.
"This meeting is second only to The Festival and we always plan ahead for it. To have had four winners is unbelievable and it is always a special meeting for the Pipes.
"You are only as good as the horses you ride and it's the same with the trainer. A lot of it is about confidence, whether you are a trainer, jockey, owner or horse. Great Endeavour had been flying at home - the head lad's wife rides him all of the time - and he is a good work horse.
"He has always proven to be a good horse. He has won at the Cheltenham Festival and we fancied him last year but for some reason things didn't really work out for him. He is off a higher mark today but he is only seven and obviously still improving.
"The Festival was unfortunate for him, things didn't happen, and he was over the top at Aintree. He is a very good horse and it's great for David Johnson and everyone back at the yard.
"It's like the old days. I didn't think that I would ever actually win this race - Dad has farmed the meeting. There are not many things that get to me but the press were on about how Pond House had farmed this meeting. It hadn't been as successful for me up until yesterday."
"Great Endeavour is entered in the Hennessy and is a good traveller in his races. We will talk to Timmy and see how he comes out of this but three miles and two furlongs may be too far."
Murphy added: "David knows how to train winners and it makes my job a lot easier. This is a bit special because we had this lad at our home in the summer and we started him off with all of his steady work.
"He had a great novice year - just low profile and won some nice races - and he has improved all of the time.
"It's great for David Johnson. We were probably lacking a bit of quality since we retired all of the good horses but it is nice to have a good winner on a day like today."
MansionBet and MansionBet make Great Endeavour the 6/1 favourite for the Hennessy on November 26, with the Martin Pipe-trained Celestial Gold having completed the double in 2004.
Position

Horse
Trainer
Jockey
Weight
Starting Price
Beaten Distance
1

Great Endeavour
D Pipe
T J Murphy
10st 3lbs
8 - 1
Winner
2

Quantitativeeasing
N J Henderson
A Tinkler
10st 0lbs
20 - 1
7 lengths
3

Divers
Ferdy Murphy
G Lee
10st 0lbs
20 - 1
3 1/2 lengths
4

Aerial
P F Nicholls
Ryan Mahon
10st 0lbs
33 - 1
4 1/2 lengths
5

Billie Magern
N A Twiston-Davies
S Twiston-Davies
10st 0lbs
20 - 1
13 lengths
6

Wishfull Thinking
P J Hobbs
R Johnson
11st 6lbs
7 - 2
3 3/4 lengths
7

Mon Parrain
P F Nicholls
R Walsh
10st 8lbs
9 - 2
1/2 length
8

Calgary Bay
Miss H C Knight
Hadden Frost
10st 2lbs
20 - 1
6 lengths
9

Fine Parchment
C J Mann
Peter Carberry
10st 0lbs
33 - 1
Head
10

Araldur
A King
R Thornton
10st 0lbs
12 - 1
Head
11

Dave's Dream
N J Henderson
B J Geraghty
10st 3lbs
9 - 1
1 length
12

Oiseau de Nuit
C L Tizzard
Brendan Powell
10st 9lbs
33 - 1
5 lengths
13

Finger Onthe Pulse
T J Taaffe
P Carberry
10st 2lbs
33 - 1
10 lengths
14

Swincombe Rock
N A Twiston-Davies
David England
10st 0lbs
40 - 1
1/2 length
15

Loosen My Load
H de Bromhead
A E Lynch
10st 9lbs
16 - 1
2 lengths
16

Holmwood Legend
K Burke
J W Farrelly
10st 3lbs
33 - 1
5 lengths
UnseatedRider

Poquelin
P F Nicholls
David Prichard
11st 12lbs
25 - 1

UnseatedRider

The Giant Bolster
D G Bridgwater
T Scudamore
10st 2lbs
10 - 1

UnseatedRider

Noble Alan
N G Richards
D C Costello
10st 0lbs
20 - 1

Fell

Tullamore Dew
N J Gifford
L Treadwell
10st 0lbs
20 - 1

QUANTITATIVEASING TURNS TABLES ON DIVERS
Quantitativeasing


© racing-images.co.uk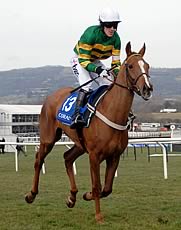 Divers and Quantitativeasing, who were first and second in the Centenary Novices' Chase at the Festival in March, showed their liking for Cheltenham when making the places in the Paddy Power Gold Cup.

They were no match for winner Great Endeavour, and while Quantativeasing reversed Festival form with Divers and took second, trainer Nicky Henderson was disappointed to be runner-up again. He said: "He keeps finding one too good. He deserves one somewhere, but it's bloody hard when you keep running races as good as this. All you are going to do is keep going up [the handicap] rather than down."

Henderson also ran Dave's Dream, who finished eleventh. He said: "The ground was too soft for Dave's Dream and it was always a worry he wouldn't get two and a half miles on this ground. They say they had six millimetres of rain last night but I saw six mills walking to my car after the sales yesterday evening! That's not Dave's Dream's ground, whereas Quantitativeasing goes on it."

Mark Ball, racing manager of Lets Live Racing, which owns the Ferdy Murphy-trained Divers, said: "Graham [Lee] said he hated the ground and it magnifies how well he's run. He had to go round the houses and I reckon it was the ride of the season. It was a great ride and Ferdy did a great job of training the horse to run so well.

"We will come back here next month for the December meeting and then have another spring campaign with the horse."

Paul Nicholls, whose Mon Parrain finished seventh said: "I did have a plan for the horse, but six-year-olds cannot run in the Grand National any more. Ruby said they went too quick and the horse needs a trip which we half wondered. On the day he wasn't good enough, but we'll step up in trip now."


THINKING STRUGGLED WITH BREATHING

Wishfull Thinking


© racing-images.co.uk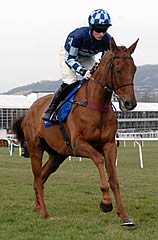 Wishfull Thinking was reported to have struggled with his breathing after fading to sixth in the Paddy Power Gold Cup after making the running.
Philip Hobbs' eight-year-old was the subject of a gamble and, having been as high as 8/1 this morning, he was backed down to 7/2 favouritism. Richard Johnson's mount then led for much of the race until dropping away over the final two fences.
Hobbs said: "He had had one breathing operation and had another during the summer.
"His breathing was very thick after the race and he may need another race or two to get him fit as he wasn't getting the air he needed to.
"It was not a case of lacking fitness but more needing to get his breathing apparatus going again.
"I don't know where he will run next - we need to discuss it."