RacingBetter News

Wednesday 24th June 2020
5 Best King George Stakes Wins of the Past Decade
The King George VI & Queen Elizabeth Stakes will be with racing fans again at the end of July 2020. Those who enjoyed the thrills and spills of the recent Royal Ascot meeting can look to more action on the track when Enable and others return to Berkshire.
For now, it is worth looking at some of the bigger King George wins of the past 10 years or so to see how the race might pan out this time around.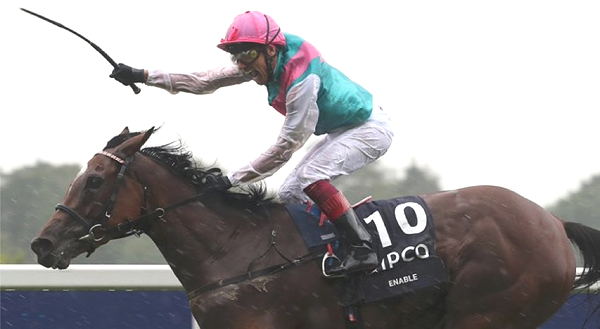 Enable again, 2019
Enable is back at odds of 13/8 to win a second successive King George title. Bettors can further look into some bonuses like the 888sport promo code to potentially boost their earnings. She outdid second-placed Crystal Ocean in a thrilling race to the line in 2019. Waldgeist came third.
"She's everything you ever want. The draw rather affected her. She's a brave and wonderful filly, and what a great battle with Crystal Ocean. It's what you wanted to see. Crystal Ocean showed all the courage in the world, and the first two are wonderful - they put up a great King George," said Enable trainer John Gosden at the time.
Enable, 2017
Ulysses, Idaho and Highland Reel placed second, third and fourth, respectively, in 2017. But it was Enable that stole the proverbial show with jockey Frankie Dettori. He took her into the lead after two furlongs and the rest, as they say, is history - rich horse-racing history, at that.
"I lost seven pounds in six days, but it was worth it. She is a superstar. It means a lot to me, I missed the whole of Royal Ascot with injury and to come back to the place I love so much, it's great. She's as good as I've ridden, to win the King George by four lengths - she is the real deal and I love her so much," Dettori enthused then.
Highland Reel, 2016
Highland Reel was arguably the one to watch in 2016 and promptly settled all arguments with a great victory. The four-year-old was in solid form and had all but proven himself in Australia and Hong Kong ahead of the King George Stakes. He beat second-placed Wings of Desire and Dartmouth in third place.
Highland Reel jockey Ryan Moore celebrate: "He's a very good horse and won in America and Hong Kong. It's a marvellous achievement to get him back in this shape to win this sort of race. He's a very strong horse. He's very professional - he knows how to race."
Taghrooda, 2014
In 2014, Taghrooda became the first three-year-old filly since Pawneese – almost four decades prior - to win the King George Stakes and Queen Elizabeth Stakes. She beat fellow podium finishers Telescope and Mukhadram.
Gosden was Taghrooda's trainer then – and stated: "She's right up there and would be the best filly I've had over a mile and a half. Taghrooda has developed very strongly and she had two very tough nuts to crack up front. It was a special performance. I am thrilled."
Novellist, 2012
Novellist wasn't to be trifled with two years after the turn of the decade. Ridden by jockey Johnny Murtagh, the four-year-old came up trumps over second-placed Trading Leather. Hillstar occupied third position that day.
"He's a very high-class horse with a good engine. I loved the way when I asked him to stretch he wanted to get on with it. He'd be up there with my other King George winners," said Murtagh then.