RacingBetter News

Friday 1st September 2023
Horse Racing Tourism and Destinations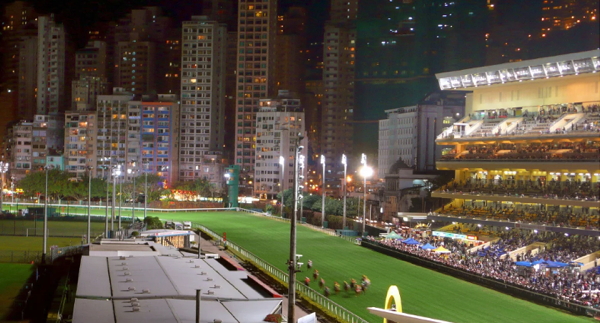 Happy Valley Racecourse in Hong Kong - source: cnn.com
Horse racing is an old sport whose history dates back to centuries ago. Surprisingly, dozens of venues as old as 190 years still hold annual horse races for die-hard fans. The historic spots are in scenic areas next to the big cities, making them popular travel destinations for friends and families. Here are the six best horse racing locations that guarantee an adrenaline rush experience:
White Turf St. Moritz, Switzerland
What if you could participate or watch your favorite top jockeys compete on a frozen lake? Well, attend the annual White Turf horse race in February to experience it. White Turf St. Moritz is a top-class horse racing venue, tucked in the scenic Swiss mountains.
It attracts up to 35,000 visitors each year, who gather to ski and race with their favorite horses. You can also take part in skijoring, where dogs or horses pull skiers over ice or snow. Other attractions and amenities include live music and performances, art exhibitions, and gourmet catering.
Flemington Racecourse, Melbourne, Australia
The Flemington Racecourse is a dream come true for lovers of horserace betting, fashion, and world-class entertainment. The 2,312-meter track is a National Heritage destination and the home of the Melbourne Cup and the Victoria Derby. The star-studded races kick off every end of October and have a total prize pool of over $112 million.
Mark at least four days on your calendar to attend the thrilling races. And if you're a horse racing enthusiast who loves betting, visit GamblingSites.com to find the best bookies. The site compares odds, bonuses, and live streaming options for the best betting platforms. Moreover, they only list sportsbooks with safe payment methods and responsive customer support.
Aintree Racecourse, Liverpool, UK
Every first Saturday of April, plan to attend the prestigious Aintree Grand National event. The 190-year-old horse racing tournament attracts top jockeys and their horses, celebrity guests, and thousands of die-hard horse racing spectators.
They come to watch their favorite top jockeys and horses battle it out on a challenging 4.5-mile track. The competitors test their limits to tackle steeplechase obstacles, where the horses jump over 30 fences as the energetic crowd cheers on. Definitely, the Grand National event delivers thrilling horse races.  
Churchill Downs Racetrack, Louisville, United States
Attend the Kentucky Derby or the Kentucky Oaks from March to May at the Churchill Downs Racetrack in Louisville. The two-week-long horse racing events attract up to 170,000 spectators each year. Visitors book seats at the iconic horse racing venue to witness the "most exciting two minutes in sports". Most races are over in under two minutes.
If visiting with family and friends, indulge in the vast signature festivities leading up to the derby. These include an extravagant fireworks display, steamboat racing, a balloon festival, and the Stocks Yard $1 Million Dollar Hole-in-One Golf Contest. Also, try your luck by betting on the Kentucky Derby. Remember these valuable tips from RacingBetter.co.uk to win big.
Happy Valley Racecourse, Hong Kong
Do you fancy a mid-weeknight horse race in Hong Kong? If so, tour the Happy Valley Racecourse in Wan Chai District. The tourist attraction has a capacity of 55,000 spectators and is one of the only two racecourses in the region.
The racecourse is surrounded by skyscrapers. It also features a beer garden, and live music to entertain guests in between the races. Moreover, try your luck at the betting hall to win huge prizes and bonuses. Happy Valley Racecourse is open to anyone aged above 18 years.
Cheltenham Racecourse, UK
Cheltenham Racecourse hosts some of the most prestigious races, including the Champion Hurdle, Ryanair Chase, Cheltenham Gold Cup, Queen Mother Champion Chase, and the Stayers' Hurdle. These Grade I races take place during the four-day Cheltenham Festival in March.
The festival attracts thousands of horse racing enthusiasts, and racegoers place bets of up to £600,000,000 during the whole race. Furthermore, don't miss to try some jockey club cocktails or a classic cup of British tea. Head to The Cheltenham Festival to learn everything about the grand festival.
Bottom Line
All the above horse racing destinations ensure an exciting experience as you mingle, play, eat, and have fun with friends and loved ones. The sensational racecourses have a rich past dating back centuries. It is an opportunity to glimpse at the local sporting culture and cuisines.