RacingBetter News

Monday 12th June 2023
How You Can Enjoy Bitcoin Sports Betting with Horse Racing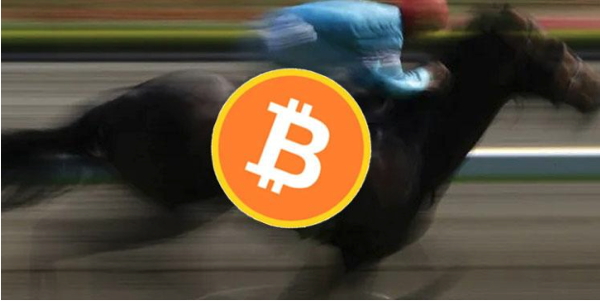 Cryptocurrencies are steadily making their way into sportsbooks, and it's no surprise that they have become a popular choice for sports betting enthusiasts. One fascinating aspect is that cryptocurrencies are frequently used for betting, including placing bets on horse racing events.
The excitement of horse racing has always captured the attention of bettors, and the good news is that there are several betting platforms where you can do so while using Bitcoin. However, you don't have to worry if you're unsure of where to begin your horse racing Bitcoin sports betting experience; we're here to help.
This article will help you understand how you can enjoy Bitcoin sports betting on horse racing on reputable platforms. Also, we'll explore the benefits, markets, potential drawbacks, and all about Bitcoin sports betting on horse racing.
How to Enjoy Bitcoin Sports Betting with Horse Racing
Horse racing is exciting, and betting on your favourite horses makes it even more exciting. While betting on horse races traditionally has its appeal, the rise of internet betting has created new possibilities, particularly when it comes to sports betting with crypto.
First, you must locate a sportsbook that suits your needs to take advantage of crypto horse racing betting. The variety of markets online bookmakers offer is an important aspect to consider when choosing a platform. Ensure the sportsbook also enables you to wager on horse races from other countries, which will diversify and spice up your betting experience.
The procedure for betting on horse races with Bitcoin is comparable to conventional betting, except that you use cryptocurrency rather than fiat money.
Horse Racing Market
When you venture into the world of horse racing at a crypto sportsbook, you'll uncover a wide range of horse racing markets to explore. Here are the markets you can expect when you bet on horse racing:
Horse Racing Market Selection
Upon entering the crypto sportsbook, you'll find a dedicated section for horse racing markets. Take your time to browse the available options and familiarise yourself with the different race types and betting opportunities.
Race Types
Horse racing encompasses various race types, each with its unique characteristics. You'll encounter popular options such as flat racing, steeplechase (jump racing), and harness racing. Each race type presents its own challenges and betting dynamics, adding to the excitement of the sport.
Betting Options
Within each horse racing market, you'll find different betting options to choose from. Here are some common examples:
Win: This is a straightforward bet where you predict the horse that will finish first in the race.

Place: With a place bet, you predict a horse to finish either first or second, depending on the specific rules of the race and sportsbook.

Show: A show bet allows you to choose a horse that you believe will finish in the top three positions.

Exacta: In an exacta bet, you select two horses to finish in first and second place in the exact order you specify.

Trifecta: A trifecta bet involves selecting three horses to finish in first, second, and third place in the exact order you predict. crypto sportsbooks mainly offer additional betting options such as the superfecta, quinella, daily double, and pick 3. These options add complexity and have the potential for larger payouts.
Exploring different horse racing markets and betting options allows you to tailor your betting strategy according to your preferences and knowledge of the sport. Studying the odds, track conditions, jockeys, and horse form before making your selections is essential.
Benefits and Limitations of Betting on Horse Racing with Bitcoin
Betting with cryptocurrencies like Bitcoin offers several benefits and a few setbacks worth considering. Let's explore each of them.
Benefits
Faster Withdrawals
One significant benefit of betting with Bitcoin is the speed of withdrawals. Crypto transactions bypass conventional banking systems, allowing quicker processing times than fiat currencies. This means you can enjoy faster access to your winnings.
Enhanced Security and Anonymity
Cryptocurrencies provide improved security measures compared to traditional payment methods. Transactions are encrypted and decentralised, reducing the risk of fraud or identity theft. Also, using crypto for betting allows for a higher level of anonymity, as only minimal personal information is required for registration on crypto betting platforms.
Transparent Transactions
Bitcoin operates on blockchain technology, which offers transparent and traceable transactions. This transparency adds a layer of trust and ensures fairness in betting transactions.
Bonuses
Bitcoin sportsbooks often offer larger bonuses compared to conventional betting sites. This is because cryptocurrencies like Bitcoin have substantial value, allowing for more significant bonus offerings. Also, crypto bonuses may come with lower wagering requirements, increasing your chances of converting bonus funds into real winnings.
Limitation
Volatility
One significant drawback of betting with cryptocurrencies is their inherent volatility. The value of cryptocurrencies, including Bitcoin, can fluctuate rapidly, impacting the value of your winnings. If the value of the cryptocurrency you use for betting decreases, your winnings may be worth less over time.
The volatility of cryptocurrencies is a huge setback. Cryptocurrencies like Bitcoin can change swiftly, affecting your winnings. The value of your winnings might fall if the price of Bitcoin falls, leading to your bet depreciating.
Furthermore, it's crucial to consider these benefits and setbacks before engaging in Bitcoin sports betting. While the speed, security, anonymity, and attractive bonuses associated with crypto betting are appealing, the potential volatility of Bitcoin should be carefully weighed. Understanding the risks and benefits will help you make informed decisions and enjoy the unique experience that crypto sports betting offers.
Overall, betting on horse racing with Bitcoin can be thrilling and convenient for punters. Many horse racing sportsbooks now accept bitcoins. Choosing a trustworthy Bitcoin sportsbook may improve your horse racing betting experience by taking advantage of its faster withdrawals, enhanced security, and higher bonuses.
The flexibility and range of betting options, including the chance to bet on the top two horses regardless of order, enhance the excitement and possible winnings. If betting on horse racing with Bitcoin is your choice, consider the pros and cons, remain up-to-date on crypto news, and enjoy the sport safely. By doing so, you can experience horse racing with Bitcoin and its thrills and rewards.