RacingBetter News

Friday 6th January 2023
10 Best Places To Buy Affordable Horse Trailers In the USA
Planning to buy a decent horse trailer to serve various purposes? Most of you must have a tight budget. This money issue often forces us to settle for less and kill our intention to own a horse trailer with every feature we wish for. But what if we tell you that you can own the best horse trailer of your choice without even considering much about your tight budget?
Yes. You can. We have brought you the 10 best places to buy affordable horse trailers in the USA. These are listed such that you will never have to compromise with the quality and customizable features of your preference. Let's dive in to explore what these budget-friendly horse trailer options are.
What makes Double D trailers top our list of the best affordable horse trailers in the USA? Its customers have been winning the trust of furnishing quality trailers since 1997.
The trailer industry is somewhat incomplete without Double D trailers because of the availability of all exclusive features in every single trailer with an inexpensive budget. Its slant load trailers never install quality deteriorating narrow doorways. A safetack compartment allows for smooth unloading and loading of stuff. Its deluxe interiors and exteriors add a glittering touch to your grand standard.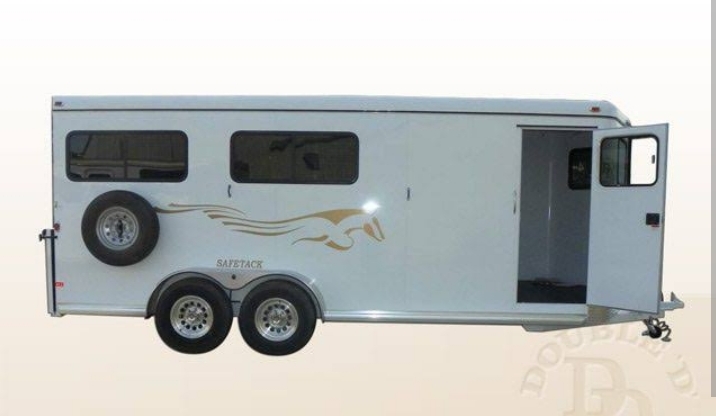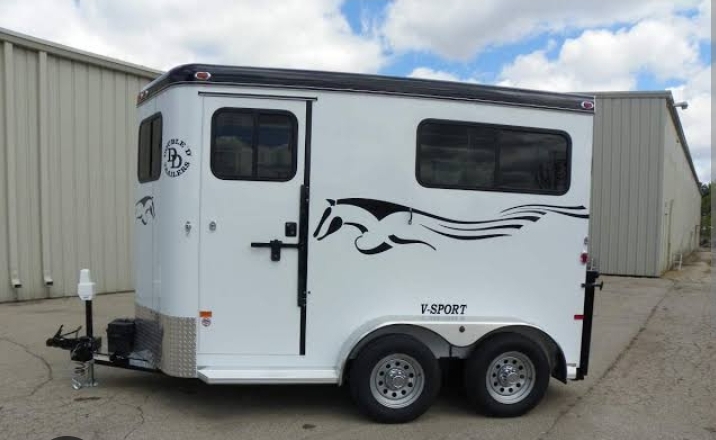 Double D trailers- Image courtesy of Double D trailers
Features of Double D trailers:
Z frame technology, safe kick wall system, rumber flooring, safetack design, safe bump roof system.

Provides formation of customizable CAD drawings according to your preference in horse trailers features

Availability of copious options and almost every kind of trailer including gooseneck, bumper pull, and trailers with living quarters

Can withhold up to 6 horses in its trailers
Click here to buy Affordable Double D Trailers Living Quarter Horse Trailer
Cimarron trailers are the perfect example of a blend of qualities and accessible prices. Its endless facilities let it stand in the market for 20 years. Its tagline "reputation, creation, and lasting evolution" speaks for itself. The elements that make cimarron different from other trailers are its safety, strength, and quality.

Cimarron brags about possessing the strongest doors in the whole of the trailer industry. The LED lights installed in Cimarron consume 90% less current than usual lights which ensure electrical safety. The next notable quality of Cimarron is its availability of copious options. From straight load to slant load, gooseneck to bumper pull, Cimarron has plenty of choices in trailers that can carry 2-8 trailers.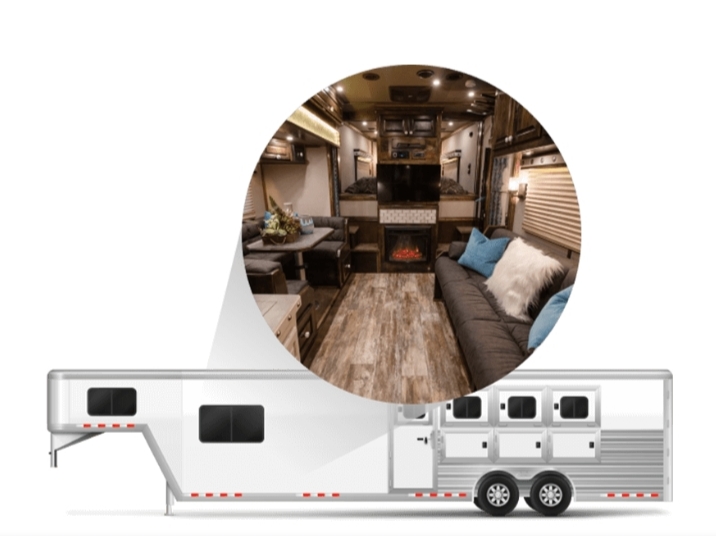 Cimarron Trailers - Image courtesy of Cimarron Trailers
Features of Cimarron Trailers:

Unique 2" x 1 3/8" tubular depots
4 ½" x 1 3/8" posts are accessible in case of requirement for more power at full height doors.
Conventional strengthful, striking appearing Mig weldings.
Sharp lens feature lights
If you are searching for some affordable options, you can't step out without considering valley horse trailers. With over 4 decades of experience, Valley trailers offer the best prices with premium quality. It has three categories: listed stock trailers, horse trailers, and thoroughbred trailers.

Their trailers are available in a wide range of colors including silver, green, charcoal, bright red, black, and its special valley red and valley blue. The main focus of these trailers remains on the safety of you and your horses throughout the journey.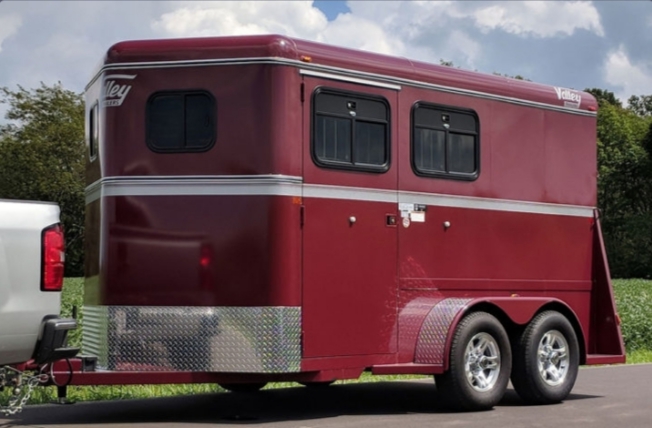 Thoroughbred valley trailers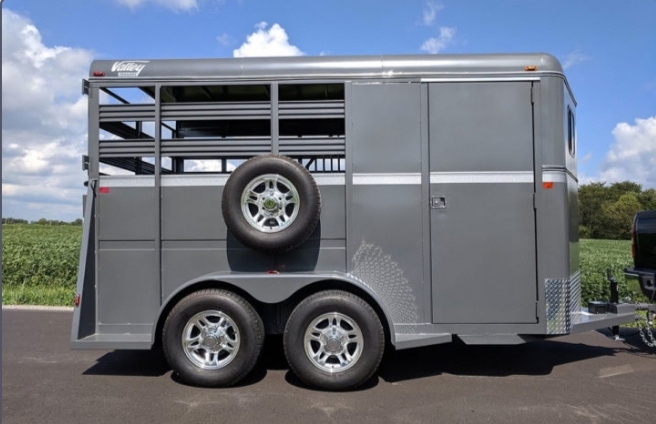 Horse valley trailers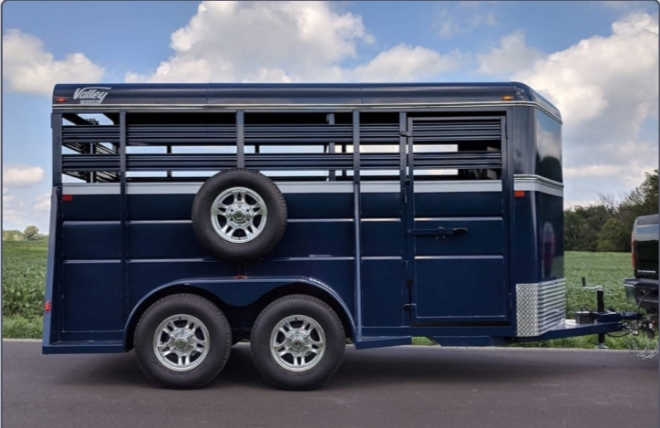 Stock valley trailers
Valley Horse Trailers- Image courtesy of Valley Horse Trailers

Features of valley horse trailers:
6'8" broad and 7'6" inches long trailers
Center gate with center gate slam latches
Interior bright lights along with tie rings, and LED lights.
Front escape doors and one piece rare doors with sliders
Wood striped slides and spare tires/wheels
2×3500 Lb axles
Installed ramped slatted gates and aluminum wheels
Straight cover packages and deluxe mats
Another horse trailer that deserves to be on our top and affordable trailers list is the Shadow horse trailer. These trailers compare driving trailers to counting one, two, and three because of their exclusive easy-to-handle trailers.

Comfort and proper ventilation are the chief objectives of shadow. To achieve it, they have incorporated huge bus windows, sliding mid-tacks, and gigantic mid-tacks. You can opt for numerous choices available in almost every kind of trailer. Their promising quarters, pan doors, and all-lock aluminum floors ensure extra safety for you and your horses.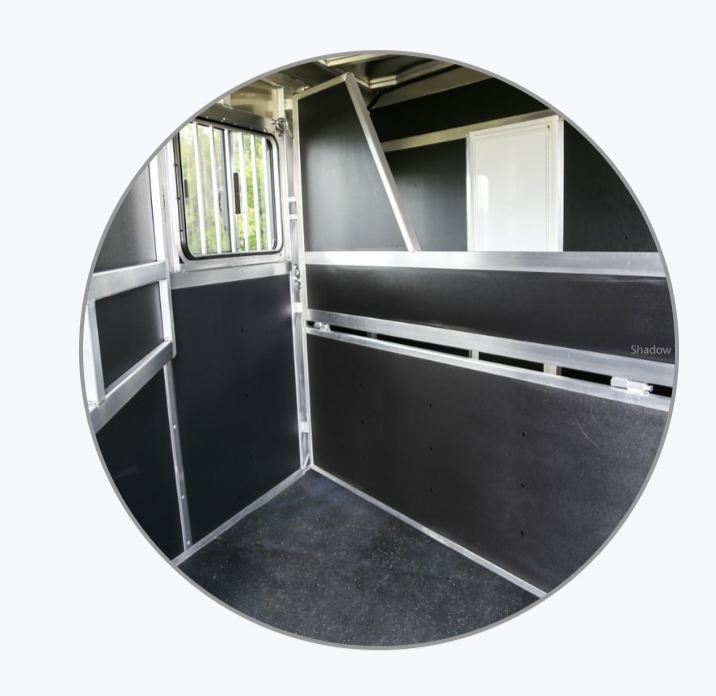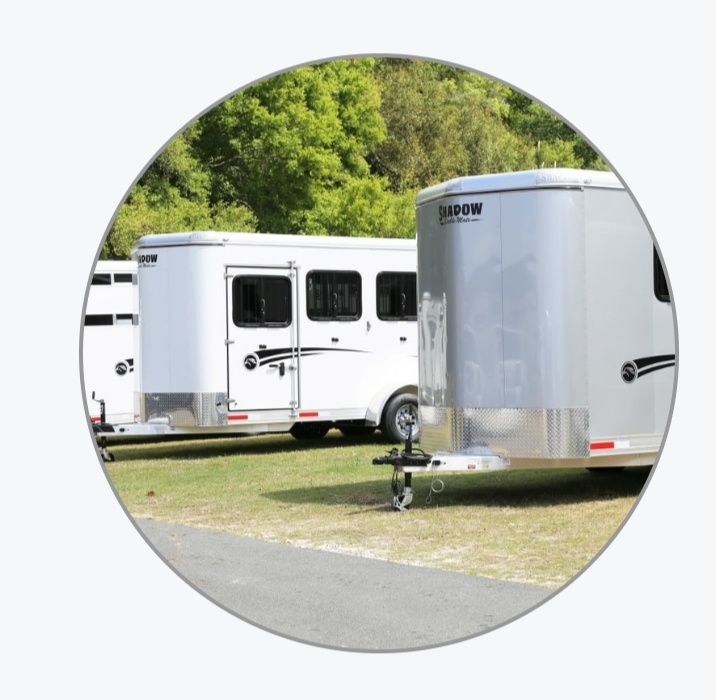 Shadow Horse Trailers- Image courtesy of shadow horse trailers
Features of Shadow Horse Trailers:
Aluminum external walls, aluminum interlocking bases, aluminum frames, single piece aluminum roofs.
8+ years of warranty with almost every trailer.
Copious gooseneck and bumper pull trailers options available in stock.
45 years of experience in trailer construction.
Riding Lakota horse trailers is similar to "riding a legend". Why trust them? Why don't they have 20 decades of experience in building trailers?

Their trailers are built by their craftsmen without any third-party interference. You can own the trailers with 8 years of structural warranty, 2 years of living quarters warranty, and 1 year of hitch-to-bumper workmanship and construction materials.



Lakota horse trailers- Image courtesy of Lakota horse trailers
Features of Lakota horse trailers:
Glamorous choices between Hand wiped Windswept Interiors, Lakota Bighorn Interior, and St. Louis Alder Interior
From Volney Chestnut, Donghia Black, Bowman saddle, Viviani black, and Lola saddle upholstery
Winter Carnival and deepstar bronze countertop
Antique bronze flooring, rustic plank, mountain smoke floor
Broadway linen soft touch walls, Namibia saddle soft touch walls, accent walls for bathrooms.
As its name suggests, Featherlite trailers are all built of aluminum being lighter in size but heavier in terms of security. Additionally, its inexpensive prizes make it a considerable option to think over. 5 decades of experience speaks for itself.

These trailers are known to provide the longest duration of 10 years of structural warranty. Featherlite believes in keeping its models simple but always versatile and operative. Besides trailers, Featherlite also furnishes race transporters, utility trailers, car trailers, livestock trailers, and much more.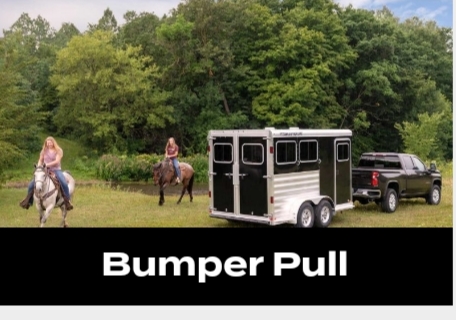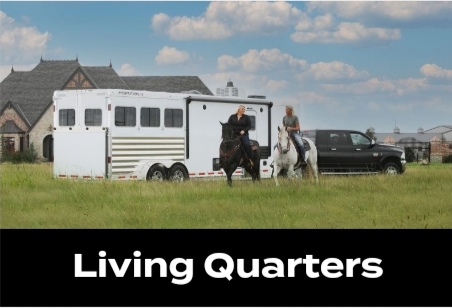 Featherlite trailers - Image courtesy of Featherlite trailers
Features of Featherlite trailers-
Roll roof and pierce network and customizable saddle racks
Aluminum wheels for distance hauling and all aluminum structure construction
Aerodynamic v noses which are looser to pull and lessen wind drag
EZ tube cap or axes ensure additional protection reduces mess, and increase accessibility
Dual LED lights have more power and extra bright than traditional LED lights
Strong holding backs horse slants or dividers
Crammed stall dividers for both softness and security
Rubber base mats Room ventilation, running boards, perfect fit system, tie rings, slam latch slants, wiring harness, and wave slide panels.
"Once you pull a Merhow, you can't dare to pull anything else". This statement is somewhat similar to the tagline of 60 years of existing pioneers in the trailer industry, Merhow trailers.
So if you are looking for the strongest and most durable trailers for your horse that even fits in your budget, Merhow trailers should be your next choice. Besides being the strongest, Merhow trailers are also known for their availability of plenty of customizable options.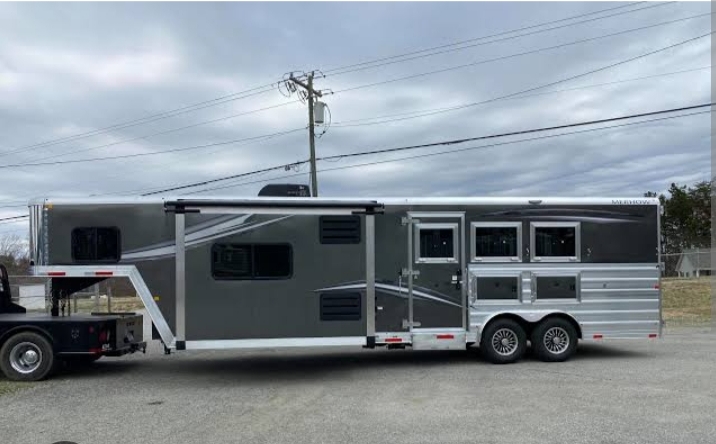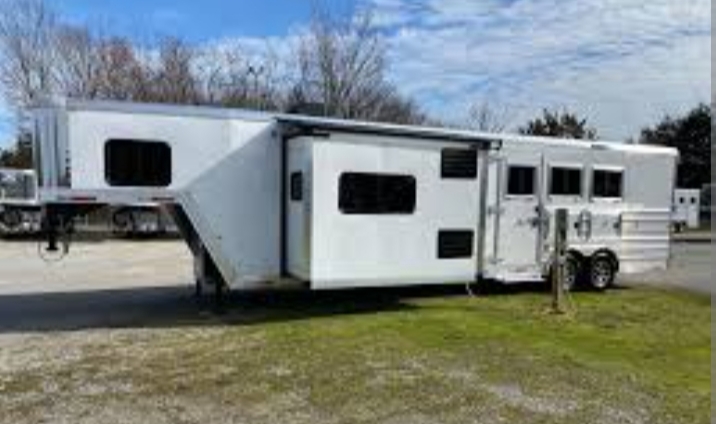 Merhow trailers- Image courtesy of Merhow trailers
Features of Merhow trailers:
Dividers alum, spring loaded, padded, free hand slam latches, tubular dividers
Trench extruded aluminum floor chassis tubular aluminum along with dialect
One piece roof aluminum, tubular bows, and tubular rear hoop all aluminum
Radial tires and axles Dexter Torsion Axles
LED load flickers, clothes rod, drip guards, 2 locations specifically made for the saddle tree
Bumper pulls front rock guard
Spare wheels and tires
Sundowner trailer corporation is no less than any trailer brand in terms of affordable prices and quality products. Who does not get skilled after working 45 years in any industry? Sundowner trailers are known for both luxury and modest trailers, but simple trailers are the best go-to option if you have a tight budget.

Its high-quality extra secure haulers have a remarkable hauling capacity of horses. Its craftsmen built trailers by keeping the customer's requirements in mind. You can even ask to add desirable features to your trailer, in case you are ready to pay for that extra customizable characteristic.


Sundowner trailer corporation - Image courtesy of sundowner trailer corporation
Features of Sundowner trailer corporation-
All aluminum construction with required versatility to fit in any customizable feature.
Plexiglas on the rump side, drop-down spread entrances on the head flank
The capacity of withholding up to 8 horses
Slant inserted between stalls, two huge sliding windows, side access door on every single stall which is 7 feet 6 inches tall.
Feed managers are located at every stall, huge extra storage rooms, and other copious features.
Established in 1984, the 4-star horse trailer promises a "quiet ride" which signifies security at inexpensive prices. Their available options and specialties include living quarters horse trailers, show stock series horse trailers, W.E.R.M flooring horse trailers, deluxe model (2 + 1) horse trailers, and super tack horse trailers.

What's new? Star horse trailers have more than 450 options in the bag when it comes to choosing graphics and skin color for your trailer. They provide a rough sketch of what color and graphics you demand. 3 color stripe traditions and reflections and Images, southwest Santa Fe, straight Vision, and lines are its specialties.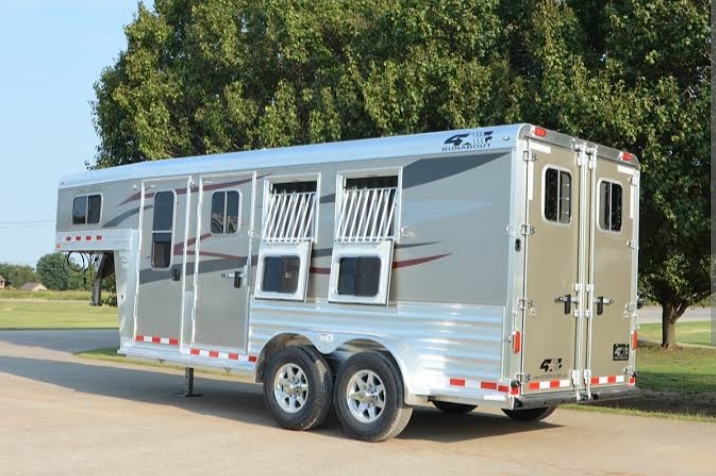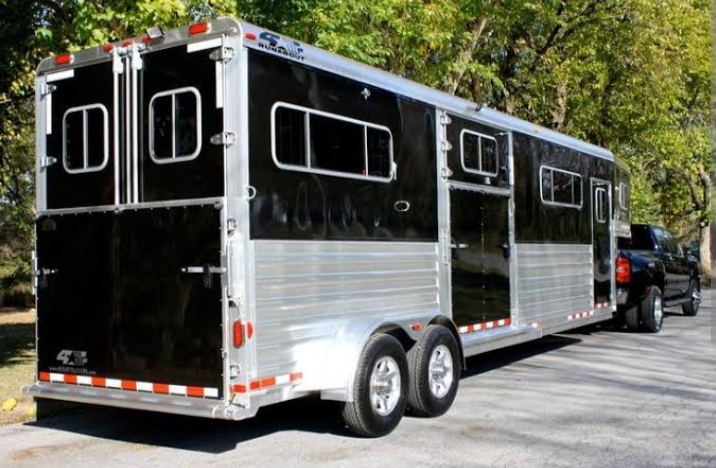 4-star horse trailers - Image courtesy of 4-star horse trailers
Features of 4-star horse trailers:
The capacity city is pulling up to 4 horses.
Availability of a variety of horse trailers including straight load trailers, slant load trailers, center load trailers, bumper pull trailers, gooseneck trailers, livestock or living quarters accomplished trailers, runabout trailers, and show stock series.

Tailor-made features in both interior and exterior designs.
Logan coach trailers promise a home-like environment through its trailers, no matter wherever you land in the whole world. Cowboy interior, silver interior, platinum interior, and ultra interior are a few of the most popular interior designs of the trailer industry that logan coach has.

This is because of the presence of its gorgeous interiors. Contractor, riot, straight load, and stock combo are some of the popular and available choices from Logan coach trailers. It provides a customizable LQ floor layout, and 8' and 7'3" wider floor layouts.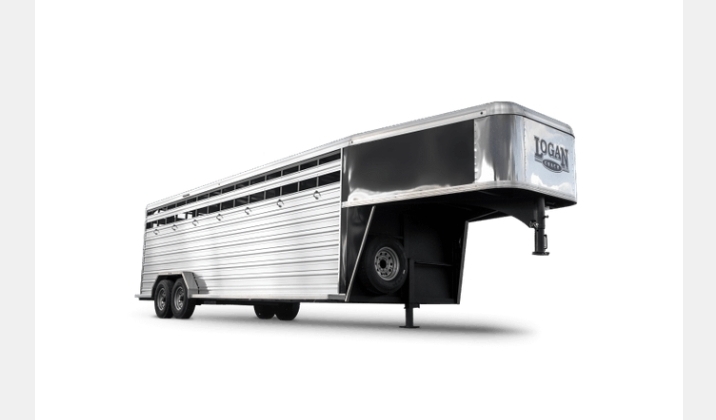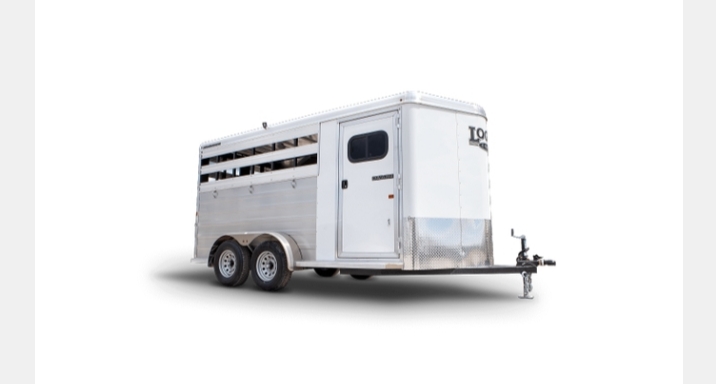 Logan coach trailers- Image courtesy of Logan coach trailers
Features of Logan coach trailers:
To protect the floors from moisture and seals, Logan coach trailers possess aluminum whiz floor proofing.
Logan coach trailers avoid traditional rubber mats. It prefers eternal rubber floors which are convenient to clean and does not dump easily.
Logan coach trailers possess Galva's dominant frames which are no less than strong as popular aluminum frames. Galva frames do not snap rusting handily.
Wrapping up
Hence, this was about the top 10 best places to buy affordable horse trailers in the USA. The best part about all these above-mentioned trailers is that you can own any of these trailers at inexpensive prices with all the exclusive features that a lavish trailer must contain.

You can opt for even less heavy and glittering designs in case you are searching for trailers on a tighter budget. You will never regret owning trailers chosen from the above-mentioned discretions.
Moreover, their long structural warranty ensures the long life of your horse trailers. Now, what are you waiting for? Since you are aware of every affordable option present in the market, go and own a horse trailer now as per your preferences and requirements.