RacingBetter News

Tuesday 27th December 2022
How to Become Better Bettors: Here Are 5 Helpful Tips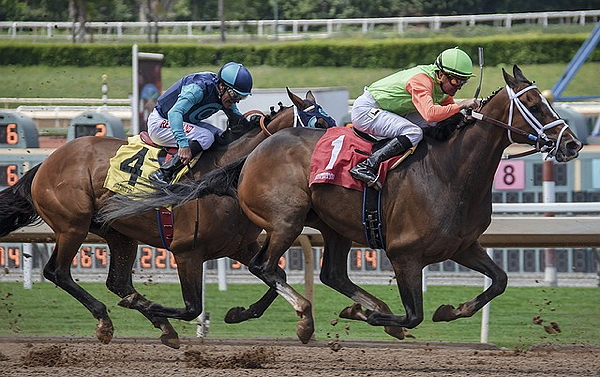 Handicapping is more art than science. There's literally a myriad of books and websites about theories and systems on handicapping written and designed to help bettors pick winning horses. However, no method has been considered foolproof. 
It's only our plain old luck that's the deciding factor in whether we win or lose in horse racing. Despite that, handicapping is fun! Knowing you can possibly win makes the race thrilling! That's why horse racing is called the most exciting two minutes in sports.
If your goal is to make money, here are some very basic tips you can follow to be a better bettor.
Learn the Horse's Pedigree
Good conformation is the overall blending of muscle, bone, and other body tissue to form a beautiful athletic horse. One of the ways to check a horse's conformation is by checking its pedigree. It records and traces a horse's lineage back through several generations.
A horse's bloodline tells about its potential personality traits or training issues. In fact, almost all Belmont Stakes victors are colts and fillies of previous winners at 1 1/2 miles of the same race. Genetics can definitely make the next top racehorse.
Of course, not all horses take all their parents' traits. However, when dealing with two-year-old and other novice races under both codes, being aware of the horse's pedigree is one of the biggest tools that any bettor has in their arsenal.
Check the Jockeys Out
While it's hardly scientific, horses' ability to win often lies in their jockey. Even the best horses may not do the right things to win a race, so they need jockeys to help them bring out their best while running a race.
Jockeys may not do much with lousy horses, but they can definitely help great horses. They're very knowledgeable of horses' strengths and weaknesses. For example, they help horses conserve their energy for a late push or guide horse races when to push, tap back, or run into gaps left by another horse.
That's why many race trainers, owners, handicappers, and bettors like to say that jockeys account for 10% of any racehorse's performance on any given day. That's why many horse-racing enthusiasts even believe that jockeys with at least a 12% winning record are someone to bet on.
Try Exotic Betting
Exotic bets are moniker for extremely popular horse racing bets covering multiple horses and races at the same time. They're primarily categorized in two ways: horizontal bets and vertical bets.
Horizontal exotic bets let you bet on more than just one race. They're essentially parlaying bets, so bettors need to pick the winners of multiple races in a row before the first of the series of races starts.
Vertical exotic bets, in contrast, cover more than one horse in a single race. They require wagers to select the finishing order of a single race correctly. There are three kinds of it: exacta (first two consecutive finishers), trifecta (first three successive finishers), and superfecta (first four finishers in order).
While it may seem like boiling the ocean or foolishly clairvoyant, exotic betting is popular for a reason. It's not only more exciting and fun than traditional straight bets. It also offers Flexi-betting, allowing bettors to manage their risk more effectively. Plus, it offers the potential for much higher payouts. Its logic is simple — the more you bet, the more chances of winning.
Read the Race Form
Race forms are the records of the horses' performances and ranks in their previous races. They're represented by a sequence of numbers next to each of the horses' previous finishing positions. For example, they can be like 4, 3, 1, 2, and so on, or a 0 for an unplaced run.
If horses fail to complete a race, you'll see letters on the forms, such as "U" for unseated, "F" for fell, or "P" for Pulled-up. You can also notice a "-" indicating a move from one season to another.
Since they're a guide to horses' past performances, many see race forms as a good way of predicting a horse's potential future performance. Comparing enables bettors to choose the likely best performers in one race.
Be Profitably Late
Odds constantly change, even in the final two minutes of a race. That's why betting late can somehow be profitable. Additionally, doing so gives bettors the maximum amount of information to go on, and they can see all the horses themselves.
How late you can bet on a horse race depends on your betting style. Typically, once the horses come under the starter's orders, on-track bookmakers suspend the market. However, it's the opposite for online betting. For example, you may check Pegasus odds from TVG until the last second of a race.
The winnings of late betting also depend on how the betting market unfolds a race. Bettors get better odds and returns if leaving their bets late works in their favor, but on other occasions, it works against them.
Final Thoughts
Horse betting can quickly go from a fun, harmless diversion to a very unhealthy obsession with serious consequences. While betting often hones you to be a better bettor, don't get too carried away and chase your losses. Remember always to bet responsibly.