RacingBetter News

Thursday 14th April 2022
4 Things You Need To Know About Exotic Horse Racing Betting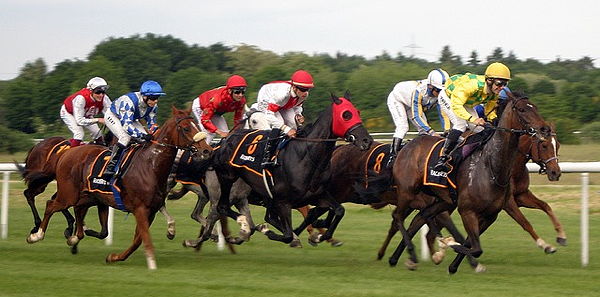 Horse race wagering, which is one of the earliest known forms of gambling, continues to be popular among a growing number of people. In many people's eyes, financial rewards and sponsorship are essential to maintaining horse race wagering alive and entertaining.
The large payouts, which aren't even familiar in other sports, are one of the reasons for horse racing's popularity among bettors. Horse racing offers exotic bets with payouts in addition to traditional bets. Exotic bets come with a higher risk, but they also come with a higher reward.
Horse racing fans love exotic bets because they allow them to win a lot of money in a short amount of time. Now, when it comes to this type of betting, there are a few things you should be aware of.
Exotic Horse Racing Bets: How Do They Work?
With their most basic forms, exotic wagering horse racing bets seem relatively straightforward. However, compared to straight bets, the majority are significantly more challenging to win. Except for the quinella, all exotic bets involve the gambler creating numerous options and having each prediction correct to win.
A victorious trifecta, especially during major events like the Kentucky Derby and also the Breeders' Cup, can return a significant amount of money to the winning wager. The Superfecta and Pick 6 bets have historically been among the most profitable in horse racing.
Bonus Tip: As a beginner, it's crucial to educate yourself on horse racing terms and concepts and how horse wagering works. To help you with this matter, learn to read recent odds for 2022 kentucky derby to help you better understand how they work.
This is how the basic exotic bet works:
Exactas
One of the most well-known exotic betting options is the exacta. In an exact wager, you'll start by picking the first two horses in the official order of finish. It's one of the easiest for beginners to understand, and you'll have a better chance of winning than any other real cash exotic thoroughbred racing wager. The disadvantage is that of all the exotic bets pays the least.
Quinella
In winning a quinella, you must choose who will finish first and who will finish second in a race. However, the order makes little difference.
Trifectas
A trifecta is also known as a "triple" or a "big triple," but regardless of the name, the concept of this exotic wager remains the same. To win a single match, you must pick the first three horses correctly.
Superfectas
The superfecta is the most coveted exotic bet in horse racing, as it allows you to pick the first four horses in precise order. Because making this bet is so unlikely, the odds are remarkable, and if you guess correctly, you'll eventually win big money.
Exotic Bets in Other Forms
There are other forms of exotic bets that wagers can play such as:
Daily Double
Another exotic horse racing wager that is gaining popularity is the daily double. You can pick the winners of two races in a row with this bet. A 4-2 Double Bet, for instance, means that in a given race track program, the first race will be won #4, and the second race will be won #2.
Pick 3s, Pick 4s, etc.
Pick bets are easy to place and can be combined with the Daily Double bet. Depending on how many bets you have, you can pick as many winners as you want in a row.
Boxing Bets on Exotic Thoroughbred Racing
Boxing a bet is more complex than placing a simple exotic wager. The most important thing to keep in mind is that boxing an exotic wager enables you to assist any combination of options.
Exotic bets payout well because they require correctly predicting the finishing positions of two or more horses, but this is no easy task. Horseplayers who want to boost their odds can box their wagers to cover more outcomes for a fee.
For instance, in a boxed exacta wager, either of the two horses you choose could complete first as long as the second horse finishes second. If one of the thoroughbreds runs first and the other runs second, you win your exacta.
Playing a two-horse box will cost you twice because every combination costs the same. If the minimum bet is one dollar, your bet should be two dollars since you place bets on two horses. You must place the least bet for each of the possible finishing orders for the horses.
Partial Exotics
Partially exotic bets are those with a stake of less than $2. Partial exotic wagers like the one dollar exacta, 50 cent trifecta, and 10 cent superfecta can be found at racetracks across the country. You only need to pay the specified amount for one of the above bets. However, in most tracks, you will be required to play the $2 minimum amount. As an outcome, to reach that level, you'll need to stake enough partials.
Keys and Wheels
Different names on different tracks will refer to these techniques. The basic idea is to perform various combinations of horses at one point on the ticket, then one or two at another.
You can select one horse in one part of a wager and various horses in another by keys. For example, you could place a Pick 3 bet on the two # during the first race and the #5 in the second race, with the 5, 8, and 9 as crucial numbers in the third race.
Conclusion
Exotic horse betting, which has a higher level of difficulty in winning bets and higher payouts, is linked to betting on multiple horses at once. These are the types of horse racing bets that can help you increase your potential profits, despite being more challenging to take. Now that you're familiar with the vocabulary of exotic horse racing betting, start betting and learn the tricks of the trade along the way!