RacingBetter News

Monday 28th March 2022
Horse Racing - One of the TOP Crypto Sports Betting Activities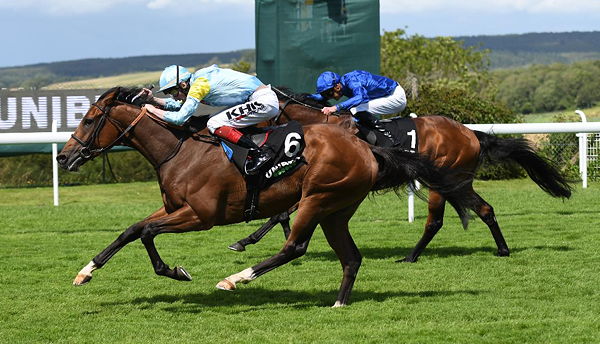 Horse racing, earlier known as 'sports of kings', is one of the most popular betting sports in the world, with billions spent on bets every year. For this reason, it's not a surprise that it has found its way to the crypto world.
As a matter of fact, horse racing is favored among the players because it provides an exciting and action-packed spectacle. 
What Is Horse Racing Crypto Betting?
Horse racing is a betting sport with a long history, which is why many people like to bet on it. The popularity of horse racing and the changing landscape of cryptocurrencies have created an opportunity for anyone to enjoy an exciting new way to wager on horse racing.
Horse racing has become popular across the world because gamblers don't have to be physically present at any horse race game. Basically, players can start by joining crypto sports betting sites, like those presented on CryptoCasinos360, where they can pick a horse they think will win the race and will bet on it using crypto coins.
Benefits of Horse Racing Sports Betting With Crypto
There are many reasons why more and more people are using cryptocurrencies when they bet on horse racing sports. Here are some of the main benefits:
Privacy
The main reason why people like to use cryptocurrency to place their bets is that they can keep their identity private. There is no way for anyone to trace your betting activities back to you, so you don't have to worry about anyone finding out how much money you bet or how much money you win.
No Transaction Fee
You don't have to worry about being charged high fees when you withdraw your winnings because there are no fees when you convert your winnings back into cryptocurrency. 
Security
Cryptocurrency is also secure, which is why it has become popular among investors and consumers when they make purchases.
When you use cryptocurrency to place your bets, your financial information is stored on a blockchain that isn't in any way connected to your personal identity. This means that you won't have to worry about someone stealing your information and using it for their own financial gain.
You can see how much money you spend without having to worry about someone misusing your personal financial information because all of the transactions are recorded on a blockchain.
Fast Transactions
A lot of people have had issues with their credit card transactions because they have been slow. But, there are no delays when you bet using cryptocurrency, which means that you don't need to worry about waiting hours or days for your transactions to be processed.
Types of Horse Racing Bets Available
Betting on races is not simply like choosing the type of coffee you want when you wake up. Users must have thorough knowledge regarding betting types to win odds at the racing. So without further ado, here are some of the popular bets on horse racing now.
Win Bets
With this betting form, you place a bet on the winner of a race.
Place Bets
In this type, you bet on a horse that must finish at least in second place. If your horse wins the race, you win this bet too.
Show Bets
Here you bet on a horse to either win the race or finish in second, or third place. This type of betting is one of the most popular bets right now.
Win Place
You make multiple bets on sportsbooks under this category. Either your horse wins or finishes in second place.
Horse Racing Crypto Sports Betting Sites – How Does It Work?
There are many horse racing crypto sports betting sites available online today - you can find them on bitcoinbookies.net. However, not all of them can be trusted to deliver on their promises and fair payouts. This is why it's important to conduct thorough research on the horse racing sites before making any bets with them.
The best way to do this is by reading reviews and ratings left by other players who have used the site in the past. You should also check out details such as whether or not the site has been licensed or not if it has a good reputation in the industry, and if it has a license for crypto sports betting activities or not.
The process is very straightforward and simple, so essentially all you need to do is choose a sports betting crypto website and sign up with them in order to start placing bets. But before you even begin using the site, you need to first set up an account with a cryptocurrency exchange such as Coinbase or Gemini. There are also other sites that allow you to purchase cryptocurrencies such as Litecoin, Bitcoin Cash, and Ethereum.
You will then need to deposit your money into your account and use it to make payments for the bets that you place on the site. When placing your bet, all you have to do is select which horse you want to win and then place your bet on that horse by either selecting an option from their drop-down menu or by entering a number manually into their betting interface.
Once you have placed your bet, it will be confirmed almost immediately so there is no waiting around for anything else if you win, then it can be withdrawn straight away.
Conclusion
Horse racing crypto betting is a new phenomenon that has been gaining in popularity over the past few years. So if you are looking for a new way to gamble, the introduction of crypto sports betting sites is a very exciting addition to the industry.  What is even better is that there are many different options for you to choose from, so you can find the one that suits you best. Just make sure to do your research to avoid getting scammed.