RacingBetter News

Thursday 3rd February 2022
Tips to Select the Best Trailer Type for Your Needs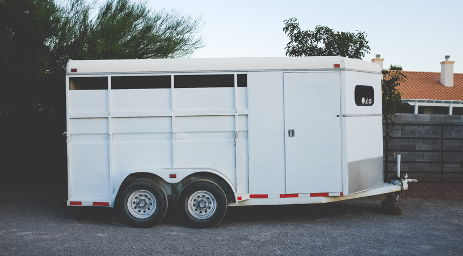 Trailers come in a wide range of sizes, shapes, functions, and capacities. Each of these features of the trailer combinedly divides it into different types. And each type has a specific purpose for the build.
 
Some are built to carry heavier loads, such as cars, lawnmowers, motorcycles, ATVs, and UTVs, whereas others have a conventional build to carry loads such as household utilities or animals.
 
Therefore, what you are planning to carry on your trailer plays a great role in determining the best trailer type for you. However, there are several other factors you need to consider, which we are about to discuss ahead. So, let's get started!

Types of Trailers

Before we jump into the ways to select the best trailer type for you, let's have a brief overview of some of the most common types of trailers to make it easy for you to recognize and distinguish the features. Here we go.
1. Horse Trailer

Length: 7 to 8 feet
Weight: 2,500 to 8,500 pounds
Price: $2,000 to $30,000
 
Horse trailers are trailers or caravans specially built for carrying horses from one place to another safely and comfortably. They require to be tall enough to fit the height of horses conveniently. Usually, such trailers have small square windows for the horses to breathe fresh air.
 
However, some even have air conditioners. People owning a racehorse usually need horse trailers to transport their horses from one place to another. So, if you're buying a racehorse and need a trailer to transport it, this is what you're looking for.
 
Pros:  
Affordable
Tall and long
Well insulated
Mostly with a good ventilation system
Safest ride to transport horses and other animals of similar size.
Cons:  
Extremely heavy
Not appropriate for small towing vehicles.
 

2. Folding or Pop-Up Trailer
Length: 8 to 20 feet
Weight: 1,000 to 4,000 pounds
Price: $10,000 to $30,000
 
Pop-up trailers are cute and small family trailers that are ideal to be taken for a picnic or camping. They are not usually built up in a way to hold heavy items. You can simply use them as a better mobile version of a camping tent. A few even have attached toilets with holding tanks.
 
Pros:  
Affordable
Lightweight and convenient
It can be towed by a wide range of cars, including small ones
It can be extended when needed for additional space.
  Cons:
No insulation from noise or cold
Requires more maintenance as the fabric needs frequent replacement.
3. Travel Trailer
Length: 8 to 40 feet
Weight: 1,000 to 10,000 pounds
Price: $10,000 to $150,000
 
Travel trailers are one of the most popular trailer types. They are available in a wide range of sizes, shapes, capacities, and prices. There are small travel trailers with barely the space of two people to sleep, along with a small kitchen. Again, there are several large travel trailers with luxury amenities and a space equivalent to a small cozy apartment.
 
Pros:  
Good insulation
A wide range of options to choose from
There is a model for every budget
It takes less time to set up.
Cons:  
Requires large and powerful towing vehicle
Requires special driving skills to manage the trailer
4. Hybrid or Expandable Trailer
Length: 8 to 26 feet
Weight: 2,500 to 5,500 pounds
Price: $10,000 to $40,000
 
The hybrid or expandable trailers combine conventional trailers and pop-up trailers. They have the hard body side of conventional trailers and the folded extension feature from the pop-up trailers. The trailer might look small at first but gets a lot more spacious and comfortable after being extended.
 
Pros:
Extra space without the addition of extra length or weight
Hard and rigid bodyside
It can be utilized in a wide range of functions
It can be towed by comparatively smaller cars with the required capacity
More durable than pop-up trailers.
  Cons:  
Requires comparatively more setup time
It doesn't provide much insulation
The fabric part requires maintenance and replacement.
5. Fifth-Wheel Trailer
Length: 20 to 40 feet
Weight: More than 7,000 pounds
Price: $20,000 to $150,000
 
Fifth-wheel trailers are one of the biggest and heavy types of trailers. And this type of trailer can only be towed by pickup trucks because pickup trucks have an extended downward bed fitted to the extended upward part of the fifth-wheel trailers.
 
Pros:
The towing length provides extra space
Good insulation
Tall in height
Strong and rigid exterior.
Cons:
Requires a heavy-duty pickup truck for towing
Comparatively pricey.
Factors to Consider While Choosing a Trailer
To choose the right trailer type, you need to consider a few important factors to find out what type of trailer you should go for. Here they are:
Type
When it comes to types, all trailers, cargo, and towing vehicles have a particular type based on their size, features, and functions.
 
Trailer: To choose the right type of trailer, you will need to know about different types of trailers and match their features with your requirement and function.
 
Cargo: As said before, the type of cargo you will be carrying on the trailer plays a significant role in the selection of the right trailer type for you. Large items like cars, ATVs, and motorcycles require a big and rigid trailer, whereas small household items require a small trailer.
 
Towing Vehicle: The type of towing vehicle you are planning to use to tow your trailer is also a very important factor. Because if you're planning to use a small car as your towing vehicle, it will be useless for a big Travel or Fifth-wheel trailer.
Size
The size of both the trailer and the cargo is an essential factor in making the right decision in choosing the trailer since the trailer size is required to match the size of the cargo.
 
Trailer: The size of the trailer can be larger than the size of the cargo, but it shouldn't be too large with unnecessary space and weight that might require a heavy-duty vehicle to two.
 
Cargo: The size of the cargo is the mold that the trailer must fit with. If the trailer turns out to be smaller in height or other dimensions than the cargo, then getting the trailer would be a waste.
Weight
Since a trailer is required to tow, the weight of both trailer and cargo would be an essential part influencing the ease of movement and management.
 
Trailer: The trailer itself should have a specific weight which is usually measured in pounds. Whether you want to get a heavy trailer for yourself or a lighter one is your choice.
 
Cargo: Many times, the cargo items you carry on the trailer might properly fit the trailer in size but exceed the capacity of either the trailer or the towing vehicle. This will get you into trouble. So, calculate the cargo weight before you select the trailer.
Load Capacity
The load capacity is the limit of weight you can carry on your trailer or towing vehicle. It is better not to exceed the maximum capacity as it will damage the towing vehicle engine.
 
Trailer: The load capacity of the trailer determines what size and weight of items you can carry in the trailer altogether.
 
Towing Vehicle: While the load capacity of the trailer is supposed to limit the size and weight of the cargo, the load capacity of the towing vehicle is the limit of the maximum capacity of the cargo, trailer, and engine altogether.
Distance Needed to Be Towed
Not all vehicles have the capability to carry and transport a load to a longer distance. If you plan to transport goods within a long distance, then it's better to get yourself a strong and well rigid trailer and vehicle for towing.
How to Select the Best Trailer?
You need to look for a few particular features in a trailer before buying to ensure you have the right quality. Here they are:
 
Frame: The frame of the trailer is required to be strong and well-structured to carry loads for a long time and not lose shape.
 
Durability: The materials and process used in manufacturing the trailer determine how long it will be able to serve you. So, before you commit to a trailer, investigate its durability.
 
Mechanical Quality: The trailer's mechanical features, including the wheels, towing hook or base, and other systems, are important to note and compare while selecting a trailer.
 
Aesthetics: The exterior body and looks of the trailer might not sound like an important matter to consider, but it is. Don't buy a trailer that is broken or rusted on the outside, especially if you're buying a second-hand.
 
Budget: Finally, you need to have a budget and select a trailer that meets your purpose being within the budget.
Final Words

So, could you decide which trailer you want to go with? We know you will make the right decision. And we are more than happy to help!